April 2014: A Note From Diane
Hello to you!
If you're a hiker in the Northern Hemisphere, you've probably had your summer daypack out by now to see what shape it's in. Have you emptied out the crumpled up wrappers, fossilized jerky, and field treasures (also called rocks, feathers, botanical specimens) yet? I was quite shocked to find a heavy rock in the bottom of mine – can't quite recall where I got it, but it's a pretty paperweight!
Another important spring time ritual is a foot assessment.
Have you paid any attention to the state of your nails, joints, and arches? Now's the time!
If you're curious about how your feet stand up to the stresses of hiking,
My feet have really been bugging me lately. The joints of the big toes (hallux) ache and throb sometimes. I've tried a few things I'd like to share, on the off chance that you're a hiker with foot issues, too.
To address the pain, I've been using Topricin foot therapy cream, a homeopathic remedy that makes the tops of my feet and toe joints feel more normal. I can't explain how homeopathy works, but it has provided some relief during the night.
When I'm sitting at the computer, I use toe spacers to force the toe joints into their previously normal, non achy positions.
And I rotate my shoes, never wearing the same pair two days in a row.
I've also had to think long and hard about getting a new pair of hiking boots which are half a size larger, because putting pressure on my toe joints from 2 pairs of socks and snug boots is not helping.
I give myself foot massages at the end of the day, using a peppermint cooling foot lotion I received for Christmas (from The Body Shop). You don't have to be a trained massage therapist to pull and push on your own feet!
I've also tried soaking my toes in hydrogen peroxide dissolved in warm water (an old time remedy I read about). I can't say one way or the other if it's helping, but it's a cheap approach and feels good in the moment.
Have any ideas for me? I'd love to try them! Use the email at the end of the newsletter to pass along your wisdom, which I will pass along to other hikers.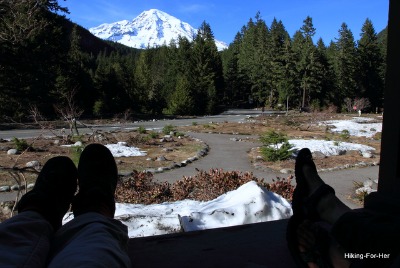 Like Snowshoeing? Or Anniversaries?
I love snowshoeing. AND anniversaries.
There's no way around it, I love walking across deep snow and reaching places that are serene and untouched by pollution (noisy planes, blaring signage, people on cell phones, etc.). Even better: an annual pilgrimage extending over ten years, to one of my favorite winter places to snowshoe (High Camp, Chiwaukum Mountains).
---
Gear Review
NOTE: This product is only for prescription eyeglass wearers who don't want to keep switching between sunglasses and indoor glasses. If that's not you, skip this part.
What a surprise! My snowshoe adventure happened to occur on a sunny weekend (a rare occurrence here in Washington State).
Luckily, I had a new piece of gear with me which eliminated the eye strain I usually experience in bright light.
Fitovers (fitovers.com) are fitted sunglasses that you wear right over your prescription eyeglasses.
I was pleasantly surprised that they didn't pinch or feel heavy on my face. But I shouldn't have been surprised – the company has a great little video explaining how to order the correct size.
I had several styles to choose from, along with lens color. I chose amber, because it seemed to fit the outdoor profile of hiking best, and can say that it was a good choice for bright snowy conditions. They might be a bit dark for forest conditions; we'll see! (a little vision pun)
Along with the glasses, I received a handy carrying case that clipped inside my pack, plus a neck cord (which I haven't tried yet but can see the usefulness of) and a cleaning cloth.
The next day, again wearing the Fitovers in bright sunlight, I had no headache, probably because I didn't tighten up my facial muscles by squinting hour after hour.
I also wore them in the car on the sunny drive home, and they cut down a lot of the road glare.
There were a few downsides.
It was hard to take photographs because the lenses gave a distorted impression of light levels. I had to slide them down my nose or try to look over them while photographing.
They are one more thing to keep track of in your pack, and they're fragile and scratchable (something the case can help with but not protect against completely).
And after wearing them 2 days in a row, I noted a slight ache on the bridge of my nose, which could become worse on a long trip.
Overall, I was pleased with avoiding my usual "bright sun" headache. If you give them a try, let me know what you think! As usual, I purchased this gear with my own money and have no affiliate relationship with the company.
---
Hiking and History - A Little Something Different
Here's something a little different for your July 2014 hiking plans. Someone sent me this information about a "peace walk"; check it out at peacewalk.eu/about.html
---



Lots more to tell you about, but it will have to wait until next time.

I hope you are enjoying the never ending, always fun process of building up your muscle strength, trail smarts, and enthusiasm for the wonderful sport of hiking.

Please don't be shy about sending me your questions, suggestions for good resources, or reports of what you're up. I love getting email from my virtual trail buddies!

From me to you,

Happy Trails always.

-Diane a.k.a. Happy Hiker diane@hiking-for-her.com
Hiking-For-Her