January 2015: A Note From Diane
What motivates you as a hiker?
I've heard from many women that hiking is great exercise and helps keep weight within a preferred range.
Other women are on the trail to test their mettle with ambitious mileage or solo adventures.
Social time is right up there as a motivating factor - time spent with family, friends and partners seems extra sweet when you're on a trail.
But this month, I've got a few other motivations for you to consider.
Can you believe this list? Pika counting, winter record setting, and clearing your thoughts.
I know, I know...that's one very weird list. So let's start unraveling it.
P.S. Happy New Year!!
---
Hiking Motivation #1: Counting Pikas
Are you familiar with pikas?
Cute little fuzz balls that play "hide and seek" among the rock piles at higher elevations.
They emit a distinctive "eep" sound that warms my heart every single time I hear it.
Here's a photo taken last summer in the Cascade Mountains of Washington State, USA: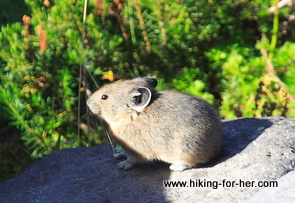 Seems these little creatures are in trouble due to declining numbers.
I can verify that statement anecdotally, because I don't hear the "eeps" as often as I used to when I cross talus piles or enjoy a rest break on a rock jumble.
If you're motivated by conservation efforts, you might want to participate in the worldwide Pika Project, run by the Adventurers and Scientists for Conservation group.
What would you do? Here's a brief description:
"Spending time in alpine and subalpine ecosystems? We need you! By recording data related to pika straw piles, urine stains, and animal presence or absence, volunteers will help compile baseline information, allowing future studies to assess changes."
---
Hiking Motivation #2: PCT Winter Hiking
I admit up front that this idea is not for me.
But I couldn't let that stop me from sharing the tale of 2 hikers who are tackling a portion of the Pacific Crest Trail (PCT) right now.
Snowshoes and skis.
Tales of woe about foot injuries and navigational challenges.
Sounds motivating to you?
Here's the whole scoop.
I'd love to know what you think of winter PCT hiking.
Are you with me in thinking that it's risky and may set a bad precedent for unprepared hikers?
Or do you think it's a grand adventure and would love to get out and do it yourself?
Drop me a line and let me know!
And if you're interested, here's a page I recently posted on something I hope these PCT hikers don't run into: hypothermia.
---
Hiking Motivation #3: Walking for Clarity
Have you developed the daily habit of taking a walk?
It's what keeps me sane and grounded in reality! As I lengthen my stride, I can let go of the worries, anxious thoughts, and chore lists for just a little while every day.
Plus the daily aerobic workout keeps my hiking legs strong, year round.
Here's my challenge to you: If you don't walk, take a 30 minute walk this week.
If you do take walks, increase their frequency and length until you're doing at least an hour every day that you're not hiking.
And get ready to be pleasantly surprised on your next hike, when your lung power and leg endurance is much better.
To motivate you, I'm passing on a link to a free KINDLE download (you can get an app to read it on your phone or computer, too) of Henry David Thoreau's' 1861 "WALKING", with nuggets such as this:
"I am alarmed when it happens that I have walked a mile into the woods bodily, without getting there in spirit... The thought of some work will run in my head and I am not where my body is — I am out of my senses."
See! Even he had trouble shaking off the mental fog we all drag around.
My goal this year is to be a more mindful hiker - attuned to what's right in front of me, not worrying about my sore feet or a list of obligations waiting for me at home.
If that sounds like something you'd like to try, start off by taking a purposeful walk, and when you get home, do a
---
I hope your new year is off to a great start! Please send your questions, opinions, suggestions, or comments my way. I love seeing the world through the eyes of hikers.
From me to you,
Happy Trails always.
Diane a.k.a. Happy Hiker
diane@hiking-for-her.com
Hiking-For-Her