June/July 2013: A Note From Diane
Hello, Hiker!
What an amazing run of good weather we've had in the Pacific Northwest this year!! Hiking Nirvana, in other words. Here I am, trying to remember what that glowing disc in the sky is! (Sorry, a bad Seattle sun deprived joke)
Which means I have very little time to write, because I'm out on the trail whenever I can possibly squeeze in some trail time.
So it's gonna be short and to the point this time around: 2 recommendations and that's it!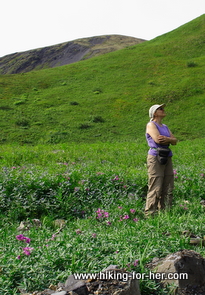 Recommendation #1
If you haven't seen a copy of The Natural Navigator, by Tristan Gooley, I recommend that you make it a point to thumb through it. Here's the subtitle: "The Rediscovered Art of Letting Nature Be Your Guide". I think that sums things up nicely.
The first few pages had me hooked, because he talks about the art of natural navigation, and awakening the senses. It reminded me of my childhood, roaming around in the woods behind my house, always making it back by dinner time and smiling to myself about all of the cool stuff (a fox den, a hillside of flowers, a robin's nest) that I had found.
Take a peek at his website, too.





Recommendation #2
I hate women's hiking shirts.
There, I've said it!
I cannot find a shirt that is roomy enough to allow me to move like a hiker should be moving. I can't stand shirts that are too tight!!
And if I buy up one size, the shirt is too long in the sleeves and torso. Or if it's sleeveless, the arm holes could fit me AND a chimpanzee.
So I finally got smart.
I tried on a man's hiking shirt, and boy, did I fall in love.
Not only was the length perfect (long enough to cover the small of my back so my pack wouldn't rub me raw), but the color choices were perfect (no hot pink, no trendy neons, only colors found in Nature). And the price?
Also perfect! Why is women's hiking clothing way over priced??
So I recommend that you watch for sales now that it's high hiking season, and snag a few roomy men's hiking shirts. I got mine at REI (a gear coop founded here is Seattle, but available online everywhere), but I'll bet there are all sorts of places you can try on these fabulous shirts.
Word of warning: don't try this with men's pants. The female pelvis (the word literally refers to "bowl") has wider dimensions and you won't be happy with the fit unless you are an extremely narrow-hipped lady.
---



My wish for you this month is true blue skies, loyal trail buddies, a light pack along with a light heart. Enjoy every hiking moment!

From me to you,

Happy Trails always.

-Diane a.k.a. Happy Hiker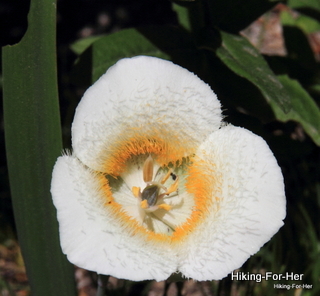 Hiking-For-Her