October 2014: A Note From Diane
A great big Hello! to everyone who recently signed up to receive this newsletter, and of course a welcoming smile and Howdy! for those of you who are regular readers.
The month of October has slipped past me, due to some life upheavals that I really would have liked to avoid.
In the midst of the storms, I find myself embracing this quote: "It's not what you look at that matters, it's what you see."
One of my favorite "nature boys" said that: Henry David Thoreau.
And like so many things he was kind enough to write down and pass along, this quote reminds me to look up from the muck and SEE the kindness, the compassion, the beauty on every sweaty, tired, or strained face I meet on the trail.
Got a minute? Make a quick list of 5 things you were able to really SEE on your last hike. I was surprised when I wrote my list! I went looking for grand views, but I saw a tiny white feather, the contrast of bright blue huckleberries against gray granite rock, a flock of birds in a tree that turned out to be flickers (never saw a flock before - quite a thrill!), and several other things that I would have missed if I wasn't in deep "seeing" mode.
What do I have for you this month?
Two gear reviews that might inspire you to go through your 10 Essentials and upgrade your headlamp and water resistant gear...
---
Headlamp Review
I had never heard of Dorcy headlamps until just recently. Do you carry a headlamp? Here are some good reasons you should, along with a review of
Were you familiar with this brand?
Let me know what you think!
---
Another Ten Essential Item Review: Jacket
I never owned a soft shell jacket until I was asked to review this one.
Now I'm a believer! It fills the gap between my trusty waterproof rain shell during a full on downpour, and several different weights of fleece I pull out of my pack when it's just beginning to spit a little.
And because Jack Wolfskin items are not available in the United States, I thought it might be cool to try one on the trail.
In the review, I go through some features that you might want to consider if you're in the market for a new jacket.
Let me know if you use soft shells a lot, and the brand(s) and features you prefer. I think I might have been missing something!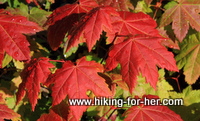 ---
Hiking Inspiration, Anyone?
I'm putting together a list of Top Ten Inspirational Female Hikers for 2014.
Interested in being an inspiration for others? Drop me a line.
I'm looking for non-traditional categories.
What do I mean by that?
Well, you can find profiles of the fastest long trail hiker, or a woman who has hiked a long trail more than once, in many publications or personal blogs. There's even a movie right now about PCT hiking (although I wouldn't recommend it if you're looking for tips on how to do things right).
I consider those "traditional" hiking achievements.
But as I've mentioned, I'm looking to SEE, the way Thoreau advised me. So I'd like to see and celebrate the personal milestone you reached after an illness or setback. It could be something as seemingly "small" as hiking a few miles - but it took perseverance and faith to do it.
Or maybe you set a big personal goal and achieved it: a solo trip, for instance, or hiking in a foreign country.
Get the idea?
If you feel your experience could inspire and motivate other hikers, please let me know. Your answers to a few questions would be shared with HikingForHer readers in a future newsletter and on the HFH site.
Don't be shy! I'd love to see you in the hiking Hall of Fame!
---
And now I leave you with a sincere wish as the season turns: May your November bring you a peaceful heart and hiking opportunities galore.
From me to you,
Happy Trails always.
Diane a.k.a. Happy Hiker
diane@hiking-for-her.com
Hiking-For-Her