September 2014: A Note From Diane
Hello Hiker!
Greetings from weirdly warm and sunny Seattle!
I use the term "weirdly" because this summer has been too hot and dry for my liking. I'm used to rain gear, fleece, and extra socks in my backpack - year round.
But whatever your weather has been, have you been getting out on hiking adventures? Please let the answer be YES!
This month, I'm sharing a quick video for a feminine hygiene product (a "FUD", to be exact), a great gift idea for hikers, and an interview that explains why I write this blog.
---
Gotta Tinkle?
I can't claim credit for this title, or for finding
this video on my own, but I do hope it amuses you.
However, I can't recommend this product because of its use of "disposable" plastic bags - no such thing in the wilderness, right?
But it is definitely one answer to our dilemma of how to take care of business!
Take a look, then send me your comments: Is this a usable product for female hikers? Or not?
---
Puzzled by Hiking?
Here's a great gift from my husband that I had to share with you!
He took one of my favorite hiking photos of Mt. Rainier and had it made into one of my favorite things: a puzzle.
I think you can see that it makes a really challenging puzzle! I spent hours trying to get the flowers put together.
Of course, any photo would work, but I think this is a wonderful way to share memories of your favorite trails.
Here's the link to the company he used.
Please note that I don't make a commission if you click the link. As always, just trying to pass on cool hiking stuff...
---
Why DOES She Do iI?
No one has ever asked me why I spend time writing about hiking.

Until this guy came along...

Read my answer here.

You might want to check out his array of multitools while you're there. Kind of makes my little Swiss army knife look puny...

No affiliate or commission arrangements exist between myself and Morry, so don't bother to tell him Diane sent you ;)



---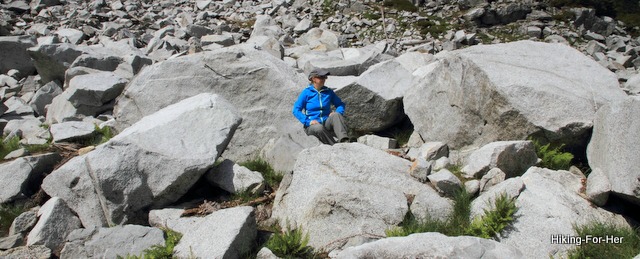 May your boot soles be a little thinner, your pack a little scruffier, and your heart a little lighter when you open up next month's newsletter!
And don't be shy about contacting me before then. I love hearing about your adventures, and welcome any hiking questions you have.
From me to you,
Happy Trails always.
Diane a.k.a. Happy Hiker
diane@hiking-for-her.com
Hiking-For-Her