Have the freshest free hiking tips sent to you each month!

Beginner Hiking Classes
In Seattle Area:
Get Started Hiking

by Diane Spicer

Offering these beginner hiking classes is an idea that sprang into being from all of the email I receive from women who want to start hiking, but are hesitant.
They have questions:
What kind of gear do I need?

Who can I hike with?


How do I pick a safe trail?

Will my feet hurt?


What kind of food should I eat?

How do I dress for weather conditions?

Should I be worried about bears, snakes, strange men?

Can I handle crossing a stream on a log?



And lots more concerns, too numerous to list here.

Same goes for intermediate hikers!

Hikers who have been on the trail for awhile have different questions and concerns, but maybe a hiking class is  the solution to trail issues you're dealing with.
All of the Hiking For Her classes are customized to the students, so go ahead and contact me if you're interested and can get together a group of trail buddies.
Recognize yourself?

Do you have any of the questions or concerns listed above that are keeping you off a hiking trail?
Then this learning opportunity was created for you.
As an experienced educator with decades of training and deep hiking experience, I know how to craft an enjoyable learning experience for you.
And now that I'm retired from formal classroom teaching, I miss my students!!

So right now, I'm offering beginner hiking classes in the Seattle area.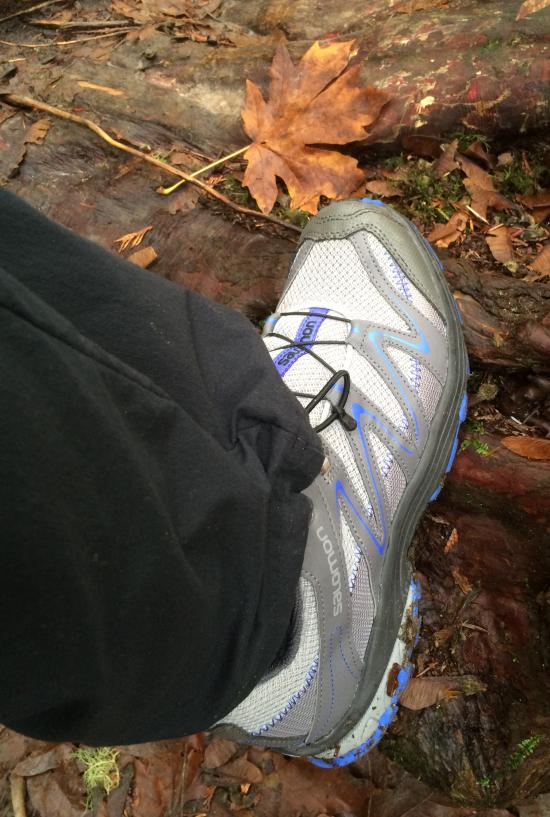 Get your feet on the trail!

What's in the class?

My vision for you is to get you onto a trail as soon as you feel ready.
So the class covers the answers to the questions above, and leaves room for your own questions.
A general plan for your time

We meet in a small group (no more than 6 students at a time) for an introduction to each other, and to the best hiking clothing, footwear and gear suitable for a day hike in moderate temperatures.
This takes about 30 minutes.
We don't wait for those running late, as a courtesy to those present.

Then we hike on a well maintained trail somewhere in the Seattle area to practice some outdoor skills:
How to pace yourself

How to cross a quiet, shallow stream on rocks or a log

When to add or remove a layer of clothing


When to drink water and eat a snack

How to make sure your backpack fits well and is loaded correctly

There are many trails to choose from in the spacious and beautiful park I teach in, so we can tailor your hiking experience according to your interests and skill level.

The hike takes at least 90 minutes, perhaps a bit more depending on the group's desire for trail time.
Allow about 30 minutes to de-brief and answer questions after the hike, and you're ready to head home with a handout that summarizes some beginner hiking tips.
To be on the safe side, set aside 3 hours total because I'm always willing to "stay after class" and answer more questions.
Too strenuous
right off the bat?

If this sounds like a bit too much physical activity for your first introduction to hiking, we can spend more time talking, and less time on the trail.
And because we're in a fabulous area for hiking (Pacific Northwest), we can talk about the types of trails you might find enjoyable, and how to access them.
We can also discuss anything else that is important to your enjoyment of the wonderful sport of hiking!
Not strenuous enough?

We can talk about meeting at a trailhead within an hour's drive of Seattle, and can discuss the costs and opportunities involved in taking a group hike together.
There's no better way to learn than on the trail!

Are kids welcome?

You're welcome to enroll your children, spouse, friends, anyone who wants to explore what hiking with you might be like.
Babies in carriers or backpacks are welcome!

But no toddlers, pre-schoolers, school aged kids under 10, or dogs, please.
Nothing against these humans and four legged creatures, it's just a difficult learning environment for adults who want to devote their time to covering some ground.

What do beginner hiking
classes cost?

That depends!
Being transparent about pricing is important, and can be flexible within certain boundaries. But here's the basic outline:

If you sign up for this class, the price of admission is $45.
But if you bring a friend/neighbor/loved one, you pay only $40.
Wait, what?

And for each additional person you bring, your rate drops even further.
Here's the math:

You + a friend: You pay $40, your friend pays $45

You + 2 friends: You pay $35; they pay $45 each.

You + 3 friends: You pay $30; they pay $45 each.
You + 4 friends: You pay $25; they pay $45 each.
You + 5 friends: You pay $20; they pay $45 each.
And by "friend", I mean any adult you'd like to bring to class.

The class is capped at 6 people, so it's possible to pay as little as $20 for your in person, customized 3 hour class on how to hit the trail in comfort and safety.

WoW!
Why do I offer this affordable pricing plan?
Because I want to spread the news that hiking is a great way to get fit, get happy, and get going.

Sometimes the hardest step is the first one.



Why do I keep the group so small?

If you're the only person interested in a hike at a particular time, you'll be placed on a waiting list.
Benefits of taking
small group
beginner hiking classes

By taking that first step (literally) toward hiking by signing up for a class, you are setting yourself up for success.
These beginner hiking classes give you knowledge, confidence, and more:

You meet other beginning hikers and potential trail buddies.

You learn how to do this hiking thing safely.

You see how an experienced hiker dresses, eats and behaves on a hiking trail.

You have your questions respected and answered.

You experience some real trail time, boosting your confidence and whetting your appetite for more.
Other topics
for hiking classes

Have you already done a few hikes, and find that you need some specific hiking advice or advanced trail techniques?

Possible topics for classes:

how to handle trail obstacles (blow downs, washed out trail, slippery surfaces, rock piles)

how to pack your backpack

how and where to buy quality gear

current gear assessment: do you have the right stuff; what can you do to make your gear work better

plant and animal identification

how to use trekking poles, water purifiers, or other gear

hiking self care for aches, pains and inflammation

how to build a hiking wardrobe one layer at a time


how to read topographical maps

overcoming specific fears or anxiety


hiking boots or shoes & socks – how to select, tips on foot issues (lacing, sock combos, types of footwear for different foot types)

hiking for weight loss or fitness

hiking with osteoarthritis

hiking during pregnancy or menopause


hiking to prepare for backpacking
Or tell me what you want to learn, and I'll put together an individualized session just for you & your friends.
We can work together on whatever skills, concerns or problems that you want to address on a one-to-one basis as well. More details here.

The fine print

I value your time, and I know that you value mine, too.
So there are no refunds for cancellations that occur within 48 hours of the class, or for no shows on the day of class.

If you live in the Pacific NW, you already know that the weather is fickle.
This class meets, rain or shine, unless a major event from Mother Nature compromises our safety.
Examples of when I cancel class:

Gusty windy conditions

Recent snow fall or cold temperatures creating icy trails

If I as the instructor cancel the class due to unavoidable weather events, you will be given an opportunity to join another class.
Don't let Mother Nature mess with your desire to start hiking!
But a full refund will be given upon written request.

What about if the people who signed up because of you cancel less than 48 hours before the class?
You will be notified if the class drops below three people.
Sometimes it's weird to be in such a small group, but in my opinion, it's a fantastic learning opportunity!
If you want to join a larger class, though, I understand. We can reschedule.
Each student assumes full responsibility for his/her own safety. The trails we use are well maintained but any outdoor activity carries risks along with rewards.

Are beginner hiking classes
for you?

There's only one way to become a hiker:
Start hiking
Here's your chance!
Email me directly to receive a quick little questionnaire and the dates & locations of upcoming beginner hiking classes.
We'll take it from there!
I'd really love to see you striding down a hiking trail, a big smile on your face.
Or contact me for intermediate or advanced classes. As long as you can get a group of friends together, we can make it work for you!

Home page > Best Hiking Tips >
Beginner Hiking Classes In Seattle Area

Didn't find what you were looking for? Use the blue TOP button
on the right to jet back up to the search box.
Why wait a whole month?
Plus, there's never enough room in the newsletter to share it all, so why miss out on exclusive Hiking For Her giveaways, limited time gear deals and discounts, freebies, updates, and more?

A short, info packed weekly email update will keep you current on all things hiking!
When you sign up to receive this update, you are agreeing to Hiking For Her's privacy policy.

Don't miss out!

Read more about these hiking weekly updates
HFH Policies


Save Time & Money


Hiking For Her's weekly emails keep you current on hiking & backpacking news:


flash giveaways
timely deals
steep discounts
freebies
trail changes


resources

Free, fast, fun info for you, every week of the year