Hiking Courses:
Fun, Info Packed,
Thought Provoking
& Unique

by Diane Spicer
How did these hiking courses come about?
Along with my vast and deep love for hiking, I'm a classroom teacher who fell in love with online learning.
My masters degree in teaching gives me solid teaching technique, and my 3 science degrees provide deep content in biological sciences.
Add in 2+ decades of teaching, and you could call me a seasoned teaching veteran (battle scars and all).
Couple this background with 45+ years of hiking, and what do you get?
Well designed, entertaining online hiking courses built around teaching best practices and rock solid trail experience!
To say that I love creating hiking classes that everyone can access and enjoy, anywhere and anytime on the planet, is a huge understatement.
Such freedom to learn can only be matched by the freedom of shouldering your pack and heading down a hiking trail, wouldn't you agree?

Hiking courses for you
to enjoy

Maybe you yearn to:
tackle a solo trip
plan a backpacking trip
get more comfortable on the trail
expand your hiking skill set with some "how to hike" information
Use these unique on line convenient hiking courses to sharpen any hiking "career goals" you might have.
Just click the course name for a complete course description!
There are 3 types of courses:
free & fast (only a few days);

low fee "start whenever you want" and proceed at your own pace;

community oriented courses: everyone comes together for weekly phone chats and proceeds through the course at roughly the same pace.
What are your questions?

Please feel free to use the contact form below to send me any hiking course questions you have.
I strive to be clear in my descriptions, but perhaps I missed something that's important to you.
I'm also open to suggestions for courses.
If you're having trouble finding information to achieve your hiking goals, maybe I can create a course to help you, and all of our virtual trail sisters. I'm up for the challenge!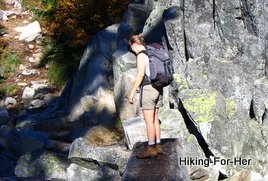 Hiking For Her's hiking courses have one goal: To get more women onto trails!

FREE HIKING COURSES

Current offering:
Hiking Myth And Facts

Ever wonder how  "real" hikers prepare for a hike?
And what do they do during it? and after?
There are lots of hiking myths floating around about "real" hiking.
MYTH: A statement that is wrongly believed to be true.

You might not even notice that you've bought into these false statements thrown around by the media.
It's not in my nature to leave these hiking myths unchallenged.
No hiker, newbie to trail hardened expert, deserves to be burdened by these untruths!
Thus, I designed a free 5 day mini-course so we could to do a little myth busting.

Over the next 3 days, I can share 3 of the most common hiking myths with you via email.
Only you can decide if you're unconsciously laboring under the burden of one (or more) of them.
But I won't leave it at that.
Give me two more days, and I'll share 2 hiking habits I recommend to every hiker, with tips to get you started down the right trail (so to speak).
You might already be displaying these "real hiker" traits!

But if not, it's time to add them to your repertoire.
In a nutshell, these free mini-lessons will hold up a mirror so you can recognize yourself as a real hiker (or a real hiker in training).
Sign up below if you're ready to answer these questions:
Easy and fast

Sign up is free, fast, and will give me permission to send you one mini-lesson each day for the next 5 days.
What happens once you sign up?
The first "real hiker" myth will land in your inbox.
Devote 5 minutes (probably much less) to reading it.

Then think it over on your daily hike, walk, swim, bike ride, run or whatever gets you outside and moving.
Whew!
Five days X five minutes = less than half an hour, in less than a week, for the best hiking tips to make you a stronger hiker.
And I can sleep better at night :)
Thanks!

IN PERSON
BEGINNER HIKING CLASSES

If you'd like to start hiking but have some concerns and questions, why not try a short hike with an experienced trail guide and veteran teacher?
Read all about Seattle area in person hiking classes here.
 
IMMEDIATE DOWNLOAD
COURSES
Note: These courses are unavailable right now because they are being revamped.
Please check back, or send an email to be placed on the 2019 notification list.

You can check out this course outline here:

Best For:
Learners who are self motivated, with busy schedules.
Pros:
Self paced,

integrates easily into your schedule,

all materials are available instantly and are yours forever,

lower cost due to self paced nature,

forum posts from other students are available for you to read and add to,

individual 30 minute phone call with instructor within 6 months of course purchase is included,

instructor contact info gives you lifetime access for posing questions and receiving answers.

Cons:


SCHEDULED COURSES
Current offering:Transitioning Into Solo Hiking
Start date: TBD
Length: 6 weeks (with optional 7th week)
Contact me to place your name on a notification list for new start dates in 2019.
Best for learners who:
Pros:
Join a community of like minded hikers and:
start down the (learning) trail together

enjoy the interaction of forum postings and weekly group phone calls

fall into a regular rhythm (similar to a hiking pace) for weekly course downloads (availalbe 24/7, all of which are yours to keep forever

use the instructor provided motivational tools for finishing the course

cherish the fun surprises and bonuses which keep your interest level high

tap the additional access to the instructor (small group or individual opportunities) for further study

stay involved and network with the cohort after the course wraps up



Cons:
Higher price due to the intensive and extensive format

"falling behind" might create anxiety (although in reality you don't miss anything because calls are records and forum posts along with course materials are available 24/7 and are yours to keep

requires more time commitment to soak up all of the goodness

Have any questions for me?
Read the course description here.
You can email me here.

Return HOME.
Or visit the Hiking For Her Facebook page!




Hiking For Her's weekly emails keep you current on hiking & backpacking news.


Free, fast, fun info for you, every week of the year - just use the box below!






flash giveaways
timely deals
steep discounts
freebies

resources
Why wait a whole month?
Plus, there's never enough room in the newsletter to share it all, so why miss out on exclusive Hiking For Her giveaways, limited time gear deals and discounts, freebies, updates, and more?

A short, info packed weekly email update will keep you current on all things hiking!
When you sign up to receive this update, you are agreeing to Hiking For Her's privacy policy.

Don't miss out!

Read more about these hiking weekly updates
| | |
| --- | --- |
| HFH Policies | Hiking For Her is a participant in the Amazon Services LLC Associates Program, an affiliate advertising program to provide a means for us to earn fees by linking to Amazon.com and affiliated sites. |