August 2013: A Note From Diane
Hello!
If you're reading this, you aren't out on the trail.
Why not??
I hope you're making plenty of room in your schedule for hiking adventures of every flavor: brisk walks through a nearby park, day hikes to your favorite waterfall or ridge top, weekend jaunts into forests and mountains, week long backpacking trips.....
Or how about 3 weeks in East Greenland?
That's where I just got back from, and it was not quite the trip I had in mind.
Helicopter evacuation due to pack ice from the North Pole making boat travel impossible, for one thing.
I'll be posting a full description soon, with pictures.
For now, I want to share a few things I think you'll enjoy, beginning with this lovely photo of Mother Nature's favorite North Cascades flower, lupine.
In The Hiking Flow
I recently read an article which I consider a "must read" for female hikers because it points out how to achieve a flow experience.
OK, let's define "flow experience".
If you've ever had one, you don't need my definition. But if you're wondering, being "in the flow" is a magical trail moment when "you" disappear or merge into your surroundings.
You forget about your sore feet and the mosquitoes, and instead you focus your consciousness on the stunning beauty around you.
It's not something that can be willed or planned or summoned.
And it's not something you'll ever forget.
So read the article and let me know what you think about it! (no longer available)
More Flow
Do you love movies?
I do, but I rarely have time to watch them during the prime hiking season. However, I made an exception for "Tell It On The Mountain: Tales From The Pacific Crest Trail".
If you've ever considered doing a "long hike", you should see this movie. It gives you a peek into the motivations and tribulations of thruhikers.
Some of the PCT hikers give you hints about how to achieve flow! (Although they don't come right out and say it - stay alert for the clues.)
And it proves one of the foundational principles of hiking: "One trail, infinite hikes."
Read my review to decide if this movie would be a good time investment for you.





In related news, there's a new hiking blog I'd like to share with you.
If you're wondering about California hiking, specifically in the Sierras (PCT territory), the photos and trail reports will satisfy your curiosity.
As for the name, you'll have to read about how this blog came into being in order to "get" it.
Three Hours From Everything
---



Well, there you have it: a few things to keep you busy on non-trail days! As always, feel free to share your comments and suggestions, my in box is just waiting for your message.

From me to you,

Happy Trails always.

-Diane a.k.a. Happy Hiker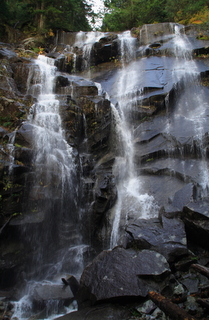 Hiking-For-Her