Enjoy Happy Trails, the free monthly newsletter from Hiking For Her.

Receive a free resource: Hiking Layering System Explained
Pacific Crest Trail
Hiking Resources

Pacific Crest Trail hiking lures plenty of hikers to the Western United States each summer.
Ah, the unparalleled allure of the PCT.
And the good news?
This long distance hiking trail comes in a variety of flavors:
Thruhiking (all in one go)

Section hiking (pick one section each year to enjoy)


Day hiking
Why so many Pacific Crest Trail
hiking choices?
Because there's so much gorgeous scenery and fantastic trail to choose from along the PCT's 2,663 miles (4,286 kilometers):
plenty of desert hiking

lakes




streams




dramatic mountain passes




national parks & forests




designated wilderness areas




and opportunity for solitude along certain sections
Start south and head north

Say you get on the trail at the southern terminus near the Mexican/California border (which most PCT hikers do in order to follow the summer season northward if they're headed to the Canadian border).

You're a NOBO (north bound) PCT hiker.
As you hike, you are treated to dry hot desert conditions until you hit the Sierras.

Then your mind is blown by high mountain passes which defy description.
Start in northern California

If you start in northern California, you have forests and rushing streams and lots of leg room, especially if you continue northward through Oregon.
Or section hike the Evergreen State

Lucky Washington State residents can day hike the spectacular Cascade Range.
And any section hiker can gawk at an amazing string of volcanoes, beginning at the Canadian border and southbound (SOBO) through Washington State, continuing into Oregon and beyond as time allows.

But if you're really serious about long distance hiking, you can earn the moniker "thruhiker".
Meaning that you hiked from the southern terminus until you completed the entire length of the trail at the U.S./Canada border (north bound, or NOBO).

Southbound hikers have to start a bit later, or face the navigational challenges of snowy trails in early summer on the Washington State section of the Pacific Crest Trail.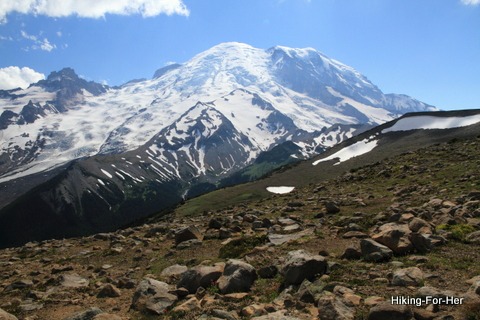 Mt. Rainier in Washington State, USA - one of the highlights of the PCT

I just couldn't do it!!

I'm no authority on thruhiking, and that's by choice.

I don't have the personality or mind set the PCT (or the Appalachian Trail, the Continental Divide Trail, the Superior Trail, or any other long trail) demands.
It would be severe mental cruelty to:
rush through Yosemite (California),




blow right past the Three Sisters (Oregon),




glance quickly in the direction of Mount Rainier (Washington)



... while hurrying toward the Canadian border before the snow flies.
I just couldn't do it!
Saturation hiking compared to
Pacific Crest Trail hiking

My style of hiking is what I call "saturation" hiking.
I backpack in to a base camp and enjoy serial day hikes, tapping out the area and exploring what it has to offer:
wildlife encounters,




geology surprises,




food foraging,




botany

galore,




star gazing,



all sorts of gifts from Mother Nature that thruhikers & section hikers forfeit in their enslavement to the clock.

But I realize that not every hiker is like me.
I deeply understand the siren song of the Pacific Crest Trail, especially for young hikers who want to go up against something big, really big.
So here's what I'm gonna do:
 Pacific Crest Trail
hiking resources

An obvious place to start is with Pacific Crest Trail hiking guide books.
There's nothing better than reading first person accounts of PCT hikers to prepare you for the challenges and realities.
Descriptions of sections of the trail, like these, are invaluable for planning your gear list, too.
Get organized!

It's also a great idea to read the backstory of the PCT, and hear from the hikers who maintain it.
Let's start with the Pacific Crest Trail Organization.
You can ease into things by volunteering time to maintain trail. Sections of that trail could certainly use your help!
If you poke around, you'll find maps, descriptions of PCT experiences, trail updates, community building opportunities, and lots more to build up a thorough picture of what hiking the PCT long distance trail might be like for you.

Here's another idea: Walk yourself through how to plan a PCT thruhike using this website's detailed information.
Want to really dig in and explore the idea of tackling this famous long trail?
This site gives you so many resources for planning Pacific Crest Trail hiking:
movies,




videos,




books,




podcasts,

 webcams,




articles.....
...but they didn't list one of the newest movies about PCT hiking called Tell It On The Mountain.
Read my review here.
Plenty to get started!

You should have plenty of fodder for your PCT daydreams if you explore all of these resources.
And once you're through exploring the PCT "for real", please write a description of your favorite moments of Pacific Crest Trail hiking for all of us to enjoy.
Here's wishing you good skies and good health on the PCT.
And may your trail angels appear just when you need them most!
Happy Pacific Crest Trail Hiking! (or PCT daydreaming)
Pacific Crest Trail Hiking