August 2014: A Note From Diane
Greetings, virtual trail buddy!
Got dirt?
On your boots, that is.
I'm hoping so. Because that means you're getting out and doing your fair share of hiking.
Dusty boots = hiking bliss, right?
This month, come along on my July 2014 Arctic National Wildlife Refuge (ANWR) hiking trip, for a taste of where the dust on my boots came from in July.
Also, I'm sharing my hiking gear reviews for the new tent, bug net, and boots I brought along on my trip.
As for the "Got Baby" part, read on!
ANWR Hiking and Rafting Trip
I can truthfully report that there is no where else on Earth quite like ANWR.
The nameless mountains towering over the rivers, the sweeping vistas of sky and rock and tundra, the hodgepodge of flora and fauna - it blew my mind!
The logistics of the trip included 2 bush plane rides from Fairbanks, Alaska, an inflatable raft, an intrepid river guide, and not much else for 10 days.
ANWR is The Big Empty, but in a good way!
Read my description of the trip, narrated by my husband David's photos,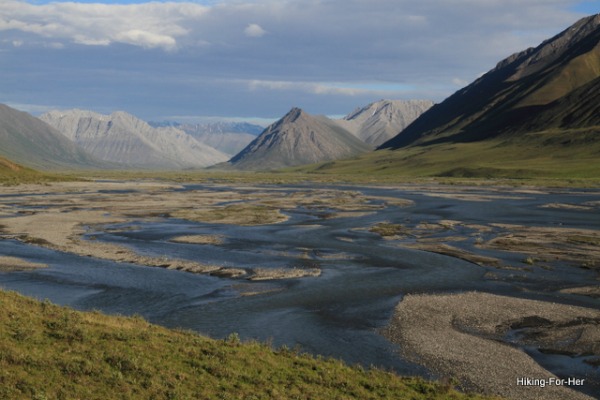 And don't miss my gear list,
right here, which includes physical and mental "stuff" you need to enjoy a wilderness trip like this.
In the market for some new hiking gear?
Here are my reviews of the new gear I brought along on my ANWR trip: tent, hiking boots, and the absolutely necessary, lifesaving bug net.
---
And Now, The "Got Baby" Part
While I myself don't have a baby in my house, perhaps you do.
And as a hiker with a baby, you need a Trailhopper!
What's a Trailhopper?
So glad you asked, because I happen to know the answer. And you will, too, if you check them out.
Enter the code "hfh20" when you order, and 20% will be taken off the price.
What's not to love? Made in America, trail worthy, practical, AND a discount!
Trail dirt.
Trail baby.
The Trailhopper will keep the dirt off the baby.
Now you know!
---
So many trails, so little time... that's all for now.
Let me know if you have questions or ideas for something you'd like to see on my website. I'm always eager to "talk trail"!
And best wishes for your upcoming trail adventures. I want you to answer in the affirmative next time someone asks you "Got dirt?".
From me to you,
Happy Trails always.
Diane a.k.a. Happy Hiker
diane@hiking-for-her.com
Hiking-For-Her