Enjoy Happy Trails, the free monthly newsletter from Hiking For Her.

Receive a free resource: Hiking Layering System Explained

Hiking Tent Reviews:
MSR Hubba Hubba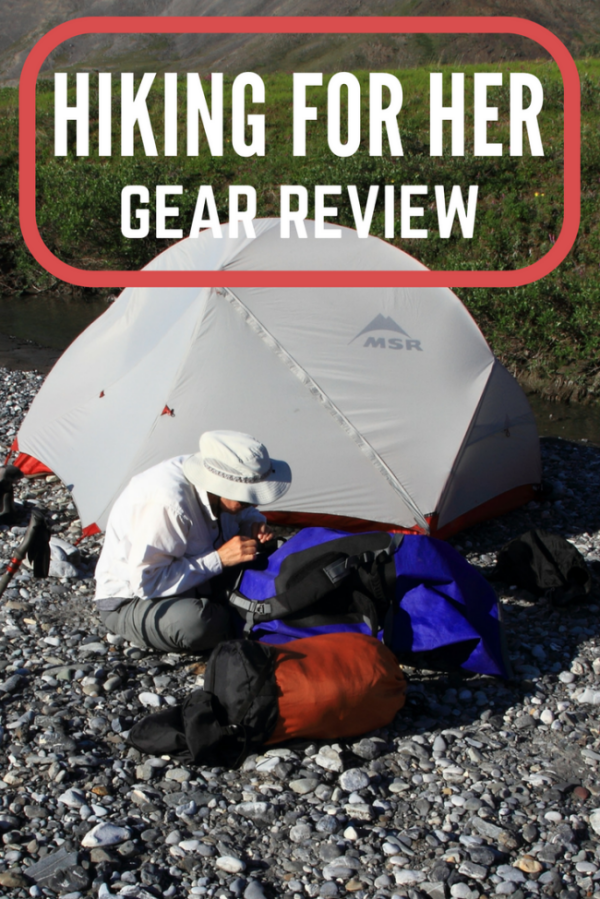 So you're wondering which tent to buy for backpacking and camping.
And you want to read hiking tent reviews.

Did you read this first?
It clues you in to the tent features you should consider for your style of backpacking and outdoor fun.
Reading it will make you a more informed consumer of this review.
Jump down to the hiking tent reviews details on the MSR Hubba Hubba.
Get the updated details on this tent here.

Why I'm qualified to write
hiking tent reviews

I've spent plenty of time in backpacking tents, starting with canvas tents (no kidding! I really am that old!).
And plastic tarps thrown over a piece of rope.
I am happy to report that we've come a long way since the 1970's, in terms of weight, water proofing, durability, pack footprint, and ventilation.
But here's the real reason why you should read this review: I love looking at tents.
Whenever I allow myself to go into an outdoor gear store I make a beeline to the tents. I'm always curious about new features, new brands, and new solutions to old problems.
And I love the idea of a tent!
Home away from home,

protection against the elements and stinging insects,

a sanctuary at the end of a long hiking day... I love tents!
But my love is tempered by skepticism.
I want my money's worth, and I want the tent to last a good long while (as long as I do my part and treat it right).
So you can be sure that my hiking tent reviews will give you the pros AND the cons.

MSR Hubba Hubba tent review
disclosures

The tent being reviewed, the MSR Hubba Hubba two person tent, was purchased with my own money after extensive comparison research. 
No one asked me to review this gear.
No one edited or paid for my comments.
Contact me if you have specific questions which aren't answered in my hiking tent reviews.
And please note that if you purchase this tent through the links on this page (after careful consideration of my review), it will cost you nothing extra.
But it sends a tiny amount of money to this website so I can continue to crank out gear reviews! Thanks for considering...
Technical specifications in
hiking tent reviews

Here's where you sit up and pay close attention. You're spending money for these technical details!

2 sleeping pad capacity (2 Hubbas in the name)
3 season protection

3½ pounds (considered lightweight for a double wall tent)
freestanding
2 vestibules

This tent has been updated
since this review was written

Heads up!
There have been improvements since I purchased my Hubba Hubba.
2022 specifications:

3 lbs. 4 oz. or can be stripped down to 2 lbs. 14 oz.
Carbon fiber poles
New rainfly colors


Where was this tent used for this review?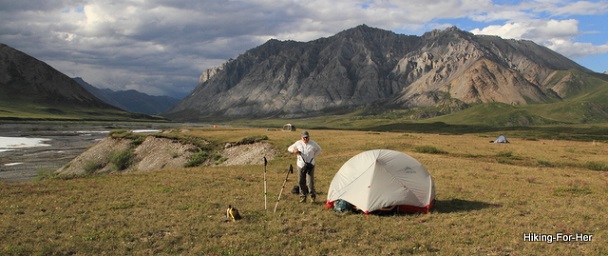 Hiking tent reviews need to be written by hikers who push their gear hard - in ANWR, Alaska, USA, for example.
The photo shows the terrain the tent dealt with in the Arctic National Wildlife Refuge (ANWR, or "the refuge"):
rain that blew in quickly

strong wind

soggy tundra ground

24/7 sunlight

large temperature swings

And that's just in one day!!

Most hiking tent reviews present the "pros" first, and for good reason.
It's great to highlight the good news first, and there is a lot of good news about the Hubba Hubba.

What's good (even great)
about this tent

Let's start with the "pros" - the things I really liked and appreciated about this tent.
Fast set up

The Hubba Hubba goes up fast, even in windy and wet conditions once you realize this trick:
Each end of the tent has color coded tabs, which makes putting on the fly much, much faster. 
Caveat: Setting it up in the dark might be problematic for this reason.

The "hubbed" pole set snapped together seemingly on its own, and held up in strong winds.
One note of caution: Keep grit out of this pole set!
If you're on dirt and sand (such as gravel river beds), don't lay the poles down to snap together or take apart.

Have someone hold up one end while you work on the other.
Two doors

This tent features two doors (not always a feature on a lightweight tent), so 2 people can enter simultaneously during peak mosquito times or driving rain.
And along with the doors, 2 vestibules for stashing gear out of the elements. Really convenient!

Also makes it easy to slip out during the night when nature calls, without disturbing your tent companion.
Small and lightweight

Truly lightweight, packs up very small, less than 4 pounds including poles, fly and footprint!
I consider carrying four pounds of shelter a good investment of my muscle power.
If you yearn to go ultralight, a tarp might be more to your liking.

Or if you're really confident about good weather, don't bring the fly!
(NOTE: I never leave the fly behind. I'm a pessimist.)
To go even smaller and lighter, consider the one person REI Co-op Quarter Dome.

Interior storage pockets

Not everyone cares about storage within a tent.
I find these options indispensable for keeping my gear organized and safe from grit and mishaps.

This tent has two mesh pockets, one at either end, for glasses and other small items you don't want to crush under your sleeping bag.
Floor
The bathtub design for the floor keeps rainwater away from your sleeping bag & pad.
The fabric is durable, but I wouldn't push it too far. For that reason, removing my boots before entering the tent is a habit I've cultivated.

Two vestibules

There are two spacious vestibules (storage areas/covered entry points) on each door!
This really saved me on my ANWR trip, because I could pile my dry bag and day pack out of the wind & rain to rummage around in them while staying cozy.
It also afforded a shady spot to lounge in during the endlessly sunny July days in the Arctic.
Fairly roomy

The Hubba Hubba provides adequate headroom, but remember, I'm only 5'3''.
Seemed roomy enough, even filled with 2 inflated mattresses, 2 sleeping bags, 4 boots, and miscellaneous piles of clothing & gear.
A large guy might have a different opinion! You might want to hunt around for other hiking tent reviews on the Hubba Hubba for a different perspective.
Ventilation
Condensation wasn't a problem (lots of mesh and no contact points with the fly), but we were in an extremely dry climate.
Yes, we got dumped on a few times early in the trip while still in the mountains, but for the most part, we were in desiccated terrain.
So I don't know how it will perform in the soggy Pacific NW - I'll update once I've had a chance to test it on my home turf.
There's an ingenious little flap on each end that can be propped open for airflow.
I can see how this tent would be rated three-season, although I would pack along a sleeping bag liner for early spring or late autumn trips.
Why?
There's a lot of mesh (thus the light weight), so it takes a while to warm up the interior if there's any breeze at all. (You do have a warm sleeping bag like this one, right?)
Mosquito absorbent

A detail you might not want to know, and most hiking tent reviews don't mention: The tent fabric is absorbent for blood filled mosquitoes!
How do I know?

After closing the doors each evening, it was a daily ritual to eliminate the little bloodsuckers, one at a time, starting in one corner.
Inevitably, by the end of the "sweep", a few had gotten full bellies.
And when we got home, vacuuming out the corpses was kind of fun.
The blood (my blood!) easily came out of the fabric with a dampened sponge.
Zippers
All of the zippers functioned well (fly and tent doors), even in pouring rain, extreme wind, and gritty conditions.
The tent is designed to direct rain away from the zippers, and it seemed to work well because I never got a surprise soaking when I reached for a zipper.
The MSR hiking tent reviews I've read all praise this unique feature.
Now for the flip side

And now for the things that concerned me: "cons" or drawbacks to the Hubba Hubba.
FYI: Beware of hiking tent reviews that don't have any "cons" mentioned!
These are things that pop up as you're using the tent over the course of several/many days in all kinds of terrain and weather conditions.
Every tent will have some concerns, it's just a fact of life: trade offs -vs- useful features.

An investment

The Hubba Hubba tent is a bit pricey, but when you're going out into rough conditions, you get what you pay for.
I am willing to pay a bit more for brands I trust.
I've always had good experiences with MSR gear, whether it's my stove, snowshoes, gaiters, or tent.
NOTE: Hiking tent reviews should always mention price points and equate them with the level of usage the tent will receive.

This is not a tent for a casual hiker - you'll be paying for features you really don't need.
Don't invest in this tent if you're going on a "once in a lifetime" trip.

It's also not a "top of the line" tent - if you need 4 seasons or rugged features, look elsewhere and be prepared to spend bigger bucks.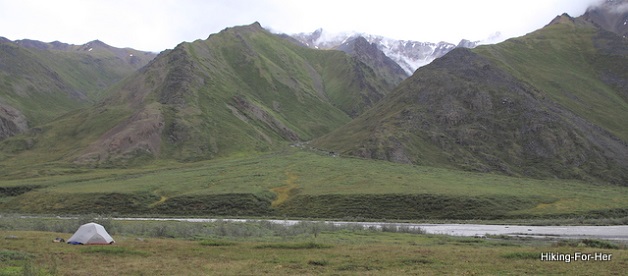 Add ons

The universal footprint was an additional purchase, which seems somewhat irritating given the fact that good tent care always involves a footprint.
Why not just add it to the price of the tent and include it?
However, here's the thing that made the purchase of the footprint worthwhile:

Over a two week period, the tent was pitched on:
soaking wet moss 

gritty gravel bars 

everything in between 

Protecting the tent floor was a really smart move – no signs of damage or wear after 2 weeks of continuous rough usage, even after dragging many pounds of gear over the tent floor every day.
Tip:
I've always sprung for the footprint, regardless of the tent I purchased, using the logic that it's cheaper to replace the footprint than to replace the tent!
Free standing might go air borne

This is a freestanding tent, so be careful with setting it up in strong winds.
By the end of the ANWR trip, my husband and I were able to set up the tent in under 4 minutes, once the poles were assembled.
Nothing like wind and rain, plus fierce bugs, for motivation!
Unknowns
I am not sure what this tent would do if a lot of snow fell on it.
The poles seem reasonably sturdy, but if a big snow dump occurred overnight, I wonder if they'd be up to the task.
To be fair, the tent is rated "3 seasons".
But continuing to be fair, snow can happen year round in the mountains!
One plus: the dome shape will divert wet, heavy snow.
A few general hiking tent reviews tips

Every tent is an investment of your money, as well as your trust.
To keep the lifespan of your tent in its optimal range, incorporate these tips into your backpacking routine.
When you arrive home, store your tent clean (sponge off the mosquito blood, grit and debris) and dry (hang it in sunshine to prevent mildew).
Hiking tent reviews wrap up

Overall: I have no hesitations about recommending this tent.
Mother Nature threw everything she had at it (sometimes within a 12 hour period), and the Hubba Hubba kept up its good performance throughout the trip. 
Take a closer look at it right here.

And if this tent isn't up to your standards, read this Hilleberg tent review.
Home page > Hiking Gear Reviews >
Hiking Tent Reviews