December 2015: A Note From Diane
---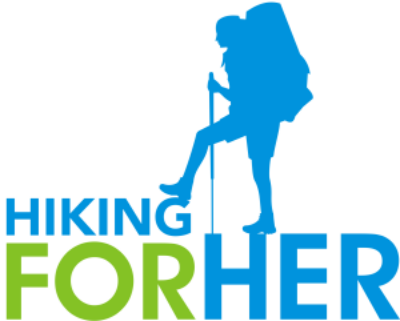 Warm December greetings to you!
Let's start off with a question:
Have you ever struggled to think of a solution to a problem and then BAM! the answer pops into your head?
That happened to me last week (on a hiking trail, imagine that!).
Here's why I'm sharing it with you.
Over the 9 years I've been working on the Hiking For Her website to build a hiking community of wonderful women (including you!), one particular type of email request really got to me.
"How can I find someone to hike with me?"
I never had a satisfying answer until now.
Read on for details.
Also in this issue of Happy Trails, look for something to make you smile, something to help you choose the best hiking boots for your particular style of hiking, and a hiking odyssey to follow in the New Year.
---
The Debut of "Hike With Me"
Finding an ideal hiking partner is serious business.
Just like any important relationship, you want to share your trail time with someone who "gets" who you are and how you like to hike.
But sometimes you're new to an area, or want to learn new skills.
Or maybe your current hiking partners don't want to tackle your ambitions for the new year: a section hike or a thru hike next summer, for instance.
So how can you find that perfect trail buddy?
You can use my confidential, easy, inexpensive resource named Hike With Me!
The idea popped into my head while hiking, as so many good ideas do when you let your mind roam as you enjoy the trail.
How it works:
You fill out a form I created, letting me know exactly what type of hiking partner you are looking for (takes about 2-3 minutes).
Then I go to work: I put your name into my pool of hikers, and when I see a match in terms of the age, gender, type & location of hiking you're looking for in a partner, I notify you via email.
Then it's up to you!
Easy, right?
But "Hike With Me" is also a safe, confidential mechanism to find suitable hiking partners that you won't find anywhere else.
And hey! it makes me sleep better at night, because now I have a satisfying answer to those emails asking for help locating a trail buddy.
I really hope this solution works for you! Happy Trails for every hiker has been a dream of mine for a long, long time.
Read all the details here.
---
Got 2 Minutes To Smile?
I compressed a 9 hour day hike to Mount Rainier's Spray Park into 2 minutes of Critter Spotting.
By that, I mean you can see otters, a marmot, a black bear, and a mountain goat duo doing what comes naturally.
If you've never seen a bear cooling off in a puddle, you've gotta check this out.
I hope it makes you smile!
Especially since that bear is now snoring away under a thick blanket of snow.
See the Mount Rainier Critters here.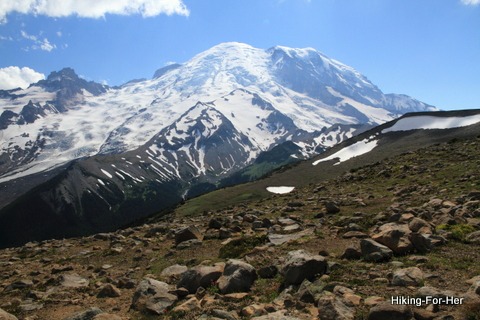 ---
Find The Best Hiking Boots
Now that you're on the road to finding your ideal hiking partner, how about solving any hiking footwear problems you've dealt with in the past?
That's the second most popular email question I get, something along the lines of "What should I be putting on my feet to avoid blisters?".
Read about how I size up hiking boots reviews, and add your wisdom about the best hiking boots, here.
And on a related note, I recently started experimenting with trail shoes.
Leaving my heavy boots behind was a mixed blessing: I love the lighter load on my feet, but miss the bombproof grip of rugged soles and the ankle protection of a boot.
If you're curious about the brand of trail shoe I like best, and why, here's my latest trail shoe review.
And if you're plagued with blisters, hot spots and sore toes after a hike, consider your own little experiment with new trail wear.
You really don't want to be forced into deciding if you're a blister "popper" or "no popper", as I describe in Seattle Backpackers Magazine.
---
Setting 2016 Hiking Goals
Are you a goal setter?
Or a goal forgetter?
I confess to being a bit of both!
But not when it comes to hiking goals.
In the final days of December I'm busy generating a list of where I want to hike in 2016.
So I was impressed when I ran across the blog of a woman who wants to accomplish a huge hiking goal: a non-motorized 20,000 mile trek across North AND South America.
She began this epic journey in November 2015. Along the way, she blogs about some of the uncomfortable realities in women's lives. Eye opening, to say the least.
If you'd like to join her virtually over the next few YEARS,
---
Save Yourself...
... some cash as you clean out last year's hiking gear and replace and upgrade for 2016.
I love hiking bargains, don't you?
Use this link

to get the best prices on sale and clearance items at one of the best gear shops in the U.S.
For a really interesting "trolling for a bargain" experience, take a look at Sierra Trading Post.
What I appreciate about this store is its ability to surprise me with not only great deals, but a wide array of choices on quality name brand hiking gear that is marked way, way down.
Happy bargain shopping!
---
And while I'm wishing you happiness for your upcoming hiking plans in 2016, let me also tell you that I really appreciate you.
Every page of the Hiking For Her website is written with you in mind, hoping to make your hiking time easier, safer and more satisfying.
Thanks for reading this newsletter, and for visiting my website and Facebook page.
Let's keep in touch going forward into our new 12 months of hiking adventures. Your comments and letters mean so much to me!
Happy Trails always.
Diane a.k.a. Happy Hiker
diane@hiking-for-her.com
Or stop by for a bit of hiking inspiration: HFH FaceBook