Hike With Me:

Find An Ideal Hiking Partner
Right Now
by Diane Spicer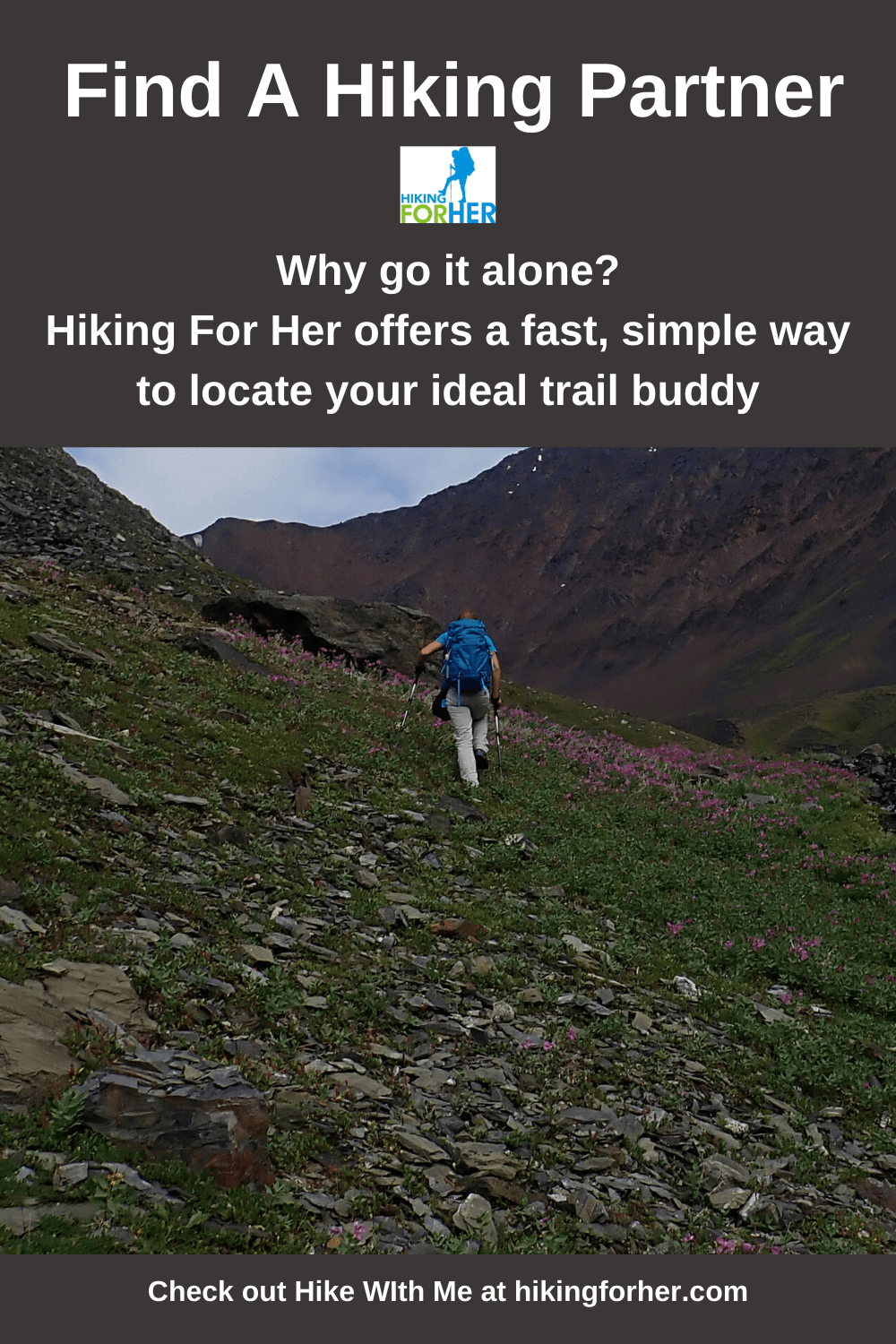 "I want (or need) someone to hike with me!"
Have you ever heard these words come out of your mouth?
You probably have if you've struggled to find a compatible hiking partner, one who has the time and the skills to hike the way you want to hike.
Or maybe you need to find a new trail buddy because your regular trail companion bails on you more often than not.
Or because s/he moved away.

Or is going through a lifestyle change that cuts into hiking time: parenthood, school, career, medical issues, you name it.
If you need some assistance in finding an ideal hiking buddy, look no further.
The hiking partner finder has arrived.
It's called Hike With Me.

Hike With Me wait list
Get on the waiting list to be notified when we open up the doors to the Hike With Me service. That will happen in March 2020. 
Now keep reading about how this hiking service can help you.


What is Hike With Me?

Hike With Me is a fast, easy process for locating a suitable hiking partner.
It was created to answer the needs of hikers everywhere, based on the multitude of emails received by Hiking For Her over the past 12+ years.
Although this website is for female hikers, it's no surprise that the guys are looking for compatible trail partners, too.

Who wants to stay home, when you can be exploring gorgeous terrain like this with a trail buddy?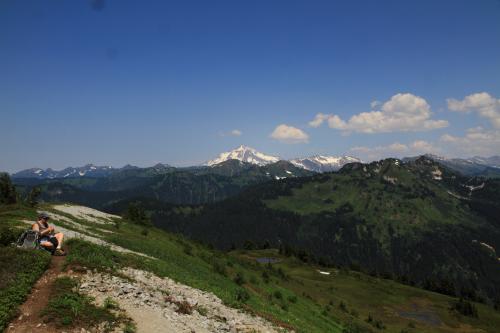 Taking a snack break on Benchmark Mountain, near Glacier Peak, North Cascades, Washington State, USA

Who is Hike With Me for?

Any hiker who:
is brand new to an area and doesn't have connections to the local hiking community

has gone through a relationship breakup and lost a hiking partner

wants to hike with someone new and learn different hiking skills

is dreaming of tackling a long trail (Camino de Santiago in Spain, or the Pacific Crest Trail in the U.S. are examples) and wants companionship for safety, navigation and logistical reasons

has a significant other or spouse who doesn't want to hike
Any hiker who:

would like to section hike only one portion of a long trail due to time constraints

wants to start hiking, or start hiking again after an injury or medical issue




has ambitious mileage plans and wants a companion who understands and can handle the itinerary

finds that group hiking isn't working out

would like to make a new friend for future hiking adventures



At least that's what Hiking For Her's email is saying about why folks are looking for someone to hike with.
That's why Hike With Me was invented!

How it works

Super simple.
You create an account with an email address and a password.
Then you fill out a brief questionnaire detailing who your ideal hiking partner is: age, gender, experience level, location, time and type of hiking you want to do.
Your photo, phone number or other personal information is not required. 
It will take 5 minutes or less to fill it out.
NOTE: When you sign up, you must agree to share your email address with potential matches, and to release Hiking For Her from all responsibility when you "meet" your match(es).
You assume any and all risk when using Hike With Me.
Then what?

Once you create your account and pay for your subscription, you will be added to the pool of potential hiking partners.

You receive notification when matches pop up throughout the length of your subscription: one month, three months, or six months.
These things take time, especially if you're very specific about your ideal hiking buddy.

There is no guarantee that a match will be found.
You can view the information the matching hiker submitted, although their identity and contact information is shielded, as is yours.
Everything remains anonymous unless one, or both of you, initiate contact via email. 
After that, you're both on your own in terms of meeting and agreeing to hike together.
You have the option to browse
and to post your own
buddy requests
Don't want to wait to be contacted with matches?
Using your personal dashboard, you can see who matches the criteria for your ideal hiking partner profile.
You can also post a buddy request and mention your specific trail hobbies and preferences.
For example:
photography

botany

geology

geocaching

orienteering
Another example:
This specificity increases the likelihood of finding just the right person to hike with you.
You can also delete your information at any time in your dashboard.
What happens to my information?
Your information is kept in the database as long as you're subscribed to the Hike With Me service.
It is an honor to receive and safeguard your information.

Once your subscription expires, your information will be deleted from the pool of potential hiking partners. 
You control when you respond to potential matches.
You don't have to respond to anyone. 

Initial contact is via the email address you provide.

You're in charge!
What if I need
different types of partners
for my hiking plans?
Example:

You'd like to do day hikes near home as training for the next 3 months.

You also are planning a long trail hike in a different country in 6 to 8 months. 
Different styles, time frames and skill sets!
To search for 2 different hiking partners simultaneously, submit two different forms.
You are billed separately and can control the length of your subscription for each.
What does it cost to sign up?

There is a fee to handle administrative and technology costs, payable when you submit your request for a hiking partner. 
The cost of Hike With Me is kept as low as possible while providing an ad free, easy and private experience.
There are 3 pricing options:
$15 per month

$30 for 3 months (save $15)

$45 for 6 months (save $45)
You can use the credit card of your choice for payment.
You will see the familiar Hiking For Her logo on the payment page.
That's your guarantee that Hiking For Her has received your information and payment.
What happens once I pay?
Hike With Me sifts and sorts the database to locate folks with similar trail goals and interests who also match your description of an ideal trail buddy.
Over time, this sift/sort/match process continues to work for you.
The longer you remain in the database, the more likely it is that your ideal trail buddy will appear.
That's why you're offered three different time frames.
If you have very specific plans for a future time frame and location, remaining in the database for a longer period of time is recommended.

You can post your own buddy request with specific details, too.
How do you notify me of matches?
You'll receive an email with any matching partner's email address.
They will receive one alerting them to the match with you.
Then it's up to the two of you to connect.
One recommendation if you're concerned about giving out your e-mail address:
You can easily delete that address without touching your main email address.
A few things to note
about Hike With Me
1. All fees are collected up front. You will receive notification to renew your subscription before it expires, or to cancel.
2. There are no refunds if you change your mind or want to opt out before the end of your subscription. 

3. Once you submit your form, you won't be able to change it.

This helps keep costs low a

nd the process as efficient and fast as possible. That's what we all want, right?

If you aren't sure about your hiking plans, the monthly subscription is recommended because it gives you the most flexibility.
4. If you decide to withdraw your name from the database before the end of your subscription, send an email with the subject line "Hike With Me" here.

5. Hiking For Her is not responsible for anything that happens once you contact your potential hiking partner.
Our goal is to connect two hikers with similar interests using a straightforward questionnaire and a bit of technology.

You assume all responsibility for contacting and interacting with potential partners.
When you discover a profile of a potential hiking partner who seems to line up with your plans, do your own due diligence.
A few tips:
Schedule a phone call or video chat with your potential trail buddy.

Meet your potential trail partner before you agree to hike with her/him.


Use your best judgment when setting up an initial meeting: notify a friend/family member of where you'll be, meet in a crowded public space, bring along a friend if you're uncertain.

Exchange limited personal information until you've met a few more times and feel comfortable doing so. 

If all your interactions are online, ask for facts you can verify via social media, background checks and other channels.

Ask questions about hiking style, amount of outdoor experience, and goals for the trail. Even better: ask for photos of prior hikes.
Hiking For Her is not responsible for your personal choices.
Use your 11th hiking essential, common sense.

What are my chances of finding
my ideal hiking partner?

Great question!
The size of the "hiker pool" at the time you enter it will determine how many potential hiking partners you may find.
There is no way to control this number,
and so there are no guarantees or refunds.
How long will it take to receive
potential matches?
Again, there's no way to predict.
It can take time for all of the variables to line up: location, gender, age range, time frame and type of hiking.
It's a moving target!
That's why we offer large price discounts for staying longer in the database:
The goal is to locate an ideal hiking partner. If that takes several months, we want to give you the best possible chance of connecting.
Please realize that it's also possible that no matches will pop up regardless of how long you remain in the pool.  
How many partners can I find?
There is no limit to the number of possible matches that Hike With Me may find for you during your subscription.

And don't worry about being flooded with unsuitable matches.
You specify the attributes of your ideal hiking partner, and that's what Hike With Me uses to search out the best partner for you.
Caveat: If a match turns up which is close to what you specified, you may be contacted via email  by Hiking For Her. You can green light, or say no thanks to, receiving the email address for this potential hiking partner.
How to maximize your chances
for the best match

For the best chance of finding a suitable hiking partner:
1. Stay as general as possible.
You will be able to pick a geographical location in the world, or a specific U.S. trail.

You will select a general time frame when you sign up.

You can work out the specifics later.



If you don't have exact plans, that's okay. Sign up and keep your request general.
2. Stay flexible.
Finding a partner for a general location is the first step.

Be open to meeting hikers at various skill levels and ages. It's a good way to meet new people.

Putting your heads together to plan a perfect hiking trip in terms of time, location and skill level will be fun once you've exchanged contact information. 

Be pleasantly surprised by what your hiking partner might suggest!
Another option for locating
a hiking partner
If you're a female hiker near or over the age of forty, you can join our Over Forty Hiker private community. One month's membership is offered at the low cost of $4.99 (with savings for an annual plan).
In addition to meeting a select group of female hikers, you can see if anyone is located near you, or has hiking plans that match yours.
You might also meet hikers who tempt you to try new regions and locations with their outdoor photos, trail descriptions and friendliness.
NOTE: This community is not intended to substitute for the laser focused Hike With Me service. It offers a more relaxed space for sharing, learning, fun and encouragement.
It is only for female hikers.
Questions about
Hike With Me?
If you have questions that weren't answered here, please contact me.


Ready to find
your ideal hiking partner?

If you're ready to get started down the trail to finding your ideal hiking partner, get on this waiting list!
We're working hard to get everything ready to roll, and you'll be notified as soon as you can enter our hiker database.



More ways to use this service
Hike With Me works for experienced hikers who would like to mentor beginning (novice) hikers.
If you're interested in a thru hike this year or next, you can use this service to meet folks who are dialed in on a specific trail and would welcome your company through the planning phases of a long trail hike.

Success!
The success of Hike With Me depends on the level of involvement from hikers just like you.
If you're serious about getting out more often on hikes, or want to enjoy longer hiking trips, use this fast and easy process to try to find your ideal hiking partner.
Hiking For Her reserves the right to change the policy and parameters for Hike With Me as needed to ensure a quality experience for everyone.
And as noted, there is no guarantee your ideal hiking partner will be located through this process. We can only give it our best effort.

Looking forward to getting you on the trail with a trail buddy soon!



Hiking For Her's weekly emails keep you current on hiking & backpacking news.


Free, fast, fun info for you, every week of the year.

Use the box below for fast sign up!






flash giveaways
timely deals
steep discounts
freebies

resources
Don't miss out!

Read more about these hiking weekly updates
As an Amazon Associate,  Hiking For Her earns from qualifying purchases. 



All rights reserved. 





Photo credits: All photos on this website were taken by David Midkiff or Diane Spicer except where noted.