February 2014: A Note From Diane
Howdy Hiker!
This month I've got some info on trail comfort, a testimonial on how to prepare for upcoming hiking trips, and a bit of a price break on energy bars to share with you.
Let's get right to it!
Question: When is it advisable to be repellant?
Answer: When you're on a soaking wet trail!
But you're going to pay a premium for waterproof, breathable gear.
So don't over-buy rain gear if you don't need to. Think about the worst conditions you will face, the length of time you might need to be wet, and the temperature ranges you will be up against.
Then, and only then, purchase your rain gear.
Read through the differences between resistant, repellant, and water proof gear
Getting Trail Ready
Last month, I asked about upcoming hiking plans for "stretch" trips.
K2, a fifty-something "flatlander" from Ohio responded by sharing her approach to preparing her body for the hard work of backpacking a piece of the Appalachian Trail in NJ/NY from Delaware Water Gap, PA to Unionville, NY this June.
I'm sharing her training regimen here as a great example of how a dedicated hiker sets and conquers training goals:
"I always start prepping in January because don't we all set our New Year's resolutions to lose weight, get in shape, and spend more nights on the trail?"
"I set up an excel spread sheet to record the amount of time and distance I hike. So along with the date I also set up headings for strength training and also capture that time spent, reps, and weight used."
"Prep for distance: I try to hike at least 3 days a week to start and at least one of those hikes is 5 plus miles."
"And by hike I mean either on trails in local parks or even in my neighborhood, but always in my boot/sock configuration."
"Prep with pack: As the old saying goes, nothing gets you ready for spending all day on the trail with your pack, than spending all day on the trail with your pack."
"In years past I've started with about 10-20 lbs and worked up to full trail weight in about 2 months. That has had me trail ready by April or May the past two years. This year my hike will not be until June and I have switched to more ultra light gear. So I've dropped from 37-27 pounds full gear including water and food for 3-4 days."
"I will stash my pack and hiking sticks in my vehicle by end of February; that way I always have it when the opportunity to hike presents itself."
"Prep for mountains/cardio: My biggest challenge is prepping for mountains. I train on a treadmill 30 minutes at a time (max allowed at my workout place). I set incline on 5 and increase a half increment each 1 minute up to the maximum and work back down by full increment so as to be cooled down by the cool down period."
"My pace is 3.3 mph for this until I get to incline of 10; then I drop back mph .1 for each rise in incline."
At 6 weeks out I hit the sledding hill at the quarry. It is 75-80 feet high and quite steep. I do "mountain toppers" with full pack weight for a minimum of 30 minutes up to 90 minutes."
"Balance: On nights I might be watching TV I get off my seat and work on balance exercises during the commercials. Standing with feet shoulder width apart I simply lift one knee so that my thigh is parallel to the floor. It is amazing how difficult this can be to start with."
"I keep one leg up the length of one commercial and rotate switch at each commercial until the regular program comes back on. If I'm feeling pretty steady, I'll stay on one leg and at each switch of ad I will lower my leg so foot is just off the ground and point my toe forward, then to the side and then to the rear."
"Weights/core: I do some reps with 25 lbs of weight and for core some planks and dips."
Does this sound like a lot of work?
Of course it is!
But I agree with K2 that slow, thoughtful preparation pays off during those long lovely days of hiking in terms of better balance, less soreness, dependable endurance, and faster recovery times.
Need motivation to get prepped for upcoming trips?
Drop me a line and I'll be your tough love virtual trail buddy :)
Free Shipping!
I passed along the debut of Dancing Hawks Organics trail bars last time. And now there's even better news from Paul.
If you type IHIKE in the coupon section of your order, you'll get free shipping!
---
Upcoming Trail Stuff
That's it for now.

I promised a movie review this time, but decided to wait til next time to share it with you. It'll be worth the wait, I promise!

March's theme? Muscle Strength Analysis & Improvement Strategies. This will tie in nicely with K2's words of wisdom.

Don't hesitate to contact me if you feel that you're up to something that my readers would enjoy: inspiration, perspiration, or motivation are all good subjects for hikers, as K2 showed us this month!

And as always, I welcome your letters and questions.

Remember, it's ok to be repellant sometimes! This photo shows me staying dry in Greenland last summer...

From me to you,

Happy Trails always.

-Diane a.k.a. Happy Hiker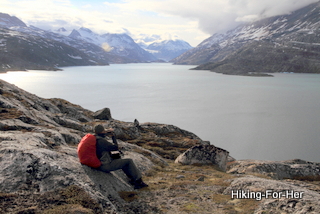 Hiking-For-Her