Enjoy Happy Trails, the free monthly newsletter from Hiking For Her.

Receive a free resource: Hiking Layering System Explained
 
Best Women's Hiking Rain Gear:
Waterproof Jackets, Pants
And So Much More

by Diane Spicer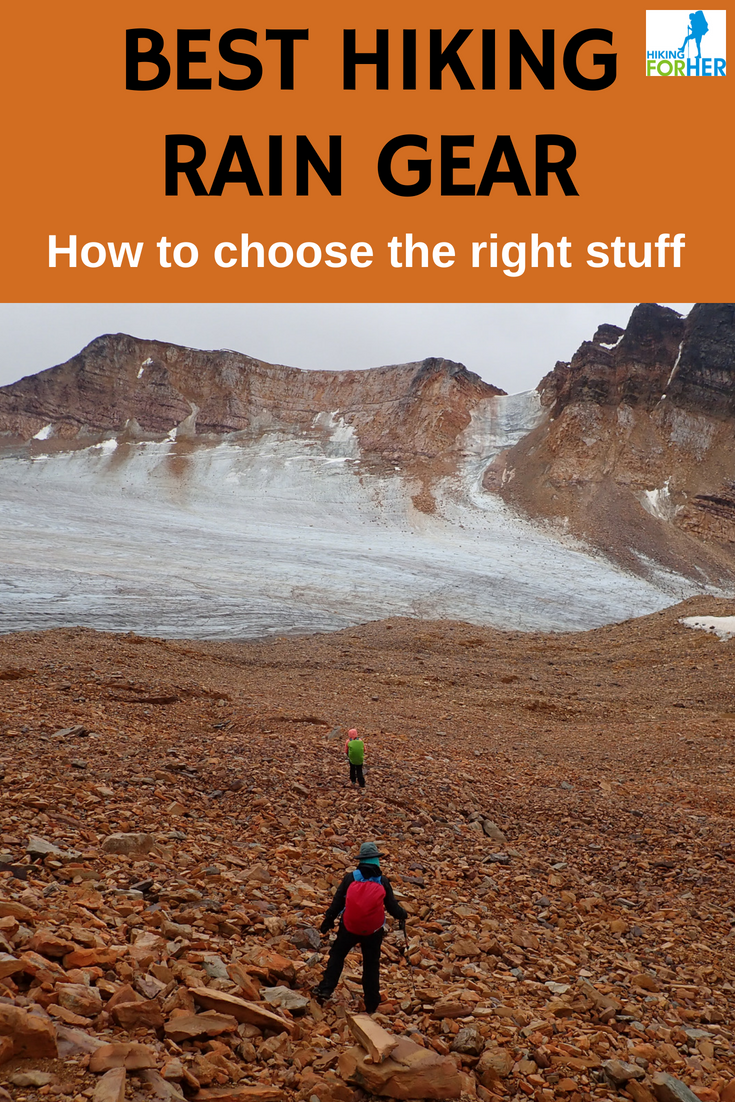 Hiking rain gear fact: not all womens rain jackets and womens rain paints are created equal.

As women, we're schooled in the fine art of attraction.
This is lovely when what we're attracting won't make us hypothermic (or worse).
When choosing hiking rain gear, being resistant and repellent is a much smarter choice.

As hikers, we should be interested in keeping our core body temperature right where it belongs.
Yet we're intrepid enough to get out there and face the wrath of Mother Nature.
What's a rain loving hiker to do?
Plan ahead and wear the best women's hiking rain gear!
And use these tips to make rainy day hiking an enjoyable experience, every time.

In a hurry?

Or keep reading to learn how to find the best hiking rain gear for your style of hiking and destinations.
How to choose the best
hiking rain gear?

The first thing I'd advise is to read clothing labels on hiking rain gear very carefully.
Look for "weasel words" such as "repellent" (also spelled "repellant") or "resistant".
They sound the same.

They are NOT the same.

And they are not equivalent to "water proof".
Sounds like splitting hairs?
Not at all!
You need to know the difference when you shop for hiking rain gear, because your hiking clothing keeps you safe when the weather turns nasty.
Let's parse a little, shall we?

Let's go through these words and figure out exactly what type of hiking rain gear you need for the trip you're planning:
waterproof

hiking pants or jacket



water repellent hiking clothing
something less pricey such as water resistant gear
If you already know you need a waterproof backpack, read this.
Water repellent hiking rain gear

Water repellent hiking rain wear has been coated with something to repel water, but there are definite time limits to its function.
Repellent fabric will create beads of water on the outside; that's a good clue that you have some time before you get soaked.
However, don't expect to stay dry forever.
Or even an hour, in a deluge.
Water

resistant rain gear


Water resistant? It doesn't offer as much protection as "repellent". 

After a few minutes in "real" rain, you're gonna get wet.

The fabric cannot prevent water molecules from passing onto your skin or clothing.

This fabric is best suited to warm climate day hike jackets, or situations where you know you can duck out of a downpour.

If you can afford it, go for water repellent over resistant hiking rain gear every time.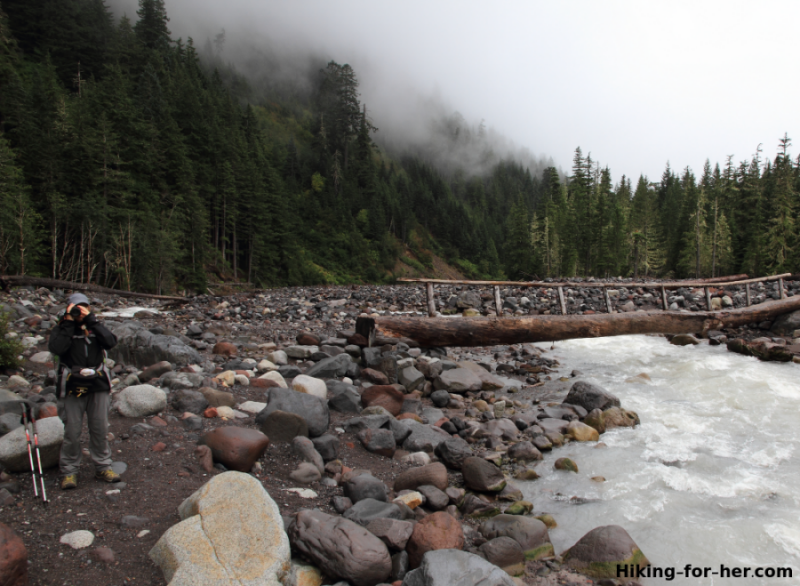 When the clouds descend, rain gear to the rescue!

Waterproof hiking rain gear

Now let's kick it up several notches.
I'm the kind of hiker who wants "proof", as in "no way is a water drop going to contact my delicate skin through this barrier."
Why?
Anything less, and eventually water will seep in and cost me body heat, comfort, and peace of mind.
And that can translate into less elevation gain, less mileage, less fun and possibly hypothermia (reduced core body temperature).
My hiking rain gear is as waterproof as possible, after many years of wearing suboptimal gear that left me damp and chilly.

How do they do that??

So what's up with this magic waterproofing?
To be waterproof, the fabric is unusual, possibly magical. The weave does not allow water molecules to penetrate.
In other words, the water is excluded, trapped on the outside.
Enter a new issue: breathability.
It is possible to get drenched INSIDE your rain gear due to your own sweat if you're hiking in the rain wearing water proof hiking rain gear.
That's got a "yuck" factor different than, but equally unpleasant, as getting wet from the outside-in.
Water proof breatheable gear is going to set you back price-wise, no way around it.
Prepare for major sticker shock when you start reading labels.

Speaking of labels, which is where we started, you might see the word "Gore Tex", although there are lots of other options and more every day, it seems. I don't have one particular recommendation.
Side note
It's kind of amusing to read ads regarding the latest, greatest hiking rain gear fabrics. You'd think they had invented sliced bread, or something :)

So once you pay your hard earned money for waterproof breathable hiking rain gear, be sure that:
the gear fits,


you can get it on and off in a hurry, and

you take good care of it season after season.
It's an investment in your comfort and safety, right?
What I rely on in wet conditions

I'll show you my favorite brands of rain proof jackets and pants to give you an idea of the price ranges you're looking at.
I've put my Arcteryx jacket through so much wind, rain and mud that I'm amazed I can still zip it up.
I can't say enough good things about this brand.
But here comes the "but".

The price point might seem high.
But if your life depends on your clothing, it doesn't make sense to skimp.
And you can always put it on your watch list, or gift list, for when sales come along.

Arc'teryx Beta LT Jacket
Waterproof rain pants should keep your legs not only dry, but warm.
I have 2 pairs, one thin pair for warmer summer weather and a heavier pair that you see below, for winter outings or really brutal summer hiking.
Here's the lightweight pair, with some nice features like taped seams at a great price point.

These come in different lengths, sizes XS - XL.


REI Co-op Essential Rain Pants
Here's the higher end pair I'd recommend for really big, wet, cold adventures.

Take notice of the excellent features these pants have, including full length zips for ventilation and bombproof fabric.

Also note that you will have to use a clothing layering system for these conditions. Read more here.


REI Co-op Rainier Full-Zip Rain Pants
If you're not an REI member yet, consider these 2 dozen reasons for joining the gear co-op.

A sizing tip for hiking rain gear

Once you decide which price range you want to be in, factor in the clothing you'll already be wearing when you pull on your rain gear.
I always go up a size in my hiking rain gear because if the weather turns on me, I know that I'll have many layers of clothing on.

I want to be able to bend, twist and breathe in my rain gear!
So don't buy your usual size unless you plan to pull this gear on over nothing but your skin!
What about wearing something a bit
less confining to stay dry?

For warm weather rainy spells, you could go minimalist by pulling on a piece of lightweight, waterproof fabric that shields you from moisture to below your knees.
Kind of like wearing your own personal tarp ;)
Rain Wrap by Enlightened Equipment
---
Tip: If you wear plus size hiking clothes, this could be the answer to not being able to find decent rain pants to pull on over your hiking pants.
THE most affordable rain gear
If price is the most important thing in your quest for reliable rain gear, take a look at FrogTogs.
These waterproof jackets and pants are inexpensive, lightweight and may be just what you're looking for as a beginner hiker or thruhiker.

Tips for caring for your
hiking rain gear

I use a wash-in product called Nikwax on my pants and jackets once they've been through the washing machine a few times.
It's important to keep them waterproof (or resistant) because I rely upon these critical pieces of gear to keep me out of the Land of Hypothermia.
There's one particular company I turn to again and again:

Nikwax Tech Wash
As for waterproofing my leather boots, here's how I do it.
For boots made of synthetics, I use this product.

Also, I hang dry my rain gear whenever possible, and brush dirt off with a dry brush rather than wash it after every outing.
For quick and reliable field repairs, carry some duct tape wound around your water bottle or hiking pole for emergency repairs in case you get a gouge or slit in your rain gear.
Duct tape ain't pretty, but it's cheap AND waterproof.
This brings up a good point: how to do field repairs. Here's how to put together a repair kit that will  help  you out.

Feel better now?

Have I answered the question "water proof vs. water repellent hiking rain gear?" for you?
Here's the bottom line:
If you're a casual weekend hiker who can cancel plans if it looks stormy, don't spring for expensive water proof rain gear.
But if you're going to be outdoors with no options to bail on your plans, carefully consider the cost-benefit ratio of expensive but high performance rain gear.
Sometimes cheap will cost you. What is your comfort, and possibly your life, worth?
More tips to keep you warm & dry
in wet hiking conditions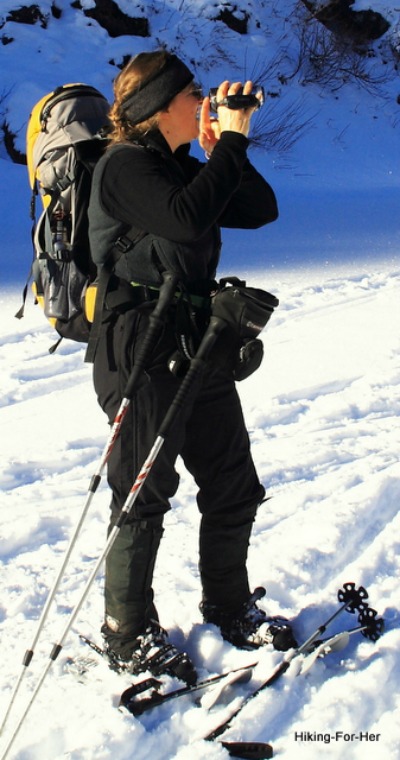 A good look at the hiking rain gear that doubles as cold weather hiking clothing.
I always wear gaiters in snow, when the trail is brushy and wet, and especially in rainy weather.
The gaiters keep my legs warm, my boots dry, and my pants from becoming mud/snow encrusted.
I've found that the life of my expensive waterproof hiking pants is extended because the grit and grime hits the impermeable gaiters, not my pants.
Bonus: They are inexpensive and so lightweight you'll never notice them in your pack when the sun shines.
I carry mine year round (because of the type of hiking I do), but if you hike where it gets dry be sure to take them out and hang them up in your gear locker.

This is

really

important

Cover your head as soon as you feel a chill preceding a down pour or snow flurries.
Waiting for the first rain drop to hit might cost you some precious body heat as you scramble through your pack looking for your hat.
I rotate through an ear band (see photo above), a lightweight fleece cap, a so-called Seattle sombrero, and sometimes all 3 at once in order to keep my head warm and dry when Mother Nature can't make up her mind.
Do I look dorky?
You bet!
Am I dry?
You bet!
I've learned not to skimp on hiking rain gear, and nowhere is that more important than my head.
Here's a sombrero style hat, versatile and lightweight. I wear mine A LOT.

Outdoor Research Seattle Rain Hat

Hands are important, too

I also cover up my hands right away when I feel chilled, again starting off with lightweight fleece but graduating to water proof glove covers if the moisture level warrants them.
The downside is that my manual dexterity is compromised.
However, I feel that it's better to have warm fingers in case I need to make a tricky maneuver across a talus slope, or pull myself into a tree if a bear charge is imminent (!) or I have to tear off the wrapper on my energy bar (more probable).
Take these waterproof gloves, for instance:

Seirus Xtreme Hyperlite Gloves
I like their versatility:
They can stand alone as a quick way to warm up my hands so I can keep gripping my trekking poles.
Or they can be used as liners inside of my clumsy but waterproof mitten style glove covers.
For more glove options, read this.
Here's something a little different: some hikers swear by hiking umbrellas to keep their upper body even drier, with or without covering hands with gloves.
Read more about them here.
Don't forget to
waterproof your pack!

A few words about waterproofing your pack are in order.
If you choose to stick with water repellent gear, please water proof your pack as a precaution against having soaked clothing in cold weather.
You need to be able to change into something warm and dry, not something soggy, once you're safely in your dry tent.

The best approach is to buy a pre-treated pack with a pack cover.
Second best: buy the water proof/repellent pack cover that fits your existing pack, and keep it that way.

Third best: big water proof garbage bags, although they are prone to ripping and will not fit your pack as well as you might have hoped on the warm sunny day you packed them.
At the beginning of every hiking season, spray your pack with waterproofing.
Put on your pack whenever the weather looks threatening if you're taking a trail break or setting up camp. Why?
Because in the windy rainy weather, having an exposed back allows water to reach places you'd rather it didn't on your body. Always be on guard against hypothermia!




Also, your body heat will be trapped against the pack, keeping you warmer and more focused on the task at hand.




Waterproof backpacks

You can go one step further (as a hiker, that makes sense) and buy a waterproof backpack.
Read my ideas on those here.


Ways to keep your stuff dry
Please believe me when I repeat this basic fact: a rain cover for your backpack is essential.
It will do you no good to keep your body dry if everything in your backpack becomes soaked.
To take this advice and not spend a lot of money:
Use a heavy duty garbage bag over your pack, which is cheap and lightweight but prone to ripping and leaks, and can be blown off in a stiff wind.
As the first few raindrops hit your pack, take the time to whip out your pack cover and get your stuff covered up.
As mentioned above, some backpacks come with an integrated pack cover, usually stowed in a Velcro closed pocket at the base of the backpack.
The pack cover may be tethered to the pack with some sort of cord, and should be adjustable with a cinch cord.

If yours doesn't have this feature, I'd recommend that you skip the garbage bag hack and order a pack cover. Carry it in an outside pocket for fast deployment in bag weather.
This one is a good all purpose pack cover for daypacks under 45 liters, although REI offers them in sizes up to extra large to accommodate your largest volume backpacks.

Best hiking rain gear:
Let's sum it up

To sum up, there are 2 variables in your cost-benefit analysis to consider:
Performance (as in staying dry no matter what the weather throws at you) and

Cost (as in "They want HOW MUCH for that jacket??").
You must choose one of two routes when shopping for rain gear:

Pay a lot for waterproof breathable hiking rain gear and have tremendous peace of mind knowing that your core body temperature will remain in a viable range regardless of how long you're outside in cold wet conditions.
-OR-

Pay less, but have less peace of mind when the weather turns wet.
But wait!
Maybe you don't put yourself in situations where you need to stay warm and dry at all costs (literally).

Now that you know the pertinent facts about choosing the best hiking rain gear, don't let a few clouds or snowflakes stand in the way of an adventure.
Home page > Best Hiking Tips >
Hiking Rain Gear
Hiking For Her: Hiking tips you can trust!