January 2013: A Note From Diane
Hello!
This month, I've got a book review (sort of), a tip for keeping warm during a winter hike/snowshoe adventure, an update and a reminder.
Let's get to the tip first.
Do you make room in your pack for a small thermos of something deliciously hot?
You should!
It's a great way to keep your core temperature up, and a fabulous way to impress your hiking buddies.
Some folks like to carry a thermos of hot tea. Others prefer hot chocolate. But I prefer to carry a hot lemon ginger echinacea juice blend.
There are several reasons why I prefer this beverage. It's not too sweet, and the extra vitamin C from the lemon juice combined with the herbs rumored to be immunity boosters seems like the right thing to do during the winter season.
If you have access to Trader Joe's, they have a nice blend with no artificial colors or flavors. You could also try a food co-op.
I carry enough for a half a cup for each person. Don't forget to bring extra cups, unless you don't mind sharing the thermos cup.
I motivate myself during the strenuous uphill or long distance portion of a winter hike by chanting "Hot Drink" over and over in my mind. There's nothing better than holding a steaming cup of hot goodness in your cold hands!
Another option: Stash a bigger, heavier, much more full thermos in the car, wrapped in a tea cozy or blanket. You'll still be popular with your trail buddies, without the extra pack weight.
Of course, if you want to be popular with ALL of your trail buddies, don't forget the trail mix!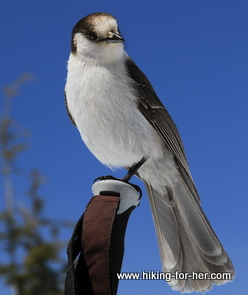 And now.... A book review - sort of!
I've been hearing lots about Cheryl Strayed's book "WILD".
The marketing hype definitely caught my eye: "From lost to found on the Pacific Crest Trail". Or "An incredible journey..."
The cover photo of a battered hiking boot looked promising.
So I began reading the book, only to be appalled at the way this woman approached her PCT hike.
In fact, I can scarcely believe this is a true story. It seems way out of the bounds of possibility.
Would any hiker worth her salt arrive at a trail head never having packed her pack? Never putting on the socks and boots that will carry her down the PCT for weeks on end? Not meticulously planning her hike, beyond cruising through an REI store and mailing some food to random way points?
It wasn't until Chapter 4 that I realized that the book is not pitched toward hiking women, but women who are hungering for a transformative experience to heal from trauma and wounds that are on the inside - although Cheryl certainly wracked up her share of outer wounds, too.
Her descriptions of what she did to her precious hiking feet were especially painful to read, given my firm belief that a hiker must treat her feet like the divas they are.
I started the book eager for trail details. I got very few, and the one she described made me wince. Totally unprepared for navigating across unmarked sections of the PCT? Totally clueless about snow conditions in the High Sierras before setting out? Can this be for real??
Needless to say, I didn't finish the book.
Not because it wasn't well written, because it was. Not because I didn't sympathize with her painful past experiences, because I did.
But because the book was an extensive map of how to hike the PCT in exactly the wrong way.
And now that I wrote that sentence "out loud", maybe that's exactly her gift to women hikers, especially young ambitious solo hikers.
Please let me know what you thought of the book. Use this contact box at the bottom of the page.
Gear Update
In the last newsletter, I mentioned a Hoo-Rag.
I finished my winter weather field testing last week, so if you're interested in an alternative to cotton bandannas or fleece scarves, you might be interested in reading
Reminder: Free Tea Opportunity
Last time I shared how much tea means to me when I'm cuddled into a blanket on the couch, planning my upcoming summer hiking season.
And I would still like to send one lucky reader a cute little teapot just like my favorite one, and a choice of either green or herbal tea, as a thank you for reading my website & newsletter.
All you have to do is post a description and photo of your favorite summer 2012 hike on my "Share Your Hike" webpage, and I'll enter your name in a drawing for the tea surprise package.
On January 31st, if I have at least 5 new posts, I'll select a winner.
Even if you're not a tea drinker, consider sharing your knowledge and experience in a trail post. I hear from readers all the time about how much personal stories mean to them in their journey from novice to expert hiker. So please share your expertise!
Make 2013 Your Best Hiking Season Ever!
Ready to challenge yourself? Or try a new hiking technique? Let me know how I can help. I'm always eager to add new information to my website, so send your questions and suggestions my way.

You'll receive a personal answer, and I might use your question as the foundation for a new page of information on my site.

Please use any of the Contact boxes at www.hiking-for-her.com
---




From me to you,

Happy Trails always.

-Diane a.k.a. Happy Hiker