Enjoy Happy Trails, the free monthly newsletter from Hiking For Her.

Receive a free resource: Hiking Layering System Explained
   Share Your Hike
With Us
Right Here!

By Diane Spicer

Please share your hike with other women hikers, because I don't know about you, but I love, love, love to look at trail reports.
If you want to share your hike, I want to read about it.

And even better  - drool over a few pictures.
OK, I'm a trail addict, I admit it.
With no plans to recover any time soon, either!
And I'm guessing you are in my boat :)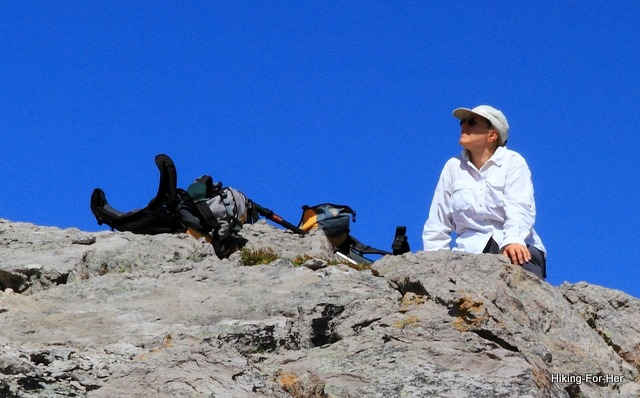 Here I am, pondering which hike to share ...

Why read trail reports?

What is it about reading hiking trail reports that's so addictive?
Part of it stems from the strong sense of community I feel when I read a hiker's description of time spent in Mother Nature.
I'm honored that she wants me to visit that special place which touches her heart.
Another aspect of reading trip reports and hiking trail descriptions is that it whets my already huge appetite for hiking.
I love that "Hey! What if I go there next summer?" feeling which sweeps over me after reading a particularly interesting trail description.
Lastly, I count myself among those human beings who respect and treasure the wild places of the Earth.
If you've looked around this website, you probably won't be shocked when I admit that I spend a lot of time rooting out credible and enthusiastic trail descriptions.
I'm always on the look out for places I can visit, or that I can recommend to folks who write to me for recommendations.
In fact, here are a few hiking adventures that other women have sent it, with all the juicy details.
But now it's your turn.
Share your hike right here
... it's easy!

Sharing is caring, as they say.
This big beautiful world is just waiting for us to lace up our boots and go exploring.
We want you to tantalize us with your latest hiking adventure, your favorite hikes, your special places in the wild.
Here's how to share your hike:
1. Tell us where in the world this hike is located.

2. Describe why it's one of your favorite hikes. Throw in juicy details like waterfalls, animal encounters, unusual botany or geology, or beautiful vistas.

3. Share a few photos. This is optional, but remember what they say a picture is worth???
If you need help with this process, click on the blue question marks below for more directions.

Thank you!

The entire Internet hiking community of women hikers will say "thanks for sharing".
And I'm sending a huge Thank You in advance. I can't wait to see where I'll be wanting to go hiking next!
Have A Great Trail To Share?
You know the trails in your area, and probably have a "must do" hike to recommend.
Or maybe you've just gotten home from the hiking trip of a life time, and can't wait to share it. Here's your chance!
Your Favorite HikingTrail
Click on the links below to see trail descriptions from other hikers. Every word comes straight from the mouth (and heart) of someone who wants you to put your hiking boots on these special trails.

Home page > Fun Hiking Stuff >
Share Your Hike With Us!