June 2015: A Note From Diane
---
Howdy, dear Hiker!
Here it is the longest hiking day in the Northern Hemisphere, and I sincerely hope it finds you on a hiking trail.
I've got lots to share with you this time around:
a new free hiking magazine, a breaking story about a hiker with a cause, information about the "return trip" effect that you can use on the trail, and a clever new business to make folks bear aware.
And a new gear review!
Without further ado...
Hiking Magazine Debut
Ever get tired of the endless ads and breathless prose of Backpacker Magazine?
Yeah, me too.
I was contacted recently by some hikers who are launching a brand new monthly hiking magazine.
And guess what?
The first several issues are free.
The magazine is a cross between detailed trail reports and bucket list hiking.
And they're looking for contributors! Contact SIDEWALK ASAP if you'd like to earn a bit of money in exchange for your hiking trip report.
---
Hiking Just 'Cause, Or For One?
Samantha Bode could be doing any number of things as a young hiker in the next few months.
What's she's chosen to do is nothing short of remarkable.
She (and her support crew) will be filming 70 days of hiking the route of the 338 mile Californian aquaduct water system, over the Mojave Desert and the Sierra Nevadas all the way into Los Angeles.
Why?
Watch this for her compelling reasons.
I'd love to hear what you think about this (ad)venture named "The Longest Straw".
Foolish optimism?
Gripping reality hiking?
Well placed effort?
Let me know, especially if you live in that area!
And you might enjoy clicking around her site a bit. She shares lots of amazing and frightening facts.
Her videos hit me really hard because Washington State, my (usually dripping wet in June) big backyard, has declared drought conditions due to a dry winter and even drier spring.
---
"Return Trip" Effect
When I'm on the return leg of a hike with double digit mileage, my feet often start talking to me.
And I don't mean polite small talk. I mean TALKING!
So when I read an article that claims our perception of walking times differs between round trips and one way trips, my brain started planning ways to use this against my feet.
Give it a read here and see if you can apply it to your own perception of trail time.
Then let me know what your brain decides to do with this information on the trail!
---
Bear Scare or Aware?
Yellowstone National Park in the U.S.A. is home to a handful of grizzly (brown) bears.
Which can become a real handful when they encounter human hikers.
A new company is aiming to arm hikers with bear spray for a very modest price, by renting cannisters to hikers.
Great idea, right?
Many hikers show up unprepared to deal with the probability of a brown bear encounter.
The woman behind this idea has quite a bear story of her own to share, so be sure to read it here.
---
Softie For Hiking Socks?
Merino wool hiking socks I've heard of.
In fact, I own a bunch.
Alpaca? That's a new one!
Read about the softest hiking socks ever!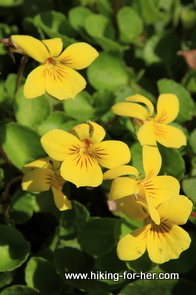 Transitioning to Solo Hiking Course Update
I'm busy putting the finishing touches on this e-course, which will begin in early September.
However, I will open up registration via an announcement in the July newsletter, with a price break for those who sign up early.
This course is for you if you're toying with the idea of trying a solo hike but have some concerns (or maybe outright fears).
It's also a great way to prepare for the realities of being responsible for your own comfort and safety on a solo dayhike, an overnight, or a longer adventure.
Built into the course are weekly Q&A calls, a forum to share information and exchange ideas, and lots of additional resources and materials for you to explore.
But the most exciting part?
It's your opportunity to join a community of hiking women who are ready to expand their horizons - literally!
I'm so excited about this course that I'm vibrating in my chair as I type this. I've been wanting to create community around the fantastic sport of hiking for more decades than I'd care to mention.
And I've poured hours and hours of love and care into the course, making it as engaging and worthwhile as I possibly can.
It's the course I wish I had found when I first longed to go solo on the trail.
So watch this space in next month's newsletter for the link to detailed course information and registration.
If you're a shy violet (or you can't wait), feel free to ask me your questions about the course via the email address below.
---
I am so thankful for your interest in this humble little newsletter. Please let me know if you'd like me to cover anything in particular.
Otherwise, I'll keep sending along "breaking news" as I receive it here in beautiful Hike-landia!
From me to you,
Happy Trails always.
Diane a.k.a. Happy Hiker
diane@hiking-for-her.com
Hiking-For-Her