Enjoy Happy Trails, the free monthly newsletter from Hiking For Her.

Receive a free resource: Hiking Layering System Explained
 Ausangate
Hiking Sock Review

by Diane Spicer
Let's start off this Ausangate hiking sock review on the right foot: 
Aw - sen - gati is the way to pronounce the name of this company.
But these hiking socks just might be your gateway to happy feet, for any number of reasons.
Demands of hiking feet

To say I'm protective of my hiking feet is an understatement.
My feet are my ticket into, and out of, the back country.
What they want, they get.
And what do they demand?
Comfort: padding in all the right places.
Dryness: moisture wicking fibers to avoid blisters and keep my skin from pruning up.
Thermal regulation: toasty warm on cold days, cool during sweltering conditions.
Not an easy combo to pull off in the dark, damp confines of my hiking boots!
So when this pair of hiking socks came my way, I was conflicted: skeptical yet intrigued by alpaca yarn.
It's not every day I get to try a totally new type of material, but why should I give up my tried and true merino wool high performance socks?
Disclosure of Material Connection: I received Ausanagate socks for free from Ausangate Socks, LLC as coordinated by Outdoor PR in consideration for review publication.

Receiving these socks in no way obligated me to love them.
However, things happen...

Love at first feel

When my feet felt this pair of hiking socks envelop them, I may or may not have imagined the cheering of millions of tiny epidermal cells.
But I know what my brain registered:

-Softness like you cannot believe.
-Snug fit with ribbing to prevent pooling around my ankles.
-Cushioning at heel and toe.
-A bit of compression across the instep and arch of each foot.
For the first 15 minutes I walked around the house, luxuriating in the softness but wondering how the smooth slippery feel would interact with my liner socks and hiking boots.
Time to hit the trail!

And I did, not once but twice, in these socks:
14 miles, 2500 feet elevation gain the first time, and




10 miles, 3500 feet elevation gain a week later,



wearing a pack and sweating for all I was worth into my new socks.
8 things I noticed
in these socks

1. The socks were very slippery for the first few hours of the first hike. I'd recommend that you wash them before trying them on the trail. Even with thin liner socks I had a bit of trouble keeping my feet steady on downhill slogs.
2. They showed a bit of wear at heel and toe after 2 hikes, as expected.
3. I look for hiking socks that cushion the back of my leg against my boot top, and these crew socks were tall enough to do this without being too tall.
4. These crew socks are very snug. They're ribbed and have elasticized bands at the top. 
I like to fold over my thin liner sock plus my hiking sock to create a barrier against trail grit at the top of my boots.
These socks fit very tightly at the top due to an elastic band, so I wasn't able to do my usual "fold over".

If you like socks that stay up no matter what, these are for you!
5. Because my foot is wide, I avoid bulky, heavily cushioned socks.
6. Worried about the itchiness of wool? It's a non-issue because there's no lanolin in these socks.
7. Thermal transfer was pretty good. Both hikes were in spring conditions - a mixture of snow and mud and dirt, so my feet had plenty of opportunities for getting cool AND overheated.
8. Did the socks smell after my hike? Yes, a bit, but anything would after being trapped in my boots for 8 hours!
A tip: At your lunch spot, take off your socks and place them, inside out, on top of your boots while you relax.

Your feet will thank you, and odors will have a chance to off-gas.
Is alpaca in your future?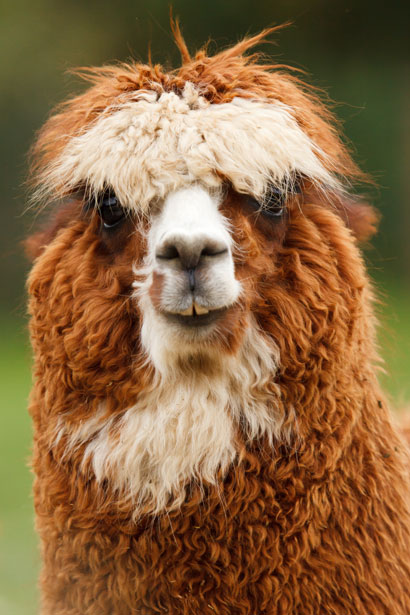 Tell me you didn't smile at this wide eyed goofy grin!
Not being well versed in alpaca lore, I did a bit of reading and came away impressed with these tough critters who thrive in the mountains – something I aspire to.
I like the fact that Mother Nature (or mother alpacas) make more of these fibers.
I appreciate the fact that their fibers are harvested in a humane manner, and that I can recycle them into Mother Earth when they've maxed out.
So what's up
with the funny name?
Turns out Ausangate is a mountain in the Andes. (Who knew alpacas have heavenly beings watching over them?)

Here's what sets these socks apart from wool socks: They feature 70% "Alpacor" yarn rather than Merino wool.
You'll notice the softness right away, and you'll appreciate the moisture wicking capacity of the hollow fibers during your hike.

What's the other 30%?
Nylon.
The nylon helps shape the sock and hug the contours of your foot, and will keep your socks sock-shaped after many washings.
BONUS: These socks are super comfy around the house, too.
Ausangate hiking sock review conclusion: thumbs up!

So would I recommend these socks?
Yes, absolutely!
Let's face facts.
Your feet are critical to your enjoyment of hiking trails.
And technical hiking socks are going to cost more than cotton everyday socks.
These socks combine the features every hiker needs with a reasonable price point. They deliver:
moisture wicking fibers

padding at heel and balls of feet

medium amounts of cushioning in the body of the sock

odor control

softness

easy wash-and-dry care

the chance to channel your inner alpaca in the mountains.
What's not to love?

Home page > Hiking Gear Reviews >
Ausangate Hiking Sock Review
Hiking For Her: Hiking tips you can trust!