May 2015: A Note From Diane
Howdy, dear Hiker!
The month of May has almost vanished, and if you haven't made time for a hike or two, make plans to do better next month.
What? Time management for hikers?
Yup.
That's the only way to carve out some outdoor time for yourself in your busy life.
Two suggestions:
1. Find a local hiking club/group/organization/website that keeps up to date on seasonal trail opportunities. Check the site at the beginning of each month to cherry pick the trails that appeal to you – and then put them on your calendar.
If you have a chance to sneak away for a mid-week hike, so much the better! You just might have your whole big backyard to yourself.
2. Pull out some maps of your favorite areas and circle the places you've been, or put a shiny star on each been there-done that destination. Then play "fill in the map" with yourself as you plan a few upcoming hikes within that same area.
I call it "immersion" hiking, because you can soak in the things that make one area different from another: rock formations, peculiar plants, waterfalls and lakes, or a herd of elk which frequent one particular valley or drainage.
If you really get into this, you can do seasonal immersion hiking - roaring waterfalls fed by snowmelt become dry stream beds that are easy to cross in the fall.
Or dabble with plant identification: Can you figure out the identity of plants that are just sprouting in the spring? Plan a return trip to check yourself during high summer, and then watch how they set seeds and die back in the fall. Snowshoeing over the tops of these plants in the winter can also be great fun!
Better yet, take photos in all 4 seasons and make them into a screen saver (see freebie below for ideas) or wall calendar to remind yourself why you love that spot on the map.
---
In this newsletter, I'll share an email I received and let you be the judge of whether or not I should take them up on the offer (or whether you would like to).
I'll give you some unsolicited cautionary advice about UV exposure (ultraviolet light rays from the sun which can penetrate your skin and damage the DNA in your skin cells), in hopes of saving you from the angst of waiting for skin biopsy results.
I'll also go all poetic on you and share one of my favorite free form poems while putting a hiking spin on it.
Let's get the "been there, please don't do that" out of the way first, shall we?
Seborrheic Keratosis – You Don't Want It!
Here's a nosy question with a good intention behind it: How diligent are you with sunscreen applications while you're hiking in the noonday sun?
If you get a gold star in that category, how diligent are you about RE-applying it every 2 hours?
One more question: What SPF do you use? That number turns out to be pretty important.
SPF = Sun Protection Factor. The higher the number, the longer you can stay out in the sun without worrying about UV damage to your skin. If you use SPF 30, you can stay exposed for 10 x 30 = 300 minutes (5 hours).
But only if you don't sweat.
Ha! Hikers do plenty of that, so we need to be extra vigilant about our sun exposed areas: face, neck, ears, scalp.
Last week I finally got the results of a skin biopsy for a weird new growth on my left ear. I was a bit panicked because while I slather on sunscreen at the beginning of a hike, I know that I sweat a whole bunch and never take time to reapply it.
Also, I'm guilty of preferring a baseball hat (no ear coverage) rather than a large floppy hat.
[Weirdly, I found just such a floppy hat awhile back, abandoned on a trail in some bushes. A major hint from the universe, perhaps?]
Anyhoo, it turns out I dodged a bullet (i.e. no skin cancer diagnosis) because it was an "age related" growth called seborrheic keratosis
"They" say most us will have such a growth as we age. I'd love to hear if you've already encountered such a "gift".
However, I fully plan on being extra diligent about sunscreen by taking my dermatologist's advice: Neutrogena SPF 50 sunscreen, reapplied every 2 hours.
She highly recommended this brand because it's not greasy and has good ratings from her colleagues. She also turned me on to a powder form (SPF55) from the same company – just dab it on your face, neck and ears as if you were going out on a big date!
Here's a bit more info on
So here's wishing you absolutely no skin biopsies, ever!
---
---
A Poem To Hiker-ize
In the spirit of poetry, I think I just invented a word: "Hiker-ize: to apply all good things to trail time."
I'll get you started by inserting my hiker-related comments after the first line. The rest is up to you.
By the way, this is Mary Anne Radmacher's poem and it's on a magnet I keep on my desk to remind me of why I'm on the planet.
"Live with intention. (Great hiking trips don't just happen. Set your intention to have a great hiking season. See my hints at the beginning of this newsletter for carving out trail time in a busy schedule.)
Walk to the edge.
Listen hard.
Practice wellness.
Play with abandon.
Laugh.
Choose with no regret.
Continue to learn.
Appreciate your friends.
Do what you love.
Live as if this is all there is."
I love how she bookends her advice with the same verb: Live.
Do you live to hike?
Do you en-liven your life with hikes?
Please say yes!
And then send me your hiker-ized lines. Opening my email is the best part of my day, and I'm eager to see what you've come up with.
Photos of you playing with abandon at your favorite hiking destination are most welcome!
---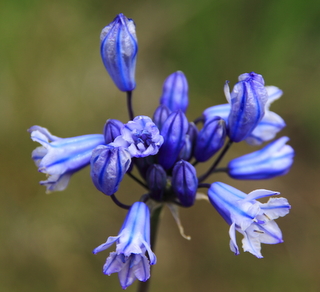 Transitioning to Solo Hiking Course Update
I've been receiving feedback and comments from my initial "joyful learners" - a.k.a. beta testers. It looks like a green light for this online course!
After a lot of research, I've selected the Ruzuku platform for the course because it allows for a community forum and group phone calls.
One of my biggest motivations for this course is to build a community of like-minded female hikers so we can swap knowledge and maybe even find some trail buddies for training hikes (and some not so solo trips).
In the June newsletter I'll be sending details about how I designed the course, what it can do for your hiking skills, and how to join this virtual hiking community.
Curious and can't wait a month? Email me directly.
Wallpaper Freebie to Inspire You
Before I scoot, here's a free source for lovely photos that can soothe and refresh you on your desktop screen. -link no longer works -
Hey! Thanks for reading this through to the end.
I appreciate your interest in hiking resources, and I really look forward to connecting with you each month.
Any particular topic you'd like to see in next month's issue? Send it my way!
And from me to you,
Happy Trails always.
Diane a.k.a. Happy Hiker
diane@hiking-for-her.com
Hiking-For-Her