Enjoy Happy Trails, the free monthly newsletter from Hiking For Her.

Receive a free resource: Hiking Layering System Explained
Safe Sunscreens And
Other Strategies 
For Sunny Hikes

by Diane Spicer
Safe sunscreens might seem like an oxymoron.
After all, you apply sunscreen before heading out for a sunny hike to safely screen your skin, right?
But is your sunscreen safe to put on your skin?
I didn't really think about this question too deeply until I started having skin biopsies every year.
I've spent a limited amount of time in direct sunlight, compared with folks who live in sunny parts of the world.
But when I do go out in the sun, it's usually for day-long hikes and sometimes it's day after day out in the baking sun while backpacking.
This tends to accumulate lots of skin damage in short bursts, summer after summer.
Which is why I go to a dermatologist for mole checks and biopsies, as well as advice about which sunscreens are safe.

Safe sunscreens:
what to look for

After consulting with several dermatologists, I use a leading brand which promises SPF55*.
It also blocks both ultraviolet A and B rays, important because they penetrate to different depths of skin layers.
It even has a seal of approval on it from the American Cancer Society.
*The Sun Protection Factor (SPF) number is important.
So don't "overbuy" ridiculously high SPF (as in 100) numbers.
Curious about what I use?
Here it is.
I like it because it's not greasy or smelly.
This is important for keeping insects (and bears) at bay.

The sunscreen doesn't become embedded in my clothing, and feels good going on.
I use several small tubes, stashed in my car at the trail head, and in my hiking packs.
That way I'm never caught out in the sun without protection.
This has become more and more important over the years, after facing yearly skin biopsies.

My advice?
Don't take chances with your skin, especially if you're melanin challenged (i.e. fair skinned).
Once is never enough

Reapplying sunscreen every 2 hours is the recommended practice.
This becomes critical for sweaty hikers, especially if you mop your brow with a bandanna or towel off at a rest stop.
But how many of us do that while we're enjoying Mother Nature's beauty on a simple day hike?
Here's an easy way to get 'er done for your face and neck:
face powder in a compact form
Every few hours, dab a little on your nose, cheeks, and other sun exposed areas such as your neck and the back of your knees.
It doesn't matter much if the color of the powder isn't a perfect match for your skin tone, because you'll be sweating it off and re-applying it as you hike, right?

Safe sunscreens:
a transporting tip

Instead of bringing along the entire (heavy when full) tube, I squeeze a small amount into a "GoTube" (although there's a little clever spelling involved on the package).
Tip: Toss it into a plastic bag so accidental leakage won't affect everything else in your backpack.
The filled tube rides along in my "comfort kit" on every hike, in an easy-to-access top pocket on my backpack.

I make sure to check that I have enough before I go out on multi-day hikes.
Avoiding sunburns is well worth this extra effort.
Now that I think about what's in my pack...

I use GoTubes for lots of trail stuff.

Recent research results
There are studies showing that if you use a chemical based sunscreen, the chemicals can migrate through the skin into the bloodstream.
Choose a mineral UV ray blocker, like zinc oxide, if you're concerned.

Help your sunscreen
with the right hiking hats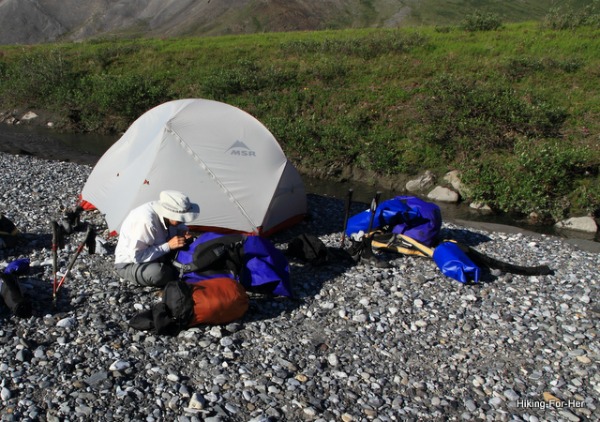 Safe sunscreens and sun protective clothing for hikers work extra hard during the long, long days of summer.
So far, so good in our effort to apply safe sunscreens.

But why not strive for even more sun protection?
Wear a hat that protects your face and neck from the sun's rays, while giving good ventilation.
Here are 2 hats worth a look. I only recommend them because I use them. (see photo above)
Option A
If you want to protect your neck from sunburn, yet keep the top of your head cool, here's a great choice:

A lightweight full coverage hat.
Option B
If you'd like a wide (but not overwhelming) brim to create shade for your face, neck and torso, here's one to take a look at.
OR makes a great choice.


It's a good combo, don't you think?
Choose a safe sunscreen, either cream or powder form and reapply it every 2 hours on sun exposed hikes.

Add a favorite hat that you can wear (or not) as needed.
You've literally got yourself covered! Nice job!

UPF sun protective clothing

Now let's think about clothing as a sun screening technique.

Sun protective clothing for hiking includes shirts, pants, hiking sleeves - outdoor apparel that covers you up from UV rays and eliminates the need to smear yourself with large quantities of sunscreen.
This saves weight on a backpacking trip.

Because you're generating heat and sweat, you want this hiking clothing to feature moisture wicking, well vented materials and designs.

If you're interested in exploring some durable, trail proven womens UPF sun protective clothing, read this.
Hiking umbrellas
Backpackers and hikers love gear that does double duty, and a hiking umbrella does exactly that!
Bring it along on a hot, sunny hike and shield your entire upper body from UV rays.
Then have it handy for the rainy season.

Here are all the details on the best hiking umbrellas.
Protect your eyes, too

The delicate corneas of your eyes are taking a beating in direct sunlight, and cataracts are the result after decades of exposure.

You won't like it when your optometrist tells you that you have "age appropriate" cataracts!!
Do what you can to reduce exposure to UV radiation by wearing high quality sunglasses.
Safely screen yourself
from the sun as you hike

Screening your skin and eyes from the sun's ultraviolet radiation is not just about avoiding sunburn, it goes deeper than that for hiking women.
As in protection from:

increased risk of the 3 types of skin cancer

an accelerated aging process

photo damage on the surface of the skin that many women consider unsightly: darkly pigmented spots, blebs, and scaly patches

cataracts

Please enjoy the sun as it illuminates your favorite hiking destinations, but keep yourself safe from UV damage with these tips and products.

Home page > Best Hiking Tips >
Safe Sunscreens
You might also need these Hot Weather Hiking Tips
Hiking For Her: Hiking tips you can trust!