October 2015: A Note From Diane
---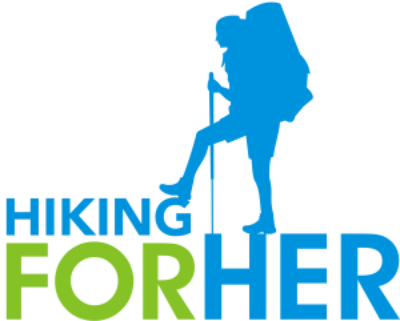 Howdy Hiker!
Don't you love to hike during the transition times of the year?
The weather is a bit unpredictable, so the sky is constantly changing.
The plants, animals and birds are undergoing major changes everywhere you look. You never know what you're going to see on the trail!
A recent dayhike provides a great example: Hiking from a lake bed to rocky alpine terrain on the flank of Mt. Rainier (and back to the trailhead) provided 8 hours of a non-stop wildlife show.
In order of appearance:
*A great horned owl swooped overhead at the trailhead;
*2 otters frolicked in the cold clear lake;
*a hoary marmot made it clear who really owned the right of way on the trail;
*a black bear lounged on his belly in a tarn, then rose and shook off the water;
*a mountain goat mother-yearling duo kicked rocks down on us.
I felt privileged to witness all of these critters going about their daily business. I'm putting together a video of this hike so you can share the hold-your-breath amazement with me!
It will be available on the Hiking For Her website, and a HFH YouTube channel, soon. (Well, as soon as I can conquer the video editing software. You really don't want to hear me squeal with excitement every time I spot a critter.)
My hope is that you've had some amazing wildlife encounters of your own in October. And yes, any backyard encounters count, too!
I say this because I heard dozens of reports of a bear roaming through the neighborhood during October, but never saw any bear signs on my daily walks.
Most neighbors wrote it off as too much celebration (or despair) after Seahawks games, but a young male was eventually captured and relocated to an area devoid of bird feeders and garbage cans.
So what showed up on the trail, or in your neighborhood, this month? I'd love to hear your wildlife encounters!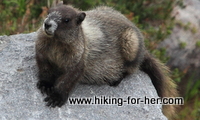 This month's newsletter shares with you:
-feedback on a hiking app,
-news of a fundraiser for outdoors education, advocacy, and stewardship work,
-a new hiking review resource, and
-a quick visit with a very strong female hiker.
Let's take a look!

---
Feedback on Hiking Apps
I wanted to pass along this testimonial from Cindi about one of the hiking apps I mentioned in the September 2015 newsletter. She shares both the useful features and drawbacks:
"We use the "Map My Hike"app and find it extremely useful and fun to use."
"We do have one lady who does not like the app talking so much, she says it ruins her outdoor quiet time but 99% of us love it talking to us and telling us mileage, time, our route, and our averages."
"We have found this app to be very reliable and accurate. Cell phone coverage in the Colorado mountains is hard to come by, but this app uses a satellite."
Send along any feedback you have on hiking apps so I can share it with everyone.
---
Wild For Wilderness Auction
Thanks to Kelly for alerting me to this opportunity to share what Great Old Broads For Wilderness is up to in November.
Their tag line is "working to preserve and protect wilderness since 1989". And to support this good work, they're holding an annual fund-raising auction.
Why not browse through their 346 (and counting) auction items to see if there's something that strikes your fancy?
They've got all the fun stuff in life pretty much covered, including art and photography, outdoor adventures, and vacation opportunities. Bidding runs November 2-15, with bids starting as low as $3!
The holiday season is approaching...you can pick up a great gift for a trail buddy or yourself right here.
---
Check Out This Hiking Boots & Shoes Resource
Buying good hiking gear is hard work.
Buying exactly the right pair of boots or shoes for your feet and hiking preferences? Probably the hardest thing to get right, in my humble opinion.
To avoid wasting time or making expensive mistakes, I recommend reading all of the gear reviews you can get your hands on.
Here's a new resource I added to my "best reviews" list:
As the name implies, the Solelabz team take a scientific approach to their testing and review guidelines. Each pair of hiking boots, shoes or sandals is scored in ten different categories that really matter to hikers.
As a starting point, use their side by side comparison charts to get a feel for price range and overall ratings.
Then drill down to individual models within a brand, keeping in mind your particular foot "issues" and hiking preferences.
Happy comparison shopping!
---
"I Am The Appalachian Trail"
If you know who that quote refers to, you're already familiar with one of the few strong female hikers who is also
If you've got 3 minutes, I recommend watching a video about Grandma Gatewood's passion for hiking – at age 67!
She didn't have hiking boot reviews – she wore sneakers.
A backpack? No, just a shower curtain or a blanket to hold her meager belongings.
Aren't you curious about what motivated her to be the first woman through hiker on the AT?
Just a guess, but I wonder if her abusive marriage, 11 children and decades of physically strenuous farm life had anything to do with her taking up solo hiking as she neared 70 years of age.
Please enjoy this little glimpse into how the AT (and Emma Gatewood) got famous.
---
---
I am very grateful that you open up and read this little newsletter every month. I'm always on the prowl for things that might be useful or entertaining for you, dear hiker, and it's the highlight of my month to pass it along to you.
Please contact me with your questions, comments and insights. I read, and respond to, every email I receive because I meet the most amazing, wonderful hikers that way!
And please stop by the Hiking For Her Facebook page

for some inspiration and fun stuff I can't fit into this space.
'Til next time, from me to you,
Happy Trails always.
Diane a.k.a. Happy Hiker
diane@hiking-for-her.com