October 2011: A Note From Diane
Are you ready for the bittersweet days of fall hiking?
Bitter, because the shorter days dictate your turn around time on perfect crisp fall days.
Sweet, because the glorious fall colors are a tonic against the coming cold weather. And it's fascinating to watch the animals prepare for winter. Check out Mr. Marmot's warm coat! We saw this little guy and his siblings on the flank of Mt. Baker (North Cascades, Washington State) last week-end.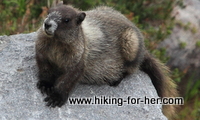 Article: How To Get The Most Out Of Your Fall Day Hikes
Have you dumped out your pack and given it a good shake yet?
Fall is THE time to do a thorough gear check in order to get the most out of your shrinking trail time.
What to discard: fossilized jerky, half used tubes of sunscreen and lip balm, sweat soaked bandannas, and flower guides.
What to add? Head lamp, gaiters, waterproof windbreaker, lightweight fleece gloves and headband, and snacks with a little extra fat in them.
Maximize your trail time by carefully planning your hiking destination. Waterfalls and lakes might be a bit too chilly, so save them for next summer. Try a high ridge line that catches the afternoon sun. Or aim for a spot near the trail head that you have been wanting to explore but didn't want to "waste" a full summer day on.
Carry a lightweight thermos full of something deliciously hot. Spiced apple cider, freshly squeezed from a local orchard, is a fantastic trail treat right now. Want to impress your trail buddies? Carry fresh cinnamon sticks and paper cups. Be sure to whip them out of your pack with a flourish!
Don't neglect to bring a few "specimen collection bags" along on your day hike. You never know when you'll see a chunk of moss, a strand of lichen, or bright fallen leaves that spark a creative urge. I've been known to buy throw pillows to match the incredible shades of lichen I find this time of year! (Just ignore the stares from the salesperson as you drape the lichen across the pillows.)
Hiking Hat Freebie!
I hate it when my hiking gear fails. I put a lot of time and effort into finding THE RIGHT STUFF (astronauts shouldn't get all the fun!).
My hiking hat fell apart on me this spring. And it took several months to field test some new ones. I finally found a winner, and I want to send a matching one to a virtual trail buddy who needs a new hat. This could be YOU!
Check out the details
Hiking Resources
I recently started adding electrolytes to my water bottle. Why? I notice a huge difference the next day in terms of muscle soreness - as in, there is none!
I've discussed water -vs- enhanced water for hikers on my website, and have amended my "water only" policy in light of this new experience.
I've tried two different types of powdered electrolytes so far. Consider giving it a try on your next fall hike. I'd love to hear how it works (or not) for you.
That's all for now! Promise me that you will make time to hit the trail this fall. Before you know it, the gorgeous fall colors will be only memories.
From me to you, Happy Trails always.