Best Women's Hiking Hats:
Great Pieces Of Gear!

by Diane Spicer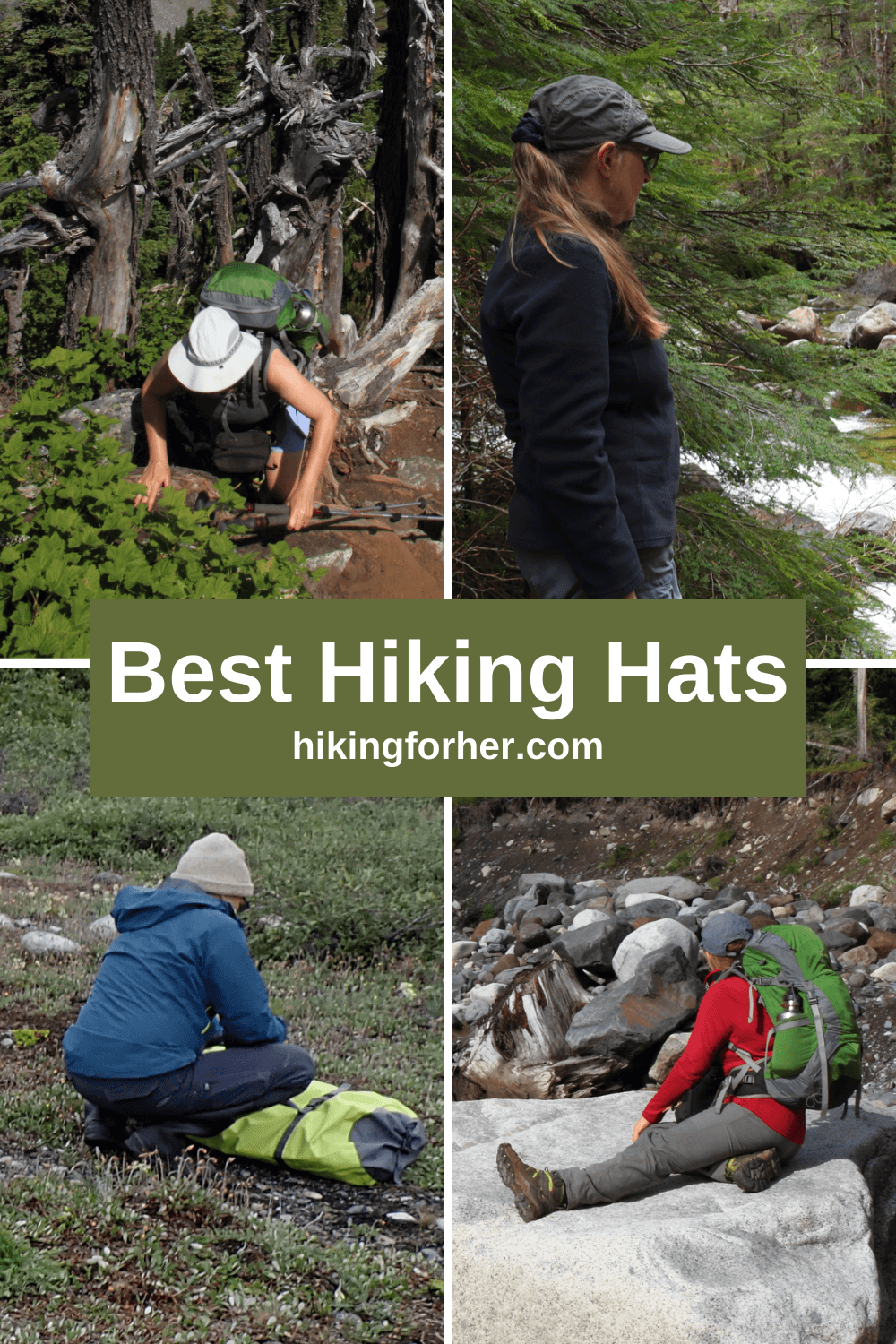 Hiking hats, so much to say about them!
So many to choose from!
Here are all the features a perfect hiking hat should have:

A plastic locking clip on the back or sides, to tighten or loosen the fit, without snagging hair (no Velcro!!)
A wide brim to shade eyes without impeding view
A soft band to wick up moisture but not chafe delicate forehead areas
A breathable fabric that dries quickly but vents perspiration
A neutral color that wouldn't give away a secret location during off trail pit stops
Extra stitching to prevent unraveling
A lightweight yet substantial feel to it 
Optional: a cord to keep it secure in windy conditions

Hiking hats for women:
versatile and (dare I say) stylish?

There are so many ways to protect your head on a hike with hats.
And so many things to protect your head from.
Think of hiking hats as vital pieces of hiking gear, because they are.
But how likely is it that you'll find the perfect hat for your particular hiking style?
I'd say 100% success if you follow these Hiking For Her tips.
Let's take it one season at a time, starting with the months when your ears are coldest!

Best winter hiking hats

If you hike when the weather is less than ideal, you'll need to keep your head and ears covered.
Too much heat is lost in these areas for you to be comfort, let alone safe, wearing just a ball cap.
I have a full repertoire of winter hiking hats, and because folks are curious about what works for me on the trail, here's what's in my collection (and my pack):
a beanie like this one
a hat with ear flaps
a balaclava ("clava") that prevents wind and snow from getting down my neck. I bring this with me year round, just in case.

I also use a "neck gaiter" along with my beanie, similar to this one.
It can be used on your head or neck in many different ways, giving you versatility as well as warmth.
I also use it to tie up my hair, off my sweaty face and neck.
And of course, there are always ear muffs and headbands!
I've got quite a collection, and you will, too, once you see how functional and lightweight they are.
Great for daily training walks in brisk weather, too.

Best spring and fall hiking hats
As temperatures turn a bit more moderate, you won't need full head coverage.
But you should expect precipitation.
You want a lightweight hat that will channel the water away from your neck and face.
And you want a way to anchor the hat when wind gusts kick up.
So bring along a hat like one of these:


Perfect hiking hats for summer trails
Heat.
Bugs.
Relentless sunshine.
Rivulets of sweat.
More bugs.
Your hiking hats have to stand up to that, and provide shelter for your eyes so you can see the trail without having to squint.
There should be side vents, to release all the heat you're generating.
And some shade for your neck, too, please!
Here are the hats that I wear on summer trails, and recommend them for you, too. Pick your favorite style, or pick a few to switch things up. 
Gotta keep things interesting, right?
Sunday Afternoons Ultra Adventure Hat

---
Two more solid choices for the best hiking hats in warm weather:


Don't be like me!
I'm a hat abuser.
It's true.
Here's how I treated the most perfect hiking hat I ever had:
*I wore it through mud, rain, hail, snow, blindingly hot sunshine, buggy terrain - year after year.
*I dropped it into mud holes.
*I snagged it on brush and brambles.

*I used it as an impromptu berry bucket when I ran into a rich patch of blueberries.
*I swatted -and squished- flies with it.
*And I poured my sweat into it, hike after hike after hike.
And what did this splendid hat do in return?
It patiently protected my head!
And my eyes from the harsh glare of sunshine.
And my ponytail, when I tucked it up under the hat.

The final straw in the cycle
of hat abuse
There's one more little abuse I heaped upon this hiking hat:
I ran it through the washing machine when it was too dirty to be seen on a hiking trail.
Recently, my hat came out of the washing machine shouting "NO MORE".
And I realized a sad truth:
I should have been soaking it clean in a lukewarm basin or bucket of soapy water, then rinsing with cool water and hanging it up to drip dry.
Or, as one reader recently suggested, taking it into the shower with me and using mild shampoo to cleanse it.
Ready for the moral of the story? Here it comes...
Take good care of your hiking hats, 
because they takes good care of you
Hats have a lot to do with the enjoyment of your hike, way beyond the utilitarian functions we've mentioned..
They will:
Protect your head against dive bombing birds (No joke! Nesting owls in particular)




Hold your hair off your sweaty neck if you get creative with the band




Mop up sweat before it runs into your eyes (along with sunscreen - OUCH!)

Remind you of good times on the trail.
So be selective about bonding with a hiking hat.
And then take really good care of it. See my personal story above :)
One more thing which ties into the sun hat I wear:
UV ray safety tip
You should pay attention to the amount of UV radiation falling on your face and ears and neck, both front and back.
Protection from the sun isn't just something an older hiker needs to worry about, either.

Sunburn avoidance is definitely the way to go for all of us female hikers!
Sunscreen (UPF 50 or more) deserves a place in your hiking safety repertoire, paired with your broad brimmed hiking hats.

Did you know?

Hats silently reveal your trail personality.
That's why I love spotting unusual headwear on the trail.
I believe that you can tell a lot about a hiker by what's on her head, in terms of color and patterns, brands and slogans.
Make a little game of it next time you're out on a hike!
See how many different logos, or national park patches, or unusual colors and styles you spot during a day hike.
Get your trail buddies to join in, and at the end of the day, compare notes on what you noticed. I guarantee that your list will be different from theirs, even though you hiked the same trail.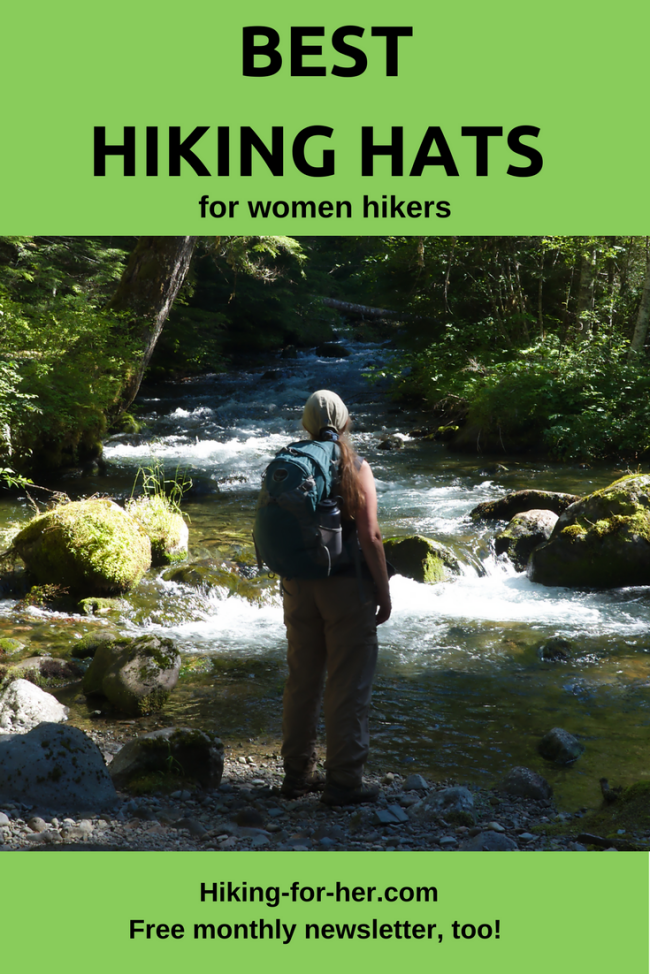 So hats off!

Hats off to you for being so thoughtful about your hat choices.
Wear your choice of hiking hats with verve.
And celebrate all of the ways you're being a smart hiker:
keeping UV rays off your epidermis

regulating the temperature of your head

thwarting biting insects

providing safe navigation in blinding sunlight
And on top of all that?
You're lookin' good!
You rock :)
Still on the perfect hat quest?
Don't give up.

For multiple options for great women's hiking hats, take a look here for REI Co-op deals.
Home page > Best Hiking Gear >
Best Hiking Hats
Some of the links you see are affiliate links. Using them to purchase great hiking gear costs you nothing extra, but results in a tiny commission for Hiking For Her.
This keeps the hiking information on these pages freely available for all to use, plus you get great gear. Your support is much appreciated!
Hiking For Her: Hiking tips you can trust!