April 2015: A Note From Diane
Thank you to the intrepid readers who were willing to pilot my Solo Hiking course.
Things are humming along, and I'll be ready to release more information about how to access the course next month.
April is a strange month, isn't it?
The weather is fickle. Hiking muscles are either weak from a winter of less activity (Northern hemisphere) or tired from hitting it hard all summer (Southern hemisphere).
It's easy to skip the daily walk or the invigorating stretches at the end of the day.
To shake up the April doldrums just a bit, let's start off with a rant, followed swiftly by some raves, and then finish up with an inspiring message.
---
Rant: When Will It Stop?
Are you tired of widgets and gadgets and "features" you'll never use on your hiking gear?
Have you grown weary of the relentless "gotta have it" tone in your favorite hiking publications?
Do you resent paying more

for over-designed trail technology?
Here's why I ask: I've finally crossed the line into "This is too much" territory, and I wonder if I'm all alone.
What pitched me over the edge?
An LED lighted tent.
To be specific, it was an advertisement for the Big Agnes Mountain Glow lighted tent.
Nothing against the Big Agnes brand, I happen to think they get a lot of things right (although the brand name is sort of misogynist).
However, I felt a sense of indignation bubble up within me when I read the ad copy for a tent that makes a headlamp obsolete.
Here were my exact thoughts and feelings, in order (I know because I wrote them down while doing some deep breathing):
*Rage for robbing me of un-illuminated starry nights. Do I really want to glance up at the ridgeline and see you in your tent at midnight??
*Despair over how far technology has invaded our back-to- Nature pursuits. What happened to eyeball night vision?
*Dire prediction: more landfills filled with stuff that could have been used for many years but wasn't cost effective to repair.
*Sarcasm: What's next, LED underwear for those midnight trips to the bushes?
*And a few unprintable mutterings about corporate greed barons preying on newbie hikers...
If you haven't yet seen this "innovation",
So what's your opinion about LED lighted tents?
Do you think I'm overreacting? Or not mad enough?
Send me your thoughts! I'd love to know whether I'm all alone, or not.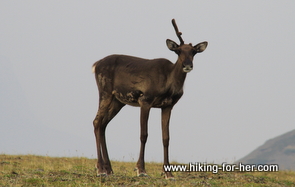 ---
Raves
Approach your trail time from a different angle this season. To help you, here are a few "raves" I stumbled across recently.
Idea #1:
Eat something different on the trail! Here's a website that I like for its clean, uncluttered style and tasty recipes.
Idea #2:
Go somewhere brand new!
Have you hiked in any of the 59 American National Parks? Here's something that might inspire you.
It's called the "More Than Just Parks" project, which offers videos to inspire and educate you about what hiking might be like in each park.
Their first 3 videos just happen to cover parks I've hiked in myself, so I can vouch for the breathtaking images they've captured: Smoky Mountains, Olympics, and Joshua Tree National Parks.
Go here to enjoy a little "what if" time as you're planning your hiking list this year!
Idea #3:
Got 7 minutes? Get stronger!
Full disclosure: You'll also need your body weight, a chair and a wall.
Nothing earth shaking, just some quick work out sequences so your strong, confident foot steps will shake the earth on the hiking trail!
Once you master it, there's an advanced 7 minute workout, too.
Update: this content is no longer available.
---
A Shot of Hiking Inspiration
I love opening my email. Here's an example of what I read on a weekly basis:
"I live in Florida and I have many chronic health issues but I love nature. I have wanted to embrace solo hiking for years, and I had dreams of big mountains, expansive trails, and freedom.
Many surgeries and derailments later, I realized if I continued to set my sights on such grand plans, life would keep getting in the way. I finally realized I had never even hiked and camped in my own backyard.
My sweetheart (husband) supported my "baby steps" approach, agreeing that from a health standpoint, that was the safest way to test the waters.
After months of research and education, I finally did a 10 mile primitive solo "in and back" with one overnight stay in the Ocala National forest. It was one of the richest, most empowering experiences of my life.
Pleeeeease provide as much info as possible to encourage others to take this step."
-Wendy Hoogsteden
This message acts like rocket fuel to boost my commitment to spread the "Female Hikers Rock" message! Let me know what you're up to, and what you'd like to read about.
Empowerment is a wonderful thing, made even more so when we share it, don't you agree?
---
As always, thanks for reading this humble little newsletter. My best wishes for hiking happiness are with you in the fickle month of April.
From me to you,
Happy Trails always.
Diane a.k.a. Happy Hiker
diane@hiking-for-her.com
Hiking-For-Her