Enjoy Happy Trails, the free monthly newsletter from Hiking For Her.

Receive a free resource: Hiking Layering System Explained
Best Discount Hiking Gear
For Hikers & Backpackers

by Diane Spicer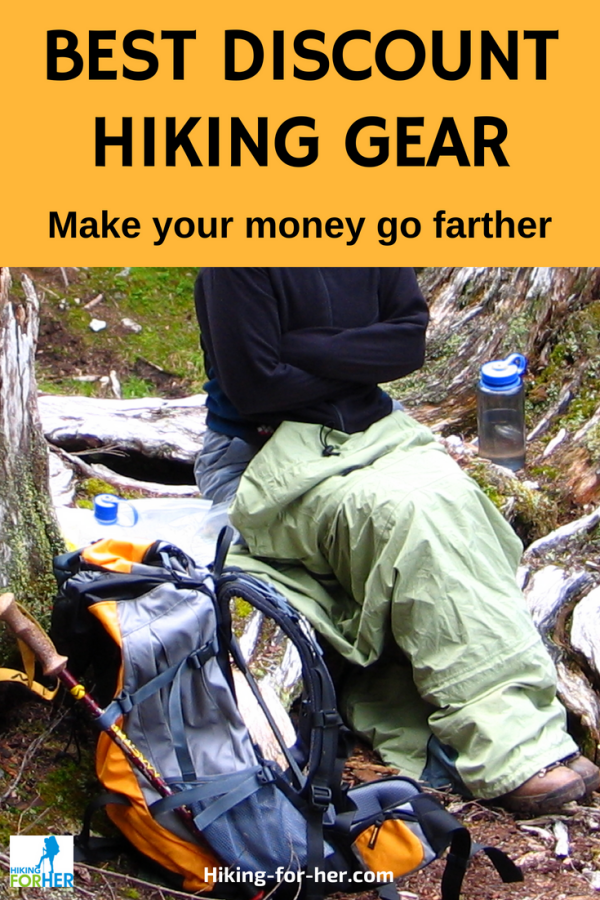 As a discount hiking gear connoisseur, you've come to this page because you're hunting for a bargain on gear.
The best discount backpacking gear makes your grin just a little broader.
Or maybe you need a new piece of gear without overpaying for it: cheap hiking gear that will get you started as a beginner hiker.

Maybe you have to send your kids off to summer camp and they need a whole long list of hiking gear - you really need the best budget and discounted hiking gear.
Or could it be that you just like to drool over hiking gear bargains?
Regardless of what brought you to this page, Welcome!
Psst! Have you saved yourself some cash yet
on an annual National Park Pass?
Read why that's a great deal here.


Let's get right to
the good stuff
You're here because you want to know the best sources for discounted outdoor gear for your hiking, backpacking and camping plans.
You're trusting this long time hiker to sniff out the best bargains for you.

So I'll name names first.
But don't skip the "how to" steps at the end, because those will give you some tips on how to size up discount hiking gear.
You don't want a "bargain" that ends up costing you time, safety, or enjoyment of the trail, right? Skip down now.

Hiking For Her's tried and true
outdoor gear shopping list
for discounts

Ready for a whirlwind tour of the best discount hiking gear companies?
Here are six places to buy discounted outdoor gear, also known as great spots for sales and discounts.
Each of them has advantages and drawbacks, and I'll be careful to outline all of it for you.
Backcountry
You don't have to be planning a trip into the backcountry to take advantage of the discounts on top brands here.
Backcountry has a continuous stream of great deals for you, year round.
Which is a good hint: visit this site during the off season, too, because the bargains never stop.

Moosejaw
This place is fun to shop at!
Moosejaw features regular sales from outdoor gear brands both large and small, famous and maybe soon to be.
They offer 10% back on every full priced order, which can add up in a hurry.



The Clymb
Not just for climbers!!
In fact, if you're interested in outdoor activities year round, this is the place to get discounts up to 70% on top brand names and high quality offerings.
Outdoor gear deals at The Clymb change daily, so visit often if you're stalking a particular piece of hiking gear.
Downside: They may not have what you want, which is why you should bookmark them and visit often when you're on the prowl for a specific item.



Steep & Cheap
Yup, pretty much like it sounds.
Go to Steepandcheap when you're in the mood to find treasure.
They carry top brands, and if you like riding on a carousel (every second seems different), this is the discount hiking gear source for you!
Some of their discounts are absolutely eye popping - and can also make you cry if your size is unavailable.
But when you find THE perfect hiking clothing or gear, you will have a huge grin on your face!


Outdoor Play
What a great name, right?

Outdoor Play also covers water sports, so if you're into hiking plus kayaking, river rafting or packrafting, be sure to check them out.

Hiking gear cooperatives
for discount gear:
U.S. & Canada

REI is a member-owned gear co-op, originating in my home town, Seattle USA. I've been a member since 1977!!
Make a beeline for the REI Outlet.
Why?

Because "outlet" means lots of discounts and sales on gear that for one reason or another hasn't sold out yet but needs to move out of inventory to make room for the next wave of gear.
Caution: Sometimes the prices may appear to be beat elsewhere (see discount hiking gear stores listed above).
But what you can't beat is REI Co-op's customer service and return policies - they always stand behind what they sell.
If you have an REI store in your town, simply walk in and return or exchange there.

And as a co-op member, you receive a rebate each year (generally around 10% in March), tied to the amount you purchase.
Add all of those perks together, and making REI Outlet your first stop for discount hiking gear is a very smart move.
There are 14 member rewards in total, detailed for you right here.

A Canadian option

MEC takes outdoor gear seriously, and has a lot of fun doing it since 1971.

They have 50% clearance events at the turn of the seasons, so keep an eye out for whatever is on your hiking gear wish list.
They also have lots of pro tips and great outdoor photos on their website.

Amazon's outdoor gear deals
Every day you'll see a new array of hiking and camping deals.
Some of the prices are truly amazing, and you have the ability to sort quickly to what you are looking for.
Be sure to read the reviews. Does this gear function the way you're expecting it to, in the hands of folks who use it the way you're going to?

Create your own discounts
on hiking gear

Now how in the world can you do that??
Buy used gear.
But be sure it's been gently used, carefully refurbished, or at least given a good going over before you agree to adopt it into your gear locker.
A great source for used pre-loved, pre-broken in outdoor gear is REI Co-op.
They know the value of keeping stuff out of landfills, combined with their desire to get more folks out there on trails.
You can read more about how to score big deals in the wonderful world of used hiking gear here.

General advice on hunting for
hiking gear bargains

Now you know where to head for a bargain.
Before you go, heed this quote:
"You get what you pay for."
That was the bad news.
Now for a dose of good news.
As a savvy hiker, there are ways to bend that little piece of truth, if you know how to approach buying discount hiking gear in a realistic fashion.
So let's be realists, shall we?
I'll take you through my 3 Foolproof Rules of hunting for fairly priced, high quality hiking discount gear, and you can decide if they are going to work for you.
Or not.

Only three?
Yes, simplicity rules at Hiking For Her ;)

Rule #1
Know your expectations for this piece of gear.
Then set your "best price" accordingly.
Here's what I mean in a nutshell:
a) Assess what level of hiking you do currently: armchair fantasizer, newbie, fair weather only, moderate, all seasons, long distance junkie, extreme, or whatever best describes you.
b) Decide how much wear and tear you'll be inflicting upon this particular piece of discount hiking gear.
A few hikes per year in dry ideal conditions?

Every weekend regardless of moisture or temperature levels?

c) Determine what you can afford to pay for this gear.
You should have a firm top price and a realistic bottom number before you go searching.

It all ADDs up to knowing a bargain when you see one.
Rule #2
Research the features and benefits of the item you're seeking before you purchase, so you get exactly what you need.
In other words, don't be swayed by hype or glossy photographs, or this season's new colors.
Read through my webpages describing the gear you need.
Forget "want" right now, if you're looking to get a basic set of discount hiking gear that will keep you safe and comfortable on the trail.
Once you've got a few seasons of hiking under your backpacking belt, you can branch out into "wants" and "must haves"!
For now, get safety and comfort dialed in on your short list.
You'll never make that mistake again if you read these tips ;)


Rule #3
Stick to reputable sellers.
Over the years, I've generated an elite "tried and true" list of discount hiking gear suppliers.
And I just shared it with you, above.

But wait! you ask: How did I come up with this list?
I ordered from them, I did not receive nasty shocks or surprises in terms of when and/or what I received, and I felt the return/exchange policy was fair for the price I paid.
Plus, they stick with high quality brands that deliver the goods year after year.
And by "deliver the goods", I mean I trust my life to their products on my outdoor adventures.

So I feel good about sharing them with you.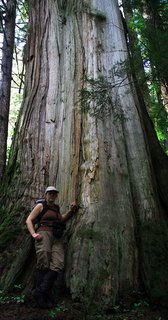 Finding the best discount hiking gear might seem like a tall order! But now you know a few secrets.

Some general tips for
buying discount hiking gear

Please avoid being sucked in by a low, low price.
If the hiking gear isn't what you really need, even a bargain won't make it useful to you on a hiking trail.
It could even cost you, in terms of time, safety or comfort, and that's a dangerous thing when you're outdoors.
"But I got such a bargain" says no hiker with painful blisters from the wrong boots, ever.
Create your own "go to" list

Watch out! If you sign up for email notifications from all of these companies, your in box is going to overflow.
My advice is to be selective - only do two or three brands or companies at a time until you find the ones you rely on most heavily.
Of course, you can just scan the email for "free shipping" or discount coupon codes, right?
But sooner or later, you will discover your own tried and true list for discount hiking gear.

One more tip
before you go shopping

Always keep the tags from a new piece of gear.
Create a folder for them.
It works the other way, too: if the gear didn't work out, you can make notes on the tags and avoid this particular item in the future.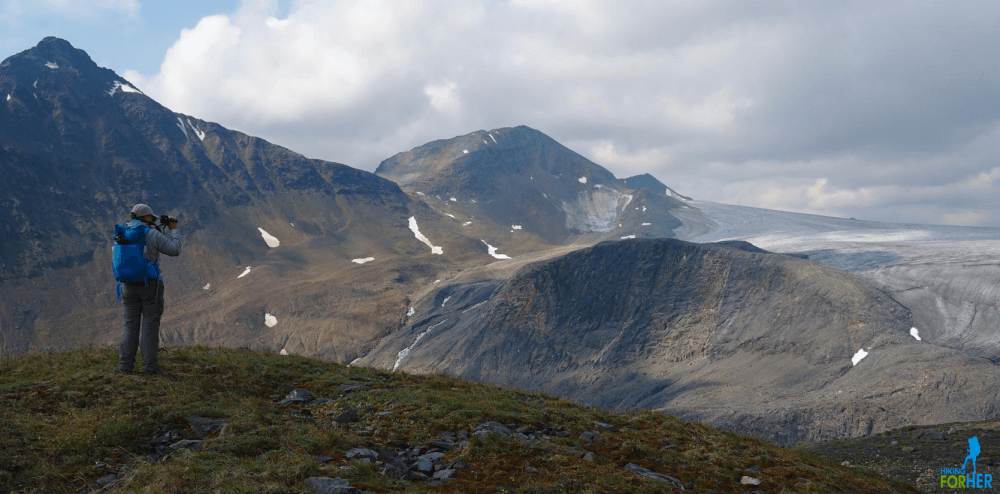 How to find great deals on hiking gear is an art (selecting quality gear over cheap gear) AND a science (knowing what quality looks like), and you're now up to speed on both!

Now what?
Now get on out there and use all of that fantastic hiking gear!
Find yourself a big tree to hug, or a hill to climb, or whatever says HIKING ADVENTURE to you!
And don't forget the return/exchange policies you can use if your gear isn't working out.
That's why you buy from reputable discount hiking gear dealers like the ones I use, right?
Home page > Best Hiking Gear >
Best Discount Hiking Gear
One way Hiking For Her keeps cranking out the best free hiking tips for you is to be an affiliate for some of these high quality discount hiking gear stores.
If you purchase gear through links on this website, you pay nothing extra.
But a bit of magic happens: Hiking For Her receives a small percentage of your purchase price.
If you like the idea of supporting this website and high quality merchants simultaneously, through your purchases, thank you very much.
Hiking For Her: Hiking tips you can trust!