January 2014: A Note From Diane
Happy New Year!
January: a blah, dull, weather-impacted non-hiking month in the Northern hemisphere.
Or is it?
Does your "I'm hiking" clock start ticking when you put on your boots and then wind down when you take them off again?
Or do you consider hiking a year-round "occupation" (or obsession, in my case)?
I'm proposing the radical idea that a hiker can stay busy every month of the year (not necessarily physically) honing her hiking skills & trail smarts. In fact, I'm devoting my 2014 newsletters to that concept – hiking as a full time "occupation".
Let's take this a bit further. I define a "career" hiker as someone who gets out on the trail every week regardless of weather, and for extended time periods whenever a window of time opens up in her world.
But I'm also a realist. I know that constraints exist in every life, so I'm leaving out the elite hikers who have the freedom to roam the planet for months at a time on the long trails of the world. Those are the rock stars of hiking, and they have my admiration and perhaps a bit of envy.
What about "part timers" and "newbies"? Plenty of room on the trail for you! One day hike a month, a short ramble in a state park as the seasons change, a few hours spent drooling over gear at an outdoor store/website… it all counts! And you just might find yourself moving into the full time category if trail fever strikes.
My intention this year is to provide tips and suggestions for any one whose ambition is to get out on the trail more than last year. I've been keeping track of topics which come up often in emails I receive from my readers, so I'll chip away at them one month at a time.
Let's get to January's topic: "stretch" hiking.
Plan A "Stretch" Trail Adventure for 2014
My husband and I usually devote January to planning the upcoming summer hiking season. Along with a list of local hikes we want to do (and re-do, as the case may be), we aim for one big "stretch" adventure. Last year it was East Greenland. This year we're considering a remote Alaska trek, a northern New Mexico adventure, or perhaps something in one of the British Columbia mountain ranges.
You might want to plan a 2014 "stretch" adventure of your own.
If you're a newbie, you could set a mileage goal for yourself. If you've never hiked more than a mile or two wearing a pack, find a trail that's double that length, train for it, do it, and then post your experience
Or maybe you're toying with the idea of a solo hike. I suggest that you start off slowly: plan a solo day hike of a few hours duration.
[See my solo hiking tips here.]
But if you really want to "go for it", read this Q & A one of my readers was gracious enough to provide for your consideration. A bit of background: Her husband was physically unable at the last minute to go on a planned Wonderland Trail trip, so "Tidy Cat" went by herself to celebrate her 50th birthday.
Question from Diane: "What were your worst fears about going solo, and did any of them materialize?"
Tidy Cat: "Foremost was my fear of getting lost. I have virtually no sense of direction. I need maps and a navigation system to drive places I've been a dozen times.
My second fear was of facing a large animal or dangerous human.
Neither of these scenarios came close to materializing.
Before leaving home, I folded my map into daily segments and added lots of notes to each segment regarding landmarks and water sources.
When I picked up my permit, the Ranger added important information about a detour and dried up water sources.
I kept my map in my front pocket and checked it frequently, like every 10 minutes the first day! As the days and miles went by my confidence grew and I checked the map each morning before starting out, whenever I reached a fork in the trail, and when determining breaks and water filtering.
As far as beastly encounters went, I was thrilled to see elk, mountain goats, marmots and a red fox. For a couple of miles the trail lead through fruiting berry bushes and was littered with fresh bear scat. I tapped my hiking poles together every few feet. By the time the hike was over, I was disappointed at not seeing a bear!
I saw other people every couple of hours. Only one person made me a little uncomfortable. He looked homeless and was playing in the frigid glacier water in a river bed. I made eye contact and greeted him, and looked over my shoulder until I was certain he wasn't following me.
My husband's greatest fear was that my modified and very much pared down equipment would leave me wanting or unsafe. I had tested everything at home and it all worked perfectly on the trail. The only thing I found myself wanting was more time in the woods! And perhaps a few more peanut M&Ms…"
Question from Diane: "At what point in the trip did you realize that solo hiking rocks? Was it a gradual dawning, or a "click" moment?"
Tidy Cat: "Solo hiking began to rock for me right from the start. For the first time, I wasn't looking at someone else's backside, the view was all mine. I set my own pace, rested when I was tired, ate when I was hungry and listened to nothing but my own thoughts and the sound of the wilderness around me.
As the days progressed my hike became a spiritual experience. I had decided that instead of this being one 16-day hike, it would be 16 one-day hikes. Each day was progressively more meditative and I learned what it really means to live in the moment.
For once, my vacation did not fly by at warp speed. I experienced each and every minute to the fullest. I have hours of vivid memories to re-experience whenever I want to be calm or happy."
So now that you've heard it straight from the cat's mouth, the rest is up to you!
Trail Snacks
Tired of the same old gorp or energy bars?
Me, too.
This year, I've resolved to try new trail snacks. The problem? My digestive system does not appreciate wheat, citrus, soy, corn, nightshades, or too much dairy.
So I was delighted when Paul from Dancing Hawks Organics sent me a few of his Bear Tracks organic protein bars to try. I found that his high quality ingredients play very well with my finicky digestive system. To make it even better, these handmade bars are named for our wilderness bear friends (with a nod to the Goldilocks story).
I'll be posting a full review once I've had a chance to trail test all of them, but for now, let me tell you that they definitely pass the "taste" test: not-too-sweet chocolate-y goodness with great mouth feel and interesting ingredients like cranberries, hemp seeds, and sunflower seed butter.
The ingredients are certified organic, if that's a consideration for you.
And if you're a backpacker, also consider the fact that each bar weighs 56 grams (2 oz.) but packs 12 grams of protein. I'm guessing they will stand up well to a few days at the bottom of the food bag, too.
I don't make a dime on this endorsement, in case you were wondering! My motive is to get the word out on outstanding companies whose products make your trail time better.
---
Upcoming Trail Stuff
I'll devote the February newsletter to this question: Are you waterproof, water resistant, or water attractive (hydrophilic, if you're into science jargon) on the trail? Being cold and wet sucks, so I'll share some tips on how to prepare for wet conditions.

I'll also review a new movie depicting a John Muir Trail experience.

And as always, I'm open to your questions and interests. If you'd like to be interviewed for a future newsletter, let me know! Or send along suggestions for books and gear to review, or funny trail stories. I'm all about sharing tips for "career" hikers, newbies, and all of us who think the worst day on the trail beats the best day in a shopping mall.

From me to you,

Happy Trails always.

-Diane a.k.a. Happy Hiker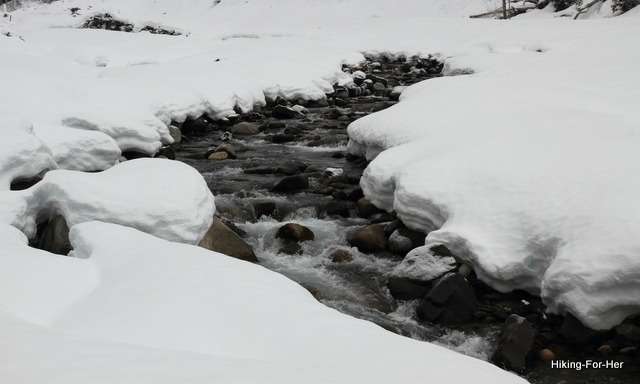 Hiking-For-Her