Have the freshest free hiking tips sent to you each month!

     Wonderland Trail Hiking:
What's In It For You?

Wonderland Trail Hiking doesn't use the Yellow Brick Road, although it's near the Emerald City.
It's better than that!
Rocks, roots, dirt- who needs bricks when you can hike on the WanderLand Trail?
And it's in my backyard: A necklace of wonder, strung around Mt. Rainier, in Washington State, only a short drive from Seattle (the aforementioned Emerald City).
Thinking of tackling
the Wonderland Trail?

There are lots of ways to tackle the 93 mile (150 km) Wonderland Trail.
I recommend you do it in bite sized chunks, with lots of diversions, in order to slowly savor this hiking opportunity.
However, many people complete the loop in 10 swift days.
Others take a few weeks.
But all of us return home very happy hikers.
If you're considering this "long trail", I'm assuming you know the basics of backpacking:
I also assume that you can face the psychological and physical impediments of gaining lots of elevation, only to lose it the same/next day (channelling your inner Sisyphus, in other words).
So we can skip all the "prep" stuff (although you have links above if you need to explore a topic) and get right to planning an itinerary.
Here's the bad news, right out of the gate: you need permits to camp in the National Park at assigned campsites.
And the way to get permits is to go head to head with the reservation system.
In other words: The Rangers.
Here is Longmire, Mt. Rainier Headquarters.
Within are the rangers.

Now for the good news...

Here's the good news: If you end your hike at Longmire, you can rest your sore feet on the front porch of the fabled Longmire Inn.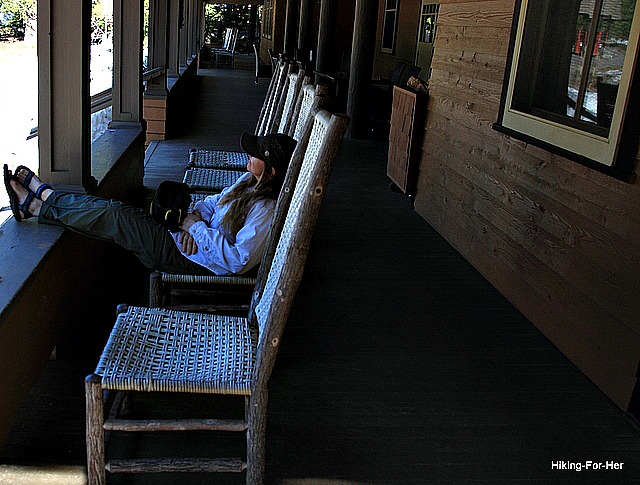 That's me, demonstrating the "my feet can breathe again" boots off post-hike ecstasy of sitting on the Longmire porch

Getting ready for
Wonderland Trail hiking

To be ready to fill out permit requests, you need expert advice from people who have planned, and executed, a Wonderland Trail hike.
Here's another source for a day by day first hand account of life on the Wonderland Trail.
Finally, you should turn to "the authorities": the National Park Service, which dictates how many permits are awarded to hikers, and when.
Lately, interest in this trail has increased to the point of tightening up the number of permits issued, so be prepared to have a Plan B in case your permits don't come through.

The NPS recommends Wonderland Trail hiking in a clockwise direction, beginning at Longmire, but remember that you may have a better chance of getting all of the required permits if you remain flexible with your plans.

And you can use the fall back position of camping in park campgrounds and dayhiking sections of the Wonderland.
Some amazing views await you, regardless of how you tackle this trail.

Mt. Rainier is not shy about sharing her spectacular beauty - even if she is the most dangerous active volcano in the USA!

Are you sure you're a
long trail hiker?

For some tips on how to approach selecting the best long hiking trails for your personality and motivation, read this.
Happy Long Trail Planning!
Home page > Types of Hiking > Wonderland Trail Hiking
Didn't find what you were looking for? Use this search box to find it quickly.

Why wait a whole month?
Plus, there's never enough room in the newsletter to share it all, so why miss out on exclusive Hiking For Her giveaways, limited time gear deals and discounts, freebies, updates, and more?

A short, info packed weekly email update will keep you current on all things hiking!

Don't miss out!