Why Hike Solo
As A Female Hiker?

by Diane Spicer
Why hike solo as a female hiker?
Because!
Because why?
It depends!

There are many variables hidden within successful solo hiking trips for a woman who wonders "Why hike solo?"
Ask yourself:

Who am I? Age, physical condition, trail skills and mental attitude are important.

Where am I? Your location determines your access to solo hiking - unless you're willing and able to travel.
That question includes:
*Your outdoors skill set

*Your motivation(s)

*Your level of desire for solo hiking

*Your tolerance for adversity

*Your willingness to prepare carefully for solo hiking
*Your thirst for a solo hike on the Pacific Crest Trail or other long distance hiking trails

... it all matters when you plan a solo hiking vacation.

If you're tackling the fundamental question "Why hike at all?", read this first.
Then pop back over here for solo hiking tips.
Twelve reasons
to hike solo

To help you sort through all of those factors, I've developed a list of answers to the question "Why hike solo?"
For whatever reason, all of the reasons start with the letter S.
I hope that doesn't bug you or remind you of a hissy snake.... both of which are trail buddies you might encounter as a solo hiker.
OK, in no particular order, here are answers I give to a question I get asked all the time:
Why hike solo?
Solitude for solo hikers

I crave "me" time, quietness and space to think my own thoughts.

 I want to leave behind all of my electronic devices, all of my "to do" lists, the entire stack of books I need to read which sit right next to the stack I want to read.




Nobody's thoughts except my own, rumbling around in my skull. Ah.... There's nothing like a strong shot of solitude to reconnect with self.
Self exploration

If I give myself a reason to be alone with myself, I can check in with myself about who I really am.




Not to get all existential on you, but do you know why you're on this planet?




Do you realize how much you've changed over the past few years?

Nothing like a little alone time to give yourself room to roam over physical AND mental landscapes.

Be sure to bring your trail journal, and write down your insights.

Strength and stamina
on a solo trail

Can I carry what I need? (testing my physical strength)




Can I be in charge of a hiking trip and trust myself to make good decision? (assessing my mental toughness)

Can I stand up to whatever Mother Nature dishes out?
Soul searching
for solo hikers

            *Take the job offer (or marriage proposal)?
            *Buy that car? or house?

            *Move to a new location?
Savor the serenity
of a solo hike

I want to clear my head of all the distractions of daily life.




By myself, I can focus my energy on finding a peaceful place within myself.




Or maybe it's just as simple as needing to sit on a high spot and gaze over a serene landscape to rest my weary bones.
The sweet taste of
solo hiking success

I want to set a goal and conquer it!




I like challenging myself.




If you've never challenged yourself, now might be the time. I find this is true for young women in their twenties, and post menopausal women, especially.
Solo hikers can shed

Shed some pounds.

Shed old beliefs about yourself.

Shed tears. Purge and holler and wail and no one judges you!

Snakes shed skin when they have to grow bigger; what can you shed to enlarge your self?

Scrutiny of your surroundings
on a solo hiking trail

Being alone gives me time to slow down and sink into my passions:

wild flowers

,

animal tracking

, and other

outdoor lore

.




There's nobody standing there to scrutinize my scrutinizing!



What do you want to focus on in the great outdoors?
Make room
for some surprises

Get off the ant trail of every day life and follow a trail into mystery and who knows what adventures.




Be open to surprise! It is a wise teacher and may hold up a mirror to yourself.
Solo hiking
skill building

I want to get better at off trail navigation, wild crafting, and survival skills.... what's on your list?


By being alone, you put a little more pressure on yourself to get it just right.




And there are no distractions pulling you away when you're immersed in a subject and the hours are just flowing by.
Solo hiking
as a spiritual quest

There is a time honored tradition of turning to Nature to find one's path through life by connecting with a higher power.




Think of it as hiking on unseen trails as your feet fall upon the trails on your map.

Or a good dose of Nature Therapy!

The simple satisfaction of
solo hiking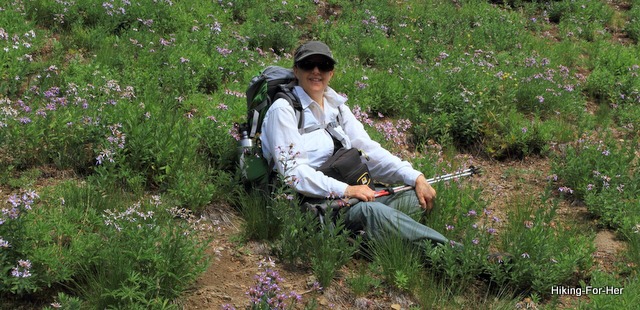 When hiking solo, you can plop down along the trail and admire the flowers! A great answer to the question Why Hike Solo?

Why hike solo?
Why not??

For some visual confirmation of  the benefits of hiking solitude, visit the HFH Pinterest page.
I sincerely hope that my list of answers gets you close to your own personal answer for the question "Why hike solo"?
I want you to have the fantastic experience of hiking solo.
It's a rite of passage right up there with other milestones for female hikers, every bit as important as:

your first period

your last period

getting your driver's license 




your first "real" job 




buying your first house or car




adopting a pet

planning your wedding 




childbirth




watching your youngest child march across the stage to grasp a diploma
If you think I'm kidding, we need to talk!!
Drop me a line here to add your thoughts and questions to the topic of "why hike solo?"
And if you already hike solo, please share some tips with the rest of us!
Why Hike Solo



Hiking For Her's weekly emails keep you current on hiking & backpacking news.


Free, fast, fun info for you, every week of the year - just use the box below!






flash giveaways
timely deals
steep discounts
freebies

resources
Why wait a whole month?
Plus, there's never enough room in the newsletter to share it all, so why miss out on exclusive Hiking For Her giveaways, limited time gear deals and discounts, freebies, updates, and more?

A short, info packed weekly email update will keep you current on all things hiking!
When you sign up to receive this update, you are agreeing to Hiking For Her's privacy policy.

Don't miss out!

Read more about these hiking weekly updates
| | |
| --- | --- |
| HFH Policies | Hiking For Her is a participant in the Amazon Services LLC Associates Program, an affiliate advertising program to provide a means for us to earn fees by linking to Amazon.com and affiliated sites. |