April 2017: A Note From Diane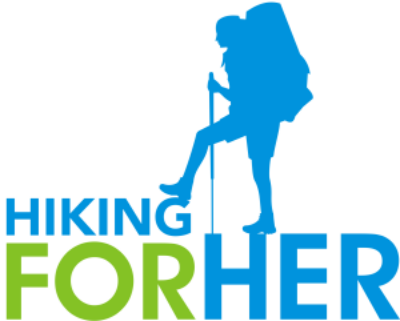 Howdy, Hiker!
April is one of those months that can be really good on the trail, or really challenging.
Think mud, wind, pounding rain, fresh insect hatches, cool damp camping conditions...yikes!
Although we know that any day on the trail can be a good day, let's make your April-into-May trails even better with some solid hiking tips!
... like this brand new waterproof phone case review, to prevent heart failure if you drop your expensive phone in the mud.
And a few safety tips to keep yourself trouble free on the trail.
I'd also like you to meet two amazing outdoor women, Lucy and Mary.
Throw in a new quarterly hiking magazine, an easy way to get your used hiking gear into the hands of the next generation, the latest issue of Trail Mix (stuffed full of detailed hiking tips), an anti-blister sock give away, and maybe April isn't such a bad month after all!
Shall we get started?
---
Waterproof Phone Case Review
I know I shouldn't, but I pull my iPhone 5 out of my pocket to take pictures in the pouring rain. Or set it down on rocks surrounded by trail mud.
In fact, I've had to revive the poor old thing twice, with a hair dryer and some patience.
So I was delighted when I got a chance to review a rugged-ized, water tight case from Snow Lizard.
If you need protection from everything an April trail can throw at your phone, you really need to take a close look at this waterproof, drop proof case. After reading the design features and specifications in the review, I think you'll be impressed. I was!
All of the Snow Lizard details right here!
---
New Hiking Safety Articles For You
In the eternal quest to keep you safe on the trail, Hiking For Her has some tips on how to avoid getting zapped or drained by Mother Nature.
Lightning Safety For Hikers: Tips For Survival (with infographic)
Bug Net Review: How To Keep Your Blood Where It Belongs
---
May Issue Of Trail Mix
The second issue of Hiking For Her's newest offering of hiking tips is available today.
Trail Mix is filled with detailed articles on hiking wellness and safety topics for every phase of your trail time.
I put my human biology background and 4 decades of trail experience to work for you, giving you easy ways to keep yourself happy, well fed, and trouble free during your hikes.
Click on the Trail Mix graphic below for more details, and to purchase your instant download pdf copy.
Here are a few comments from readers about last month's issue:
"I loved the bird on the cover, such a nice way to open up! And I love that the whole thing inspires me to get out there. And the gear hacks are great. So smart!" -LC in California
"I thought it was great! I'm still trying to get a good handle on nutrition and hiking, so especially enjoyed all the info about trail mix, with the whys and wherefores." -Carol
Missed the first issue?
Here's the magical thing about this Trail Mix:
It contains no calories and never gets stale. The perfect trail mix for women hikers!!
So dip into the first issue (April 2017) and find out why you should be carrying zip ties, which 3 first aid supplies you need, how to match your trail mix to your hikes, and more!
And it's not too late to get in on a chance for the April give away, a Foot Care box valued at $35 U.S. Deadline for entry: April 30, 2017.
---
Meet Lucy Barnard (a.k.a. Ambitious Hiker)
There are a lot of ambitious hikers in this world.
Lucy is in a special category.
As a 2017 recipient of a North Face Adventure Grant, she's going to attempt to walk from Ushuaia, Tierra Del Fuego to Barrow, Alaska.
Not all in one year, but in stages over a three year period.
She started her journey this month, logging approximately 600km as she navigates through Chile. You can follow her progress in three places:
Instagram: tanglesandtail
Blog: tanglesandtail.com
FB: Tangles + Tails
Lucy is a gluten free hiker (like myself), making her resupply efforts more challenging. If you are a South American reader of this newsletter, please email me for Lucy's address in Chile if you wish to donate supplies or encouragement.
On another synchronous note, one of her sponsors is ArmaSkin, maker of anti-blister socks for hikers. Hiking For Her has reviewed these socks, and found them to be of exceptional quality. In addition, the anatomically accurate design makes them perfect for hiking feet.
My review goes into the details, along with photos and feedback from myself and other hikers.
ArmaSkin Anti-Blister Socks Review
To celebrate Lucy's first weeks on the trail, let's give away some of these magical socks!
Two lucky hikers will have a chance to select the perfect pair of ArmaSkin socks for their feet. It could be you!
This giveaway has ended, but follow all of the current Hiking For Her giveaways here.
Curious about why these socks work so well to prevent blisters on your feet?
Find out here:
How ArmaSkin Works
While you're at the ArmaSkin website, why not sign up for the monthly free newsletter? You can follow many intrepid outdoor adventurers wearing these high tech socks in Nepal, Norway, Arizona, Australia and other challenging but gorgeous regions of Planet Earth.
---
Mary Anderson, One Of A Kind
As long as we're profiling remarkable women this month, let's pause a moment to remember Mary Anderson.
Although you may have never heard her name mentioned in the same breath as REI, Mary was the female co-founder of the American gear cooperative, along with her husband Lloyd.
These two people WERE this company when it first started. In fact, Mary sewed backpacking tents at her kitchen table in the early days!
Mary died this month at the age of 107 years after a long and fulfilling life. Thanks to Mary's efforts, women in what I call the dark ages of hiking (1960's through 2000) had access to high quality hiking gear and a female role model.
REI established a legacy grant in 2009 to celebrate her 100th birthday. A few weeks ago they announced the Mary Anderson Legacy Grant to keep her memory alive for future generations.
You can make a donation to this REI foundation throughout 2017 to support its mission: to involve a diversity of young people in outdoor activities.
Your donation can be sent directly to REI Headquarters. The address is listed in this newspaper article highlighting Mary's life:
Mary Anderson, Seattle Times
---
New Quarterly Hiking Magazine
My friend Rebecca Walsh at Hike Like A Woman released the first edition of her digital magazine this month.
It's an instant download quarterly which highlights an inspiring line up of women of all backgrounds, ages, and hiking abilities.
The first issue is free, so take a look!
And speaking of Rebecca, you can hear the April 2017 podcast of her interview with me!
I hope you enjoy getting to know the back story of Hiking For Her! Please send me your comments and questions, I'm all ears. (No, wait. That's the rabbit who is eating my garden this spring. Send rabbit deterrent tips, too!!)
---
Gear Forward
If you're like me, you have some hiking gear that you've outgrown as your skill levels have improved.
Or maybe you have decided that a tight pair of boots or a certain backpack are not working for you.
Now you can "gift" that gear to a young hiker by visiting the Gear Forward website: Gear Forward: Outfit The Next Generation

If you want to get even more involved in recycling hiking gear, why not become a community ambassador for Gear Forward?
As an ambassador, you help identify gear gaps and facilitate gear donations to worthy outdoor organizations in need in your own community.
What a chance to literally pay it forward to our young hiking generation!
---
---
Out of room already :(
But one last tidbit before you go...
I have a long list of things to share, but it will have to wait until next time. I know you're busy planning your upcoming trail adventures.
But I did want to leave you with something that is so (words fail me here) that I still haven't recovered!
Last week I opened an email from the Discovery Channel, inviting me to audition for their upcoming season of "NAKED AND AFRAID".
Just like what it sounds like! You (me??) and a male partner are sent into a survival situation for 21 days with nothing, not even clothing. But the cameras are rolling, 24/7.
This scenario definitely did not float my boat, but if you're interested in appearing on TV wearing ONLY your backpack, email me and I'll give you the contact information.
Stay safe, stay happy, stay clothed and unafraid on the hiking trail of life, that's what I always say ;)
From me to you until next month,
Happy Trails always,
Diane a.k.a. Happy Hiker
diane@hiking-for-her.com
Availble now: Trail Mix May 2017
Stop by these HFH pages for a little hiking inspiration! Likes, comments and shares are always appreciated.

Hiking For Her

HFH Pinterest

HFH Instagram Page

HFH Amazon Author Page

HFH Goodreads Author
---
Some of the links in this newsletter and on the Hiking For Her website may be affiliate links.
What does this mean for you?
You create a small miracle when you buy hiking gear through those links, by allowing a small percentage (low single digit) of your purchase price to flow into the HFH coffers.
What's so miraculous about that?
You receive great gear that has been trail tested and approved by a seasoned hiker. You pay nothing extra. AND you help keep the free hiking tips flowing to your virtual trail buddies.
Wow!
And a sincere Thank You for your vote of confidence in Hiking For Her. It means a lot!
---
Did you receive this newsletter from a friend?
Sign up for your own free monthly subscription.