Happy Trails Newsletter:
Fresh Hiking News
Every Month

Jump right into the Happy Trails newsletter back issues!
Or sign up fast, right here: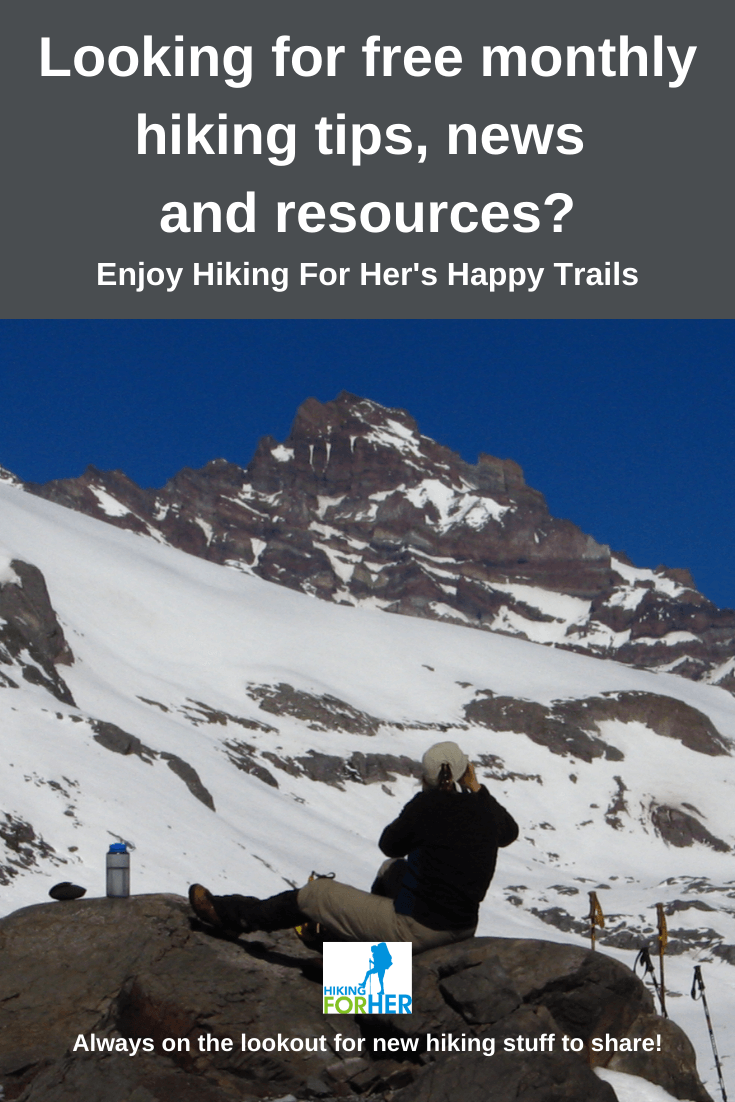 Why bother?

Okay, fair enough.
Maybe you're wondering:
"Why would this free Happy Trails newsletter be of any use to me?"
Well, here's what a reader named Giuliana has to say about it:
"I always look forward to your messages in my inbox. Some make me laugh, others make me think deeper, but I always end up learning something new about being in the woods with Mother Nature, especially as a female solo hiker."

Something for everyone,
every month!

I'm guessing that no matter where you fall in the spectrum of outdoor enthusiasts, you'd be open to some of the best hiking tips for women hikers.
There are so many ways to hike!
And I'd love to share fresh hiking and backpacking news with you!
Why share?
Because I am completely, shamelessly addicted to hiking.
And I tell anyone who will listen about the good stuff I learn about hiking.
My hiking addiction means that I:

read everything I can get my hands on about my favorite sport: hiking newsletters, websites,

blogs,

books,

magazines,

forums,

gear reviews

;

try out new gear every season (and it's mostly gear that I purchased with my own hard earned money, so I'm not biased);
pour over hiking guides,
create long lists of hikes I can't wait to try;
hike every week (work schedule and weather permitting), so I have lots of ideas on maximizing trail time and minimizing recovery time;
learn a lot about being a prepared, strong, smart hiking woman simply by being out there, hiking and bush wacking and scrambling and exploring and keeping notes on what to improve!
All of that devotion to hiking adds up to a woman who is bursting to share with other hikers.
Thus, Happy Trails newsletter!
And to show you how dedicated I am, here's a photo of me in my "office" (on Banshee Peak, near Mt. Rainier).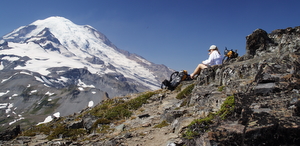 Doing some seriously deep thinking about the next issue of the Happy Trails newsletter!

Now you're
in the picture

So here's where you come into the picture.
Ask yourself:

Where do you get your up to date information on hiking?

Who do you turn to when you have a hiking question?
Everything I share in my Happy Trails newsletter is useful to female hikers of all ages:
information about the latest hiking gear, the newest research findings in nutrition and medical research (yes, I admit it - I read geeky medical journals), and great places to explore.

Although it's packed with information, this brief monthly update is quick to skim and digest, so reading Happy Trails won't eat into your trail time.
What to expect in
the Happy Trails newsletter

Here's a sampling of what you will find in a quick-to-read format.
Book, video, research
or resource reviews
I might critique the book I just finished about the outdoors, or a book I know is important for skill building.
Maybe I'll provide a summary of a research article on hiking nutrition.
Or share a hot tip on a brand new hiking resource.

And I'm always on the look out for sources of hiking information, making your suggestions for a review in the newsletter both welcome and appreciated.
New gear and gadgets

So much fun, new and high tech stuff, so little time.
Some of it is over-the-top expensive, some of it is just hype, but once in awhile I stumble across something worthwhile.
I will only pass along what I myself have tried, or what someone I trust on the trail has tried.
And it doesn't always have to be geeky! Even a bandanna is considered a worthy piece of gear when used in a unique way, in my opinion.
Trail tips for you

Here's where I share the latest resources and fonts of knowledge that I've discovered:
The latest articles on this website,
all in one place

You won't miss a thing if you subscribe to the Happy Trails newsletter, because all new articles are in one handy spot.
Ask a hiking question,
get an answer!

 Send me your question, and I can share it, along with my answer.

If you're wondering, plenty of other hikers are, too!

Let's enjoy each other's curiosity and thirst for knowledge.
And it satisfies my retired teacher persona, too. I'm very familiar with question and answer sessions from my decades in the classroom.

Share your insights

If you've got a hot tip or some trail advice, I'd be happy to share it with our community of trail buddies.
Don't be shy - pay it forward!
Another quote from a newsletter reader
It's fun to find out how this bounty of hiking information is being shared and used, as in this testimonial:

"I want to say how much I enjoy reading your newsletter. It is always full of useful information ...
I belong to 5 different hiking groups. We hike all year long in all kinds of weather... we use your information and survive our day hikes."
~Cindi Shanika

The name
can be prophetic!

As you can see, I'm always busy gathering hiking tidbits to keep all of your trail time happy -  and that's exactly how I arrived at the name Happy Trails.
By using all of the monthly information at your fingertips, you'll hike with a smile on your face.

So please consider joining me every month virtually via the Happy Trails newsletter.
And as easy as it is to sign up, I make it even easier to opt out if it's not your cup of tea.
Just follow the instructions at the bottom of the newsletter, and your email address will be purged from the mailing list.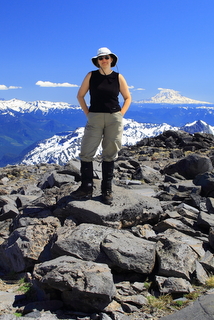 Outstanding in my boulder field. Won't you join me?
More ways
to stay in touch

If you'd rather connect on a more frequent basis, visit the Hiking For Her Facebook page.
Every week day I have been known to:

post videos,




pose questions,

pass along photos and inspirational quotes,




provide links to great trail information and hiking news, -and-




welcome your comments and insights.
There's a HFH Pinterest page with lots of female hiking topics to explore, too.
And here's one more chance to get in on all of the latest monthly hiking tips:

-Diane, Hiking For Her

Return HOME
---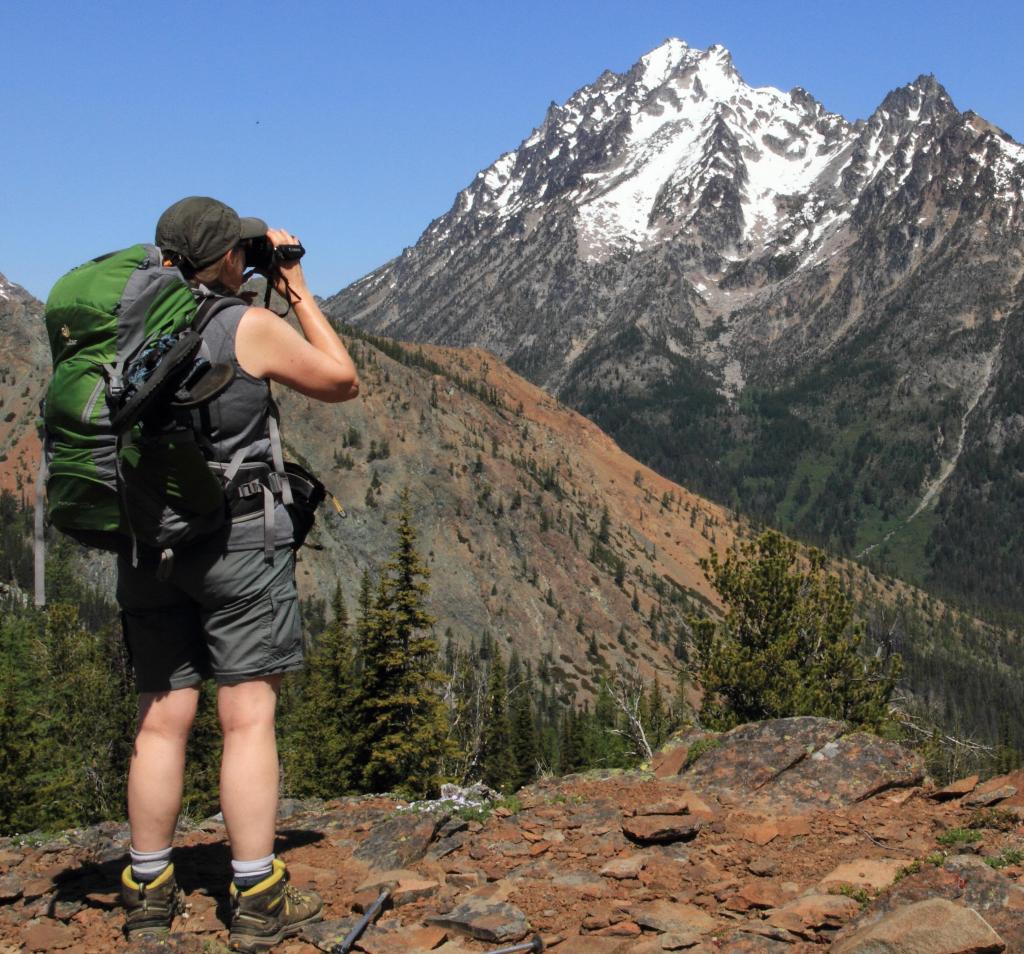 About the author
Diane is the founder of Hiking For Her.
She's been on a hiking trail somewhere in the world for 5+ decades & loves to share her best hiking tips right here.





All rights reserved. 





Photo credits: All photos on this website were taken by David Midkiff or Diane Spicer except where noted.
As an Amazon Associate, Hiking For Her earns from qualifying purchases. 
Hiking For Her: Hiking tips you can trust!
Hiking For Her LLC ©2008 - 2021  All Rights Reserved
   No photos or written material can be used without permission.