Enjoy Happy Trails, the free monthly newsletter from Hiking For Her.

Receive a free resource: Hiking Layering System Explained
May 2017 Trail Mix
Monthly Hiking Digest

by Diane Spicer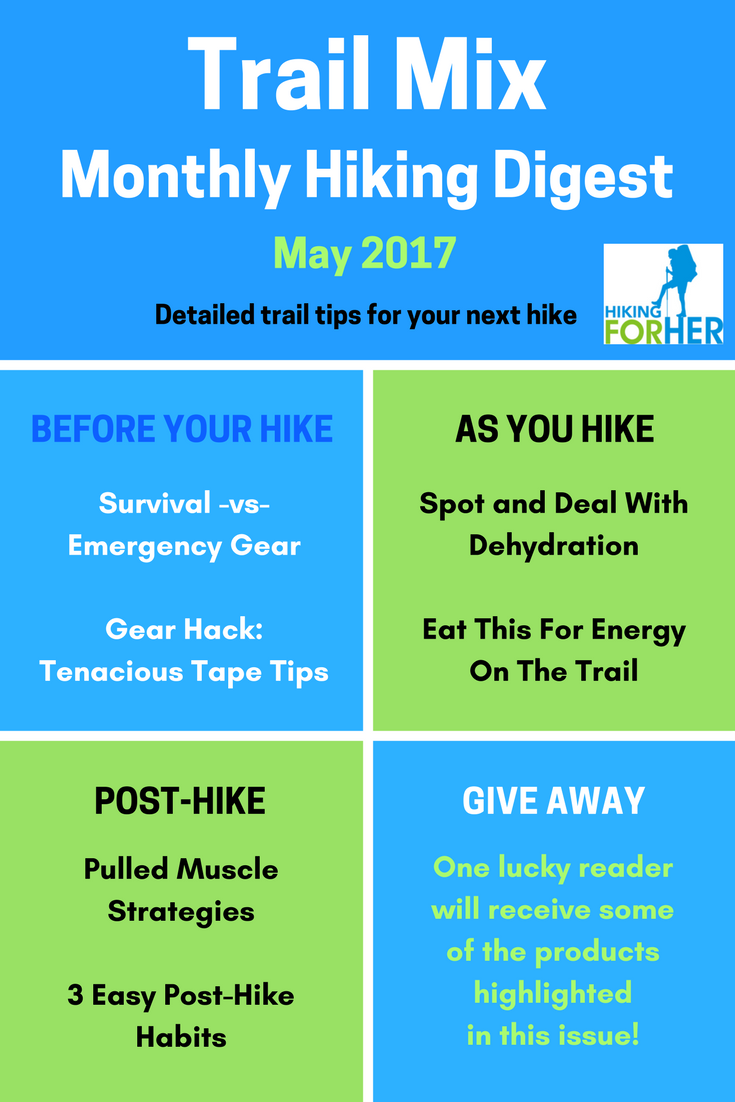 Hurrah!
The May 2017 Trail Mix Monthly Hiking Digest is available no  longer available.

"Hiking Digest"?
What's that?

What's a hiking digest?
Great question!
Long story short, it's a collection of articles written with your hiking plans in mind, plus the latest hiking news and a big dose of fun.

What readers are saying
about Trail Mix

These comments about the April issue of Trail Mix were sent to Hiking For Her, with permission to share them with you.
"I thought it was great! I'm still trying to get a good handle on nutrition and hiking, so especially enjoyed all the info about trail mix, with the whys and wherefores." -Carol
"I loved the bird on the cover, such a nice way to open up!
And I love that the whole thing inspires me to get out there.
And the gear hacks are great. So smart!" -LC in California

More reader comments

"I liked all the explanation about different hikes/difficulty/elevation and food. Not one size fits all, as I've been thinking." -Carol

Here's LC (California) with the final word on the April issue of Trail Mix Monthly Hiking Digest:
"Lastly, thanks for the tips about food ... love having the knowledge to stay healthy and safe!"
What's in the May 2017 issue?
The May 2017 Trail Mix monthly hiking digest has 6 detailed articles on hiking topics of interest to hikers everywhere.
You won't find this type of information, presented in an easy to read style, anywhere else.
Including on this website.
Expect lots of  high quality hiking information in the May 2017 Trail Mix Monthly Hiking Digest.
Here's a sneak peek:
Before you hike: tips for planning
Survival -vs- Emergency Gear: What You Need

Gear Hack: Tenacious Tape Tips
Tips to try on your next hike
Avoid, Spot, And Fix Dehydration Problems Fast




Eat Like This For Energy On The Trail
Post-hike recovery and care strategies
Pulled Muscles: Strategies For Prevention & Treatment

Three Easy Post-Hike Habits To Keep Yourself Out Of Trouble
Plus a little fun!

The May 2017 Trail Mix Monthly Hiking Digest articles are focused on making you a prepared, comfortable hiker regardless of where your hiking plans will take you this month.
To go along with this jam packed issue, Hiking For Her has selected some of the gear mentioned in this month's Digest:
HFH knows these are great things to have on any hike, and can't wait to share them with one lucky winner of a random drawing.
Details for how to enter for your chance to score this box of hiking goodness (approximate value $25 U.S. and mailed directly to you) are included in the Hiking Digest.
Price and format details

Trail Mix Monthly Hiking Digest is just getting started.
So the price per issue is a low $2.99 for 40+ pages of hiking goodness, written with the same detailed expertise as all of the pages on this website.
But available only to you as a subscriber!

It's easy to use your PayPal account for a secure transaction.

Prefer to pay with a credit or debit card?

The May 2017 Trail Mix Monthly Hiking Digest will be instantly available as a pdf download to your electronic device.
So fast and easy to get your own copy!
And here's the great thing about this trail mix - it never gets stale!

The contents will be as fresh and useful as the day they were crafted, so if you miss an issue, the tips will still be tasty and satisfying.
Want to read about the inaugural Trail Mix issue?
Questions about the May 2017 Trail Mix Monthly Hiking Digest?
Use this CONTACT link to ask anything you're wondering about.
If you don't receive an email message immediately, letting you know your question reached Hiking For Her, something went wrong with your email address.
Use a different address to try again.

Or double check for a typo.

Looking forward to hearing from you!

Why wait one second longer??

Dig into some tasty, nutritious Trail Mix right now.

Other issues of Trail Mix are available here:
These tips are evergreen and useful for both men and women, to keep your hiking time satisfying and safe.

Home page > Trail Mix Monthly Hiking Digest >
May 2017 Trail Mix

Hiking For Her: Hiking tips you can trust!