Enjoy Happy Trails, the free monthly newsletter from Hiking For Her.

Receive a free resource: Hiking Layering System Explained
SLXTREME Waterproof Case
Review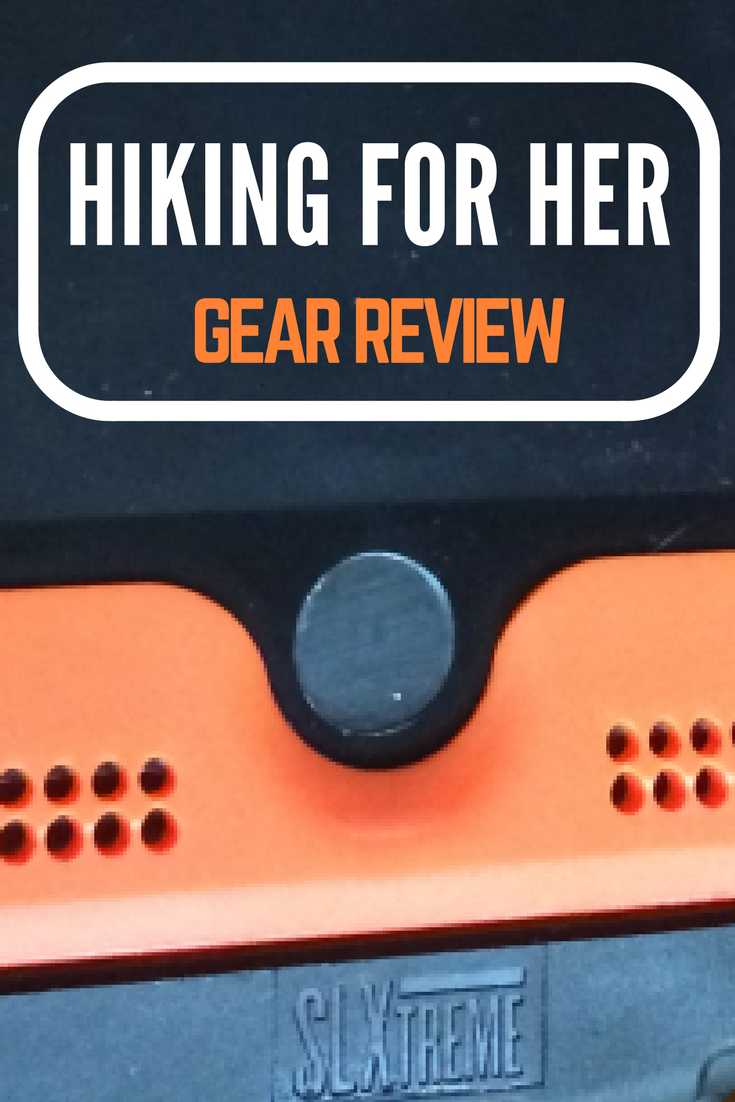 Have you ever seen an SLXTREME waterproof case review for an iPhone, from the creatively named company SnowLizard?
I hadn't, but when I was offered a chance to handle this iPhone case and try it out from the perspective of a hiker who is hard on her gear, I was happy to write a review.

The pivotal question

"Do you need one of these phone cases to protect and recharge your iPhone on your next hike?" will be asked, and answered, in this SLXTREME waterproof case review.
But first...
Disclosures
This SnowLizard iPhone case was sent to me for one reason: to put it through its paces on a hiking trail.
The technical specifications are available from SnowLizard for your own verification

All of the photos and opinions are my own.
If you purchase one of these phone cases from SnowLizard using this link, Hiking For Her will receive a small percentage of your purchase price.
And here's the thing you need to know:
Now let's get into the SLXTREME waterproof case review facts to answer two questions:
What is it?

Do you need one?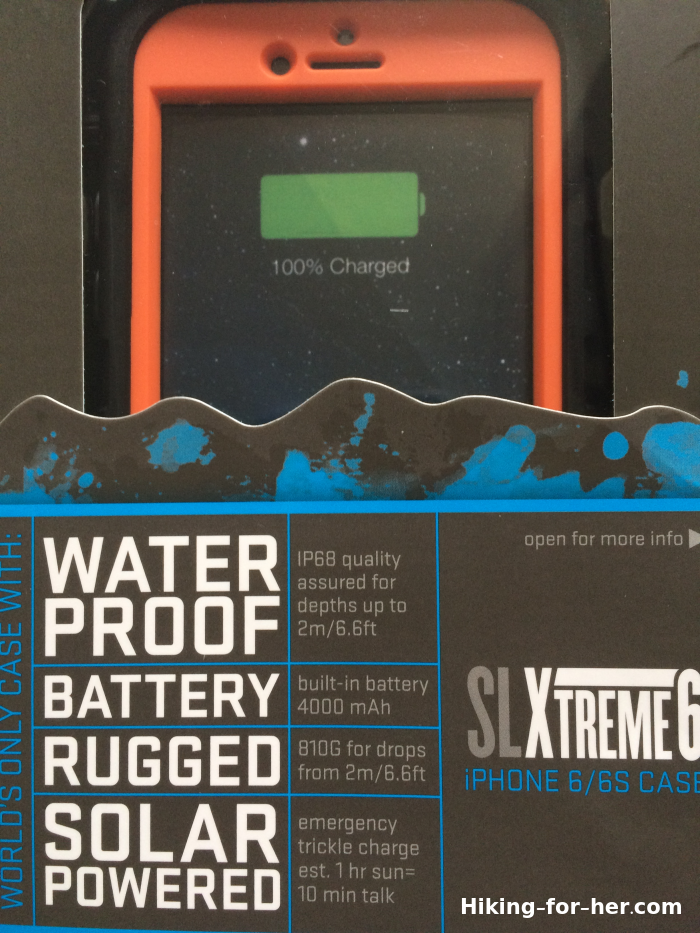 SLXTREME waterproof case review
features and specifications

As with any piece of potentially useful hiking gear, we start with the features and technical specifications.
It's a fast way to figure out what the gear will provide, and also what it can't do for you, on your next hike.
Features:
why carry this case?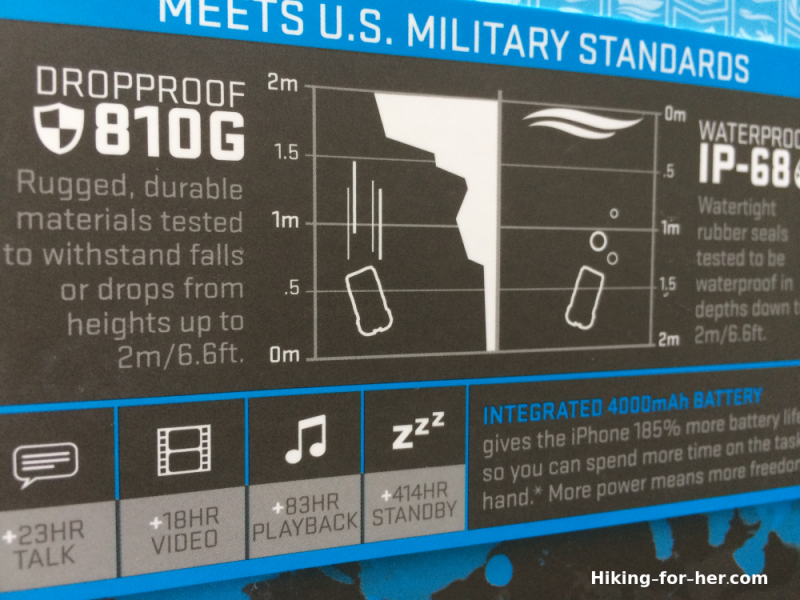 I think the back side of the package does a good job of calling out the features a hiker might want on a hike:
An integrated battery gives a lot more battery life, so you don't have to be hyper mindful of charge as you take photos, check apps, and communicate with the outside world.

You can use your phone for entertainment on a backpacking trip, for many hours at a time, without recharging. Then the sun becomes your friend to (slowly) recharge your phone until you can get to a source of electricity.


Your phone can also snooze fully protected from the elements for a long, long time in this case.
What does "waterproof"
really mean?

I'm going to assume that you hike like me.
I drop things in the dirt, even when I try really hard not to.
I check my map apps even when it's raining and I know I probably shouldn't be exposing the phone to moisture.
I also have the bad habit of stowing the phone in my shirt or hiking pants pocket at my camp site.
See where I'm going with this?
Potential disasters with my expensive iPhone are lurking, just waiting to hear me groan when the phone goes ker-splash.
So let's harp on the waterproof aspect of this phone case for a moment.
And to do that, we have to define what "waterproof" and "dust proof" actually mean.
Which is harder than it sounds.

According to the International Electrotechnical Commission (IEC), a vague word such as "waterproof" can be standardized according to a rating system.

These standards are published in tables, used by manufacturers to rate their gear.

The IEC recognizes various levels of "proof" ness (to coin a phrase here).
This iPhone case has been rated as WATERPROOF – IP-68.
Let's unpack that number.
IP code,
and why it matters to you

The IP code from the IEC (see above) has 2 other names: International Protection Marking or Ingress Protection Marking.
When you see the IP letters, you know that the case has been tested according to standardized procedures for its ability to "exclude intrusion" by environmental factors like dirt and water.
That's a good thing, right? Dirt and water are 2 things a hiker battles on every hike.

The first number after the IP indicates that the phone case has been tested for its ability to exclude dust.
The scale runs from 0 (something you don't want to be carrying on a hike) to 6, which means the case is deemed air tight under rigorous conditions (like 8 hours of air flow in a vacuum).

So the "6" rating means this SLXTREME waterproof case review is heading in a very good direction.
The second number can have a value between 0 and 9 to rate the case's ability to prevent (and I quote the IP code here) "the harmful ingress of water".
Sounds painful when they put it that way, doesn't it!
The SLXTREME iPhone case received an 8 on this test, which translates into the fact that your phone could withstand constant immersion (30 minutes) at 2 meters (6.6 feet).

This bodes well for me and my habit of leaning over standing water with my phone stashed in an unsecured jacket pocket.
So what does IP-68 mean to a hiker?

It means that this SLXTREME waterproof case review has already uncovered one really important fact:
This rugged phone case will save you from yourself on a hike by

standing up to bad habits, dirty slippery fingers, and Mother Nature's moisture tantrums.
In fact, it's almost overbuilt!
Let's find out.
SLXTREME waterproof case review: ruggedness

What kind of hiking do you like to do?
Can you even imagine a hiking trail that doesn't throw dirt, wind, elevation changes, plus temperature and humidity extremes at you?
My favorite trails are high, windy, wet, rocky ones in western Washington and British Columbia.
On any given day, I can gain and lose 3500+ feet of elevation, start out in gray fog and end up in blazing sunshine.
So a waterproof, grit proof, rugged solar rechargeable case for my phone?
Bring it on!
But in order to speak intelligently about the ability of a case to exclude all of these trail challenges, guess what?
We need more technical specs.
The U.S. Military Test Standards (Department of Defense) rating system allows us to rate this phone case's ability to endure typical hiking conditions, including:
altitude (low pressure conditions)

temperature extremes (high and low)

freezing rain

humidity

impacts from falls of 2 meters (6.6 feet)
and more.

The SLXTREME waterproof iPhone case is rated as MIL-STD 810G.
Again quoting from the standards, the 810G testing regime will "generate confidence in the environmental worthiness and overall durability of equipment and material".
What I take from this is that they've already beaten up this case, so if I accidentally do so, I know I'm golden.
Can I imagine myself dropping my phone at least 6 feet in freezing rain while hiking?
Yes, unfortunately. I'm clumsy, I hike in the mountains, and I'm tired at the end of the day.
In other words, I'm human.

How well it will handle a full year of hiking remains to be seen.

How did the set up go?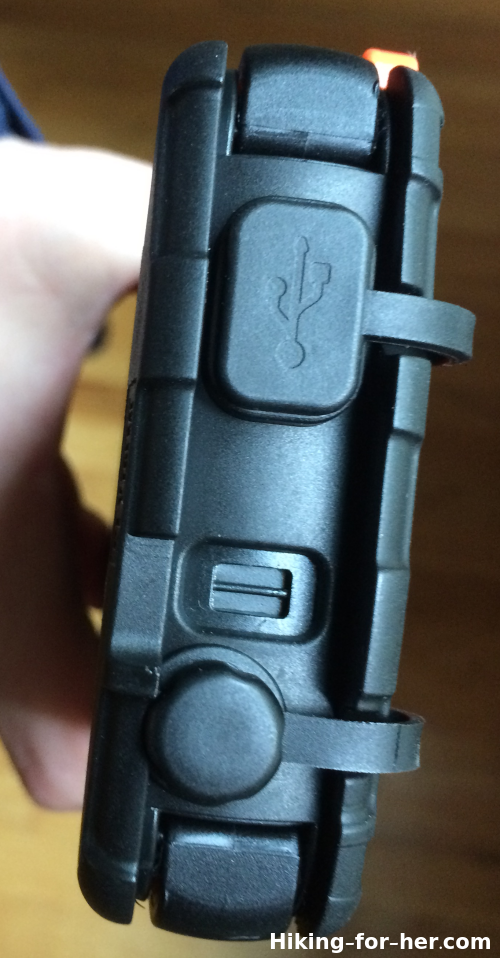 Not hard at all, if you read the Quick Start guide.
And you're a Millenial.
Kidding.

If you're somewhat hesitant about electronic devices, micro USB cables, and which end is which, it will take you a few minutes.
Size and weight

These things matter to any hiker, especially weight.
Let's tackle that first.

The weighty facts
This phone case weighs 7.5 ounces (212.6g).
An iPhone 6 weighs 4.6 ounces (129g).
If you're an ounce counting backpacker, these ounces spell ouch.
You'll have to juggle your need to communicate, take photos, navigate, and entertain yourself along with all of the other necessary camping and survival gear.
For a day hiker, it's a weighty concern but a fair trade off for a rainy day on a muddy trail when you know you're going to use your phone a lot.
Dimensions

You're going to notice this case on your phone.
Although it hugs your iPhone 6 in a "slim contour", you will see and feel the bumps and grooves from the solar battery pack.
Its bulk will be noticeable in your pack.
And forget about putting it into a small pants or shirt pocket.
But how else could SnowLizard offer you ruggedness? If that's your bottom line, the beefy dimensions should be expected.

How hard is it to handle?

Here's where things start to get real.
You're liking the idea of bomb proof (maybe even literally?) protection from dirt, water, and your own clumsiness.
You're enjoying the fact that you can get that case slapped onto your phone and be in business pronto.
Now you're going to have to accept that this phone case is a bit clunky, and that's not always good news for a hiker.
How clunky?

I handled this phone without gloves, with cold wet fingers, in a fairly brisk breeze.
Here's what I can tell you about the user experience:

I really like the rubber side grips on this case. They made handling the phone easy when my fingers were cold and wet (as they always are in early spring hiking and snowshoeing conditions here in the Pacific NW).
There is an integrated carabiner loop on this case. Perhaps there's a lanyard in your future? Or you can press one of your carabiners into service for this new task.

There are easily secured double locking safety latches to ensure a tight fit and the exclusion of trail gifts like grit and water.

The screen was fully functional inside the case, meaning that I was able to dial numbers, select my apps, text someone back home, and access the camera commands without a problem.

The case fit securely in my hand, without overwhelming my admittedly small fingers.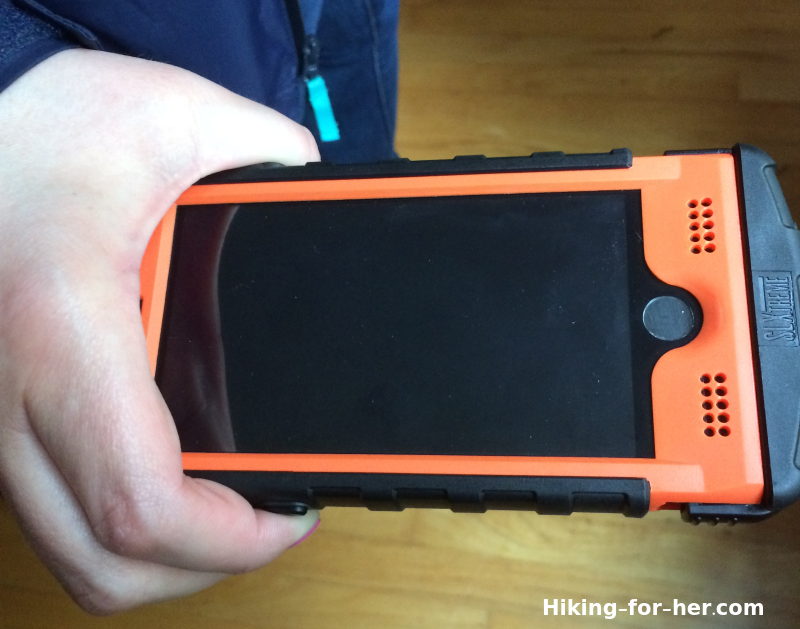 Integrated battery

Battery life of a phone is so important to a hiker.
If you're relying upon your phone for navigation and communication, you're inherently trusting the battery to perform well under a wide range of conditions.

And you want to know the range of performance to expect with this phone case.
So let's take a look at the integrated battery in this SLXTREME case.

Battery specs

SnowLizard describes the device like this:

Solar panel

Knowing nothing about solar batteries, I had to do a little research to understand what a 20% efficient mono-crystalline rear solar panel offered me on the hiking trail of life.
According to SnowLizard, this battery will trickle charge and replenish battery power, using full sunlight (or indoor lighting sources).
This formula was given in the specs:
One hour of sun exposure = approximately 10 minutes of talk time restored to the phone.
Doesn't sound like much, right? But exposing your phone to sunlight might buy you just enough juice to phone home.
Alas! Bad news:

At the time this SLXTREME waterproof case review is being written, the Seattle area is experiencing a record setting stretch of dark, cold hiking weather.
Which means the above formula remains to be trail tested.
I wasn't interested in using an artificial indoor light source (not exactly something I'd have access to on a hiking trip), so I have no comment about that avenue for recharging a phone using this case.
Photons are photons, though.

SLXTREME waterproof case
review conclusions

There are at least 4 types of hikers who should consider carrying this type of phone case for an iPhone:
Hikers who carry their phone to take pictures and use a navigational app on every hike, in all kinds of terrain and weather conditions.

Hikers who take chances with pricey phones, as I've outed myself as doing in rugged terrain and extreme weather conditions.

Any backpacker who wants the extended battery life and solar recharging features this case can provide.

Teenagers who love to hike but aren't necessarily cautious with their phones. (Make this a gift!)

It just makes sense to protect your investment in a piece of technology which can do so much for you on the trail.
And this case not only protects, it extends the usefulness of your electronic device.

One more important question before we wrap up this SLXTREME waterproof case review.

Can you use this case for everyday life?
In my opinion, no.

I'd reserve this case for outdoor adventures, and rest easy knowing that the investment I made in an iPhone is going to be protected.
Which might explain the "XTREME" part of the name, right?

Questions about this SLXTREME waterproof case review?
I'm all ears!
Use this link to contact me, and I'd be happy to answer questions about my experience with this phone case.
Here's one I didn't answer in this SLXTREME waterproof case review but should have:
Why, yes, it does.
While orange is a nice bright visual contrast in case you drop your phone into a rock pile on a windy mountain side, you can also enjoy yellow, black, and white phone cases.
And to nip another question in the bud, this SLXTREME phone case is also available for iPhone 5 and iPhone 7 models.

You can check out all of the SnowLizard phone cases and accessories (belt clip, nautical kit, vehicle mount) here.

Thanks for reading this SLXTREME waterproof case review!
Interested in a universal phone case at a lower price point?

Read my JOTO review here.

Home page > Hiking Gear Reviews >
SLXTREME Waterproof Case Review