August 2017: A Note From Diane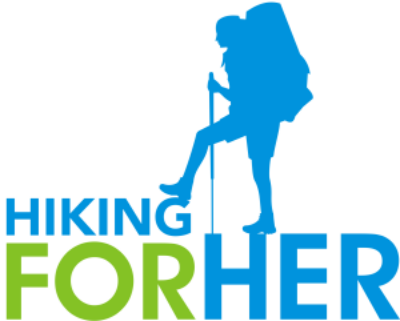 August Hiking Greetings!
Lots to share with you this month, including a new free app, a different approach to finding great deals on hiking gear, new reviews focused on high quality and delicious trail food, tips on staying safe as you hike during hunting season, and a glimpse into the motivation behind inspiring outdoor women.
I also wrote two new articles based on my Wrangell Saint Elias Alaska trip in July, sharing my gear list for a two week trip as well as some hiking options you should consider if Alaska is calling your name for next year!
And don't skip the Mountain House coupon code available only through Hiking For Her. It will save you cash if you're stocking up on emergency supplies and backpacking food.
As we say on the trail, we're burning daylight! So let's plunge into the August goodness.
---
Community Based Free Outdoor App
Our digitally interconnected world brings us many advantages as hikers.
The free Mountain Hub app is a great example: hikers across the globe post current trail conditions to help you decide whether or not the hike you want to do is safe and accessible.
Because the information comes from people with boots on the trails, you know you can rely on it.
You can also download maps and store them to use while you're hiking. And if you want to pay it forward, record your own hikes and share them (photos, too) with the Mountain Hub community. The more data, the better the app!
And so convenient to use: available on the web, iOS, and Android.
---
Score Gear Deals Year Round
I do several things every time I check my email in the morning, and drooling over the gear deals on The Clymb is near the top of my favorites list.
So I felt a little sheepish when I realized that I've never shared this shopping experience with you, dear hiker!
Long story short: You join the private membership (completely free) with your email, and log in with that email address every day or so to see the discounted items. Discounts up to 70%!
Why the membership requirement? To offer you preferred pricing on top brand names.
I've explained why I've been a member of The Clymb here. I was careful to give you the pros and potential drawbacks as I've experienced them.
I really look forward to my 5 minute diversion every morning as I scan the flash sales (time sensitive, in other words) for the gear and clothing on my "gotta have" list (which I explain in the link above).
And don't be put off by the name – it's not focused exclusively on climbers! This private retail community serves hikers, bikers, kayakers, winter sports enthusiasts, in fact everyone who gets out and gets moving in the outdoors.
---
Trail Food Worthy Of Your Consideration
Have you ever gotten bored with your hiking food?
Yeah, me too. It's way too easy to throw a PBJ sandwich and a trail bar into the lunch sack and call it good.
Good and boring, that is!
That's why I went looking for some new trail food options to share with you (and myself).
I also wrote a review of a caffeinated chewing gum that can give you that little boost you need to crank out just one more mile or kilometer (uphill) to your campsite.
Patagonia Provisions Review
Trader Joe's Granola Bar Review
RunGum Review
---
Hiking During Hunting Season?
Did you know that in some states in the U.S., hunting season begins in mid-August?
Because hunters share trails with hikers, it's up to you to keep yourself visible, audible, and out of trouble when you hike.
This new article gives you safety tips and strategies.
Hike Safely During Hunting Season



---
New Q & A Feature!
As I've already mentioned, I love opening my email to see The Clymb deals every morning.
But what really makes me happy is answering the questions I receive from hikers around the world. It's the whole point of Hiking For Her!
While on a long hike about a month ago, with plenty of time to think about life, I realized that I should be sharing these questions and answers with you on a regular basis.
So I created a brand new page on Hiking For Her - and I'll bet you can guess what I called it:)
If you'd prefer to receive a private answer to your question, there's still that option, too.
You can also answer questions, sharing your knowledge base and suggestions with hikers around the globe.
Hiking For Her's Q & A Page
So go ahead. Ask or answer some questions!
You'll be helping all of us in the hiking community to be stronger, smarter, and safer.
Thanks in advance! I'm really looking forward to watching this new resource fill up with fantastic trail tested tips.
---
Inspiring Women
Speaking of Q & A, here's an interesting session with Lucy Barnard.
She's the woman who is determined to walk from the tip of South America to Alaska, USA regardless of weather, obstacles or impediments.
Thanks to Armaskin for closely following this inspiring hiker and taking time to interview her!
Lucy Barnard Q & A
Last week during four days of hiking at Mount Rainier I watched two dark gray smoke plumes from nearby forest fires grow larger and larger. I sent many thoughts of gratitude to the fire fighters working there, working hard to keep me safe.
When I got home, I knew that highlighting the bravery of women hot shots was something I wanted to share this month.
This article is a fascinating profile of these courageous women: Drawn To The Flames, published by NationalForests.org.
---
Mountain House: Take Advantage Of Rare Deal
Because I depleted my dehydrated and freeze dried food supply over the summer, I'll be stocking up again and wanted to pass this time sensitive info along to you if you're doing the same.
You and I are in luck until September 1st, 2017, because Mountain House is offering 20% off their food. That's an unusually large discount, along with free shipping for orders over $99.
This resupply mission will also buy me peace of mind over the stormy winter months when my house loses power for days at a time and I have to pull out my Jet Boil to make dinner on the back porch :)
Not familiar with Mountain House? Read my review to see why I've been eating this food since I started backpacking in the 1970s (!!!).
An old favorite revisited: Mountain House freeze dried backpacking and camping food
To take advantage of this limited time deal, which isn't listed on their website, visit this link: Mountain House

Enter this coupon code after you've filled your shopping cart and entered your shipping info: MHAFFILIATE20
---
Newest Wrangell Saint Elias Articles
I've been trying hard to re-adjust to civilization after spending two glorious "off the leash" weeks wandering around this fantastic corner of Mother Earth.
To help myself focus while not wearing a backpack or gazing at glaciers, I wrote these articles.
You know, just in case you have this national park and preserve on your bucket list!
Lots of pretty mountain pictures, too :)
And don't hesitate to send me your questions about how to get yourself there. That new Q & A page (use convenient link above) comes in mighty handy, doesn't it!
Wrangell Saint Elias Hiking Options (front country and back country ideas)
Wrangell St Elias HFH Gear List (useful for any multi-day hiking trip)
---
Out Of Space Already!
I want to be sensitive to your crowded in box and busy schedule, so I'll sign off here. Thanks so much for reading this newsletter.
And please don't hesitate to ask a question, share a resource, crow about your recent hiking achievement, or just say howdy!
Best wishes for happiness in the outdoors, from me to you,
Happy Trails always.
Diane a.k.a. Happy Hiker
diane@hiking-for-her.com
---
Stop by these HFH pages for a little hiking inspiration! Likes, comments and shares are always appreciated.

Hiking For Her

HFH Facebook

HFH Pinterest

HFH Instagram Page

HFH Amazon Author Page

HFH Goodreads Author
---
Some of the links in this newsletter and on the Hiking For Her website may be affiliate links.
What does this mean for you?
You create a small miracle when you buy hiking gear through those links, by allowing a small percentage (low single digit) of your purchase price to flow into the HFH coffers.
What's so miraculous about that?
You receive great gear that has been trail tested and approved by a seasoned hiker. You pay nothing extra. AND you help keep the free hiking tips flowing to your virtual trail buddies.
Wow!
And a sincere Thank You for your vote of confidence in Hiking For Her. It means a lot!
---
Did you receive this newsletter from a friend?
Sign up for your own free monthly subscription.