Enjoy Happy Trails, the free monthly newsletter from Hiking For Her.

Receive a free resource: Hiking Layering System Explained

Patagonia Provisions Review:
Yummy Trail Food For Hikers

by Diane Spicer
Welcome to this Patagonia Provisions review.
If you're familiar with the way the company named Patagonia rolls, you won't be surprised by these unusual hiking food offerings.
Never heard of them?
Then use this Patagonia Provisions review as a different way to approach hiking food, looking beyond calories, ease of preparation, weight, and taste.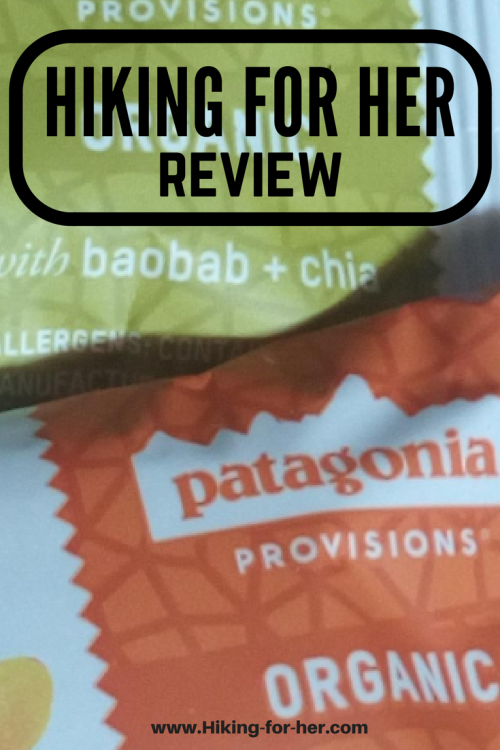 Patagonia Provisions review disclosures
No one asked me to order this food, or to write this review.
I'm always on the prowl for delicious and healthy GF trail food, so my own curiosity drove me to sample the food in the Gluten Free Gift Box.
Because sometimes a woman has to gift herself!

Based on my favorable experiences with this brand (details below), I chose to become a Patagonia Provisions affiliate.
What does this mean?
If you order their products through this link or others on this page, Hiking For Her will receive a small percentage of your purchase price.
You pay nothing extra.
And Hiking For Her will be able to keep the free hiking tips flowing into cyberspace.
Essentially, a three way win: you, this website, and your virtual trail buddies all receive benefits from your purchase.
Way to use your purchasing power for good!
And that fits right into the Patagonia model of ethics and sustainability.
What this Patagonia Provisions
review covers

The Patagonia Provisions sampler box highlighted in this review contained significant amounts of carbohydrates and protein, both of which are essential in a hiker's trail menu.
Drop down to the details if you're in a hurry:

All of this food arrived nested into a cardboard box, neatly packed and ready for a hungry hiker to start sampling.
No rush, though. All of it is shelf stable for months to years.
Let's start snacking!
Salmon and buffalo jerky
Protein is a precious commodity on a backpacking trip, or even a day hike, because of its weight.
Dehydrated or smoked protein is much more convenient for hikers.
There's nothing new about the idea of packing smoked fish and dried meat as hiking food.

Patagonia Provisions review:
let's start with some wild pink salmon

If you're like me, flavorful food really matters after a few days on a hiking trip.
So that's the first thing to mention in this Patagonia Provisions review.

Let me assure you that this salmon is delicious!
And a 4 ounce foil pouch is plenty for sharing with a trail buddy, scooped up with crackers or spread on a tortilla.
It would also be a great protein topping for hot grains like quinoa, amaranth or rice, plus fresh greens (foraged along the trail).

If you've been following the news lately, salmon runs are collapsing at an alarming rate.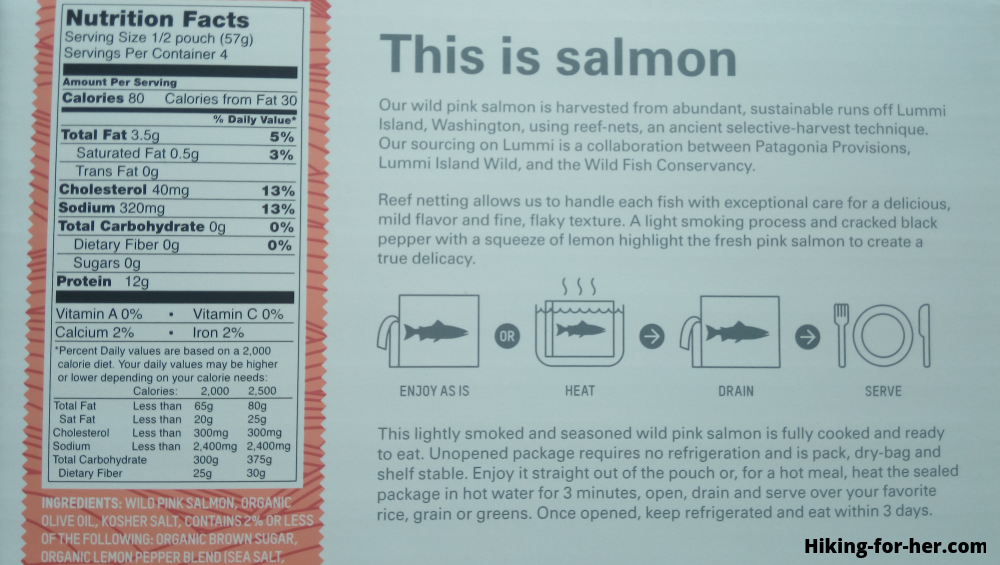 Here's what distinguishes this fish from others you can find on a grocery shelf:
it's sustainably harvested off Lummi Island, Washington State.
This harvest is a collaboration between Patagonia Provisions and the Wild Fish Conservancy.
All salmon is caught using reef nets (an ancient selective harvest method) so no other species are harmed.
Fish just not your thing?
On to the delicious jerky...

Buffalo jerky, original flavor

Original Buffalo Jerky
I made the switch to buffalo jerky, away from beef, years ago.
Two reasons:
As a microbiologist, I was concerned about prions entering the food supply from unscrupulous meat processors.

The awful taste combinations of beef jerkies were too salty, too over processed with chemicals, and way too aggressive for my aging palate.
Enter buffalo or bison jerky.
It's processed in small quantities by small companies with grass fed free range herds, and the flavor is amazing.
This buffalo jerky is inspected and processed in South Dakota, which makes sense: buffalo is a Great Plains native, and is being reintroduced as a pivotal player in that prairie ecosystem.
The Patagonia Provisions jerky has been dried (think of the weight savings in your pack) and lightly seasoned, in this case with black pepper, onion, garlic and paprika.
Enjoy the satisfying chewy texture, knowing that you're delivering lean, clean protein to your hard working hiker's body.

Fruit and almond bars


in this Patagonia Provisions review


Sad update: These bars are no longer available. Sorry!

If you're looking for great ideas for snack bars as a hiker, read this instead.
Next up in our Patagonia Provisions review:
Black bean soup mix

I learned long ago that a hot cup of soup after a long day on the trail is soul satisfying.
It's also a quick way to get more water into your system while keeping your hunger level under control.
This soup tastes beyond amazing! Ignore the fact that wolfing down chow after a long hike makes me somewhat biased.
I'd eat this soup at home!

I was completely surprised by the rich flavor of the black beans and the plump, tasty corn.

The chipotle & garlic notes were wonderful, too. 
Tip: Be sure to give it the full 10 minutes of rehydration time. Lengthen that time if you're at elevation over 3,000 feet.
Black bean soup nutritional notes
in our Patagonia Provisions review

Here's the scoop:
290 calories, only 20 from fat

Total carbohydrates, 53 grams (hurrah for carbs!)

Dietary fiber, a whopping 23 grams (92% of your daily requirement, and a benefit for regular bowel movements while backpacking)

Protein: 16 grams

Spice things up a little!

Get a soup sampler to make your trail time a bit more spicy.

Organic Soup Sampler
Trail tip in this Patagonia Provisions review

You could share the instant soup packet with a trail buddy, or use it as your main meal.
Bump up the nutrition with some cheese, your favorite grain, or some olive oil.
You could also add some salmon!

A note on cost
in this Patagonia Provisions review

After singing the well deserved praises of this high quality hiking food, I also need to share with you the associated costs.
This is not your bargain basement, bulk bin food.
It costs money to deliver such thoughtfully sourced, organic, sustainable products to the marketplace.
There are two ways to look at that statement:
You can search for cheaper backpacking food in bulk bins at the grocery store, but without knowing exactly how they were sourced or processed.
You can put your health and well being (as well as that of your Mother Earth) on the top of your hiking list. You're both worth it!
Money saving tips for you
in this Patagonia Provisions review

If price tightly restricts your food purchases for a backpacking trip, you might think this food is out of reach.
I've been a starving student and budget conscious mom, too.

A few tips for you:
Sign up for their newsletter to receive 10% off your first order.
Keep an eye on seasonal sales and exclusive offers by bookmarking this page and checking regularly.
Ask for a Patagonia Provisions gift box when someone wants to buy you a present to celebrate your birthday or a holiday.
Skimping on food is not in your best interest as a hiker, so if you can economize on gear (used tent, a bartered backpack, etc.) that's preferable for your long term viability on the trail.
Patagonia Provisions review
conclusions

This food tastes delicious, full stop.
It's packaged to sustain any jostling and squishing inside your backpack.
More to  love: it's nutritionally balanced and easy to use, shelf stable, and won't put nasty chemicals or preservatives into your body.
And don't forget the twist:
It's also carefully sourced from sustainable sources.
I will be gifting family members, trail buddies and myself with this food, for all of these reasons.

If you have questions about this Patagonia Provisions review, or hiking nutrition, contact me.

Ready to order your own supply of high quality hiking food?

One more little tip
Check out the Patagonia outdoor gear, too!
This brand of hiking clothing and outdoor gear is well known for its quality and thoughtful sourcing of materials.
Worn Wear - Better Than New

Tip: Patagonia will repair, share and recycle your gear. Wow!

And you can purchase gently used clothing to save some of your cash for other hiking gear!

---
Home page > Hiking Gear and Food Reviews >
Patagonia Provisions Great Trail Food Review
Hiking For Her: Hiking tips you can trust!