July 2017: A Note From Diane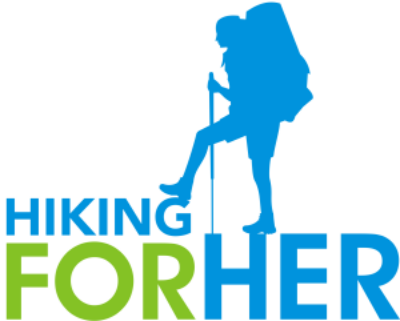 July greetings to you, dear hiker!
I just returned from two weeks of hiking in Wrangell-St. Elias National Park and Preserve in south central Alaska, and my heart is full to overflowing with beautiful unnamed mountain vistas, cold breezes off the glaciers, drinking from untamed rivers, and so much more.
In case you're curious, read about this fantastic remote hiking destination (and America's largest national park) here: Wrangell StElias NPS
I will have lots of new articles for you next month based on my outdoor time, including a detailed gear list and tips on how to hike and camp in bear country.
My hope is that you're out doing what you love, too, or are going over your gear list for an upcoming adventure, so I'll keep this month's issue short:
a Hiking For Her T shirt give away, details on an adventure "race" you might want to add to your bucket list, and a WOW conference coming up in September.
---
You Asked!
Many folks have been asking if Hiking For Her T shirts are available, and the answer has been no for way too long.
Today, I'm delighted to finally say YES!
So delighted, in fact, that I'm giving shirts away to my newsletter subscribers. That's you!
There are two "flavors" of shirts, so check them out to decide if you'd like one:
Hiking For Her T Shirt: Option 1
Hiking For Her T Shirt: Option 2
Or just do an Amazon search for Hiking For Her shirts to see them side by side.
All you need is your email to enter the give away.
If your email is selected, you can choose the size (available in women's, men's or youth size ranges) and color, and it will be sent to the physical address you specify.
Deadline for entering to win a free T shirt is August 5, 2017 at midnight.
Photos of you and your trail buddies looking great in your shirts are welcome on the HFH Facebook page (see link at end of this newsletter). I'll be posting mine soon.
This giveaway has ended, but stay in the loop about current giveaways here.
---
Cotopaxi Questival Adventure Race
I hear from many hikers who are avid outdoor sports enthusiasts in other arenas as well: camping, climbing, running, paddling, skiing, caving, surfing, biking and more. This opportunity is the perfect way to enjoy the outdoors with like minded women, while doing good.
So what in the heck is a Questival?
It's a 24-hour adventure race that challenges you and your team (2 - 6 people) to do something completely unscripted.
Please don't be put off by the word "race". You're not trying to out compete iron woman tri-atheletes. Instead, your team will be given a variety of challenges to attempt, which could involve food, fitness, adventure, service and/or teamwork.
Questivals are held around the U.S., from now through November 2017.
Each race offers prize money up to $10,000. Each racer receives a $40 backpack and some race swag.
Cotopaxi has been on my radar for awhile now, as a socially responsible outdoor gear company. You can read my thoughts about how to do good with your hiking gear purchases here: Socially Responsible Hiking
Or jump straight to the details you need to get signed up for an adventure race in the city of your choice:
Questival details
If you enter, and win, a Questival race, free Hiking For Her T shirts for you and your team members!
---
WOW Conference
Planning to be in western Washington this September?
Washington Outdoor Women (WOW) has a fantastic weekend planned for 9/15 - 17th.
Outdoor skills and wilderness awareness are the focus, with expert instructors and plenty of time to meet other women interested in developing self reliance.
Some of the classes are hiking focused: backpacking, map and compass, wilderness first aid, survival, wild edibles.
Others include archery, hunting, fishing, Dutch oven cooking (and more).
Think of it as a chance to experience summer camp with a fantastic group of women over the age of 18!
Scholarships are available, too.
WOW September 2017 weekend details
---
---
Female Hiking Hygiene
Being in the backcountry for 12 days straight brought the issue of hygiene sharply into focus for me.
Read my thoughts on how to care for yourself when taking a shower is just not an option.
Hiking hygiene kit
---
---
Lots of fresh tips next time!
Such a short newsletter this month!
But I've been keeping detailed notes during my July trail time, and will have lots of fresh tips and gear reviews for you next month.
Don't want to wait? Get the fresh articles as they are posted throughout the month of August on the Hiking For Her website:
HFH newest articles
If you sent me a message during July and still haven't heard back, something was funky about your email address. Please re-send it using a corrected or completely different one, and I'll reply right away.
And thanks to everyone who sends me heartfelt messages of support and encouragement, just because. You make my day sweeter :)
For now, from me to you,
Happy Trails always.
Diane a.k.a. Happy Hiker
diane@hiking-for-her.com
---
---
Available now: June Trail Mix
Stop by these HFH pages for a little hiking inspiration! Likes, comments and shares are always appreciated.

Hiking For Her

HFH Facebook

HFH Pinterest

HFH Instagram Page

HFH Amazon Author Page

HFH Goodreads Author
---
Some of the links in this newsletter and on the Hiking For Her website may be affiliate links.
What does this mean for you?
You create a small miracle when you buy hiking gear through those links, by allowing a small percentage (low single digit) of your purchase price to flow into the HFH coffers.
What's so miraculous about that?
You receive great gear that has been trail tested and approved by a seasoned hiker. You pay nothing extra. AND you help keep the free hiking tips flowing to your virtual trail buddies.
Wow!
And a sincere Thank You for your vote of confidence in Hiking For Her. It means a lot!
---
Did you receive this newsletter from a friend?
Sign up for your own free monthly subscription.