Enjoy Happy Trails, the free monthly newsletter from Hiking For Her.

Receive a free resource: Hiking Layering System Explained
The June 2017 Trail Mix
Monthly Hiking Digest

By Diane Spicer

Have you been waiting for the June 2017 Trail Mix Monthly Hiking Digest?
Your wait is over! It's no longer available.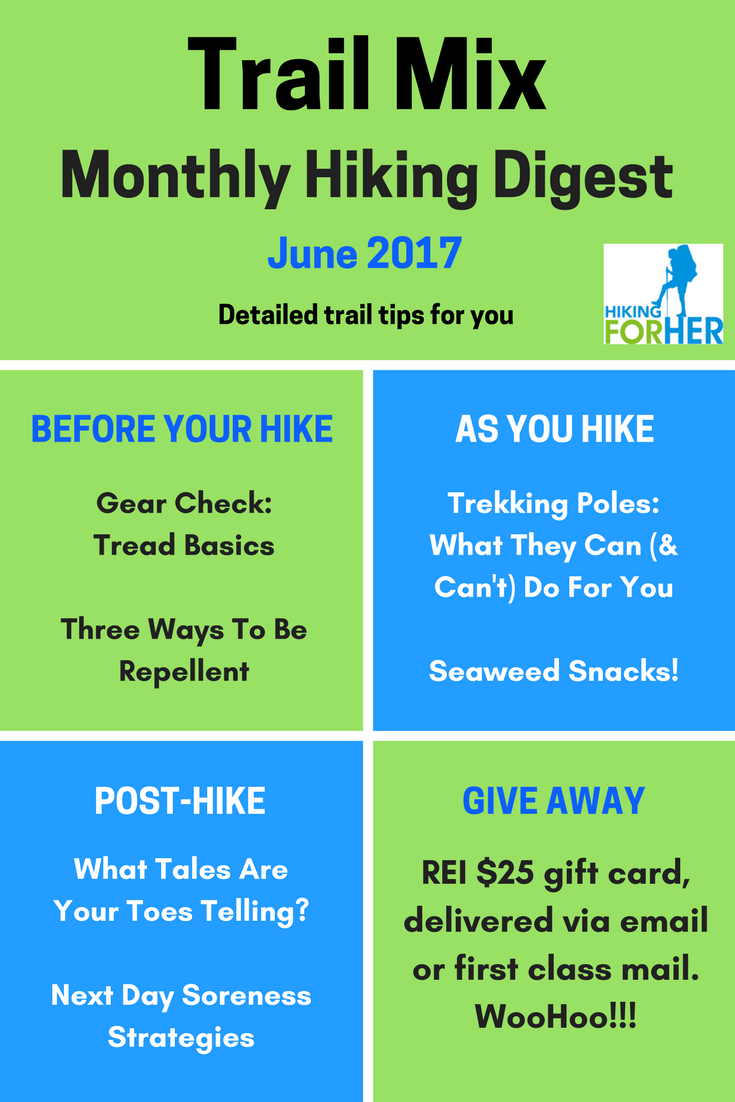 Hiking Digest?
Huh?

If you're not entirely sure what a digest of hiking tips looks like, read about this novel concept here.
Long story short:
It's a seasonally appropriate collection of detailed hiking tips to keep you safe and comfortable before, during and after your hike.
A combination of the latest research findings and trail tested wisdom, these hiking tips are like nothing else you've seen.

What's in the June 2017 issue?

Each issue is organized into the three phases of hiking you go through for every hiking trip or day hike.
The articles provide detailed knowledge and trail tips you can put to use with very little investment of time or money.
In this issue:

Preparing for your hike:
Gear Check: Tread Basics
Three Ways To Be Repellent
On the trail:
What Trekking Poles Can (And Can't) Do For You
Seaweed Hiking Snacks (Really!)
Post-hike:
What Tales Are Your Toes Telling?
Strategies To Defeat Next Day Soreness
None of this information is available anywhere else, including on this website.
That's right!

All of these articles are written exclusively for June 2017 Trail Mix Monthly Hiking Digest readers.
Because you're special ;)

But wait! There's more!

If the articles alone don't tempt you, how about a chance for a giveaway?

This month, A $25 gift card from REI will be sent to one lucky hiker picked at random.
How cool is that?
All of the details (and the password) are waiting for you inside the June 2017 Trail Mix Monthly Hiking Digest.
Format and pricing details

It couldn't be easier to get your hands on your copy of this issue of hiking goodness.
Save Trail Mix to your electronic device and read it as many times as you'd like.
The June 2017 Trail Mix
Monthly Hiking Digest

And why not take a peek at these back issues? They're full of great hiking advice:

Best of all?
This Trail Mix never gets stale :)

Home page > Trail Mix Monthly Hiking Digest >
The June 2017 Trail Mix Monthly Hiking Digest