Enjoy Happy Trails, the free monthly newsletter from Hiking For Her.

Receive a free resource: Hiking Layering System Explained

Socially Responsible
Hiking Tips

by Diane Spicer
Socially responsible hiking: why does it matter?
Maybe it doesn't matter to you, if hiking is simply a way to snap some great Instagram photos or carve another notch in your hiking belt.
But for a lot of us hikers, being responsible for our own actions is a way to touch the future.
Making ethical choices about hiking gear is just one place to start. There are lots of ways to give back to the environment you hike in.
Let's take a look at your choices for socially responsible hiking.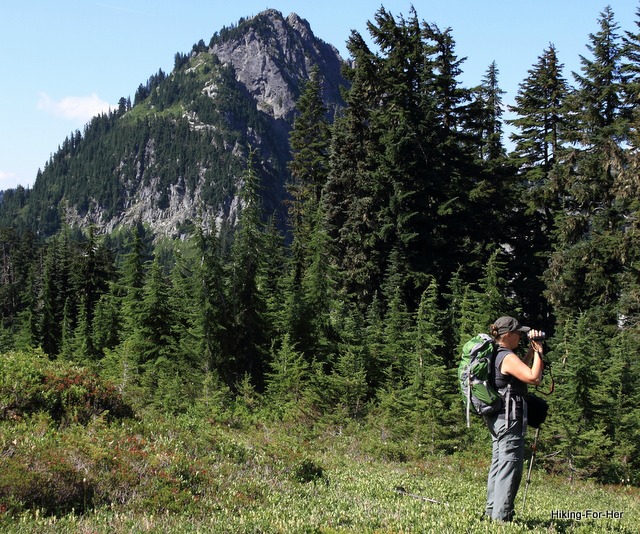 What does a socially responsible hiker do?

Being a socially responsible hiker can become an important facet of your outdoor time, involving:
volunteering on a trail maintenance crew or as a naturalist,
purchasing hiking gear from a company that cares about social responsibility,
reporting problems and issues you find in parks, open spaces and on trails in order to begin the resolution process,
abiding by Leave No Trace principles, and teaching them to the next generation,

reading and thinking about social responsibility.
Let's look at some opportunities to strengthen your resolve as a hiker interested in giving back and enhancing the outdoor experience for the human community.
Socially responsible hiking:
donate and volunteer

You can choose to get involved with organizations that gather people together to protect our hiking destinations.
A few suggestions for you:

United States national organizations


United States regional groups

Information on your favorite trails is instantly available with a quick search on the search engine of your choice.
For example, in Washington State where I live, there is a wonderful volunteer organization called Washington Trails Associations (WTA) that welcomes hikers who desire to donate time and money to maintaining trail access.
If you can't find a group in your area that advocates for socially responsible hiking, drop me a line and I'll get you pointed in the right direction.
Buy hiking gear from
socially responsible companies

You might not give much thought to where you buy your hiking gear.
One backpack is pretty much like another, right?
Not exactly.
Some gear manufacturers put profit first, over the labor and sourcing of materials. They don't care much about environmental impact, or giving back part of their profit to support the Earth.

If you'd rather be loyal to gear makers who are trying to be forces for good in the hiking community, take a close look at a few that stand out from the rest.
Patagonia
Patagonia is an outdoors clothing company with an incredibly convoluted and interesting history in social responsibility.
Their latest endeavor is Patagonia Provisions, a way to put carefully sourced high quality nutrition into the hands of hikers and backpackers.
Cotopaxi
Cotopaxi is a company that is doing something really clever.
Not many companies have a Global Impact link of their sites.

Cotopaxi focuses on tangible ways to alleviate global poverty, by giving targeted grants to people around the world who are tackling the hard issues: health, education, jobs.
REI Co-op
Other gear purveyors have social responsibility statements and declarations of environmental stewardship.
Check out the stewardship page next time you're ordering from the outdoor gear co-operative REI.
And read why their Force Of Nature initiative will put high quality gear and know how into the hands of women hikers.
Lifestraw
Lifestraw not only makes a two stage water filtration bottle (read my review of the Lifestraw Go here), they also deliver clean, safe drinking water to school kids around the world.

These are all examples of companies I use, and recommend, based at least in part on their products which support and encourage socially responsible hiking.
It feels good to know my money is going a bit further to support the planet.
Report trail and park
abuses and issues

See something amiss at a trail head?
Report it!
It's easy, simple and gives you a feel of satisfaction about taking action rather than walking away in frustration.
ParkWatchReport is a free phone app that allows you to send details about the problem to the local land authorities.
But it goes one better.
You will receive emails about how the problem is being fixed or resolved.
Your eyes and ears are what park rangers and wardens need, and this is the way to get your information directly to them.
What could be easier - or more effective?
Give it a try!

Use Leave No Trace principles
of socially responsible hiking

Moss that took a very long time to cover a rock in the forest
Have you ever watched a hiker trample the delicate alpine vegetation that takes decades to reach its petite stature?
Have you sat down on the shoreline of a seemingly pristine lake, only to see orange peels and an abandoned plastic bag in the water?
Kind of ruins your experience of the great outdoors, doesn't it?
There is a way of hiking through Nature that literally leaves no trace of your passing.
Ponder the Leave No Trace principles.
Read and think about
socially responsible actions

I'm not sure if you're having this experience, but as I grow older I become more interested in how the next generation will deal with environmental issues which impact hiking.
The changes in climate and weather spring to mind.
Forging deep connections with Nature is also important.

As is our current land use and natural resource decisions.
If you're interested in environmental stewardship and socially responsible companies from your perspective as a hiker, here are a few resources to pique your interest.
Let's all pitch in
for a bright future

Ethics, responsibility, stewardship: these issues don't get discussed very much on hiking websites.
But we can change that.
Make decisions about where to spend your time, your money, and your precious energy, through the lens of socially responsible hiking.

Speak up when you see someone doing something right, and lend your support to companies that pay more than lip service to taking good care of the environment.
Let's work together toward the goal of a future which can be enjoyed by our children on a hiking trail.

Thank you! And pass it on...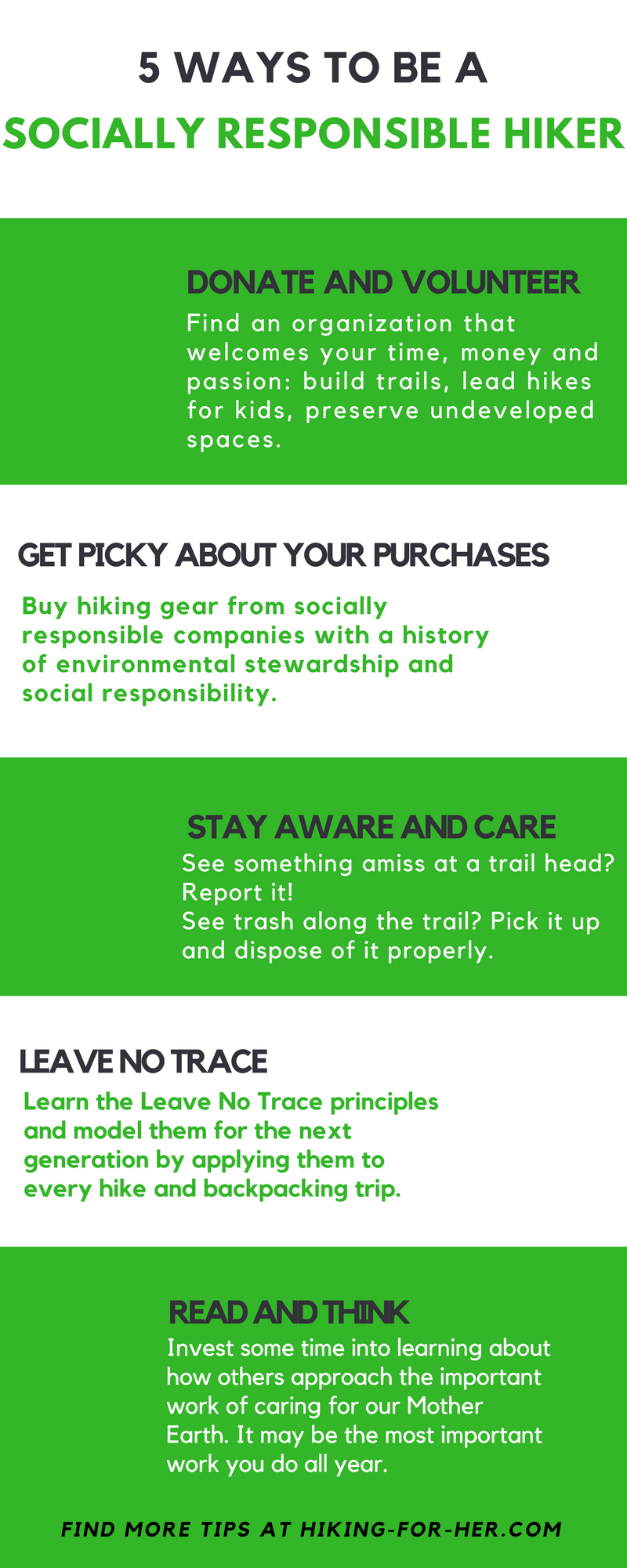 Home page > Types of Hiking > Socially Responsible Hiking
Hiking For Her is ethically disclosing that purchasing via the links on this website results in two miracles:
You get great hiking stuff, and HFH gets a small amount of your purchase price.
OK, three miracles: You pay nothing extra while supporting the free hiking tips flowing into your life.
Thanks for your support, it means more than you realize.

Hiking For Her: Hiking tips you can trust!