Enjoy Happy Trails, the free monthly newsletter from Hiking For Her.

Receive a free resource: Hiking Layering System Explained

Backpacking Hygiene Kit
For Women Hikers:
You Need One Like This! 
by Diane Spicer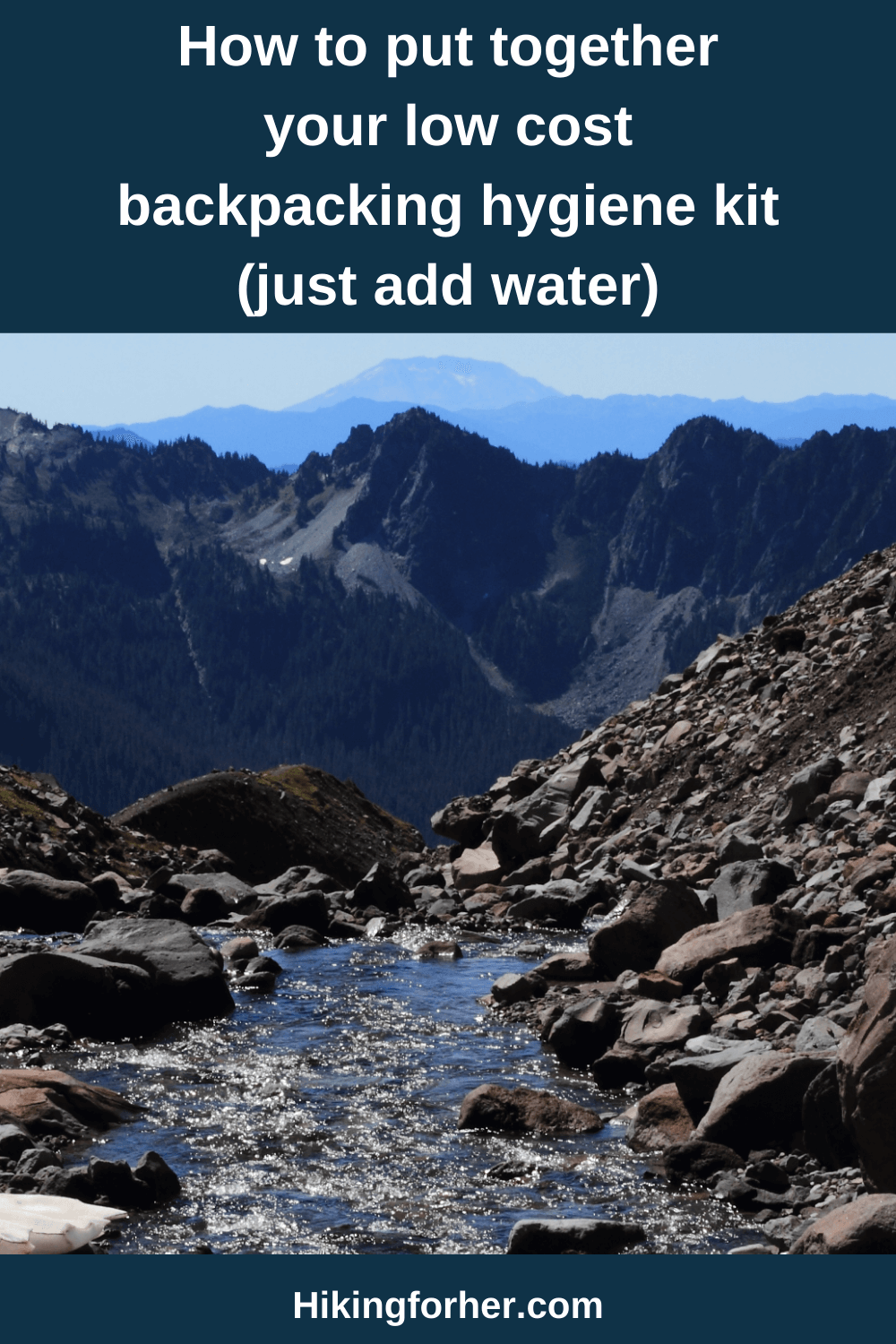 A backpacking hygiene kit for women takes a little thought, and a little time and money, but pays off big time in the back country.
Taking care of your skin, nails, hair, lips and mouth while on a backpacking trip makes sense in terms of your personal comfort, but also for your health and well being.
Not to mention good bathroom hygiene.
How to stay clean on a backpacking trip is a top priority!

Let's put together a backpacking hygiene kit for women, step by step.
Or skip around if you're in the mood:

You'll need some sort of container or bag
for your backpacking hygiene kit
To follow along as we discuss how to put together a backpacking hygiene kit for women hikers, imagine a small zippered pouch (or heavy duty resealable plastic bag) that we can fill up.
We'll only look at the right personal hygiene products for female hikers, I promise.
Here's the one I use, from a dollar store bin:
Fragrance free, small and useful for keeping yourself clean and feeling great on a backpacking trip
Now let's fill it up, beginning with what you need to take great care of your skin on a backpacking trip.

Backpacking hygiene kit for women:
skin care

If you're like me, you have lots of large bottles of skin care products in the shower, on the bathroom counter, and in cupboards.
Those aren't going to fly on a backpacking trip!
Instead, you need to take one of these 2 approaches:
1. Buy small containers and fill them with your regular products.
2. Purchase travel size skin care products in sizes that make sense for personal hygiene while backpacking.
Use Barbie doll size supplies in a
backpacking hygiene kit for women

To take the first approach, you will need reliable lightweight, easy open but stay closed, containers.
I use these little guys called GoToobs and GoTubbs, which you can see in the picture above.
They're made of pliable, lightweight silicon and have a tightly closed lid.
The GoToobs hold 1.5 ounces (37 ml) each, and carry my face lotion, and foot/body lotion.
The GoTubbs hold my daily vitamins and supplements, ibuprofen, and wedding ring (when I go for a swim, or know that I'll get my hands gritty) in a 2 inch by 2 inch footprint.
They open with one hand - just a quick squeeze lets you get at the contents.
Trail tips:
If you buy a 3 pack, be sure they are all different colors so you can pull out the container you need from your hygiene kit at a glance.
Stuff a few cotton balls in if you don't have much in your GoTubbs, to keep stuff from rattling around.

Travel sizes all ready to roll

If you'd rather go the route of purchasing travel size skin care products, be sure you're not taking too much with you.

Dump some out into a different (GoToob?) container! You don't need the extra weight, right?
I find some of the travel size packaging to be too thick and very rigid, meaning it's hard to pack lots of things into my small backpacking hygiene kit.
That's why I prefer the soft sided GoToob/GoTubb options for most personal care products.

And here's a silly reason why I don't like to drag along travel size bottles:
When I backpack, I go into Nature to get away from product advertising, marketing, and signs of human activity.
Picking up a bottle of hand lotion with lots of marketing on it (New! Improved!) is jarring to me, and I'd rather have the simplicity of a container that is wordless.
Simplicity in a backpacking hygiene kit for women goes beyond just the products, so call me crazy, but there it is!!

Fragrance free, please

I use a fragrance free hand and body lotion to lubricate my abraded skin at the end of every day.
It makes a soothing bed time ritual, and gives my skin all night to absorb the moisturizers and emollients.

Here's what I use:
Body Glide for chafed areas that develop, or as a preventive strategy

Aveeno for unbroken but dry skin: absorbs fast and no scent, so you can feel good about using it inside your tent

And even though I'm scrupulous about using unscented products, they all go into the bear canister at the end of the day.
Or a chew proof anti-rodent sack like this one.
If you're facing an infestation of squirrels, mice and rodents at established camping spots along the trail, that sack can form the basis of a great backpacking hygiene kit for women!

Lots more skin care tips for hikers
are available from Hiking For Her

Taking good care of your skin makes you feel and look better on a day hike or a backpacking trip, so soak up more tips here.
Now let's take a look at how to manage your nails on the trail.
Backpacking hygiene kit for women:
nail care
Small but mighty hygiene tools for women backpackers
You might be surprised by how abraded and ripped up your skin gets while out on a backpacking trip (use care tips above).
Nails and cuticles, both hands and feet, always seem to get ragged, too.
Don't ignore hang nails, torn cuticles or jagged & dirty nails, because these create open highways into your bloodstream for the microbes you encounter on the trail.
So bring along a lightweight nail clippers and a few tiny little emery boards like these (or a chunk of one you cut to fit into your hygiene kit).
Trail tip:

Roll in some personal care time just before bedtime as part of your nightly ritual.
You'll be snug in your sleeping bag, with a full stomach and blissfully tired muscles, so this small little task is a great way to end the day on a calm note.

Backpacking hygiene kit for women:
hair care

Get your hair under control, and keep it that way during your backpacking trip
Women care about their hair, and taking care control of hair can be hair raising on a backpacking trip.
Unless, of course, you think it through ahead of time and carry what you need to keep your hair:

off your face and neck while you hike

out of your food as you prepare meals

clean enough to not drive you to distraction
This hair wrangling reality calls for a three-pronged approach to taking care of your hair while backpacking.
And it requires specific things in a backpacking hygiene kit for women.
Note: If you're a radical hiking woman who decides to buzz off your hair before your backpacking trip, skip down to the next set of tips about towels.

Fool proof hair care strategy
for backpacking women
First, you need clips, ties, holders, bandannas, scarves, hats and whatever else you've discovered works well to keep your sweaty hair from interfering with your vision and your comfort on the trail.
Second, you need those same restraint devices for your hair as you filter your water, rehydrate and/or heat up your food, and clean up your cooking pots and utensils.
Third, but what I find to be most important, you need a hair washing system that you can deploy every third day or so.

Hair care system for backpacking trips

Here's the 3 step system that works for me, with long, straight, fine hair.
1. Every morning I re-braid my hair as I check the map.
If the day brings me lots of uphill, sweaty mileage I pin up my braid so it fits underneath my hat.
Trail tip:
Wear a hat with a non-velcro closure, to avoid the painful pulling that results when the short hairs at the neckline, or longer strands, get caught.
2. When I'm done hiking for the day and it's time to set up my cook site, I want my hat off so I can see what I'm doing.
But I don't want to fuss with my tangled, sweaty hair.
That's when I pull out my Buff, and slide it up to create a head scarf.
Not only does it hide my dirty hair and prevents food contamination, it helps keep the bugs at bay while I'm concentrating on preparing, or cleaning up, a meal.
3. I wash my hair every third day, weather and terrain permitting.
You will settle upon the right approach after your first few backpacking trips, but it pays to be prepared with the right supplies and techniques.

How to wash your hair
on a backpacking trip

Hair washing is harder than you might think in the back country. You will feel stiff and sore when bending way over to rinse your hair, if you've been hiking hard.
And there are a few Leave No Trace rules to consider along with how to wash your hair.
One way to get a clean head of hair

Carry water to your hair, don't bring your dirty hair to a water source.
Use a collapsible 5 liter basin like this one, or your filled water bottle.
A basin will do triple duty for camp chores: washing dishes, watering a canine companion, and personal hygiene. 

A good scrub between each use will guarantee your good health.

Use soap that is biodegradable, but don't think that it won't affect a water source if you decide to ignore my advice and wash your hair in a stream or lake. 

This is especially true of cold mountain lakes, where the biodegrading process is very, very slow.
Dr. Bronner's unscented natural soap is what I carry because it doubles as my face wash, shampoo, and dish, sock and underwear washing soap. 
That means I devote just one GoToob (above) or small plastic bottle to a multitude of cleaning chores.
Trail tip:
Pick a durable surface to absorb your wash water without drowning or disturbing fragile plants or animal habitat.

Best backpacking towels in a
backpacking hygiene kit for women

Don't forget to have a clean(ish) towel handy.
I carry two lightweight, fast drying backpacking towels:
These towels last and last, and I love how fast they dry.
Use the loops to attach them to the outside of your pack as you hike along in the sunshine, and you're ready for the next round of cleaning!
UV rays help eliminate microbial activity.
They can be pressed into service when hiking through a bug swarm.

Trail tip:
Use them rolled up as a pillow, too, because of their softness. Your Dr. Bronner soap will keep them clean!


Pee rag, anyone?

Here's one more use for a backpacking towel:
As a "pee rag", to eliminate the need to carry toilet paper.
Here's a female owned company that makes one for you.
Hygiene tip:
I highly recommend prolonged exposure to direct sunlight if you use this approach to female hiking hygiene.
UV rays will disinfect and remove odors from the cloth.
Or use a small absorbent wash cloth that clips to your pack, like these from Sea To Summit.

Backpacking hygiene kit for women:
important towel tips

Use 2 different colors if you decide to bring 2 towels of the same size.
I know it sounds like a small little thing to pay attention to, but it will streamline your wash up time and leave your brain free for more important things.
And can you picture how frustrating it is to dig around in your pack and not find the "right" towel?
If you have the luxury of a sunny spot to dry your hair, don't pass it up.
Nothing feels as good after a day on the trail as imitating a lazy cat in the sun while your hair dries!

Pre-moistened whole body towels
in a backpacking hygiene kit for women
If you're hiking through terrain with limited water, or you're too exhausted at day's end to heat up extra water for a wash up, these big premoistened biodegradable wipes are for you!
They're unscented and coated with biodegradable gentle cleansers, no alcohol to dry out your skin.
Another worthy choice is Venture Wipes. These are full body wipes to simulate the sensation of a shower (bring your imagination, but it's pretty close when you're covered in grime).
They are based on natural ingredients like aloe, vitamin E and tea tree oil to pamper your skin while removing grit.
Biodegradable, too, but you should pack them out in your trash and dispose of/compost them at home.

Trail hygiene tip:
After you've used these towels for getting yourself clean, use them again for chores like wiping grit and mud off boots before entering your tent.
Then store them with your other garbage and pack them out.

Backpacking hygiene kit
for women: oral care tips

When you're outside every day, your lips will dry out.
That's when trouble can start.
Cracked lips are an open invitation to soreness and blistering, if not infection.

Lip balm is your friend, and not (only) because it tastes good.
Make sure to carry lip balm in a handy pocket, and apply it frequently as you hike.

Lip balm recommendations

Here's what I use, because it stays put and doesn't need frequent applications.
It's also unscented, and safe for sensitive skin.


The organic ingredients make me feel good about coating my lips with it.

No weird or chalky tastes, either.

I stash one in my backpack, and one in my hygiene kit. That way, I never have to dig around looking for lip balm.


And in fact, the entire Badger line of skin and lip care products deserve a closer look as you're building a backpacking hygiene kit for women!
When I know that sunny conditions will prevail on a backpacking trip, I also carry this lip balm, with SPF 18 protection.
Again, all natural ingredients and a nice fruity taste, along with the UV protection.
And just for fun, read my review of a UV protective lip balm that tastes great.


Cold sores from daily sun exposure

Unprotected exposure to ultraviolet rays can also trigger an outbreak of "cold sores", from a reactivation of a previous Herpes simplex infection.
When the first glimmerings of an outbreak occur, take action.

NOTE: This is not medical advice! Do some background research for the validity of this approach, starting here.

Canker sores
during a backpacking trip

Another problem on a backpacking trip: canker sores (also called aphthous ulcers, but that sounds a lot more scary than these shallow mouth ulcers really are).
These crop up when you're eating lots of sharp or acidic foods, or when your immune system is a little distracted by all of the trail dirt you're living in.

An important triad in your backpacking hygiene kit:
teeth, lips and gums

Oral hygiene is easy to let slip on a backpacking trip.
But not if you're prepared!
So be sure that along with the toothbrush, floss and toothpaste in a backpacking hygiene kit for women, you think about your lips and gums, too.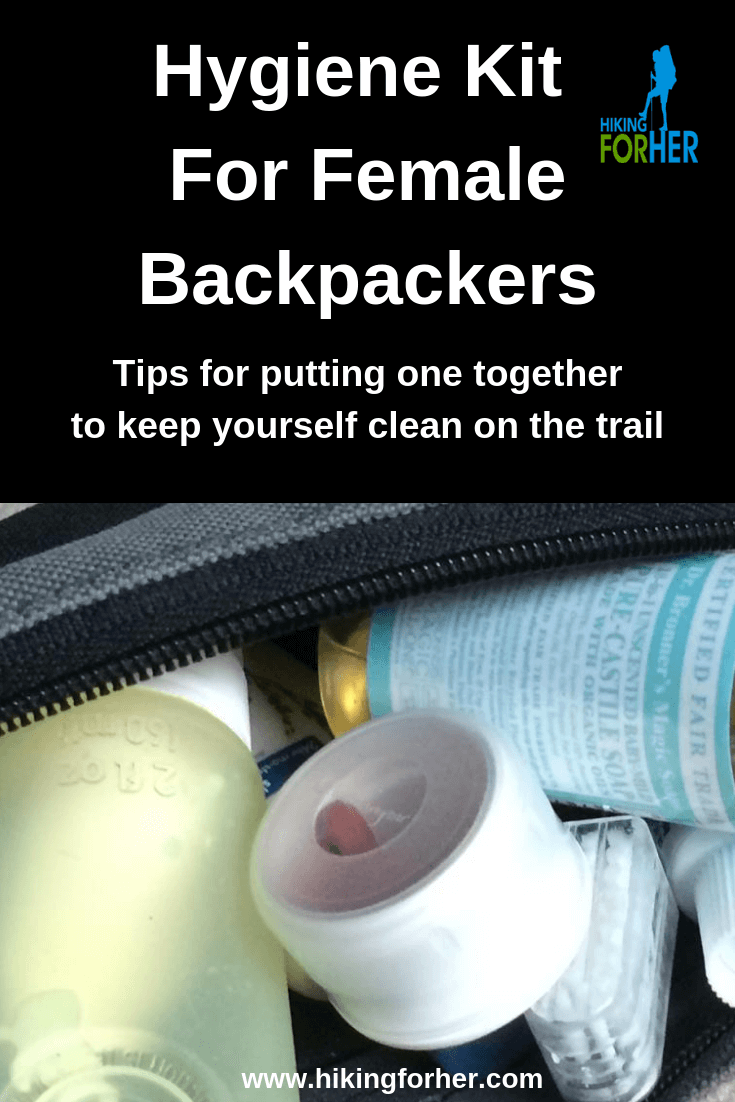 Backpacking kitchen hygiene tips

You might not think about your cooking supplies in a backpacking hygiene kit for women, but it's important to know what to bring and how to keep it clean.
Your digestive health depends on cleanliness.


General tips for the
best backpacking hygiene kit for women

Over the years, I've gotten really good at predicting how much soap, lotion and personal care products I need on a backpacking trip.
OK, to be really honest, I always overestimate how much I need each day to keep my skin from feeling greasy, my hair from becoming a disgusting tangle, and my teeth from feeling furry.
So here's what I recommend that you do before you take off on your first (or fifteenth) backpacking trip:
Fill up your little tubes and bottles with your personal care products, or gather together your travel size packages.

And then use them for at least one week at home.
How much did you use?
Note that when you're really dirty or your skin really needs a good dose of lubrication, you will go a little heavier on your product usage.
Anyway, it's a good way to estimate what you need to carry.

A word about fragrances as you
build a backpacking hygiene kit for women
Okay, two words.
Avoid them on a backpacking trip.
Two reasons:
1. Animals are attracted to odors.
Not so much your sweaty stinky socks, but definitely your soaps and lotions.
Don't give them a reason to poke their noses into your backpack or tent.
2. Your fruity, musky, soapy fragrances give you away on the hiking trail.
Try this some time:
As soon as you hear people on the trail, try to smell them as they approach you, and again as they walk away from you.
Old fashioned sweat is a natural odor to encounter on a hiking trail.
Papaya-mango-orange odors?
Not so much!
So go fragrance free as you build the best backpacking hygiene kit for women hikers, and you can hike in stealth mode!
Sweat: your secret weapon?

Unless you're looking to attract a significant other.
Let's get even more personal
about a backpacking hygiene kit
for women hikers

What about how to handle (or not) poop, pee, and menstrual flow while backpacking?
Those are very specific personal hygiene issues with body fluids, and deserve a lot of details.
Questions as you put together a backpacking hygiene kit for women?

A guy's backpacking hygiene kit will look a lot different than yours.
Male hikers tend not to care about their hair, can grow a beard to cover up dirt, splash a little cold water on their faces and call it good in the morning, and happily wear the same crusty shirt for eight days in a row.
(at least the ones I hike with)

I'm probably partially in the guy's camp, because I have the same minimalist approach to personal hygiene on the trail:
All bets are off when I go solo!
Kidding aside, it's important to have what you need to feel clean and comfortable, and to prevent skin, hair and nail issues from popping up.

Maybe you still have questions about female hygiene while backpacking, and I'd be happy to answer them.
We can fill up a backpacking hygiene kit for women hikers - either for yourself, or as a gift for a trail buddy - in no time at all.
Or you can do it yourself, using these female hiker hygiene supplies!
Home page > Best Hiking Tips >
Backpacking Hygiene Kit For Women
Some of the links on Hiking For Her are affiliate links, meaning a small percentage of your purchase price is received when you use the links on this website.
Thanks for your vote of confidence in the Hiking For Her backpacking hygiene kit for women recommendations!

Hiking For Her: Hiking tips you can trust!