Have the freshest free hiking tips sent to you each month!

Best Hiking Tips Blog
Newest Hiking Tips For You
HFH's Newest Hiking Tips Blog lets you know whenever any brand new or updated Web pages appear on Hiking For Her.
No email address is necessary to get the latest news!
Simply subscribe to Newest Hiking Tips Blog by right clicking the orange RSS button.
Look for it below the navigation bar.
Then copy and paste the URL you see (the "RSS feed") into your blog reader.
Or click on any of the buttons you see for services you already use, such as Google, Yahoo, etc. Follow their instructions to subscribe.
Of course, you can keep up with the latest with a free subscription to the monthly Happy Trails Newsletter. Enter your email into the box on the left side of this page.
Or you can visit the HFH Facebook page for a shot of hiking inspiration and to sign up for the newsletter.
Or use the CONTACT link at the top left of any page on the website if you have questions.
But the very best way to get the most current hiking tips is to use the RSS feed.
Not sure what RSS is?
Think of it as an electronic news delivery service, free to use and easy to set up.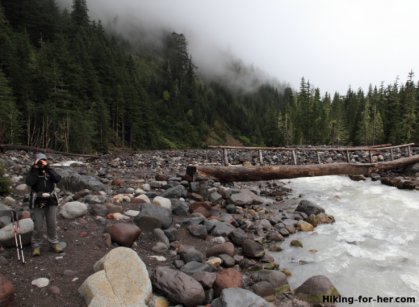 Scouting for the best hiking tips to share with you!

It's easy to become part of this Best Hiking Tips "blog within a blog"

Want to become part of this Best Hiking Tips blog?
Your trail wisdom and experience is most welcome!
Photos make it even better.
You can:

And if you like to wear a hiking skirt, share why it makes your trail time happier.
Now, on to the news...
A Giveaway You Don't Want To Miss!
If you or your hiking partners are on the hunt for plus size hiking clothing that is moisture wicking, stretchy, and looks great, check out the latest Hiking For Her giveaway.
JunoActive, a plus size activewear company for women, has generously agreed to allow Hiking For Her to select one winner. And the winner gets to select the color and size of a fleece hoodie jacket, workout tank top, and leggings.
Deadline for entry is October 31, 2017 so enter now for your chance to win these great layering pieces.
And bookmark that giveaway page, because the fun keeps on changing!
Keep reading for details and photos, and best of luck to you.
Didn't find what you were looking for? Use this search box to find it quickly.

Why wait a whole month?
Plus, there's never enough room in the newsletter to share it all, so why miss out on exclusive Hiking For Her giveaways, limited time gear deals and discounts, freebies, updates, and more?

A short, info packed weekly email update will keep you current on all things hiking!

Don't miss out!