August 2019: A Note From Diane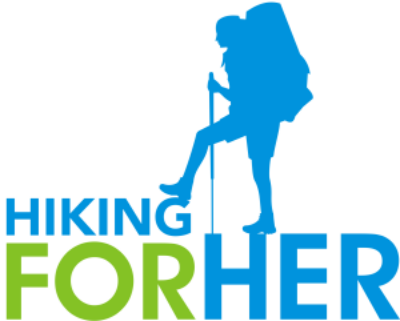 Hello! So glad you're here for another round of hiking news as this month wanes.

I've been squirreling away some great stuff for you: new resources, reasons to wear I.D. on the trail, how the Girl Scouts are getting into high adventure, a new research study, and the best news of all: outdoor retailers who are finally getting the memo on how real women hikers are shaped and what they need.

Plus, a new giveaway you're going to love.

Ready to hit the trail with me? Let's go!




---
GIRL SCOUTING & THE NORTH FACE
The North Face just announced a multi year, outdoor adventure themed, partnership with GSUSA, called Move Mountains.

Part of that collaboration is the launch of twelve new Scout badges a girl can earn for backpacking, cross country skiing, snowshoeing, rock climbing, snowboarding, trail running and other outdoor sports. Hurrah!

I have fond memories of earning badges, anyone else?

Scouting/NorthFace collaboration details


---
NEW FROM HIKING FOR HER
It's always fun to create new articles based on questions I receive in my inbox.

Here is the latest batch for you:

How to plan to avoid, and how to deal with, getting lost while hiking

Sore calves and what to do about them

40 backpacking comfort ideas to try


And here are the latest gear & clothing reviews:

Outdoor Vitals backpacking pillow

Title Nine trail clothing

REI waistpack

HydroFlask food totes


---
TEN REASONS TO WEAR I.D.
A company called RoadID (no affiliation with HFH) offers ten reasons to wear an identification badge on your wrist, phone, fitness tracker and/or your canine trail companion.

My favorite on the list: it puts crucial information into the hands of first responders if you can't answer questions or provide contact information.

Why wear i.d. list

Solo hikers should always carry personal i.d. and contact information in a backpack or pants pocket as a good habit that hopefully never gets used.

But all of us can benefit from the reassurance of having names, phone numbers and medical details with us.

Whether in the form of a fancy badge, or an old school piece of paper, please consider adding this to your pre-hike routine - and letting your trail buddies know where you stashed it :)


---
HIKING FOR HER AUGUST GIVEAWAY
Like to use trekking poles? Never tried a pair? Want to go as lightweight as possible?

This month's giveaway has you covered regardless of your previous experience with hiking poles: Montem carbon fiber poles.

Details here:
Hiking For Her Monthly Giveaway

Read about my experiences with them here: Montem Poles Review


---
ARC'TERYX BIG NEWS
There are a few pieces of hiking gear and outdoor clothing that I won't compromise on, including my Arc'teryx Beta jacket for extremely wet conditions. It's 5 years old and still performing well.

So I was pretty excited to see that the company, known for bombproof but sometimes pricey options, has decided to set up a gear recycling hub.

Pretty simple plan: trade in your used gear (if it's in good condition) for 20% of the original value (given to you as a gift card), via mail or by walking into an Arc'teryx store.

The company will clean and repair it, and put it on sale for another hiker to enjoy at a discount. This puts the possibility of owning technical gear & reliable outdoor clothing into everyone's hands.

And you can smile about the fact that you're robbing the landfills, thanks to this new program.


---
KUDOS TO THESE BRANDS!!
Did you know that the "average" (if there is such a thing) American woman stands 5'3" tall, weights 165 pounds, and wears a size 16 to 18?

Here's something I bet you've already noticed: most outdoor brands don't make high quality, durable and trailworthy clothing above a size 14.

Finally, some good news to share about four well known and trusted brands:

Marmot has announced a new line of women's outdoor clothing for Spring 2020, with sizes up to 3X in tops and size 22 for lower body garments.

So, yes, there's a wait time, but soon you won't have to skip Marmot styles.


REI Co-op's Force Of Nature initiative has refocused attention on their sizing options. Read Hiking For Her's take on it here: REI's Force Of Nature gear

Then take a look at their website and I hope you'll be pleasantly surprised by the array of sizes, with more being added every season: REI PlusSize options

PrAna has added sizes up to 3X. I've reviewed their leggings for the trail here: prAna leggings review

And Patagonia now offers pants up to size 22, like these Patagonia Happy Hike pants.

I'll keep reporting on brands who are catching on to our reality as female hikers! They need to know that all women deserve great gear and outdoor clothing.


---
MOVE OVER, GORETEX?
You may want to skip this if a brand new eco-friendly fabric (free of fluorocarbons) to keep clothing, gear and footwear dry doesn't make you smile. Or check out this Swiss company called HeiQ's new durable water repellency (DWR) breakthrough, which will hit the market soon.


---
HIKING RESEARCH NEWS
A new study based on female hikers gives evidence for something we already know is true: immerse yourself in nature on a hike and give technology a break in order to recharge and refresh your brain.

Or, in the technical terms of the researchers:

"Higher order cognitive functions including selective attention, problem solving, inhibition, and multi-tasking are all heavily utilized in our modern technology-rich society. Attention Restoration Theory (ART) suggests that exposure to nature can restore prefrontal cortex-mediated executive processes such as these."

Read the entire study, entitled Creativity in the Wild: Improving Creative Reasoning through Immersion in Natural Settings, here: Creativity Study: PLOS


---
Thank you!
I want to say thanks to everyone who takes the time to reply, send useful links, share, comment and sometimes even compliment (blush) in response to this newsletter.

The very best part of my day is interacting with hikers around the world, and I wouldn't keep pouring time and love into Hiking For Her if it wasn't for knowing that you're out there somewhere on a trail, too.

Please don't hesitate to contact me so we can e-meet each other and celebrate our commitment to this wonderful sport of hiking!

It's as easy as hitting reply :)


Happy trails to you,

Diane a.k.a. Happy Hiker

diane@hiking-for-her.com

Did you receive this newsletter from a friend?
---
Sign up for your own free monthly subscription.
Or a free weekly hiking update!
---
Stop by these HFH pages for a little hiking inspiration! Likes, comments and shares are always appreciated.

Hiking For Her

HFH Facebook

HFH Pinterest

HFH Amazon Author Page

HFH Goodreads Author
Please consider this invitation:
Join Our Over Forty Hiker Community
---
Some of the links in this newsletter and on the Hiking For Her website may be affiliate links.
What does this mean for you?
You create a small miracle when you buy hiking gear through those links, by allowing a modest percentage of your purchase price to flow into the HFH coffers.
What's so miraculous about that?
You receive great gear that has been trail tested and approved by a seasoned hiker. You pay nothing extra. AND you help keep the free hiking tips flowing to your virtual trail buddies around the globe.
Wow!
And a sincere Thank You for your vote of confidence in Hiking For Her. It means a lot!
---