Enjoy Happy Trails, the free monthly newsletter from Hiking For Her.

Receive a free resource: Hiking Layering System Explained
Title Nine Big B Collection:
Trailworthy Shorts
And Here's Why

By Diane Spicer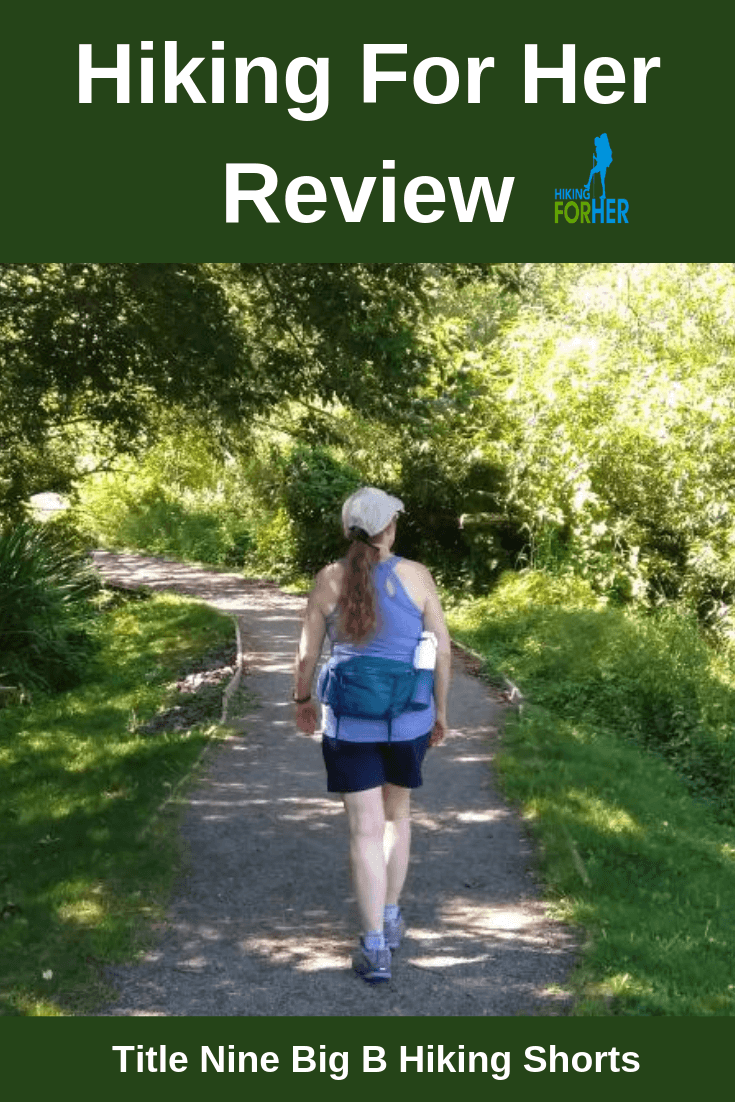 Hiking For Her tested a pair of Title Nine Big B Collection shorts paired with a Fab Fierce tank top, and has a full review for you here.
The clothing was received from Title Nine free of charge, and the review was written without compensation.
As always, a review on this website is motivated by wanting you to have the best trailworthy gear and clothing for your hiking adventures.
All opinions, comments and photos with the HFH logo belong to Hiking For Her.

Hiking For Her is not a Title Nine affiliate, so if you purchase from the company using links on this website, HFH does not receive a small percentage of your purchase price.
Title Nine Big B Collection
In this review, we focus on a pair of hiking shorts from the new Title Nine Big B collection.

This is the "Agave" color choice, with a seven inch inseam.
The Hiking For Her review you're about to read features "Dark Knight", a lovely dark blue.
Great choices to hide trail dust!
These shorts feature ripstop fabric any hiker will appreciate on rough trails: 61% cotton, 34% nylon, 5% spandex.
The addition of spandex for a bit of stretch means a high degree of moveability for your waist and legs, without sagging or bagging.
The nylon/cotton blend gives you a tough, durable pair of shorts that will dry quickly.
Notes:
seven inch or four inch inseam (7" shown here)

midrise waist with snap and zipper closure

internal drawstring for fit adjustments

belt loops

6 pockets: 2 small back pockets, one pocket on the left front, three pockets on the right front (one is zippered with a pull tab)

sizes U.S. 2 - 14

three color choices
These shorts, paired with this Fab Fierce Workout tank top, are the cute hiking outfit featured in this Title Nine Big B Collection review.

Fab Fierce tank notes:

moisture wicking fabric: 82% poly/14% cotton/4% spandex + odor control
sizes XS (2) - XL (16)
three color choices; Sapphire Heather shown here
Title Nine exclusive  (no longer available)

Something you should know about purchasing clothing from Title Nine:
This company wants you to love their clothing, so if you test out this shorts and tank combo and aren't satisfied, they offer a "return it anytime" policy.
---

Hiking performance notes
Clothing you select for the trail should move with you, breathe with you, and mop up your sweat to boot!
And you're well within your rights to expect it to look good as it's doing all that.
Let's look at the fabric, fit and features of this clothing a bit more closely to see how it will perform for you on a hike.

Big B 7" shorts
First, note the ripstop fabric. It's going to provide durability and some water repellency.

That's important when you take these shorts out on the trail, and can be very useful for walks around the neighborhood, gardening, and running errands, too.
Next, the internal drawstring shown here gives you some leeway on the waistband fit.
The last bit of information you can glean from this photo?
The quality of the craftsmanship on these shorts. The seams are solid, as you can see on the pocket detail.
That's important when (over)stuffing your pockets with snacks, lip balm, sunglasses case, car keys, all the stuff you need a home for. 

And 6 pockets? Plenty of room for squirreling stuff away!
Sizing notes
I found these shorts to be true to size, with the caveat that I like my hiking shorts on the loose side for freedom of movement when I bend over to pick up my backpack.
I also like a lot of leg room for scrambling up a rocky ridge or leaping over a stream crossing.
Note that the leg openings are a generous cut.
You might find yourself with a bit too much room if you prefer close fitting hiking shorts.
For me, the fit is perfect: roomy but not baggy, a bit of stretch but still looks tailored enough to wear around town.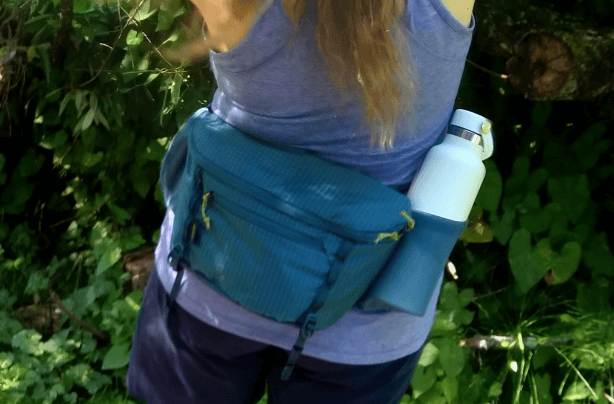 Fast, lightweight hiking calls for a trail outfit like this: moisture wicking and plenty of bare skin to keep you cool

Fab Fierce tank performance notes
Hiking in a tank top is not a good choice for every trail. But in hot and humid weather, you know you're going to be a sweaty mess of a hiker within a few minutes on the trail.
So bare your arms and upper back in this tank top and allow your sweat to evaporate, keeping you cool(er).
And choose a fabric that wicks away all of the sweat trapped against your skin so it can be released quickly into the air.
Bare shoulders also work great when you're going fast and light, using a fanny pack (waist pack, lumbar pack) for hydration, snacks, jacket and sunscreen, as I did in this review.
The fabric in this hiking shirt is going to dry four times faster and be less stinky than your plain old cotton tank tops.
How do they do it?
It's a trade secret, but I can tell you this: the poly/cotton/spandex blend feels soft and wicks up sweat like crazy.
It's a great way to skip cheap, baggy cotton tanks so you can skip the cold, clammy feel of a soaked shirt during a hike.
Wet cotton is also heavy, an important consideration for backpacking.

And it can be a safety hazard if the weather turns cool and wet.
One more thing to note: you will see your sweat stains in this tank top.
You can order a black Fab Fierce tank if you'd prefer to hide the evidence ;)
Sizing note
Did you notice the cute detailing on the back of this tank?
And the slender straps?
Both reasons for noting that this tank is fitted.
If in doubt, or if you want a bit more room in the waist, order up a size!
Another view of how much freedom your arms & legs have in this hiking clothing

Why I love this shorts + tank
hiking outfit
The photos above illustrate why these shorts are my new summer hiking favorites, paired with the tank top.
Look at how the tank is long enough to cover the waist area where your backpack hip belt or lumbar pack waist belt will hit.
Notice how much freedom of movement your arms have in this shirt, plus how much ventilation under the arms.
Also note that the shorts are long enough to cover you up, but not too long as to interfere with swinging your legs over downed trees or other trail obstacles.
It's important in this Title Nine review to add that these are not flimsy, cheap items of clothing that will lose their shape or color after the first few wash/dry cycles.
Lightweight, well made, and with a lot of attention to detail, you'll reach for this combo over and over again for your hot weather hiking plans.

Conclusions:
Title Nine Big B Collection
hiking clothing review
Excellent hiking outfit in terms of function and fabric:
Moisture wicking to keep you drier, yet soft and comfy

Durable so you can wear it without regrets on a tough trail
Cute hiking outfit in terms of its fit, colors and styling from an easy to deal with female focused company.

Win-win for a female hiker, I'd say!
What else is in the Title Nine
Big B Collection?
In addition to these hiking shorts in two different lengths (4" and 7" inseams), they offer a pair of Big B hiking pants and a kicky skort.
P.S. They've absolutely got the "excellent hiking sports bra" quest figured out! 
Thanks for reading this hiking clothing review!
Home page > Best Hiking Gear And Clothing Reviews >
Title Nine Big B Collection Hiking Shorts