Enjoy Happy Trails, the free monthly newsletter from Hiking For Her.

Receive a free resource: Hiking Layering System Explained

Backpacking Pillow Review:
Is This One Right For You?
by Diane Spicer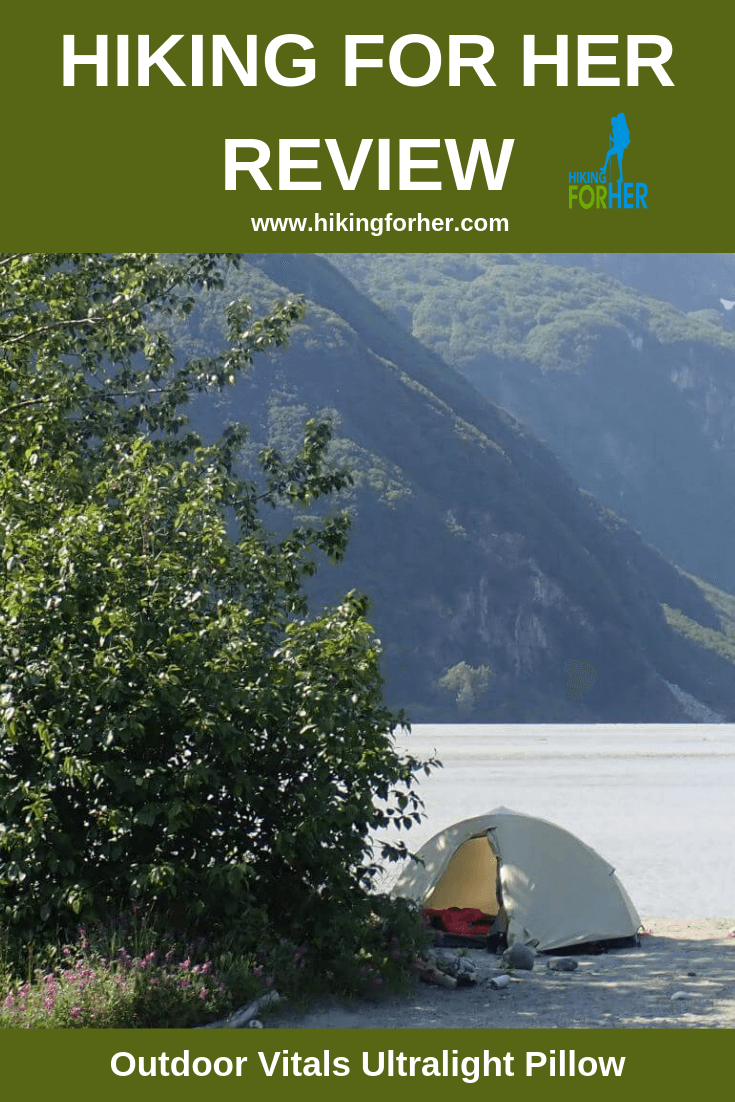 This backpacking pillow review was motivated by finally getting fed up with the "stuff your stuff sack" makeshift pillow method.
No one paid me to write this review, and that holds true for every review you read on this website.
The Ultralight Stretch pillow from Outdoor Vitals was used on a 12 day backcountry raft/hike trip on the Upper Alsek/Tatshenshini River (an epic trip, highlights here soon).
Disclosures in this 
backpacking pillow review
The inflatable pillow in this review, made by Outdoor Vitals, was purchased with my own money.
All comments and opinions belong to Hiking For Her.
The photos are courtesy of Outdoor Vitals unless you see the Hiking For Her logo.
Hiking For Her is an Outdoor Vitals affiliate because this brand offers worthy products and I've tested them beforehand so I know they work.
If you purchase through the links on this website, HFH receives a small percentage of your purchase price, while your total cost is not increased.
More reviews:
Right about now you may be wondering...

Why use a backpacking pillow?
After all, you're leaving it all behind and roughing it, right?
Ha! No need to suffer with a sore neck and disturbed sleep when you leave your comfy bed behind.
But before you make a final backpacking pillow selection, you need to dial in exactly the right pillow for your sleeping style.
Read about the various types of backpacking pillows you can choose, here. (coming soon)
Quick list of what to look for in a portable pillow:
weight & size
ease of inflation/deflation
compactness
durability
comfort features (contours, slipperiness, cleaning)
price

Outdoor Vitals
backpacking pillow review:
specifications
The pillow in this backpacking pillow review is the proud owner of these specs:
2.6 ounces + 0.3 oz. stuff sack

Inflated size: 16 x 10 inches

Inflated with your breath

Sealed valve

Easy deflation

30 Denier stretch nylon

Around $25 U.S. at the time of this review 
Performance notes
in this Outdoor Vitals 
backpacking pillow review
As a side sleeper, I was concerned about the pillow having the right contours for my ear and cheek. 
I didn't want my ear cartilage mashed against my head, a real concern because I wear ear plugs to block out those creepy midnight rustling sounds (and the snoring of my tent mates).
I also like to fall asleep cuddling my pillow, sort of as a "rest and relaxation" cue for my mind.
Was this pillow big enough and soft enough for that?
Let's find out.
Keeping it comfy
in this backpacking pillow review
A rock hard pillow that doesn't conform to the shape of your head is not going to do you any favors, right?
The contoured top of the pillow, nicely indented to human dimensions, received my head in a welcoming embrace.
The back of my head and upper cervical vertebrae were cradled and supported when I was lying on my back, too.

This pillow is a generous size, plenty large enough for me despite its tiny weight and small footprint in my sleeping gear bag.
It did not squeak or make any rubbing noises.
And I was pleasantly surprised by how soft and smooth the surface of the pillow felt against my skin.
Keeping it real
I was also concerned about how easy it would be to stay on the pillow throughout the night.
I wear a fleece or wool hat when I go to sleep, regardless of the season, and have been known to wake up, face buried in whatever stinky clothes or gear was piled next to me before I fell sleep.
I'm also a thrasher, switching which side I prefer to lie on multiple times per night, which takes me off my sleeping pad.
No worries on this double digit multiday trip, though!
Both my thick fleece hat and my Icelandic wool hat played nicely with the pillow fabric when I first laid down on it.
Because the fabric was not slide-y at all, and it was compatible with my sleeping bag fabric and sleeping pad, I was able to stay put on the pillow throughout the night.
Keeping it clean
WARNING: More unsolicited sleep disclosures.
I'm a drooler, and I bet you are too, whether or not you want to admit it ;)
Yes, there were damp spots of salivary secretions on the pillow when I woke up each morning.
Luckily, the pillow fabric was easy to wipe off with a damp bandanna.
And when I got home from my trip, I used a bit of Dr. Bronner unscented soap to work up a mild lather on the pillow surface.
Then I air dried the pillow, out of direct sunlight, on the back porch.
Tip:
You could also encase the pillow in a clean shirt, if you'd rather wash clothing rather than the pillow itself.
For me, clean shirts are in short supply on a long trip.
Keeping it tough
Outdoor Vitals advertised the toughness of this little pillow built of 30D nylon.
D stands for Denier, a unit of measurement used to convey the thickness of each fiber in a fabric.

For our purposes, 30D gives a lightweight item with enough durability to stand up to moderate usage (unless you play ultimate frisbee on jagged talus piles with this little inflated bundle, in which case all bets are off).
So I accepted the challenge:
Pretty comfy! The indentation that makes sleeping on it comfortable also works well for those other cheeks.
No wear and tear, no holes, no blow outs to report, even after 12 days and nights of usage.
Again, results may vary based on your own little durability test, but the pillow looks like it can do double duty, something every backpacker can appreciate when putting together an ultralight gear list.
A few concerns to note
in this backpacking pillow review
Because this pillow needs your wind power to inflate it, you're probably wondering how hard it is to get it plumped up.
I had to put at least 10 breaths into the inflation sequence, but I'm not a large person and I don't have Ed Viesturs' lung power.
It was also a bit tough to get the valve opened and closed using the rigid plastic lip.
But again, results may vary. My fingers may not be as strong and nimble as yours.
I did like how solid the seal felt, once it was locked down for the night.
And the good news was how easy it was to deflate.
I inserted one finger into the round opening you see above, pressed down lightly on the valve's membrane, and whoosh! flat in no time and ready for its stuff sack.
Nice to have that tiny little sack to keep grit and dirt off the pillow inside my backpack!

It's not a cheaply made one, either.
Tip:
As with any new gear, take the pillow out of its packaging when you first receive it so it can off gas any odors.
Conclusions in this 
backpacking pillow review
You should probably know that I've been a decades-long advocate of the "create your own sleeping pillow adventure".
I've used wadded up jackets.

I've thought myself oh-so-clever by using a stuff sack stuffed with my least smelly clothing.

And I've gone pillow-less for more nights that you can believe, relying on the comfort of my sleeping bag pushed into a (temporary) lump beneath my head.
But I'm never going back.
I'm all in for using a backpacking pillow, now that I've experienced how much more deeply I slept with this one underneath my head.
I can also see myself bringing this pillow along for car camping, sparing my bed pillow the trauma of campsite dirt and moisture.
Also for air travel, as it is lightweight, easy to clean, and can be stashed in my pocket.
One more thing to note
Outdoor Vitals is doing something a little different with its products by cutting out the middle wo(man) to deliver you high quality at a lower cost.
Case in point: for the quality of this pillow and its stuff sack, the low cost was a welcome surprise.
Take a closer look at the pillow here.

A backpacking pillow is
just one part
of your sleep system
Food and sleep are two of the most important things to get right on a backpacking trek.
This website is loaded with hiking nutrition and backpacking meal tips for you.
A reliable sleep system is critical to keeping you warm and cozy, regardless of what the weather decides to do. 
Backpacking sleep system tips here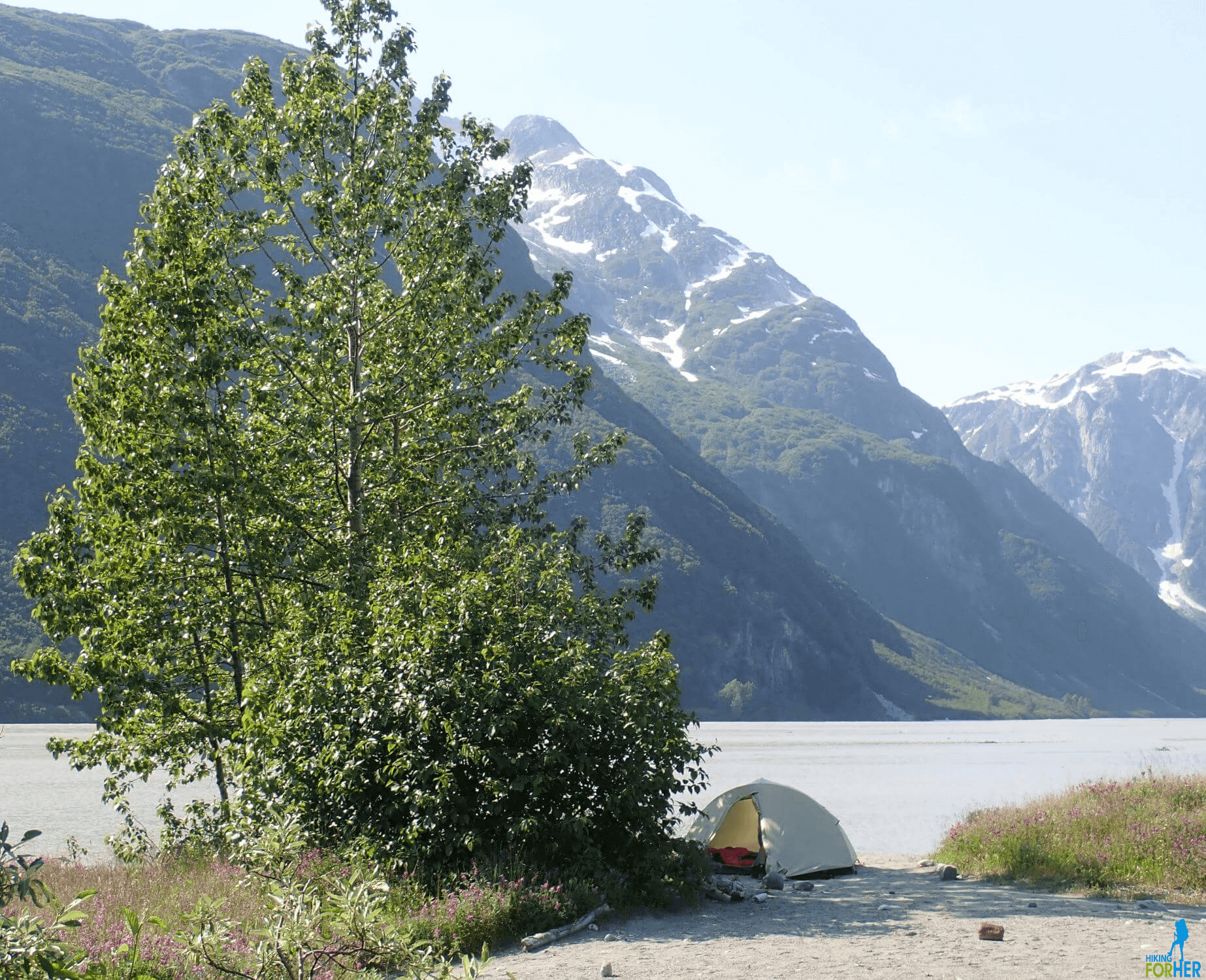 Get all set up for restful sleep on the mighty Alsek River, or wherever you wander, with the right pillow

More sleep tips for backpackers
Now that you've got a clear picture of what a backpacking pillow can do for you on your next backpacking trip, you might need a few more tips for satisfying sleep.
I wish you Zzzzzzzs in abundance on your next trip!
Home page > Best Hiking Gear Reviews >
Backpacking Pillow Review Featuring Outdoor Vitals
Hiking For Her: Hiking tips you can trust!