Enjoy Happy Trails, the free monthly newsletter from Hiking For Her.

Receive a free resource: Hiking Layering System Explained
Montem Trekking Pole Review:
Hiking For Her
Takes Them For A Spin
By Diane Spicer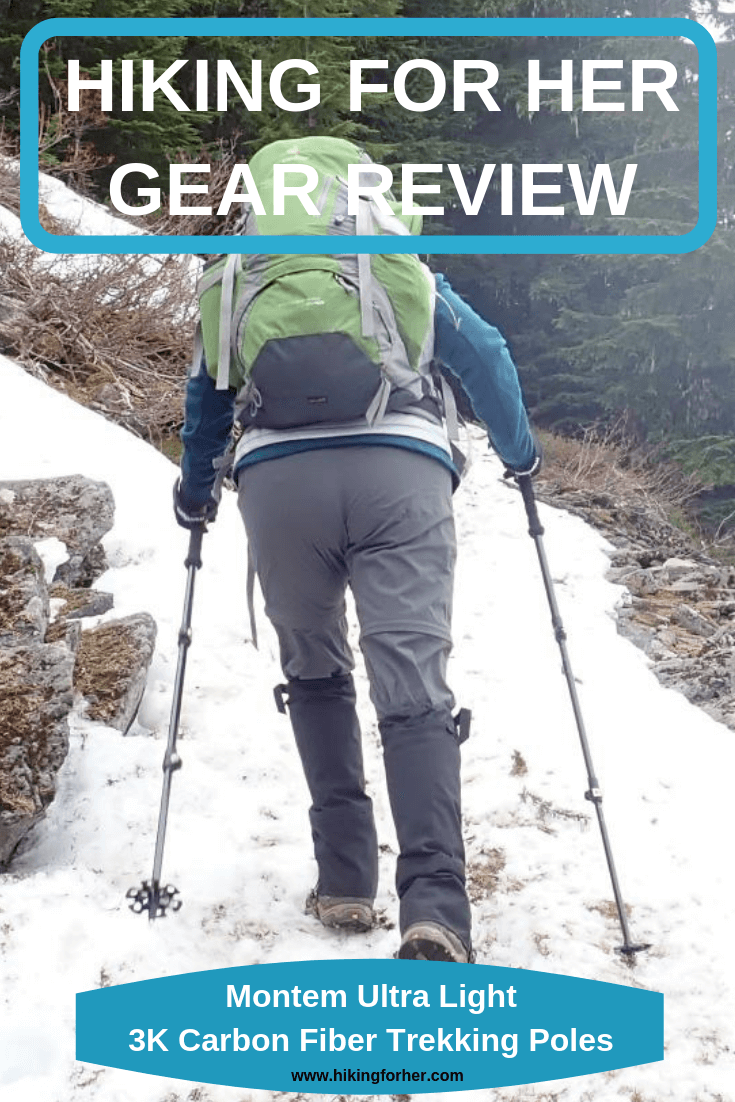 This Montem trekking pole review was written for one big reason: to try a new-to-Hiking For Her approach to stability and less fatigue on the trail, and then share the results with you.

Read why a pair of trekking poles in your hands can make all the difference here
This pair of hiking poles was received free of charge from Montem, and trail tested by Hiking For Her.
All opinions and photos belong to HFH.
There is no affiliate relationship between Montem and Hiking For Her.
The pair of telescoping trekking poles reviewed here are the Montem Ultra-Light 3K Carbon Fiber Poles.
Pole specifications
Performance on the trail is important, but I like to start a hiking gear review with a look at gear design to understand why certain materials were used.
Gives you a better feel for whether or not the gear will work for your hiking style, right?
So let's start with the most conspicuous part of a trekking pole, the shaft.
Telescoping shafts
The shaft of these poles is constructed of 100% 3K carbon fiber.

That's important for two reasons:
Aluminum, the other typical material for pole shafts, has disadvantages: it may bend under heavy loads, it's a bit heavier, and it heats up when exposed to high temperatures (think direct sunlight in desert hiking, or leaving your poles near a heat source).

The percentage indicates the carbon is unmixed with aluminum, so its attributes will be entirely due to the carbon fiber (more on that below).
Length and weight specifications of the poles:
Maximum length: 53 inches (135 cm)

Minimum length: 24 inches (61 cm)

Weight of both poles: 15.6 ounces
Other materials used in pole design
The tungsten carbide tips will stand up to rocky and abrasive terrain.
The hand grips are cork, a lightweight choice especially good for warm weather hiking as it absorbs sweat to ensure a solid handhold.
Below the cork are short segments of ridged foam, giving you the ability to grasp the poles lower down as trail elevation changes.
The nylon adjustable wrist straps have soft padding at contact points, a durable and comfortable design feature.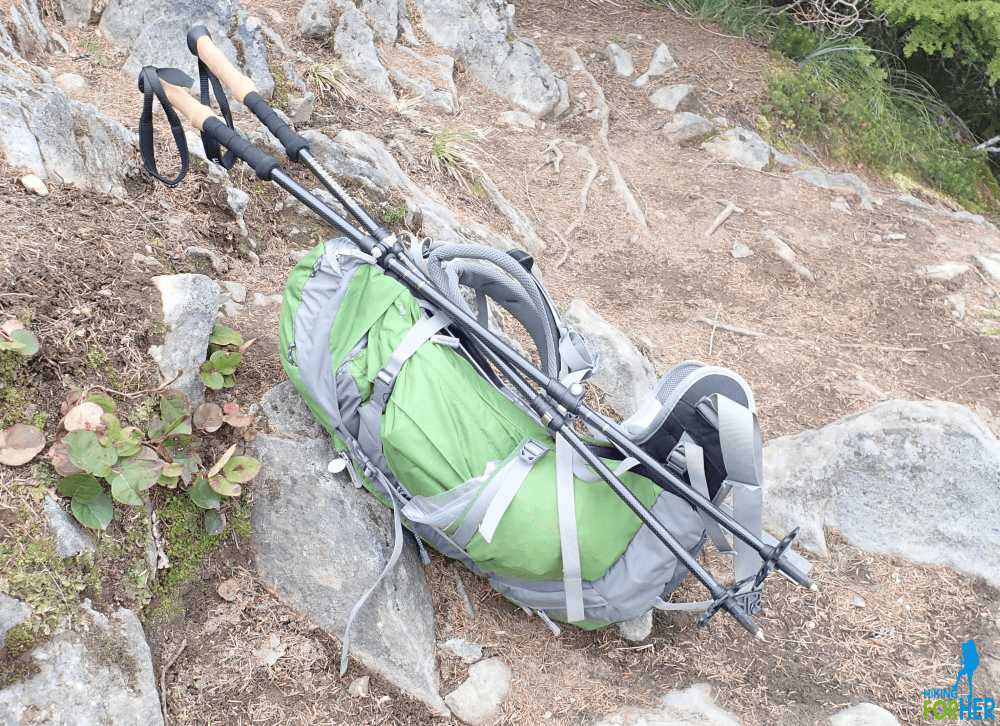 Fully extended poles with snow baskets, ready to go!

What does 3K mean?
Yeah, I wondered that, too.
With a bit of research and some head scratching, here's the short version of the answer that matters to your trail experience.
Carbon fiber is created from precursor chemicals by using extremely high temperatures to burn off everything except carbon atoms.
The remaining carbon fibers are bundled together by increments of thousands (abbreviation for thousand = K), so "3K" tells you there are three thousand fibers per bundle (i.e. size of bundle).
3K carbon fibers in sheets make trekking poles strong but not entirely rigid, with an incredibly low weight in your hands.
An anti-shock, durable, feather light material, in other words
Now let's get to user experience in this Montem trekking pole review.
Trail performance in this
Montem trekking pole review
I brought these poles along on a three day mixed terrain trip to Mount Rainier National Park in May, which is an interesting time to test a pair of trekking poles.
At lower elevations (around 3,000 feet) the trail was bare and dry with temperatures in the 50F range.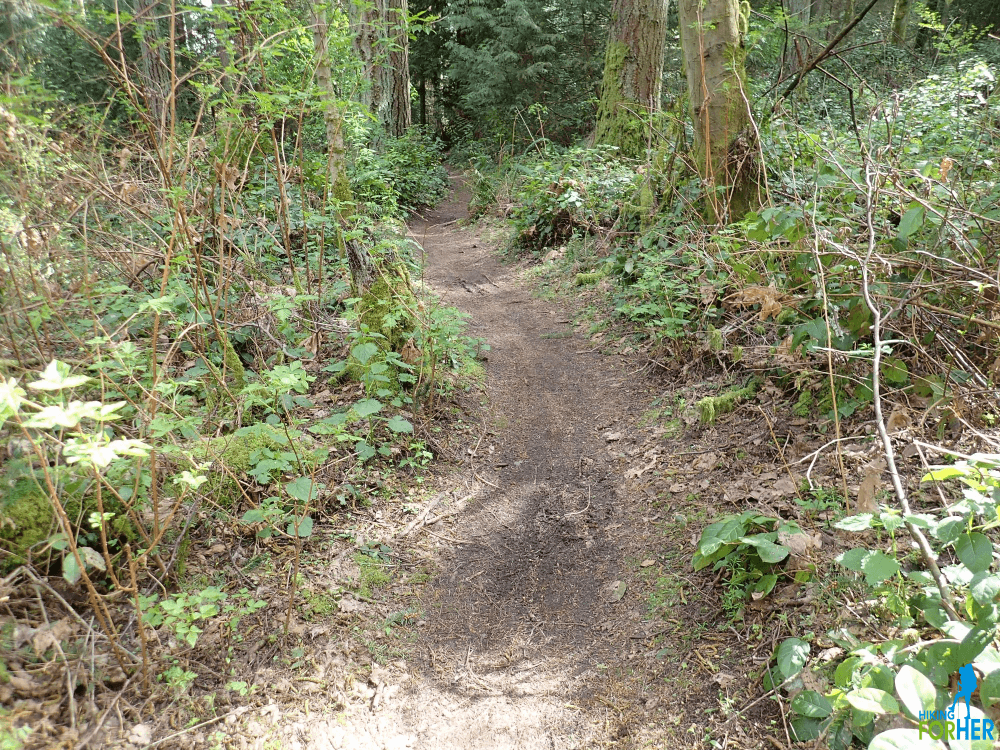 Under these conditions the poles were used mostly for balance, giving a good mix of stability and feedback on the texture of the trail: mud versus duff, for example.
As I gained elevation, I encountered icy and snow covered spots.
That's when the poles really strutted their stuff!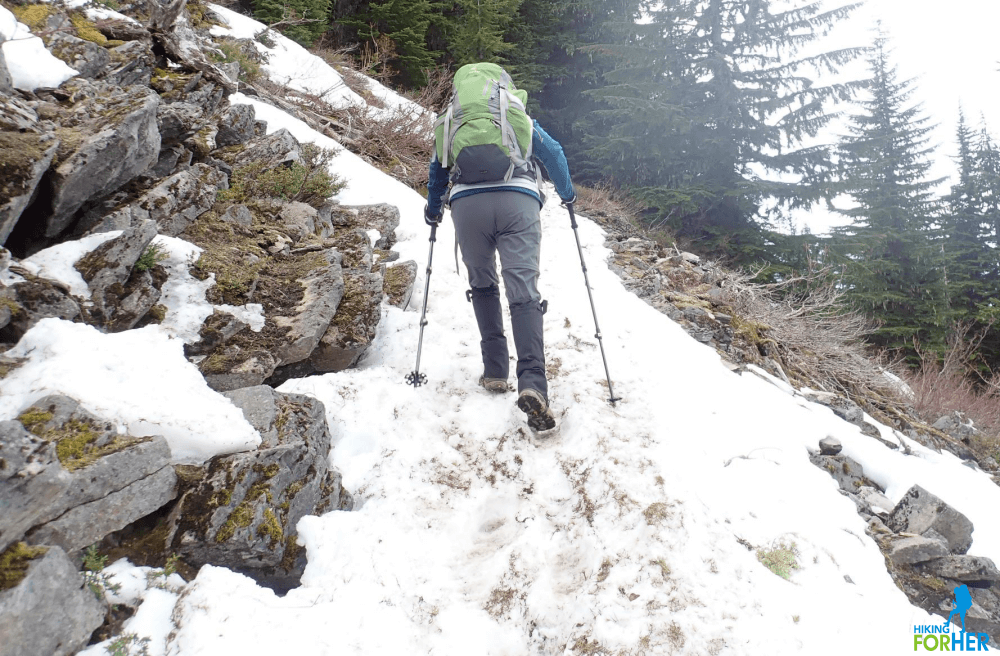 The snow baskets at the ends kept the poles from postholing, as they are designed to do.
I tend to be a "leaner" when I'm going uphill on dicey footing.
On this particular day, I was concerned about postholing through the icy crust into the softer snow (and lurking rocks) below.
So I put a lot of weight on these poles.
And I'm happy to report that there was no bending, no feeling of "give", as I shifted my weight in response to my footing.
And absolutely no slippage of the upper or lower segments of the poles (no collapsing), meaning I learned to trust their stability quickly even when I didn't trust my footing.
The poles felt a bit more responsive in my hands than aluminum poles when I used them to probe ahead of me, looking to avoid weak snow bridges or hunting for the best spot to make a creek crossing.
I also noticed some shock absorption on downhill sections of trail, a nice reprieve for my hands, elbows and most importantly, my knees. 
But how did they do
on snow?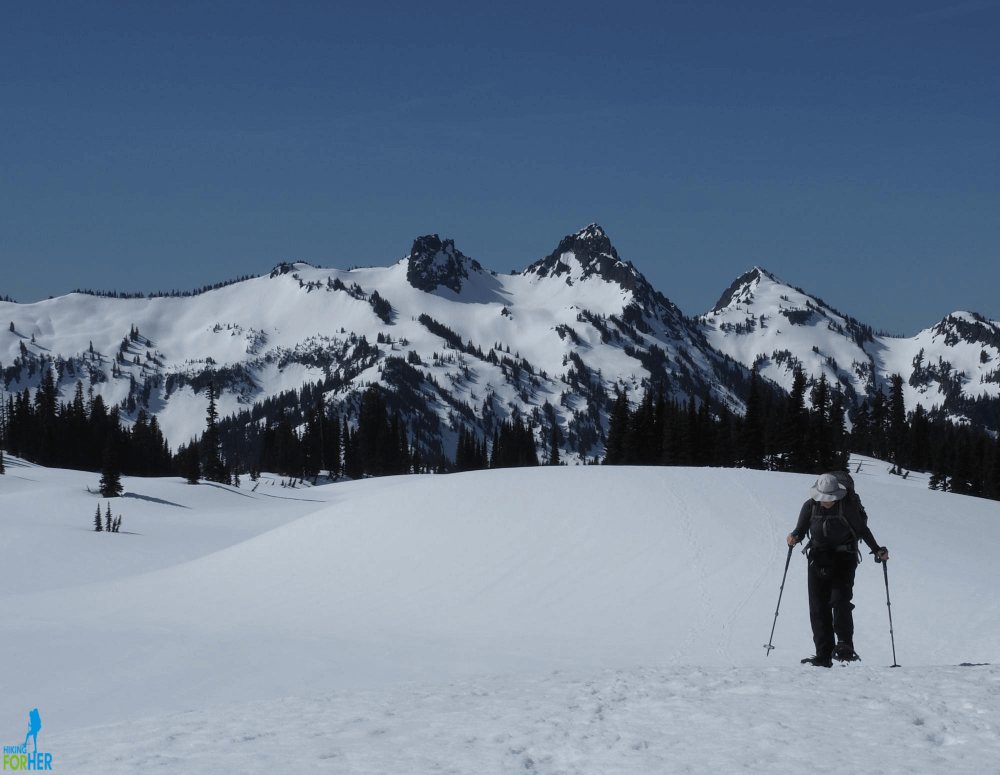 Tatoosh Range behind me, on Mazama Ridge at Mount Rainier National Park. Trekking poles are working hard for me!
At the upper elevations of my destination each day, approaching 6,000+ feet with deep snow, it was time to switch over to snowshoes.
This allowed me to test how the poles responded to continuous uphill usage with a wider stride and less weight bearing.
No worries! The poles felt great.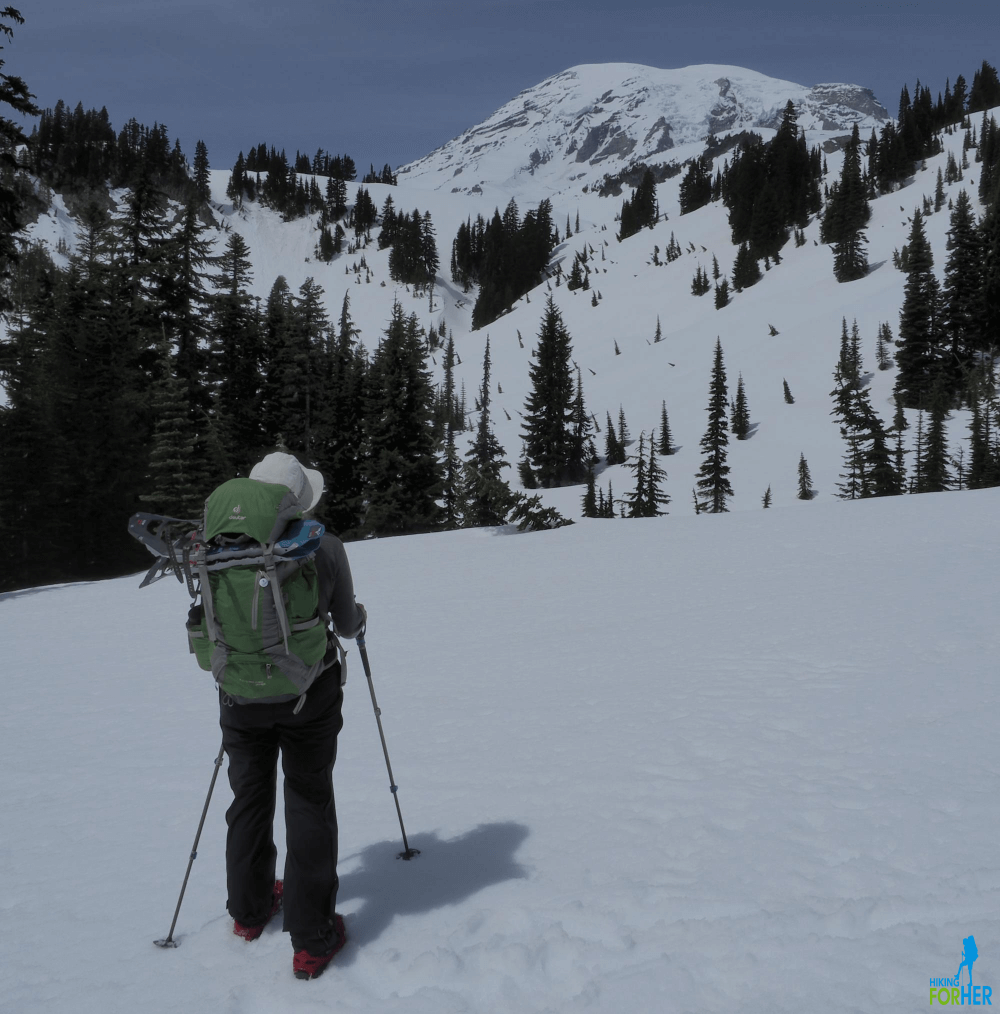 Time to drop off the ridge into Paradise Valley, so the snowshoes were switched out for boot traction devices to tackle the steep descent
Every good hike must come to an end, and when it was time to turn around to dump the elevation I had worked so hard to attain, the snow had softened.

When going downhill into potentially icy patches of snow beneath trees, interspersed with slushy stuff and sun cups, I prefer to have traction devices on my boots rather than snowshoes.
So the descent from Mazama Ridge tested the poles in yet another way as I created my own pattern of tight switchbacks, using controlled hand and foot movements. 
Due to their light weight, it was easy to pick them up and plant them in an easy rhythm, even when the snow felt a bit "grabby".

Could I have done a butt glissade?
No, the snow was too soft.

Using poles to force my way down a slope is n

ot an intended use!
What I loved
about these poles
Now you know where I took these poles for a spin.
Time to get even more specific about the features these poles offer to you.
Are they really lighter than
aluminum hiking poles?
The first thing I did when I unboxed these poles: I held my aluminum hiking poles in one hand, and the carbon fiber poles in the other.
Noticeably less weight in the Montem trekking poles!
These poles were so lightweight in my hands that I never got what I call "grip fatigue" (claw fingers) through the 8+ hours of daily hiking.
This is important in cold conditions, when you're using the poles continuously for probing, balance and stride stability.

Also very important to anyone with hand mobility and/or pain issues.
Two sets of baskets
The snow baskets went on with an easy twisting motion.
Although I didn't use the mud baskets (which are great for three season hikes) on this trip, I did put them on and off just for fun, and liked how they screwed on easily.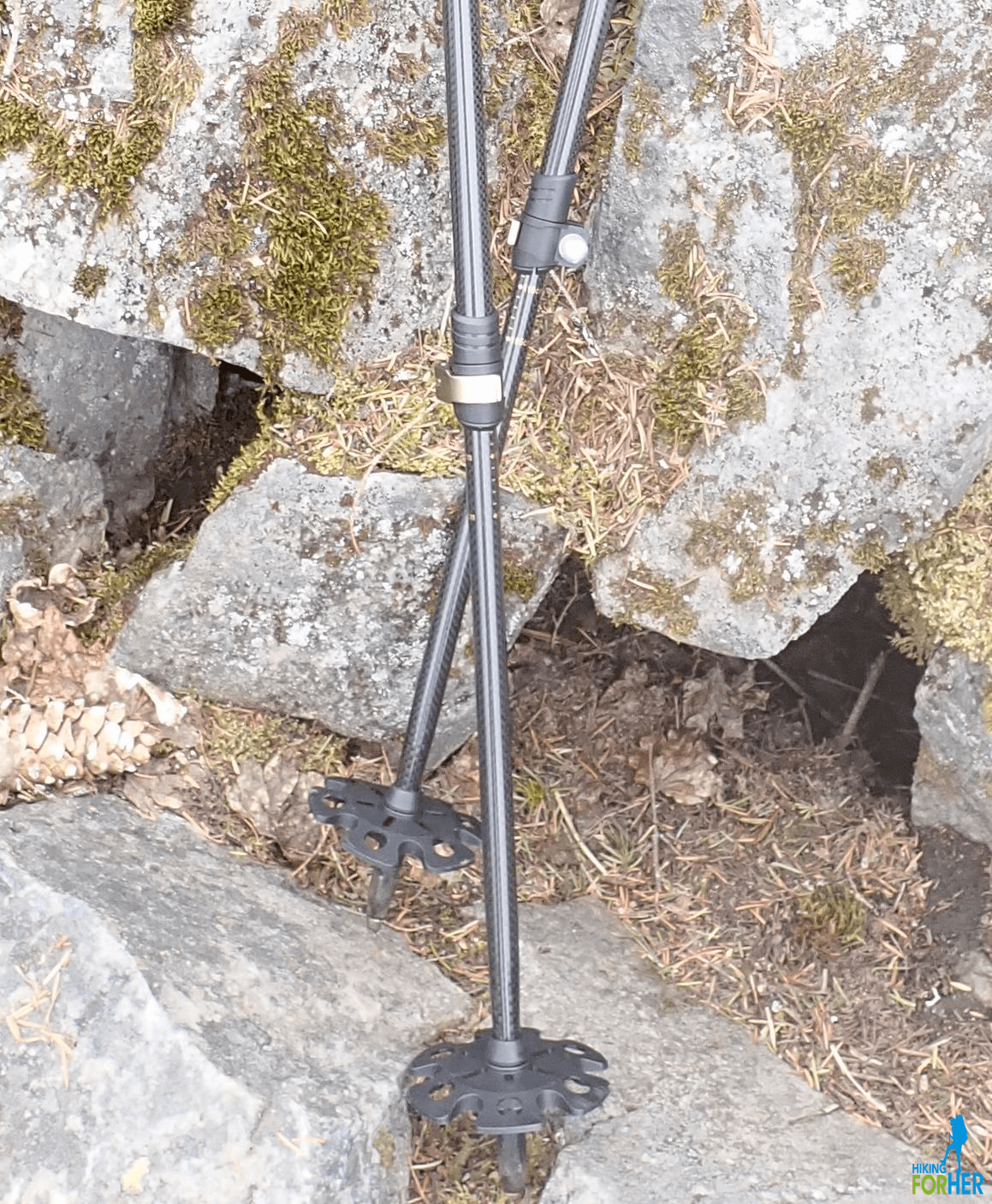 The segments of the poles will retract or extend into the shaft when you flip up that golden clasp.

Locking mechanism:
really important on poles
Because you put your weight on these poles, and depend upon them for stability and balance, it's important to take a close look at the way you lock and unlock the segments of the poles.
If you've never used poles with a flick lock mechanism, you're in for a pleasant surprise: easy to use, and rock solid.
A quick flick of the gold colored clasp (see photo above) allows you to pull the shaft out, or slide it in with a twisty motion, to the desired length. 

Lock down the mechanism at its new location with a reverse flick. 

The white screw is there to ensure you achieve the correct tension.
There are helpful numbers on both the top and bottom segments of the shaft to make sure your right pole length matches your left pole.
Be patient! It will take a bit of experimentation to figure out "your" numbers, and they will change with the seasons.
You should also adjust the length of your poles for uphill versus downhill hiking.
A few things I noticed
using the Montem poles
on the trail
There were a few things that I learned the hard way, which is typical with a new brand of hiking gear.
I want you to avoid my learning curve when you hit the trail with these Montem collapsible trekking poles, so here goes.
First, the bottom segment of the shaft is tapered at the bottom, toward the tip.
Next, check to be sure the baskets are screwed on tightly.
Finally, the distance between the snow basket and the tip of each pole is shorter than on some other pole brands.
Why does this matter?
If you're hiking through deep snow or gooey mud, you may not be able to get as solid of a purchase with the pole tip as you would like because the basket-tip distance is short.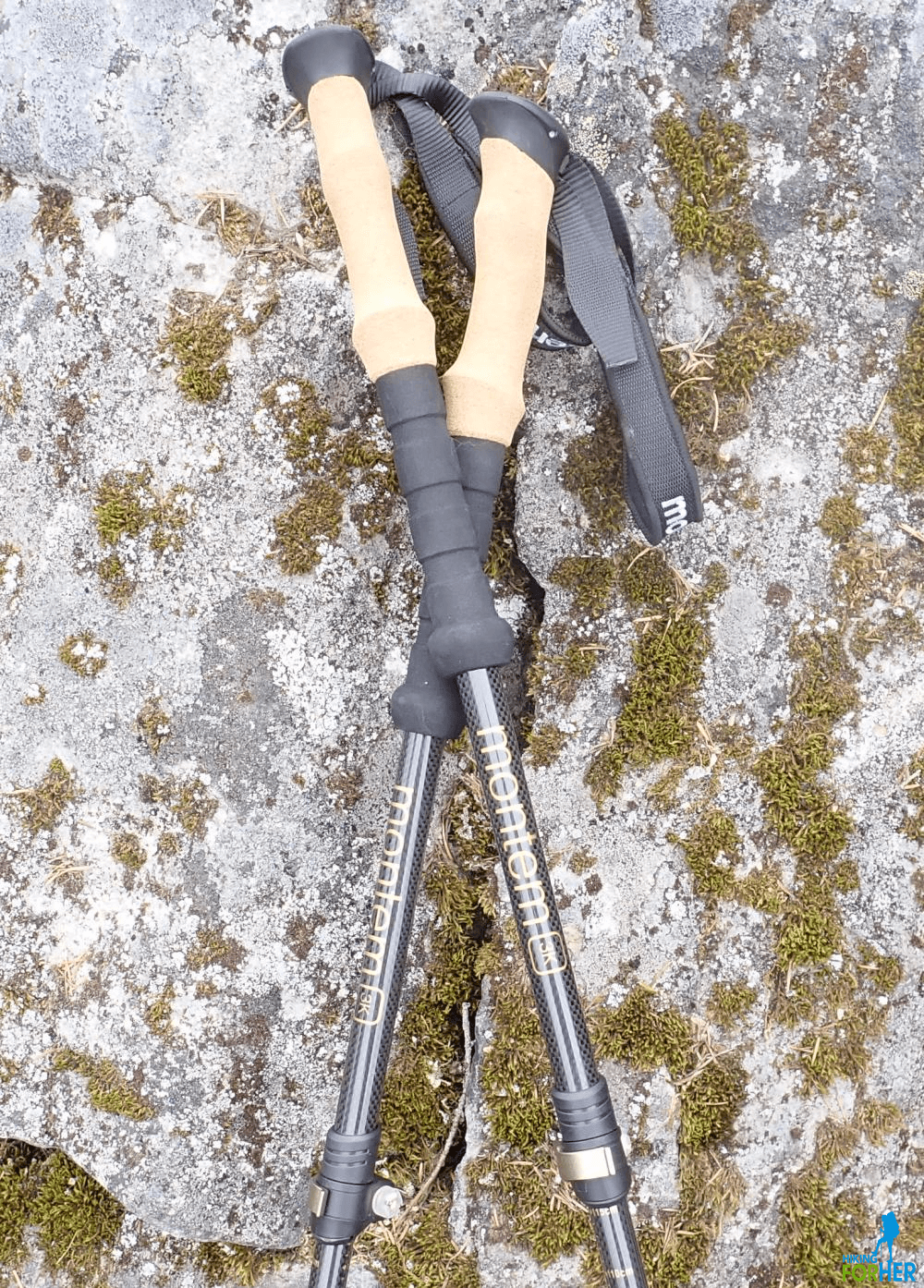 Plenty of options for your hands as the elevation changes: cork grip handles and extended foam grips
The padded nylon wrist straps are easy to adjust.

I like mine a bit loose, to accommodate clothing layers & gloves as I gain and lose elevation.
But you can snug yours down tightly by removing the tension block and tugging on the strap.
Great for keeping the poles close to your wrists on steep trails.

Or whenever you want to give your fingers a bit of a break without setting down your poles.
Are these poles
truly unisex?
Over my decades of hiking as a female, I have learned to approach the  word "unisex" with caution.
The length of the poles has a wide range for adjustment for short to tall hikers, so no worries there regarding gender differences.
The ergonomic cork grips gave me a bit of pause. 
As a small woman (my adult kids still call me Mouse Mommy), my hands don't have much of a span.
So for trekking poles to work for me, hand grips need to offer enough contour to make solid contact with my palm and curled fingers - but not too much, or my fingers get out of alignment and cramp up after a few hours on the trail.
The grips on these poles were right at the limit of comfort for me.
If you have small hands, you are probably already aware of the "one size fits all" dilemma.
Just a heads up, not a deal breaker ;)
Cost and pricing
Carbon poles and high cost are indelibly linked in my mind.
Until now.
Montem has made some smart moves as a company (selling directly to hikers) to keep these poles affordable: $119.99 plus free shipping in the U.S. (they also ship internationally).
That's a crazy good price for these well designed, strong, lightweight and versatile carbon trekking poles!
Note: This is the current price at the time of this review (May 2019).
And you get a lot
for your money!
In addition to these high performance poles you receive: 
Two sets of baskets for year round use on dirt, mud, rock and snow

A pair of rubber tip protectors, great for insulating your luggage and backpack from the pointed tungsten carbide tips

A cloth carrying case to toss your mud encrusted poles into for safe keeping, thus sparing your vehicle's interior
This company stands behind its products with a lifetime guarantee and a strong commitment to high performance gear at great prices.
And if these poles seem like an investment, well, they are!
More Montem trekking pole options
If you've got a limited hiking gear budget, Montem also offers lower priced carbon fiber trekking poles:
They also carry a full line of affordable and durable aluminum hiking poles, perfect if you're starting out as a hiker or just like the way an aluminum pole performs for you on the trail. 
Be kind to your gear
Treat these poles right, and they'll be your faithful trail buddies for a long time.
Wipe off moisture and grit with a soft cloth or spare (somewhat clean) hiking sock before collapsing them for transport.

Store them at home in a fully extended configuration, using the wrist strap loops to hang them up (good air flow will give you completely dry poles).

Take the time to switch out the baskets, matching seasonal trail conditions, so the poles can perform at their best.

Don't use your poles for heavy weight bearing or leveraging jobs around camp. That's not what they're designed for.
Montem trekking pole review:
Hiking For Her conclusions
This Hiking For Her Montem trekking pole review reports to you the data I collected during a simulation of four season hiking on dirt, mud, rocks, ice AND snow.
In three days.
At a fabulous spot on the map!
So thanks for the incentive ;)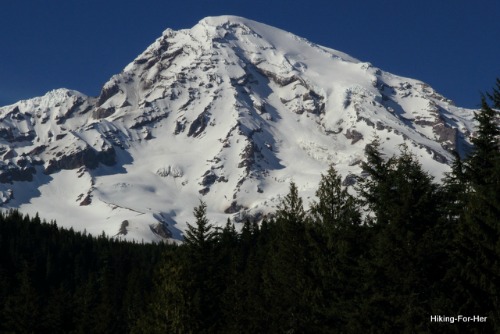 Mount Rainier from the front porch of the National Park Inn at Longmire

Montem carbon fiber poles
are keepers!
These carbon fiber poles have earned a permanent place in my gear locker for three reasons:
versatility

solid performance

great design
Versatility means your money
goes farther
These Montem 3K carbon fiber poles are definitely versatile, needing only a few moments to telescope them higher or lower as needed and then lock them tightly in place.
Adjustments in length may need to occur many times during one day on the trail, so a fast locking mechanism is critical.

Storage in an outer backpack pocket is easy when they're at their shortest length (24 inches).
A four season hiker needs only this one pair of poles, thanks to the interchangeable baskets.
Because of the wide range of length adjustments at your fingertips, you can loan these poles to anyone in your hiking circle, knowing they'll perform well on the trail.
Solid performance

Good news after using these poles for three consecutive days:
Excellent weight balance in my hands as I worked hard to gain elevation on dirt, on rocks, and in the snow.

No pole collapsing problems, no bending or feeling of instability, on steep descents.




Less hand fatigue at the end of the day, compared with my other sets of poles.
I recommend these strong, reliable Montem carbon fiber trekking poles for any hiker who:

strives to shave weight off the gear list (long trail hikers, ultra lighters, aging hikers, kids)

experiences hand or wrist issues (arthritis, repetitive motion injuries, Raynauds, post surgical recovery)

prefers terrain with lots of elevation gain and loss each day

enjoys high alpine destinations with snow-rock-ice conditions year round - but can't predict exact conditions on any one day (bring both sets of baskets)
Great design
Pick up a pair of these poles and you'll notice how they feel feather light but also well balanced, meaning they don't pull you forward when you lean into the trail holding them in your hands.
The cork grips are designed to fit the contours of the hand (see note above) and will adjust to your preferred wrist snugness.

Changing the length of the poles, no problem! A few twists and you're done.
The locking mechanism is straightforward and stable.
These poles are going to travel easily to/from the trail with tips safely ensconced in rubber end caps, making them a great choice for commercial airline travel in checked luggage.
For backcountry, heli-hiking and bush plane trips, you can't beat the small footprint and low weight!
And if carbon fiber is strong enough for Boeing airplanes, it's strong enough for you and me!
But what really makes me smile?
The rock solid feel of these carbon fiber poles when I transfer my body weight to them.
They don't budge.
Questions for me?
If I didn't answer your particular question in this Montem trekking pole review, or you'd like more details on my trail experience using them, you can reach me here.
Use that blue button over on the right to jet back up to the search box to find lots more hiking tips!
Or use the links below to check out more Hiking For Her trustworthy hiking tips!
Home page > Best Hiking Gear Reviews >
Montem Trekking Pole Review