Enjoy Happy Trails, the free monthly newsletter from Hiking For Her.

Receive a free resource: Hiking Layering System Explained
PrAna Leggings Review:
Are These The Best Leggings
For The Trail?

by Diane Spicer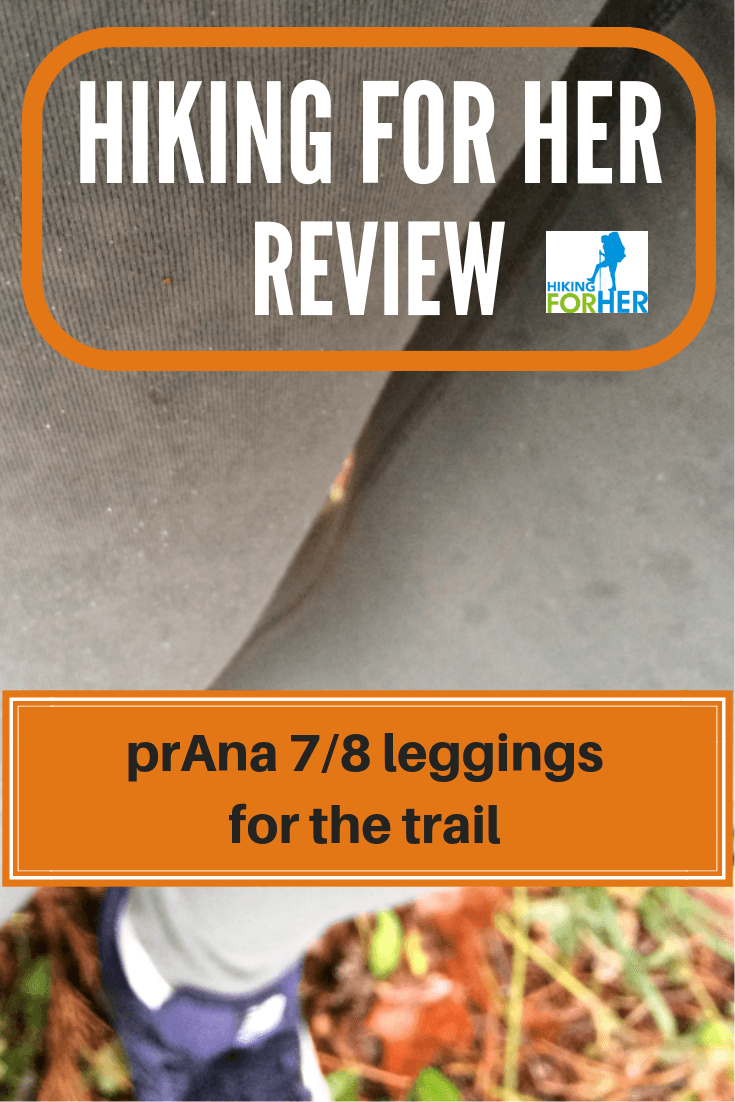 This prAna leggings review is going to ask and answer one simple but important question:
Are these the best leggings for a female hiker to wear on a cool weather hiking trail?
Hiking For Her purchased these prAna Pillar 7/8 leggings and wore them on several short (round trip single digits) hikes in blustery and wet weather.
If you purchase a pair of these leggings through the links on this website, Hiking For Her will receive a small percentage of your purchase price but you pay nothing extra.
As always, the reviews on this website are written to put the best of the best into your gear locker, so you can tackle any trail with confidence and ease.
Specifications and features

prAna Pillar 7/8 Leggings
NOTE: These exact leggings may not be available right now. Check out all your 7/8 options here.

Moisture wicking compression stretch jersey fabric, 88% Supplex nylon/12% elastane
Mid-rise relaxed waist
No drawstring

Ankle skimming length (not capris)
Sizes: XS - XL; 1X - 3X

prAna leggings review:
expectations

My expectations (and hopes):

I wanted enough ankle coverage to pull my two pairs of hiking socks easily over the leggings.
I wanted flexibility and freedom of movement for large hiking maneuvers like crawling through blowdowns or rock hopping across streams.
I expected these leggings to not shrink after a few laundering cycles.
I don't enjoy having every single bump and bulge outlined for all the world to see, so opacity and un-skin-tight fit was an important expectation.

I also expected these prAna leggings to keep my legs warm, but not overheat in them.
And based on previous experience with this brand, I expected them to be durable enough for several seasons of wear combined with many wash/dry cycles.

Now is that too much for a hiking woman to ask from a pair of leggings?
Let's find out!

prAna leggings review:
trail performance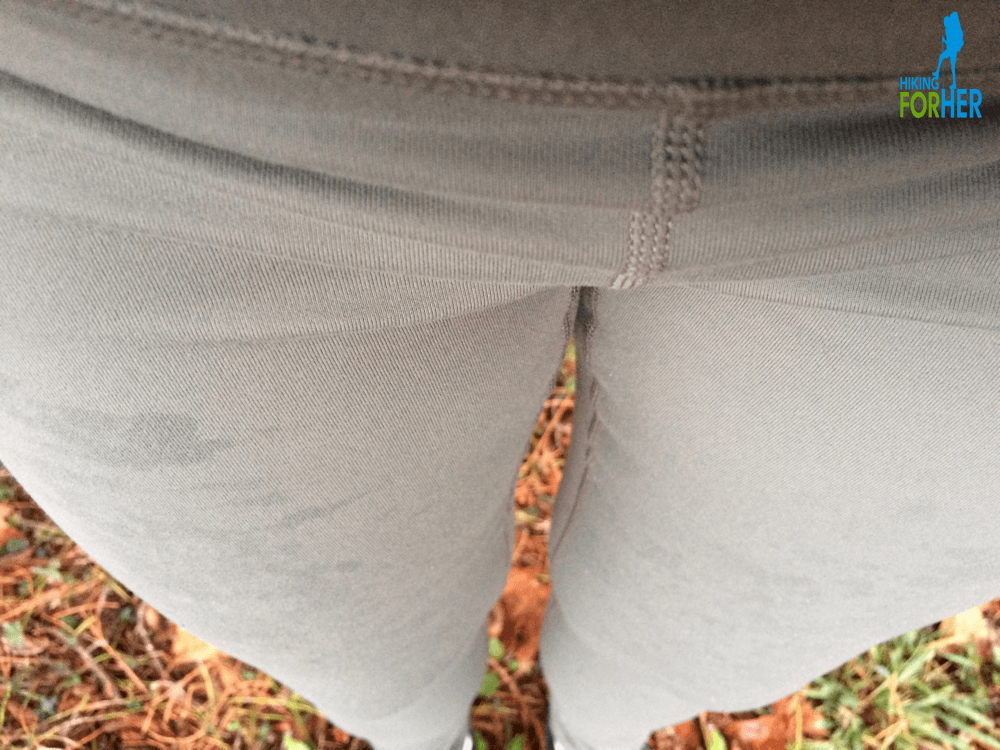 Closeup of the flatlock construction at the waist (yup, it was raining)
I purposely ordered one size up, as I am not a fan of tight clothing.

Putting on these leggings was not at all like wrestling with an octopus; they slid on easily and while they felt snug, they were not compressing the life out of my legs.
If you like the sensation of constant compression, order your usual size.
The absence of side seams and the soft fabric felt really nice against my skin.
While these are not shiny leggings (super heroine fans, take note), they do have a slippery smooth feel both inside and out.

The fabric is described as a "moss face finish".

There was plenty of room for large movements without worrying about ripping out the crotch, thanks to the triangle crotch gusset and stretchy fabric.
If you don't worry about this stuff, you're not hiking hard enough ;)

Waistband worries
The waistbands on leggings are always a concern.
I experienced no sagging or bagging during my trail time, but I did have my backpack hip belt all snugged up, so perhaps that helped (see yoga notes below).
Caveat:
This pair of leggings fit me just right, but because everyone has their own unique body dimensions, I can't guarantee that yours will stay in place.
However, the smooth wide waistband gives you the option of roll down maneuver to ensure a better fit.
Fun little bonus
The cute little interior pocket hidden in the front of the waistband could hold car keys or lip balm on a short hike if you don't mind the sensation of something against your waist.

prAna leggings review:
trail hacks

Never go hiking without rain gear unless you are 100% positive that you won't get wet and cold.
I always hike with my rain gear in an outside pocket of my backpack, where I can grab it quickly and get it on before I get too wet.
If you're going to hike in these leggings (or yoga pants in general), cultivate the same defensive habit:
Because these leggings were made of quick drying fabric, I let them get a bit wet before pulling on my rain pants.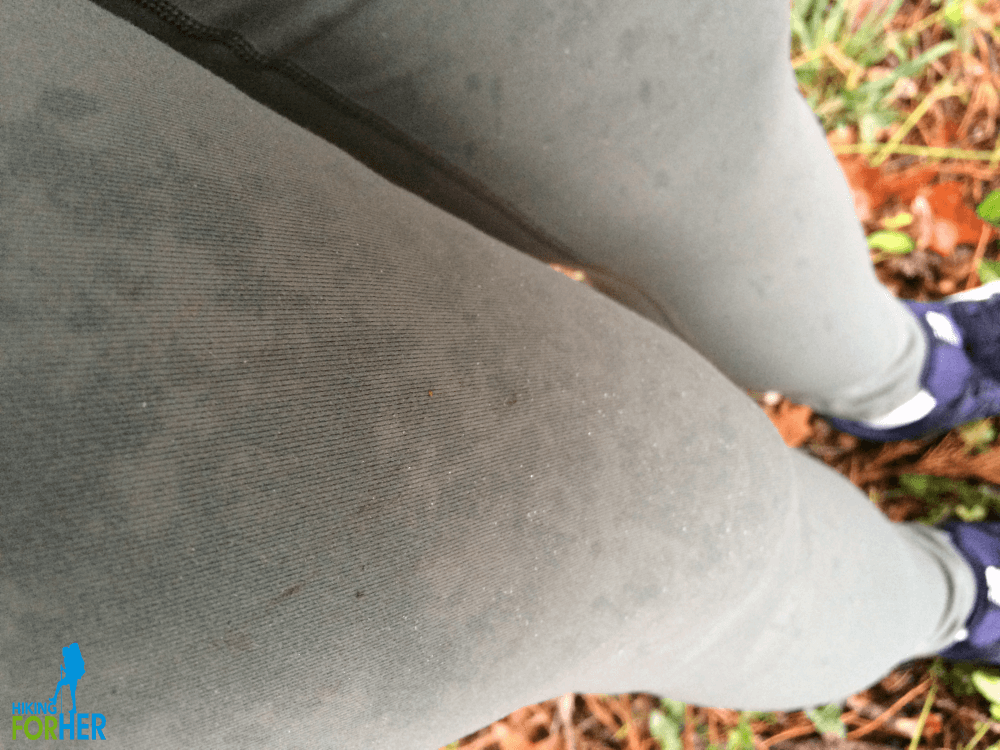 See what I go through for your gear reviews!!
As expected, my body heat was able to dry out the leggings inside the waterproof pants in about fifteen minutes of hiking.
Possible base layer
You can use these leggings for winter hiking and snowshoeing if you have a waterproof layer over them.
My only concerns: they may not retain heat efficiently if the ambient temperature drops below freezing, and they may be too efficient at soaking up sweat without a chance to dry out (as in constant movements).

Just to be crystal clear
in this prAna leggings review

Because I had back up dry clothing AND rain gear with me, I allowed myself to get wet.
I'd never take a chance like this if conditions were really cold or if I was hiking solo.
The fear of hypothermia is an excellent motivator for all of us to do the right thing on the trail.

prAna leggings review:
suitable for yoga?

I recently began yoga classes in order to maintain the flexibility I have, and hopefully increase the range of motion in my spine.
Old backpackers never fade away, they just curl over onto themselves and groan.

So wearing these prAna leggings in place of my usual and less expensive yoga pants during an active Vinyasa flow class, I noticed two things:
These leggings may slide down a bit during certain poses, but you can double over the waistband to prevent or fix this.

You can't see your underwear through them (I checked in the studio mirror I happened to be near).
Compared to my other super thin yoga pants, these leggings are on the thick-ish side. I'd call them medium weight in the scheme of things.

prAna leggings review:
conclusions

All I can say is this:
Add a pair of these well made leggings to your chilly spring and fall hiking clothing list.
More coverage than capris, but not full on pant length, either: a nice compromise, compatible with hiking socks.

Comfortable, opaque, moisture wicking, fast drying: all features a hike can appreciate.

And if you're a petite hiker, as in short of stature, grab these while you can.
I'm 5'3" and these gave just enough ankle coverage, for both hiking and yoga, to make me smile.
More to love in this
prAna leggings review
I love the muted green color, as it's a bit different from the basic dark colored or crazy patterned leggings everyone seems to wear.
The fabric traps your body heat, so I wouldn't recommend that you wear these leggings in high summer heat or a warm indoor setting.
But on a chilly fall trail, they felt warm and snug, with just enough fabric to block a breeze.
Due to their smooth finish and body hugging fit, rain pants slide on easily.

While I haven't washed them many times yet, I will report back if pilling or fabric fatigue crops up.

So what are you
waiting for?
If you're ready to look at the REI Co-op customer reviews and get more details on these leggings, hop over here.
These prAna Pillar 7/8 Leggings are also available at REI Co-op in sizes 1X - 3X.

This photo is linked to more photos and details from REI!


More plus size hiking clothing options here

Home page > Best Hiking Gear Reviews >
PrAna Leggings Review
Hiking For Her: Hiking tips you can trust!