Enjoy Happy Trails, the free monthly newsletter from Hiking For Her.

Receive a free resource: Hiking Layering System Explained
Waist Pack Review:
Is This REI Trail 5
What You Need For Your Hike? 
By Diane Spicer

A waistpack review should start out with a few disclosures, so here goes.
I bought this pack with my own money.
This post is not sponsored by REI.

No one asked for, or paid for, this review.
Just the facts, dear hiker, no hidden motives.
Fact: I needed a waistpack, bought this one, and wanted to share with you why the Trail 5 is a worthy option for your dayhiking needs by writing this waistpack review.
Because I've been purchasing rock solid gear from REI Co-op since 1977 or so, I've become an affiliate.
Not a member of this gear co-op yet?

Trail 5 specifications in this
waist pack review
A waistpack like this makes a great choice for fast, light dayhiking when you won't be going far and you know the area well.
| | |
| --- | --- |
| REI Co-op Trail 5 Waistpack | You can also toss it into your regular backpack to use as a daypack when you do some exploring during a layover day on a multiday backpacking trip. |
Here's what I love about this lumbar pack:

Capacity: 5.25 liters i.e. 320 cubic inches

One large main zipped compartment containing two organization pouches along the back side

4 pockets

2 mesh bottle holders on sides

11.5 x 7 x 4 inches

Weight: 9 ounces

Materials: shell is nylon, lining is polyester so it's durable

Waist: expands up to 52 inches
Can all Ten Essentials fit
inside this waistpack?
Excellent question for a hiker's safety and comfort on the trail!
A thorough discussion of the Hiking Ten Essentials can be found here.
Here's the shortcut list of Ten Essentials (links give you more details and recommendations):
3. Sunglasses
4. Knife
5. Fire starter
6. Matches
8. Flashlight (or headlamp)
9. Map
10. Compass
Does it all fit inside this waistpack?
Here's a confession: this particular waistpack was chosen for its large capacity and hydration options, with the Ten Essentials in mind.
Two large water bottles (1 liter) fit easily on this pack, snugged into the external mesh pockets.
The main compartment, a bucket style top loader, had no problem swallowing up my snacks, lightweight jacket and a minimalist survival kit containing knife, firestarter, matches plus a mylar lightweight blanket (not on the Essentials list but something I always carry).
I put a few first aid supplies including bandages and eye wash, and my headlamp, in the zippered pocket behind the main compartment.
A map of the area and a compass?
Not necessary when I tested this pack, as the short day hike I chose was on a familiar, well traveled and established trail with great signage.
But those items would fit inside the smaller external pocket, convenient to open with its pull tab.
I could also stash my sunglasses there when I wasn't wearing them.
In addition to those essentials, a hiker needs to stash phone, lip balm, car keys, i.d. and other necessities. 
There's a plastic clip for the keys, so you can put your hands on them fast and never worry about them falling out.

There are two internal stash pouches (organization pockets) attached to the back of the main compartment for your odds and ends, like i.d.

Your cell phone can ride along in the outside pocket, which is just the right size for it.

And there's even a secret back pocket where you can stash your cash.
Fit and function on the trail:
notes in this waistpack review
The belt on this waistpack expands up to 52 inches, and can be quuickly adjusted to accommodate changes in your clothing layers.
I had no issue keeping the waistpack exactly where I wanted it, wearing only a tank top and shorts.
I doubt the belt would slip when I'm wearing a fleece jacket, but it might be a problem with my more slippery rain jacket. 
The nylon material will be water repellent, and for good measure, I'll spray it with additional waterproofing so water will bead up and slide off.
Ventilation 
The part of the waistpack that fits against your body has a breathable mesh liner which extends into the water bottle area as well.
I produced my normal amounts of sweat during the hike, and this pack did a good job of wicking it away from my back and waist.
As with any pack against your body, you'll feel heat and moisture, but nothing out of the ordinary with this waistpack.
What I really liked
about this waistpack
I have to say this right up front: love the butterscotch color!

If you're more of a "basic black" gear hiker, they have one just for you (see photo above).

It's also available in gray.
The quality of this pack was apparent from the first time I unzipped the pockets and strapped it on.
And it was comfortable to wear.
The water bottle pockets were placed for easy access to my hydration options while wearing the pack.
I had no issues with putting this waistpack down in the dirt, due to its tough materials.
A few concerns
in this waistpack review
Don't overload this waistpack.
It has a 5 liter capacity to manage all of your essentials, and that's about it.
If you overload this pack and then try to hike comfortably, you're setting yourself up for back strain.
A note about the mesh water bottle pockets: 
They do not hold your bottles in a death grip, more like a gentle hug. 

So the first few times you bend over wearing a loaded waistpack, be aware that your bottles could slide around and perhaps even fall out.
This didn't happen to me, but I wanted to give you a heads up.
Tip:
One solution I've used for this problem is to wind a big rubber band around the bottle before putting it into the pocket.
Cost versus trailworthiness
The Trail 5 from REI costs around $49 U.S. at the time of writing this waistpack review. 

Sure, there are cheaper waistpacks to be had in cyberworld.
But with every gear decision you make, you're heading into a long term relationship.
At least you hope you are!
You don't want to buy cheap gear that falls apart on you after a few hikes, even as a beginner hiker.
That's why I recommend that you buy a quality waistpack just big enough for your needs, and that you consider the value and craftsmanship of REI Co-op gear.
There are smaller REI waistpacks, like this Trail 2 version (it has a 2 liter capacity and comes in a kicky print), and it's $24.95 U.S. right now. 

Pick the right one for your trail needs!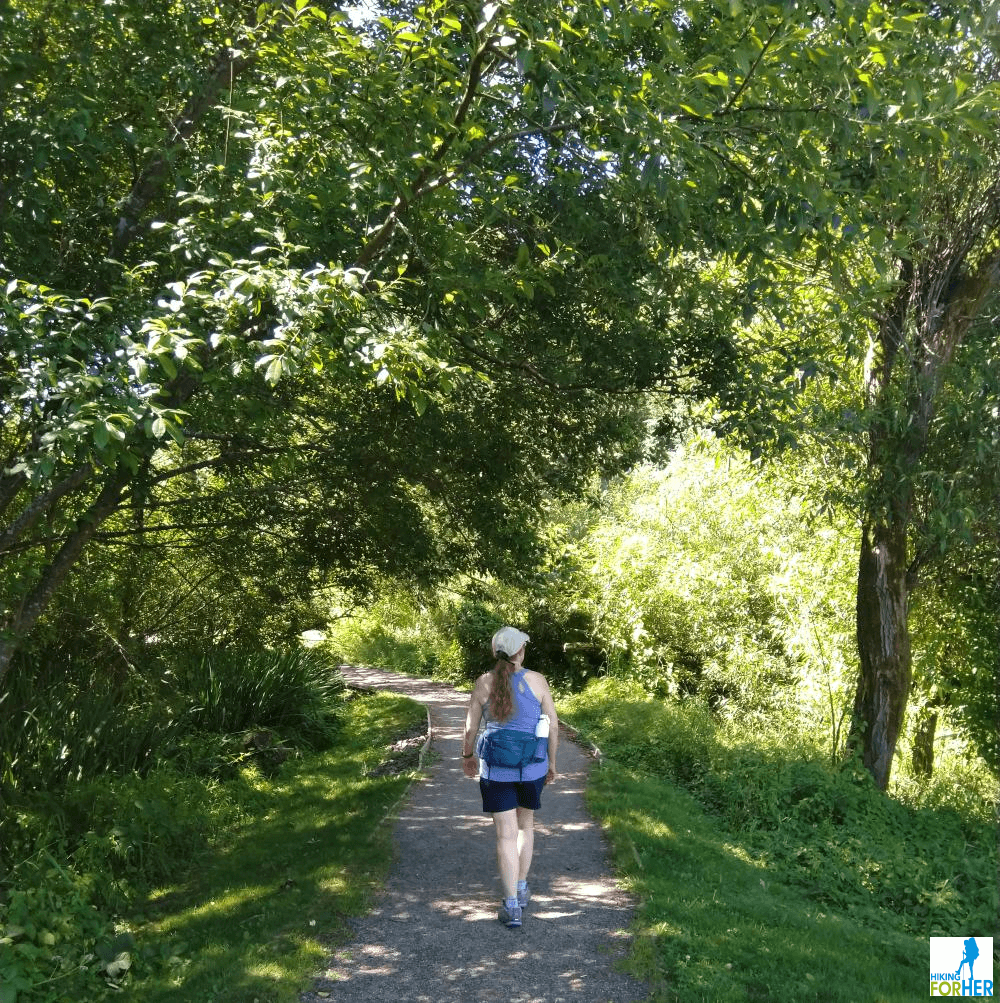 Headed off for a warm summer day hike with my new waistpack from REI

Conclusions in this waistpack review
I have no hesitation in recommending this REI Trail 5 waistpack to you!
And the great thing about the REI website is that you can read more reviews and filter all of that information through your own checklist to decide if it's right for your needs.
Plus, REI has a great return policy.
And you can order online and pick it up at the nearest store, or have it shipped directly to your door.
Pretty convenient, right?
So enjoy your next dayhike with this pretty, convenient and pretty convenient waistpack.
Or check out lots more waistpack options at REI right here.
Home page > Best Hiking Gear Reviews >
REI Co-op Trail 5 Waistpack Review