Enjoy Happy Trails, the free monthly newsletter from Hiking For Her.

Receive a free resource: Hiking Layering System Explained
Hydro Flask Food Totes Review:
Outdoor Food Storage Options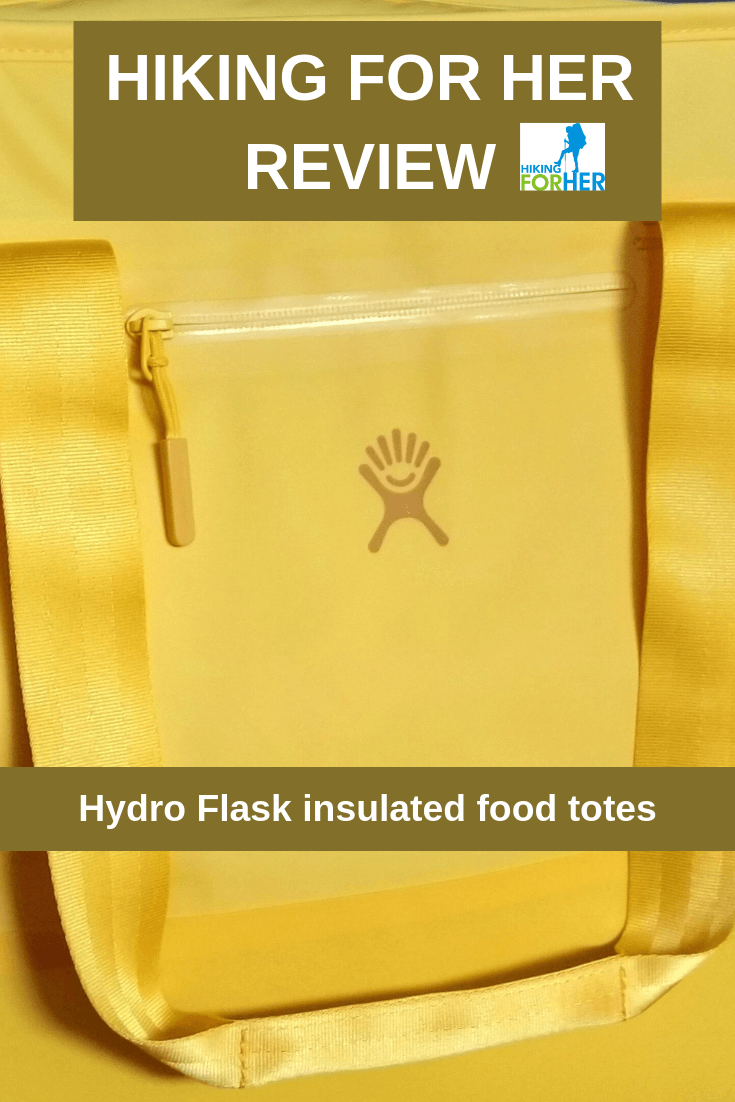 This Hiking For Her Hydro Flask food totes review focuses your attention on two sizes of tote bags from a great company:
8 liter tote

35 liter tote
Both tote bags are insulated, backed by a limited 5 year warranty against manufacturer defects.
Say no more, want to purchase one from Amazon?
Disclosures in this Hydroflask
food totes review
It's important to know whether or not a review you're reading has been paid for by the company.
No reviews on this website are written for payment.
Nor will they ever be bought and paid for, because that jeopardizes the impartiality of the review.
Photos marked with the HFH logo, as well as all comments and opinions, belong to Hiking For Her.

The Hydro Flask insulated food totes were received free of charge in order to test their food storage usefulness from a hiker's perspective.
HFH is an Amazon and a Hydro Flask affiliate. 
When you purchase through this website, you don't pay extra money but you do support the continued supply of trustworthy, free hiking tips on great gear for hikers around the globe.
Ready to chill out your food?
Let's get into the details!
Hydro Flask food totes review:
specifications
You'll see a familiar pattern with Hiking For Her reviews: they always begin with the product specifications.
Why?
Because you need to see at a glance whether or not a piece of gear will fit your hiking plans and match your trail style.
In this case, these food totes may not seem like an outdoorsy woman's first choice for packing food on a hike.
Keep reading.
Hydro Flask food tote specifications
Both the 8 liter and 35 liter totes are built from a coated waterproof material.
Each tote has these features:
fully lined food grade BPA-free interior compartment

top zipper closure




welded seams

stand alone base

collapsible design

soft exterior

two handles

1 welded exterior small zippered pocket

water resistant zippers with easy to pull tabs

4 colors: cheerful yellow (Sunflower), pink (Grapefruit), black (Blackberry), soft brown (Mushroom)

There is also a 20 liter food tote, available in the same great colors.
What do these features give a hiker?
Fast access to chilled food in an easy to open, stand up tote bag that also stands up to dirt, moisture and warm weather.
Each tote folds down small in your gear locker, but expands to handle your hiking lunch or car camping food with ease.

35 liter insulated food tote dimensions
Sunflower color choice shown here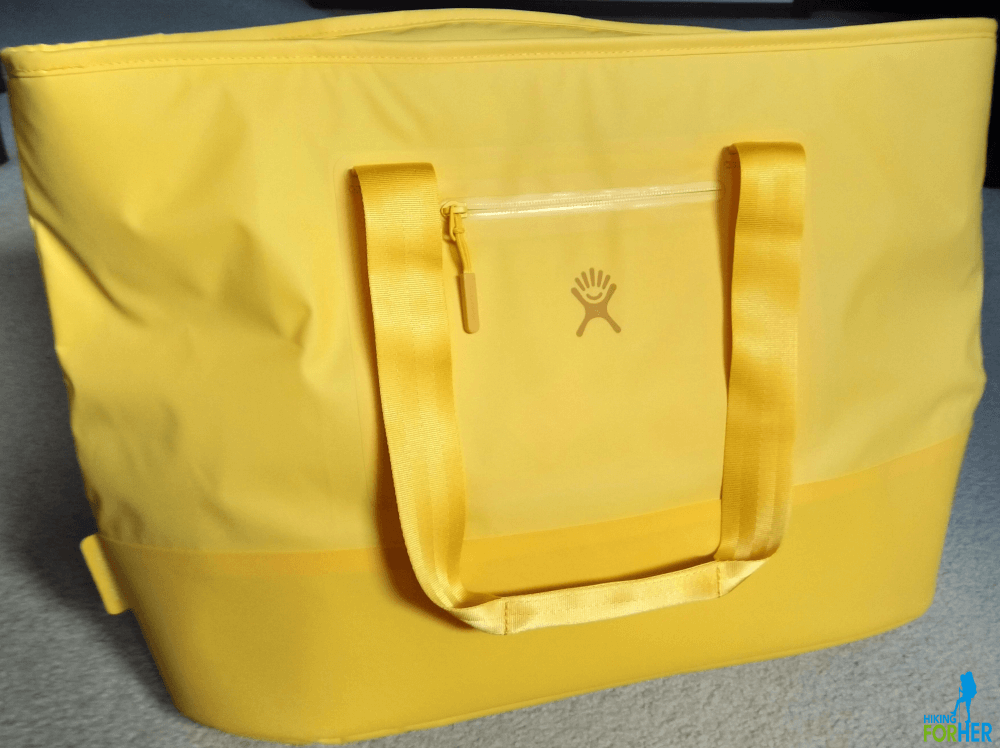 Wide top opening with zipper closure, two sturdy handles, and a solid bottom so it stands up while you're loading and unloading your goodies
15" H x 20" W x 7.75" D




1.65 lb

$74.95 US at time of review




8 liter insulated food tote specs
Grapefruit color shown here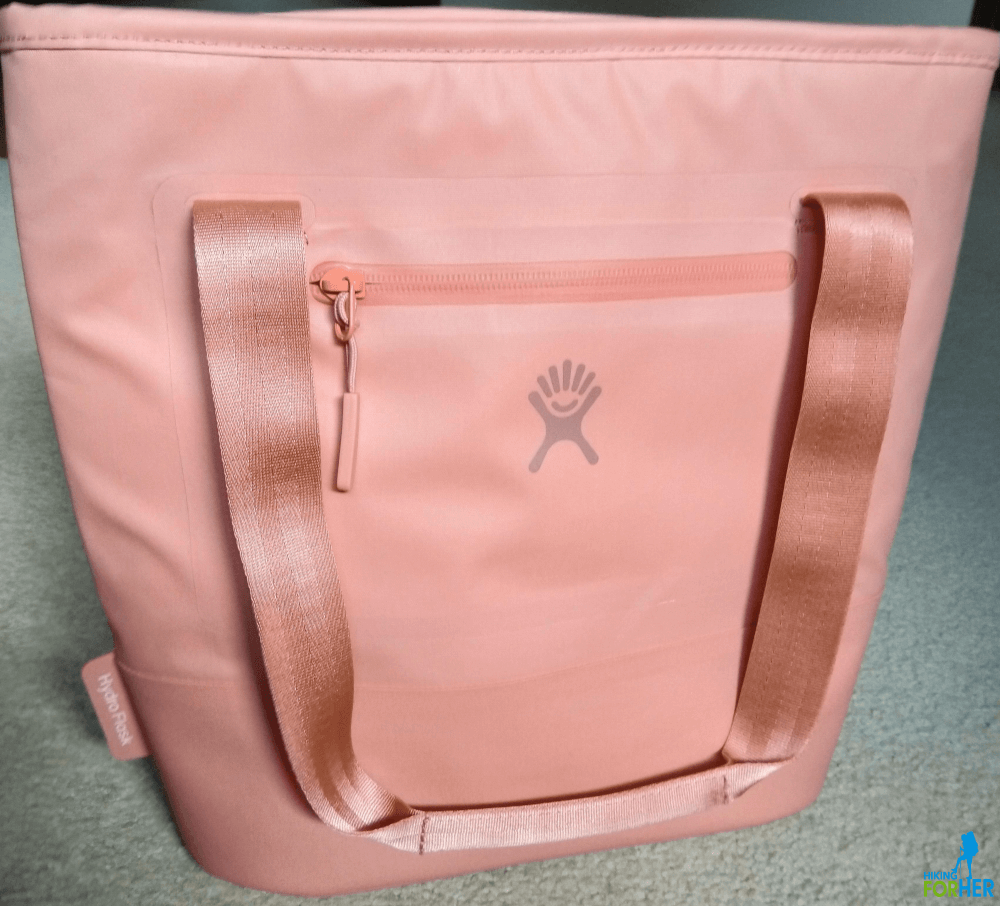 Slimmer footprint than larger version, same soft but sturdy handles, just the right size for lunch including a cold beverage or two
12" H x 11" W x 5" D



0.88 lb


$44.95 US at time of review



How can a hiker use these
Hydro Flask food totes?
Great question!
You may be familiar with the quality, durabilty and functionality of Hydro Flask water bottles and beverage containers.
Just in case, here are some Hiking For Her reviews for you:
But food totes for hiking?
Yes, food totes!
As soon as I saw these lovely totes, I thought about day hikes and car camping.
Examples of ways you can use
Hydro Flask insulated food totes
for hiking
Bring along the 8 liter tote filled with your lunch and snacks on warm day hikes.
It tucks easily into a hiking daypack, is zipped up tight so it won't leak or emit odors into your backpack, and makes a good receptacle for food waste and garbage after lunch.
Think of how amazing it will be to have something chilled in your parched mouth!
Trail tip:
If you're a fan of mayonnaise and soft cheeses, or love meat sandwiches on a day hike, add a cold pack to the bottom of the tote.
This becomes especially important on hot weather trails.
Don't want to tote along the tote on your hike?
Stash it in your car at the trail head, filled to the top with a delicious reward for a hike well done, plus a freezer pack to make sure everything stays chilled in the car's warm interior.
Chunks of juicy ice cold watermelon come to mind, along with frozen grapes and handfuls of sweet cherries.
You could also fill up the tote with ice cubes, or one solid block frozen in a milk carton, to use for hydrotherapy and muscle pain relief after your hot hike!
Car camping and
Hydro Flask insulated food totes

Store your first night's ingredients for dinner and dessert in the 35 liter tote, things that need to be kept cold - like dairy products and meat.
Transport baby formula, medications, anything your family needs within a few hours, without the risk of accidentally freezing it or losing it in the bowels of a large cooler.
Tip:
Need some hydrotherapy on a hand or foot?
Fill up the tote with cold water and soak the sore or injured part as you relax at your campsite.
Things to note in this Hydro Flask
food totes review
Hiking For Her is a solid fan of Hydro Flask for many reasons, but the thing that always stands out first is the quality when you pick up any of their products for a closer look.
This company does not cut corners to give you solutions to the problems you need to solve while hiking and camping, like staying hydrated and satisfied with cold or hot beverages (season dependent).
And now, keeping your food safely chilled for easy transport.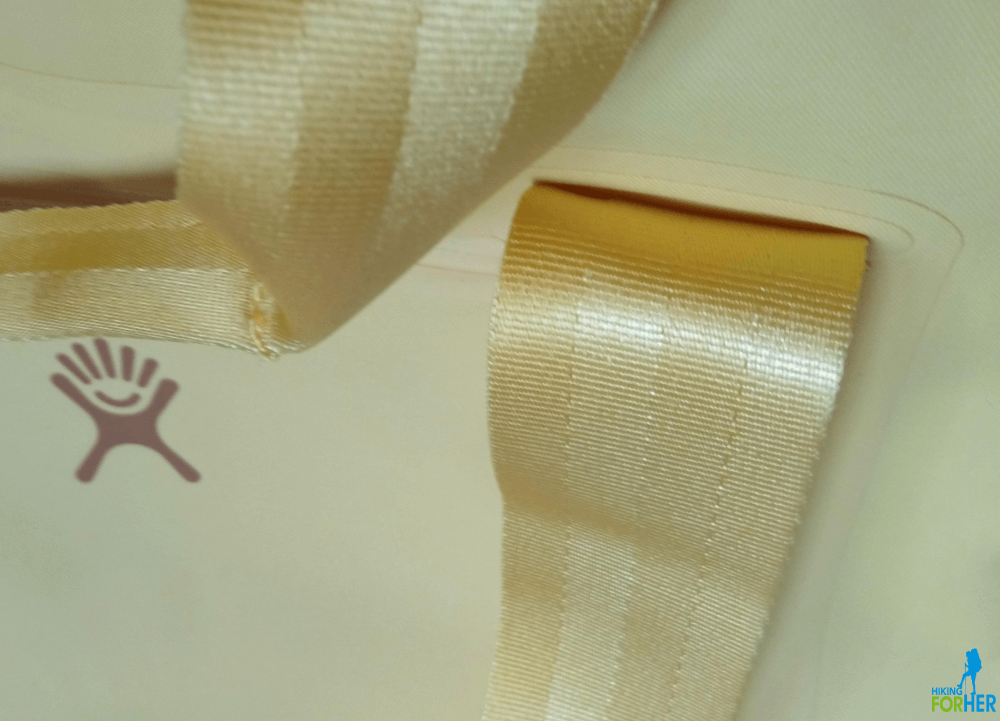 Note the solid construction and choice of quality materials in this Hydro Flask food tote design
Pay once for these quality totes, and enjoy the performance and good looks season after season.

Trail tip:
Do your part in preserving the high quality, by keeping sharp utensils outside the totes or wrapped in a soft cloth and stashed in the outside zippered compartment.
Here's the best part of this Hydro Flask food totes review:
Relish the fact that these totes can go between trail, campsite, grocery store, work desk and picnic grounds without breaking a sweat - a small pun, because they're built to keep the cold in without beading up with moisture on the outside.
One tote, many jobs!
What I love about these
Hydro Flask food totes
These totes are spacious without being too big.
The lunch tote expands to hold 2 sandwiches, 2 pieces of fruit, a few energy bars and two cold beverages.
And think of the flimsy plastic and paper bags you're keeping out of a landfill when you load up this tote with lightweight, reusable containers.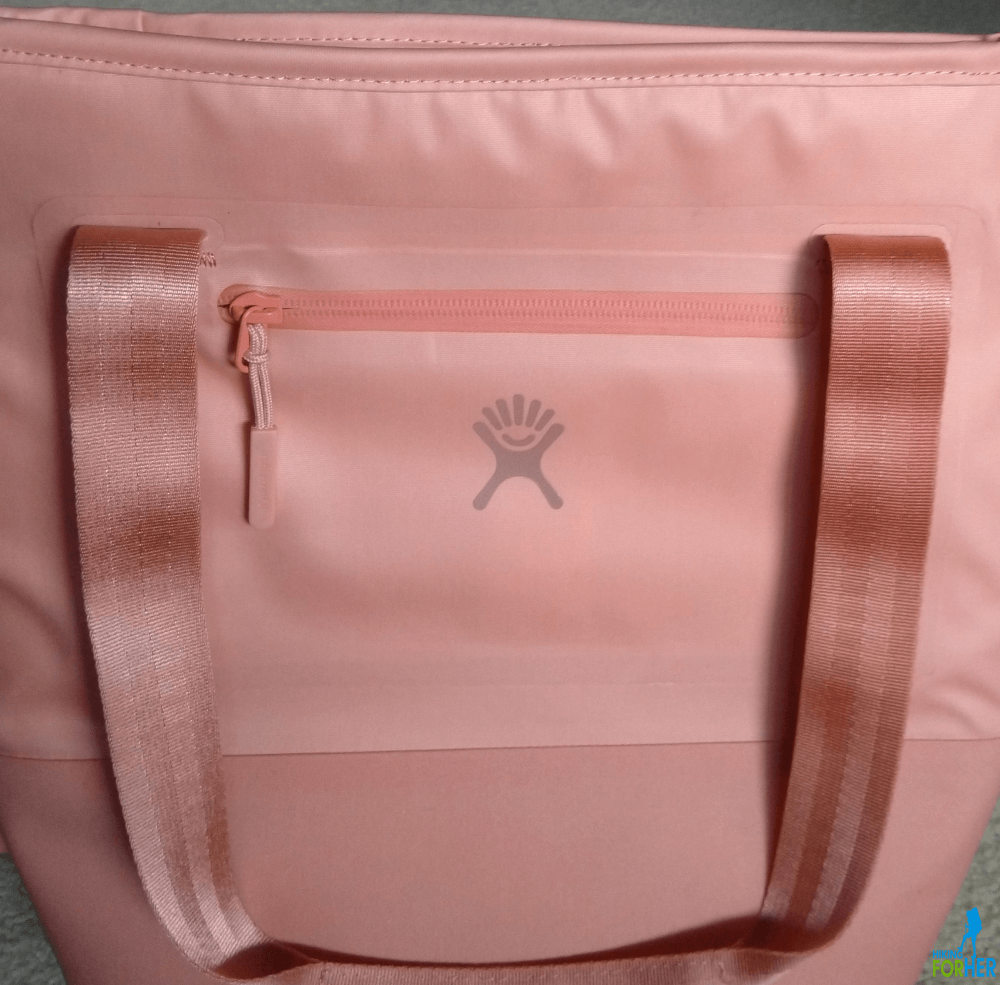 Small exterior zipper on this lunch tote makes a great place to stash a small trail journal, a few packets of tea, or lightweight eating utensils
The larger tote is going to be coming along to the farmer's market, with a cold pack tucked into the bottom to keep my produce cool as I wander through and look at all of the goodies.
Plenty of room to add more, and the soft handles make it easy to sling over a shoulder.
No worries if I don't head home right away: the bags will keep things chilled for up to 4 hours.
More to love about these food totes
You can wipe out the interior of these totes, hang them up by the handles to air dry in your gear locker, and they'll be ready for your next day hike or camping trip.
Or shopping trip!
If you live in an area where plastic bags are banned, a Hydro Flask food tote will really come in handy. In that case, keep it in the car.
Using a reusable tote also models good shopping habits to the next generation of hikers and consumers.
Hydro Flask food totes review
conclusion
Hydro Flask is always striving to outdo itself with new products for us outdoorsy types.
This time they've put together a new twist on food totes for the outdoors: fun colors, solid construction, and usefulness way beyond your hiking gear locker.
Take a closer look at all of your Hydro Flask food tote options on the Hydro Flask website here.
Home page > Best Hiking Gear Reviews >
Hydro Flask Food Totes Review In Two Sizes