September 2019: A Note From Diane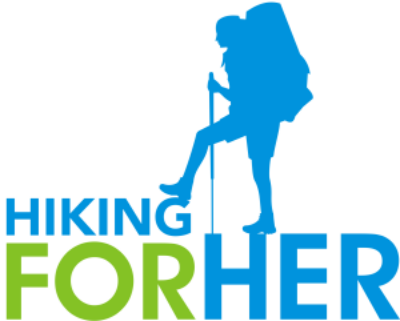 Hello there, intrepid hiker!
It's time for another smorgasbord of hiking news, including two big announcements from Hiking For Her.
Why slow you down with an intro paragraph? Let's just get to it!


---
NATIONAL PUBLIC LANDS DAY
Isn't it lovely to have a chance to give back to the nature spots we use and enjoy all year?

This Saturday, September 28, 2019 is National Public Lands Day, subtitled Connecting to Nature through Service. Use this map to find an event near you, and rain or shine, give a little time to your Mother this Saturday.

National Public Lands Day 2019

And here's a planning tool when you want to get out and explore a new-to-you National Park: Popularity Graphics

That link takes you to a very cool set of graphics which plot "number of nights spent per month" per park, separated by type of accommodation: lodging, RV, tent and backcountry:

You can see at a glance how popular each of them were in each season. Use this for planning a getaway so you won't be competing with thousands of your new best friends for trail time!

You probably already know this secret, but spring and fall hiking are fantastic times for some peace and quiet in an otherwise crowded park.

And how cool is this? You can purchase the graphic as a poster: a unique gift for someone aiming to visit all of the National Parks, or just something cool for your wall.


---
HFH SEPTEMBER GIVEAWAY
High quality, attractive hiking clothing for curvy women is hard to find, and that's why I'm delighted to offer you a chance to meet the wonderful woman behind the company called AlpineCurves: AlpineCurves Interview

Bonus: here's a chance to win a $75 AlpineCurves gift card to do some shopping. Hop over to this giveaway page for details: Hiking For Her Monthly Giveaway


---
FUN WITH PHOTOS
Utah State University is creating an archive of how the outdoor industry has changed over the decades, available here: Outdoor Industry Archive

If you're a woman of a certain age, spend a few moments revisiting "The Early Days".

My personal example of nostalgia: a flood of memories when I saw the red-laced, brown leather (heavy!) boots featured in the 1977 REI catalog.

I wore a pair on my very first backpacking trip, to Isle Royale National Park. Without those boots (called "moon boots" by my trail buddies), there would be no Hiking For Her.

I also remember shedding tears several years ago when I discovered that someone threw them away under cover of darkness after an unfortunate mildew event in the basement. (sigh)

If you're a mere youngster, don't pass up a chance to marvel at what we lumbered around in, then give your fleece jacket a big hug because of the misery you've been spared.

Hit reply and let me know how you reacted to the idea of an archive!


---
SPEAKING OF OLD GEAR
Did you know that GearTrade wants yours? Really simple to recycle your gear, using their free listings and guaranteed payment system.

Let the old stuff that no longer serves you become someone else's low cost introduction to hiking while you earn some cash. Also useful for hiking families!

Details here: GearTrade


---
EXCLUSIVE NOMADIK OFFER FOR YOU
If you like carefully chosen surprises each month that make trail time more comfortable, enjoyable and safe, you should look into a Nomadik subscription.

If you're curious about why it's valuable, plus a lot of fun, read my reviews:

The Nomadik review, Part 1

The Nomadik box: surprises and solid gear, Part 2

This month, Hiking For Her has an exclusive but limited time offer for you. Start a Nomadik subscription and receive a free SealLine dry bag as a gift.

These bags are perfect for keeping gear, clothing and a camera dry inside a backpack on a soggy day.

This offer is good through 10/3/2019, or while supplies last, so jump on it. Here's the code you need: DRYBAG2019

Nomadik Exclusive Offer: Limited Time


---
SURVEYING THE 2020 SITUATION
Hiking For Her will be 12 years old in a few months, which is quite ancient in terms of websites (similar to my knees). So it's time for some new thinking around here – from you!

If you've got 6-8 minutes to spare, you've got enough time to complete a survey AND enter for a chance to win a $75 REI Co-op gift card.

Purpose of the survey: to plan more great content and giveaways for you, and maybe even offer some new stuff, depending upon your wishes.

Yes, your wish is my command, dear hiker, because without you reading these words I'd be just another weirdo pining away for her mildewy "but they were vintage!!" boots ;)

Purpose of the gift card drawing: to say thanks in advance for your time and thoughtful responses!

The survey closes at midnight PST on October 15, 2019, so don't delay. This link takes you to all the details: HFH Survey 2020


---
NEW HFH RESOURCES FOR SEPTEMBER
First up, clothing reviews:

GORE technical hiking pants

GORE Shakedry waterproof women's hiking jacket

REI Sahara women's hiking pants in 3 lengths

Next, some new topics:
How to choose hiking insoles

Hiking wallets for every style on the trail

Just for fun:

If you've ever wondered where Hiking For Her wanders, here's your chance to take a peek at some North American and Greenland remote hiking destinations. Let's virtual hike together!

Remote hiking destinations, thus far


---
BREAKING HFH NEWS
After an informal poll of the weekly update readers (I hope you're one of them!), and numerous emails asking for this, I'm happy to announce an on line class to learn how to get started, or to up your game, as a day hiker.

The course begins October 15, 2019 and runs 8 weeks, built around all of the questions most often asked by female hikers. The course topics, format and pricing are explained here: Day Hike HFH Course

You can also sign up on that page for next time, if October is not a good time to get ready for 2020 day hiking.

Also on that page: a waitlist for a course on how to plan a backpacking trip, tentatively scheduled for January 2020 and running for 6 months. It will take you through an in depth look at each phase of planning, enjoying and recovering from a multi-day hiking trip. If there's enough interest, we'll dive into that one, too, so get your name on that list if you've got the backpacking itch.

Wouldn't it be fun to go back to school with Hiking For Her? I promise - no essay questions :)


---
DID YOUR STATE REAP THE BENEFITS?
The Conservation Alliance announced the results of its summer 2019 funding: 22 organizations in multiple states, to the tune of $900K. Wow!

Check the list of initiatives here to see if you're going to benefit:
Conservation Alliance Summer 2019 Funding


---
Abundance is a beautiful thing
This month, you have four opportunities to enrich your life as a hiker, just by reading this newsletter: a generous giveaway from AlpineCurves, an exclusive Nomadik gift offer, a HFH survey + giveaway, and a "go back to school, but a really fun class" opportunity with special first time pricing.

I hope you enjoy them all, and in closing I want to go beyond them to wish you even more abundance: plenty of outdoor time with self, friends and family (two & four legged) in a spot that makes you come alive with happiness.

Because that's what fills our hearts, right? 'Til next month...


Happy trails to you,

Diane a.k.a. Happy Hiker

diane@hiking-for-her.com

Did you receive this newsletter from a friend?
---
Sign up for your own free monthly subscription.
Or a free weekly hiking update!
---
Stop by these HFH pages for a little hiking inspiration! Likes, comments and shares are always appreciated.

Hiking For Her

HFH Facebook

HFH Pinterest

HFH Amazon Author Page

HFH Goodreads Author
Please consider this invitation:
Join Our Over Forty Hiker Community
---
Some of the links in this newsletter and on the Hiking For Her website may be affiliate links.
What does this mean for you?
You create a small miracle when you buy hiking gear through those links, by allowing a modest percentage of your purchase price to flow into the HFH coffers.
What's so miraculous about that?
You receive great gear that has been trail tested and approved by a seasoned hiker. You pay nothing extra. AND you help keep the free hiking tips flowing to your virtual trail buddies around the globe.
Wow!
And a sincere Thank You for your vote of confidence in Hiking For Her. It means a lot!
---