Enjoy Happy Trails, the free monthly newsletter from Hiking For Her.

Receive a free resource: Hiking Layering System Explained
The Nomadik Review:
Hiking For Her's Notes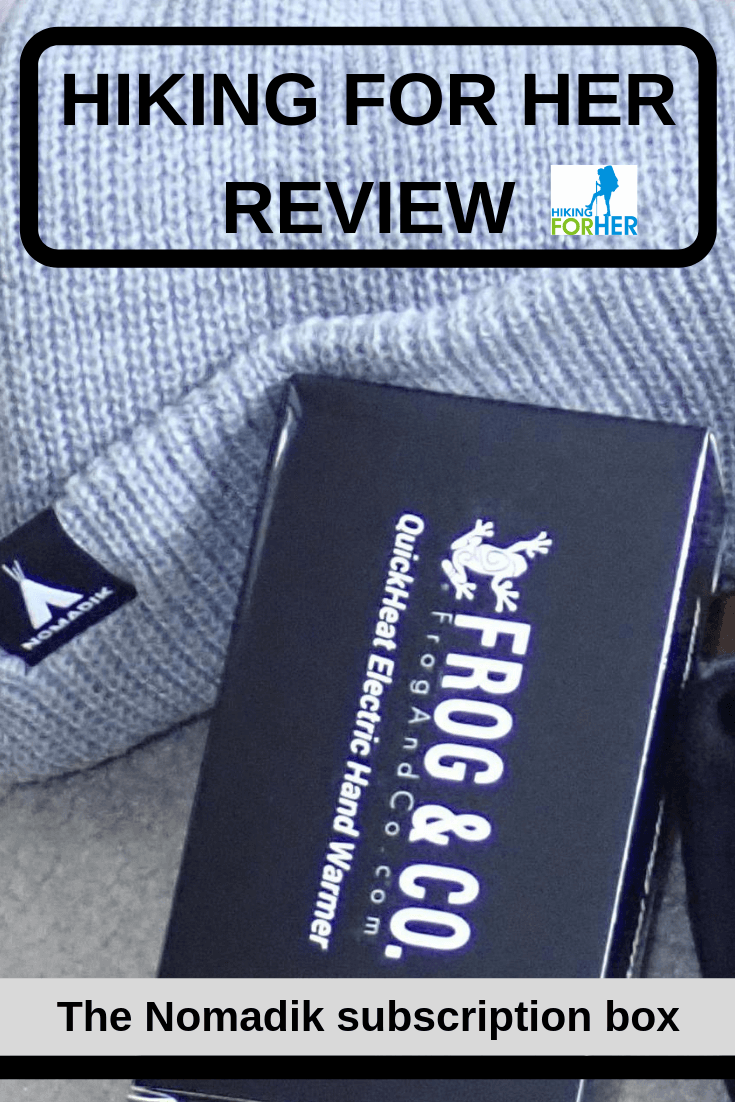 Never let it be said that Hiking For Her is not open to new ideas!
This Nomadik review looks at a new way to discover trail gear: a Nomadik subscription box arriving in the mail one blustery day in February.
Hiking For Her is an affiliate of The Nomadik.
Your purchase through the links on this website cost you nothing extra, but result in a small commission for Hiking For Her.

HFH received this box of mystery outdoor gear free of charge, which does not color the opinions and photos you're about to see.
Every Hiking For Her review keeps you in mind, always asking and asking the question "How will this help you on the trail?"
A few things to note right away
in this Nomadik review
Any time you sign up for a subscription service, read the fine print.
Take note of when your renewal date is, and be sure to adhere to the schedule that you have pre-paid to receive.
Questions to ask:
What is the refund process?
Can I cancel and receive a refund if I have pre-paid?

Does the subscription auto-renew? When?
What am I receiving, and is it something I can use or gift to someone else?
What do reviews say about the service? About the quality of the products?

What type of customer service is provided by the company? If there is no way to call, as is true for Nomadik, will an online chat be sufficient for you? Or an email thread?
Specific Nomadik renewal information

In the FAQ section of the Nomadik website, you'll find this:

"Your membership automatically renews on the 4th of each month (9:00pm PDT/PST) and we typically ship by the 24th of each month. There are no hidden fees and you can cancel anytime. Just be sure to cancel by the first of the month or your membership will automatically renew."
See how it's on you to follow the schedule?

Now let's get to the Burning Question.
What's inside the box?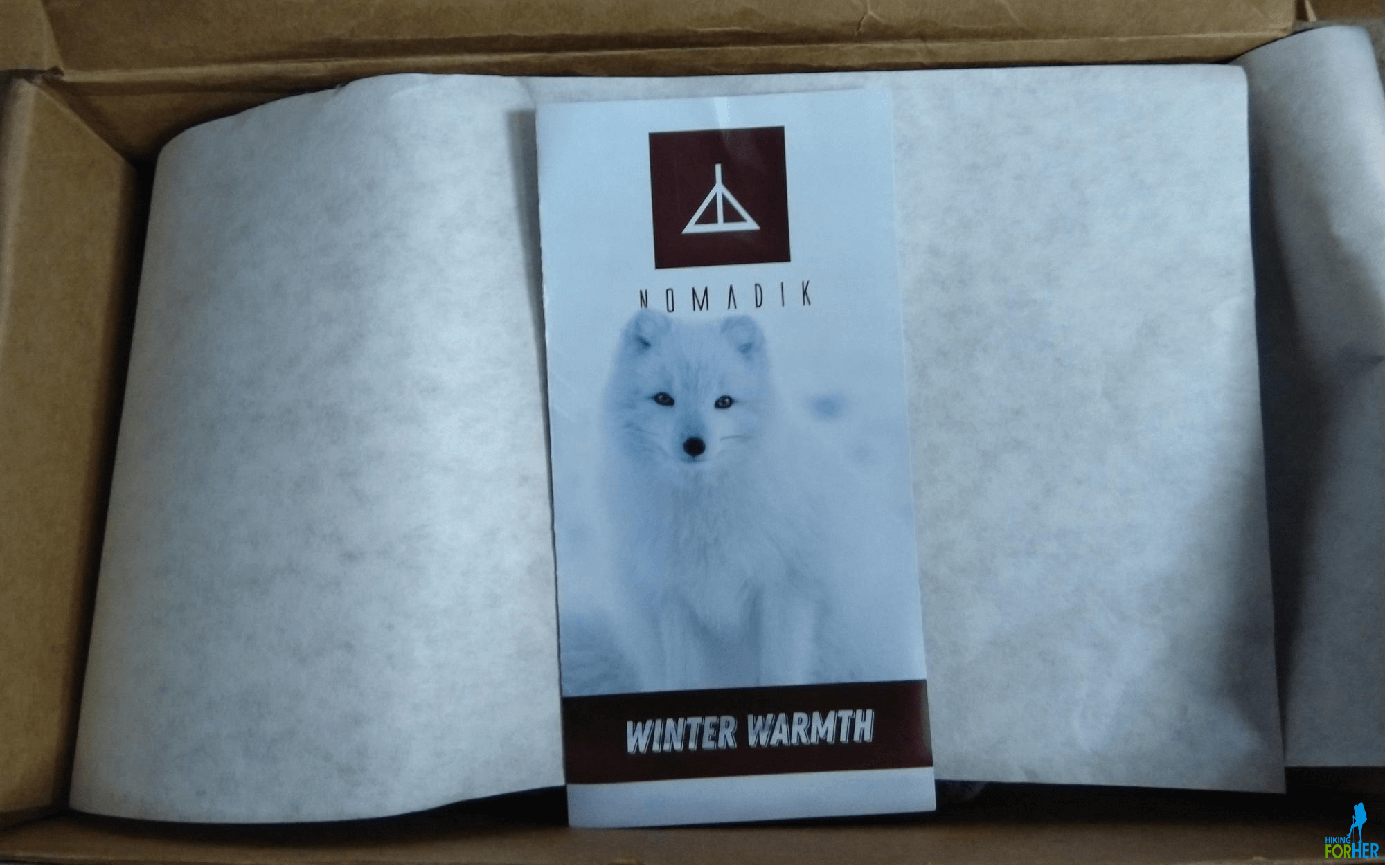 Ah, the mystery concealed by the paper!
Human curiosity makes opening up a box full of unknown hiking gear so.much.fun.
You know the feeling!

Here's what was nestled inside this particular Nomadik review box:
a QuickHeat rechargeable handwarmer and powerbank, by Survival Frog


Vince crew socks from Richer Poorer

Turbo beanie exclusive to The Nomadik
Hands, feet and head: have you guessed the theme?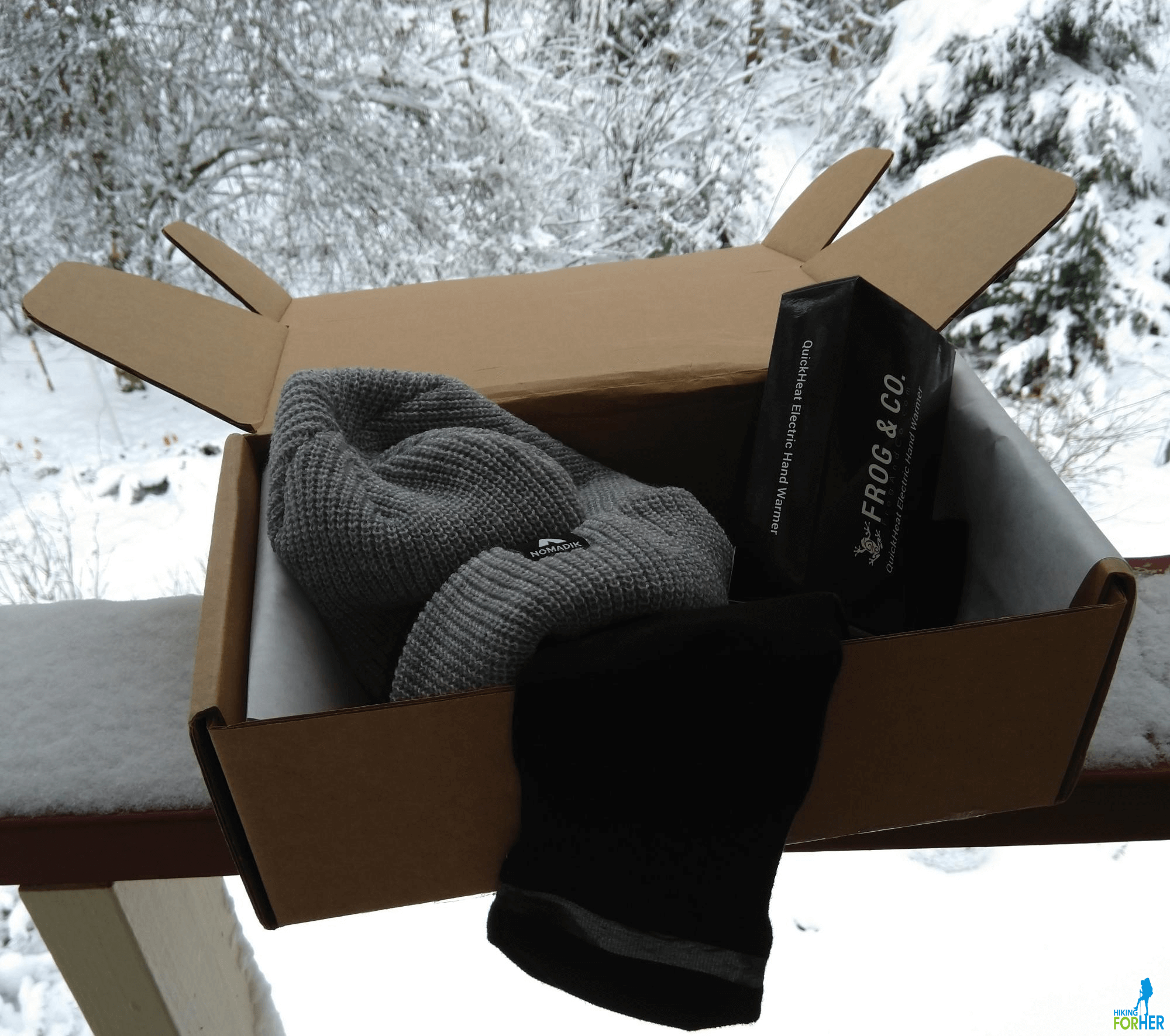 Brrr... arrived just in time on a dark snowy day: Winter Warmth in a box

What's the appeal?

For me, the appeal of The Nomadik subscription box has multiple levels.
On a basic human level, knowing this box will arrive on the doorstep each month gives a hiker something to look forward to when the day to day routine seems a bit grim.
It's like your birthday, except several times a year.
And you know it's going to be stuff you can use outdoors, which motivates you to plan your next few hikes while you wait!

On a hiking skills level, having new products from top brands selected and shipped to me offers opportunities to examine gear that might not land on my radar any other way.

And on a "saving money" level, here are three budget related findings in this Nomadik review.
Stretch your gear budget

three ways

with Nomadik


Let Nomadik pass along cost savings to you in three ways.

The items in this box were valued at up to $70US, but when you sign up, each subscription box costs much less per month (calculations below).
The longer the length of subscription you choose, the more you save on a monthly box.
Want another way to stretch that hiking budget?
The Nomadik box arrives with a full color insert, detailing what's inside.
Flip the brochure over to find discount codes for the brands included in that box.
In the Winter Warmth box, there were two coupons for immediate use: 25% off and 10% off. Woohoo!

Here's a final way to cut the cost of gear.
When you sign up, renew and/or refer other outdoor adventurers, you earn points.
Example:
This is the best value Nomadik offers!
Are you ready to treat yourself, or maybe share this subscription with a trail buddy each month?
The value
inside the box
The current online prices for each item at the time of this Nomadik review:
Total: $65, plus shipping if you were to purchase each item separately, brings the value in excess of $70.
Your cost to purchase the box with a one-time purchase: $32.95
$29.99

with a yearly subscription



I think you'll reach the same valuable conclusion I did!
Valuable tips, too
This wintery themed gear box had several succinct Nomadik tips for winter camping.
Yet another reason to read the box insert!
Example of a valuable tip:
"For winter battery usage, swap your alkaline batteries for lithium ion batteries."
I'm thinking of the safety gear I carry which relies on battery power: head lamp, GPS, cell phone... and now I know to add one more seasonal "must do" item to my list:

Exchange battery type for cold weather hiking and camping (also a great time to check that each is fully charged).

Thanks, Nomadik!


Now for a closer look:
what's in the box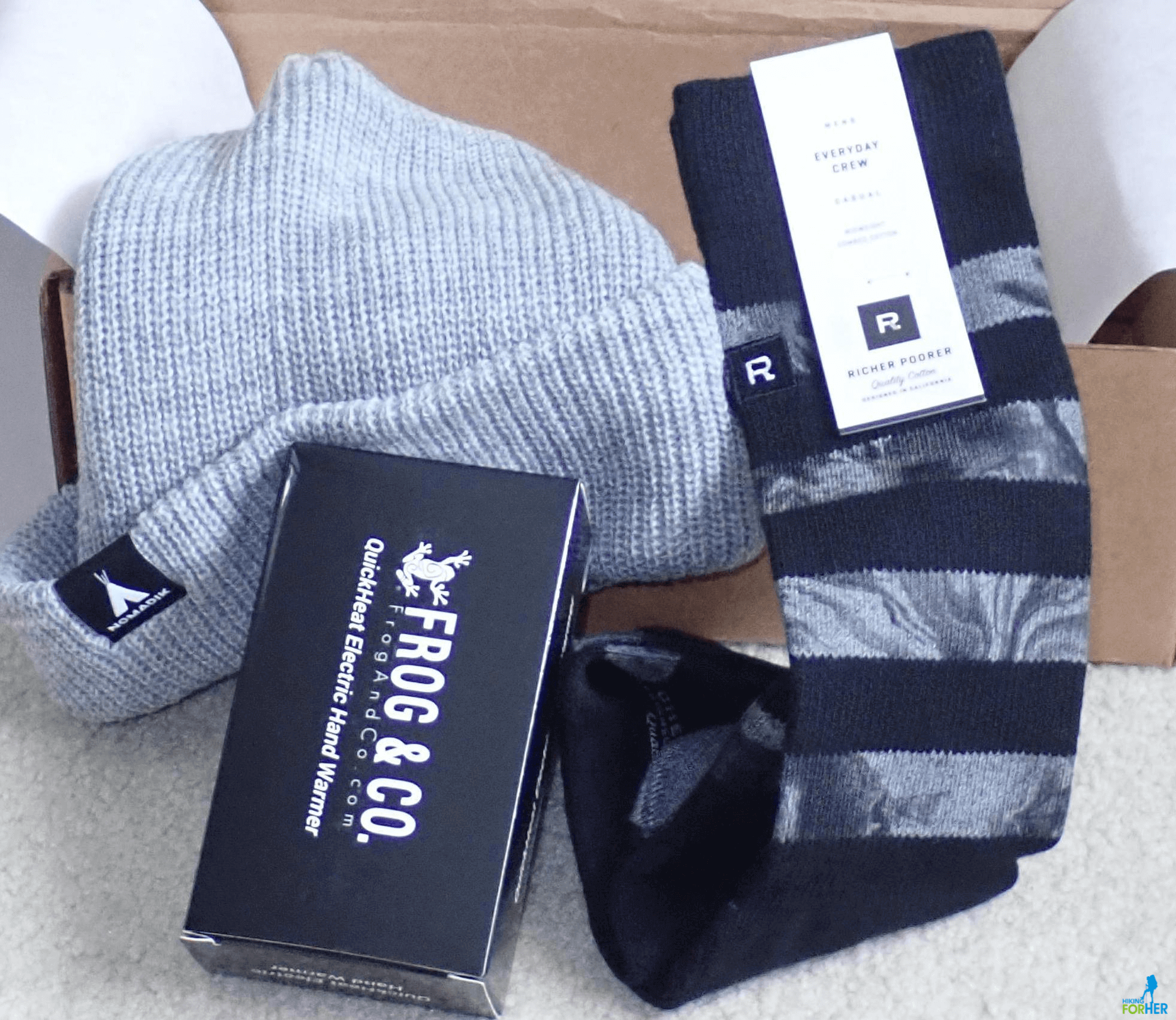 Gray beanie + socks + hand warmer/charger from The Nomadik
I'm going out on a limb here, but I predict that the beanie and the socks will trap body heat ;)
But the QuickHeat electric hand warmer and portable phone charger/powerbank?
No predictions.
I've never used one before.

Instead, I'm going to test it in the field and let you know! (Check back soon for a link to the detailed review)
Now let's take a closer look at each item in this Nomadik review box.

Hat specs
The gray acrylic one-size-fits-all Turbo Beanie is exclusive to The Nomadik.
This knit hat is medium weight, and double layered to keep your head toasty warm.
With the cuff down, it's about 11 inches long.
If you want to shorten it up, fold up the cuff to take off about 2 and a half inches and get a snug fit.

Either way, looks good!

I wore it several times before writing this review, and liked how there was plenty of room for my hair clip and braid underneath the hat.
Soft and with a bit of stretch, it covered ears and forehead or, as noted, could be folded back for more air flow.

The neutral color goes with any jacket/scarf combo you already have for the trail.

Caveat:
This hat won't be the first one I reach for on a seriously cold snowshoeing trip, but it's already the one that I wear every day for February training walks on trails near home.



Socks
These are men's Vince crew socks, by Richer Poorer.
Features:
midweight combed cotton


compression arch support

men's size 8 - 12

kicky striped pattern

Nice socks for everyday wear, but unfortunately too big for my feet.
My husband is happy to have a great new pair of socks, though!
See how the contents of this box can be happily shared?

Quickheat rechargeable
handwarmer & power bank
Aha! Now we get to the heart of the matter.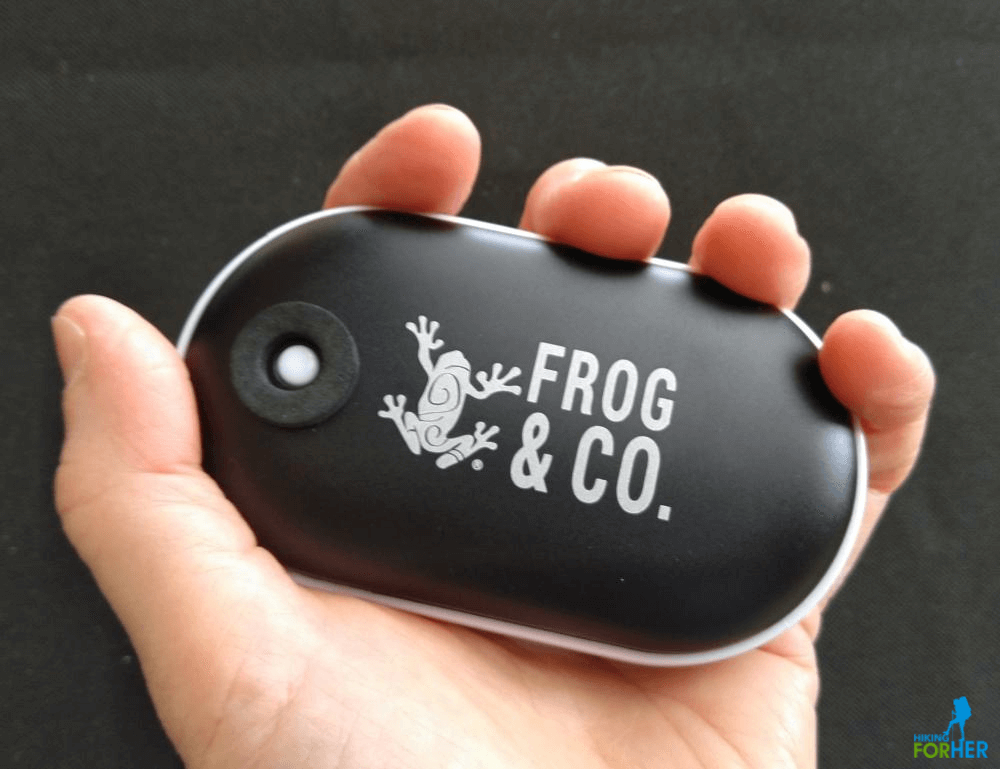 Press that little white button on the left, and you're moments away from warm hands on a cold day
This streamlined rechargeable device serves two important purposes for a hiker on a snowshoe adventure or winter backpacking trip.

As mentioned, a detailed review will be available soon, with the low down on how to use it, the manufacturer specifications, the temperature ratings, and what it's like to use it as a power bank during a winter hike.
For now, rest assured that if you want warm hands fast, nestle this little (fully charged) device between your fingers and feel the radiating warmth spread.
Feels so good inside a pair of mittens, I know that much already.

If you carry this device on a snowshoeing adventure or winter camping trip, think outside the "hand warmer" box:
Turn it on and tuck it into a vest pocket to help your core temperature stay high when you stop for a snack break.

Toss it into your sleeping bag to warm up your feet in the middle of the night.

Bring it into high alpine country in spring and fall adventuring, especially if you're prone to cold hands.

And remember to use it year round for recharging your electronic devices.
Bottom line: I never knew this little piece of comfort & safety gear existed.
But now I have a new trick up my sleeve, literally!
I'm having fun playing with it so I can write that review and share it with you.
Bookmark this page and check back soon for the link to the review.

How to customize
your Nomadik experience
You've gotten a chance to see what was in a randomly selected Nomadik subscription box.
But you can customize your subscription service in several ways, to keep the surprise intact but within your specifications.
To begin, choose how many boxes you'd love to receive per year: 1, 6 or 12.

Then take a quick survey to dial in your Nomadik experience, based on the type of outdoor sports you enjoy.
Be sure to do this, so the gear matches your hiking style.

Although you can always gift it to someone you love, right? [HFH sock example]

You have a lot of flexibility around your subscription, too.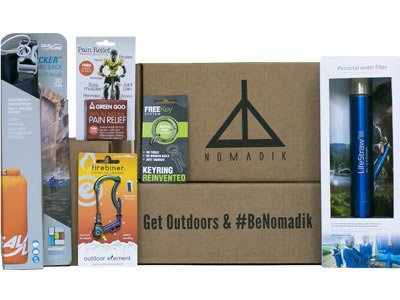 Photo courtesy of The Nomadik
This photo gives you an idea of what you might find in
your #BeNomadik box!

There's even more fun to be had
in this Nomadik review!

This company knows that outdoor adventurers are a curious bunch.
But they go one step further.
Each month they sponsor an Instagram challenge to match the mystery box theme.
I'll leave the challenge details (like what you can win) dangling for your closer inspection.
[Curiosity has been known to harm cats, but what does it do to hikers?]
The Nomadik review
conclusion
With a Nomadik subscription, you'll be treated to the surprise of carefully selected, cutting edge gear from dependable outdoor companies at the time interval of your choice.
What's not to love here?
The surprise of a carefully curated box of outdoor goodies, check.

The wisdom of exploring new gear options for the outdoors to keep trail skills sharp, saving money as you go, check!

And don't overlook this:
A subscription makes a fantastic gift, especially for a newbie: outdoor gear from great brands, delivered with a dose of incentive along with practical tips.
Read more about The Nomadik subscription service here!
Or read Part 2, wherein Hiking For Her receives another goodie box from Nomadik and shares some thoughts.

Home page > Best Hiking Gear Reviews >

The Nomadik Review Part 1