Enjoy Happy Trails, the free monthly newsletter from Hiking For Her.

Receive a free resource: Hiking Layering System Explained
Women's Shakedry
GORE Hiking Jacket Review:
Get Ready For Wet Trails

This Hiking For Her GORE hiking jacket review introduces both of us to some pretty amazing technology called Shakedry.
If you're looking for fully waterproof women's hiking clothing, keep reading!
Let's get the disclosures out of the way first.
HFH and GOREWEAR are not affiliated in any way.
HFH received the jacket free of charge in exchange for an unpaid, fair review.
All comments, photos with the Hiking For Her logo, and opinions freely belong to HFH.
If you purchase GOREWEAR through the Amazon affiliate links on this website, HFH receives a small percentage of the price without costing you anything extra.
Now let's get to the nitty gritty!
GORE® H5 GORE-TEX SHAKEDRY™
Hooded Jacket



At first glance, notice the generous zippers on chest and pockets, the fitted long sleeves, and the adjustable neck with hood.

The longer length, with tapered backside, is also a great feature when you're wearing a backpack with a hip belt!

Two color choices, black (seen in this review) and Pacific blue
GORE hiking jacket review:
product specifications
Now let's dig into some amazing specifications for this shell!
GORE-TEX Active Shakedry Technology: waterproof, windproof, breathable 

Permanently pearling or beading fabric (see below)


Shake it dry!

Abrasion and tear resistant fabric

Internal waist drawcord 


Low profile hood visor with integrated elastic facing plus 

drawcord to customize fit

Extremely lightweight

No shoulder seams

Cuffs have partial elastic and stretchy fabric

Reflective patches

Two large front zip pockets for storage and venting 
Look at those taped seams!!! Take that, raindrops

What do those specs offer
to a female hiker on the trail?
Plenty!
When you choose the best hiking jacket for your hiking style, you're mainly focused on two things: fit, and performance.
The fit of this jacket
To consider a jacket properly fitted to the peculiarities of female anatomy, pay attention to the generosity (or not) of the underarm and chest areas.
The full length front zipper on this Shakedry jacket provides a close fit, with not a lot of extra room (see sizing note below). 
If you have generous curves, read the sizing notes below.

But please realize that the close fit is by design.
The jacket dips down to cover your entire waistline as well as your buttocks, making it a good pairing with your backpack to prevent chafing.
And in case you don't know, GOREWEAR clothing is marketed to cyclists, who definitely abhor wind drag and seek out the streamlined fit. 
TIP: Look in the "cycling" area of your favorite outdoor gear store for this brand.
And don't bat an eye when you wear it for hiking. We can share the trail with the trail riders, right?
Performance notes
The performance is going to be a huge leap forward from your current rain gear in terms of staying dry. 
The "permanently beading" feature is a different approach to keeping water off your skin.
Here's why.
Instead of using DWR (durable water repellent) coating on the outer fabric, this jacket takes the approach of eliminating the outer fabric face altogether.
It relies upon the outer membrane to serve as the water barrier.
What this means on the trail is something really wonderful: this jacket will remain permanently waterproof, because there is no DWR finish to wear off and create the dreaded phenomenon called "wetting out". 
Putting the good fit and high performance together, you've got yourself a top candidate for your best rain jacket ever.
Add in the other features like feather weight, extremely small footprint, a hood and taped seams, and I think WOW would be the right word.

Shake it dry!
Seriously, that's exactly what this jacket is designed for.
So take a hint from your canine hiking companions and just shake off the raindrops and keep going.
And give the jacket a good shake before you throw it on your backpack as you head home from the trailhead. 
What I loved about
this Shakedry jacket
Pulling on this super lightweight, thin shell jacket was like having a second skin between me and the weather.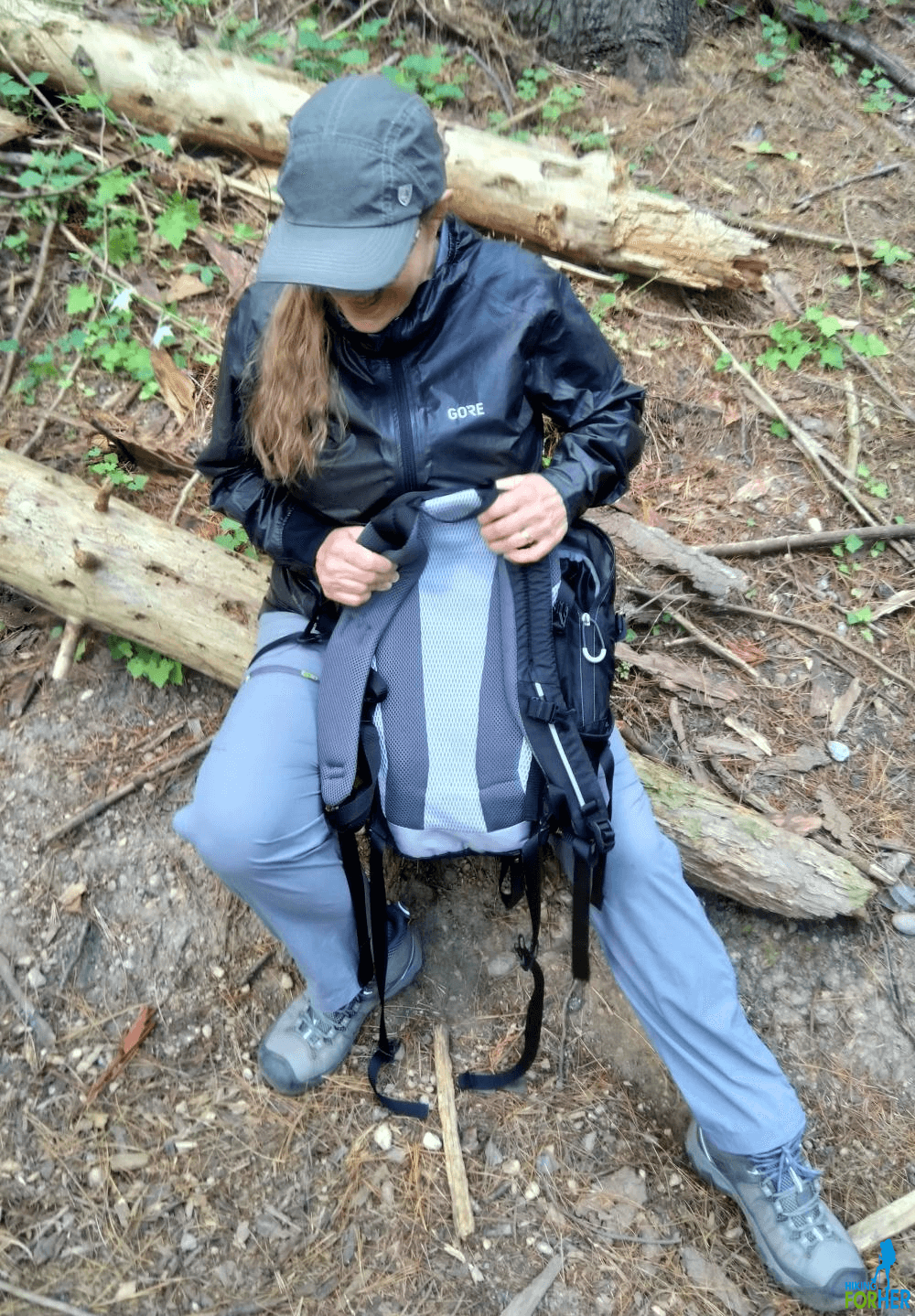 Love the fit of this jacket: roomy enough for a light layer, fitted sleeves just long enough for full arm coverage, and good neck coverage when needed
The absence of shoulder seams meant I couldn't feel the jacket underneath my backpack straps.
Loved the cinching versatility at both waist and neckline!
There are soft fabric guards at the back of the neck and near the neckline to pad and protect your skin.
And what's not to love about how small this jacket packs down when you don't need it?
If you're not careful, you'll forget you even have it in your backpack, which would defeat the purpose :/
One last thought: it's so lightweight that you might not even call it a jacket: seriously low on weight for all of the technical, full coverage features!

Important sizing note in this
GORE hiking jacket review
Every outdoor clothing brand has a little different interpretation of sizes for women hikers.
GOREWEAR tends to run small, and they tell you this right up front.
As a female hiker, I know that layering my clothing will be important for my safety as well as my comfort on a cool weather hike.
So I always go up a size when I'm ordering outerwear, to accommodate my layering system.
This jacket truly runs small! That's by design (see above), to create a sleek silhouette to minimize your contact with wind and water on a rainy day hike.

I strongly advise you to go up a size with this jacket even if you like form fitting hiking clothing, and perhaps go up two sizes if you love to wear both a base layer and midlayer.
Concerned about the sleeve length being excessive if you go up a size?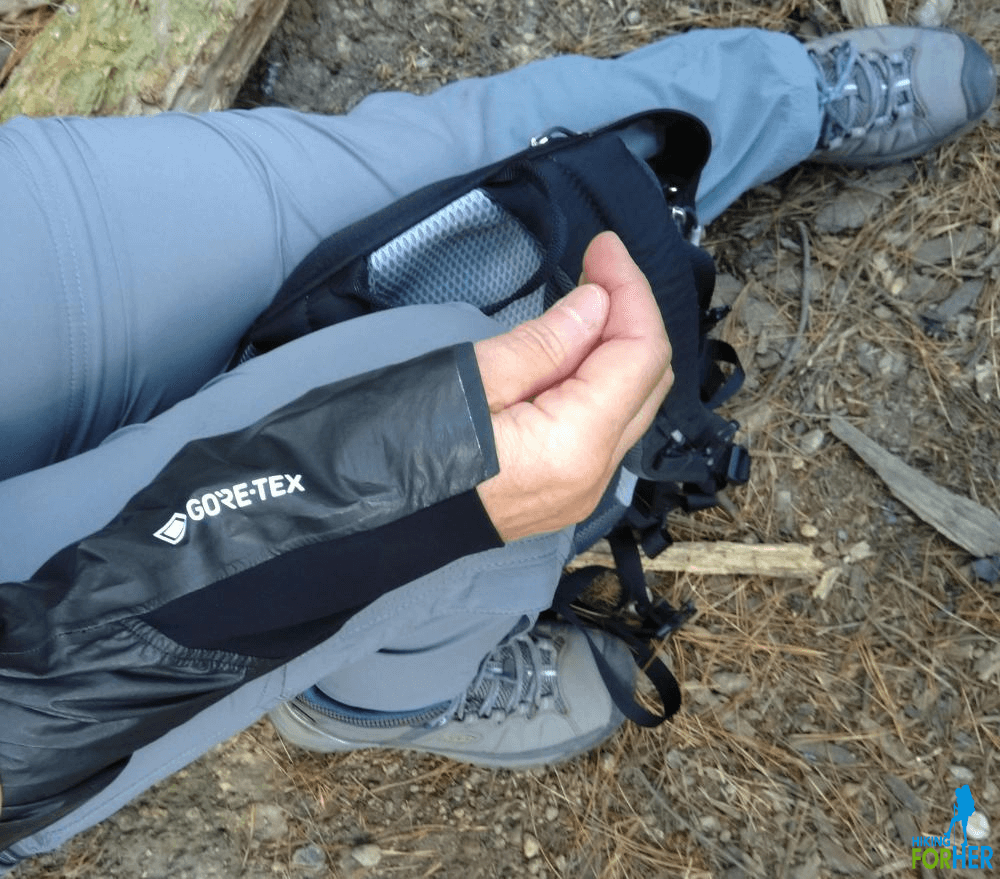 Closeup of lower sleeve and wrist area of the Shakedry jacket, showing the stretchy black fabric in relation to the waterproof membrane

A few drawbacks to mention in this
GORE hiking jacket review
Hiking For Her gives you the details in a hiking gear review, warts and all.
This jacket was pretty wart free, but there are a few things to note from a hiker's perspective.
It's a bit noisy and crinkly, as all rain gear can be as the fabric conforms to your movements.
You don't want to trash this jacket by subjecting it to contact with extremely abrasive or sharp surfaces.
Unfortunately, that describes a lot of hiking trails: granite boulders, pointy tree branches, sharp undergrowth. 

Take care with this jacket to preserve its functionality!
Hikers look for armpit vents (pit zips) on a jacket for ventilation and comfort.
This one has none, so use the large front pockets and neckline for venting.
Questions still to be answered
in this GORE hiking jacket review
Can this waterproof, windproof jacket made of impermeable membrane really have a high degree of breathability?
That's an important question for any hiker or trail runner working up a sweat on a rainy day.
Having received the jacket in August, the driest month of the year in the Pacific NW where I do most of my hiking, I don't have an answer for you in this GORE hiking jacket review - yet.
I'll report back here once the rainy season commences, with all the details on what it's like to wear this jacket on an uphill, wet, muddy hike.
I promise to sweat a lot ;)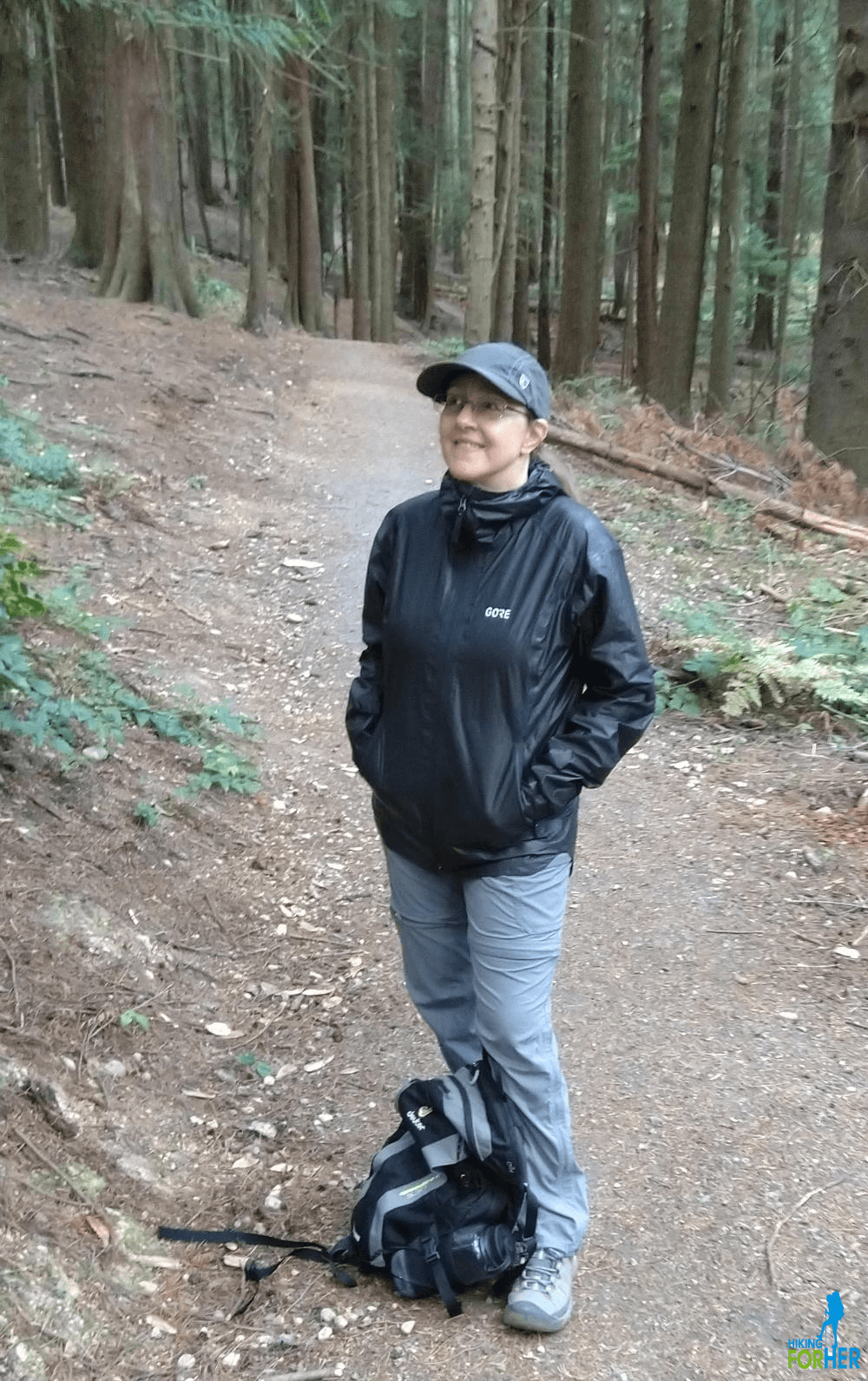 Watching for those first few raindrops so I can test this jacket for you!

Jacket pricing
If you've been around the hiking world for awhile, you already know that quality costs money.
With every purchase you're paying for not only materials, but the technology and design behind the product.
This is true for any sport where technical gear gives you an edge.

So to be able to carry a jacket this lightweight, and to simply shake off the raindrops and stay dry inside of it as you wear it, requires a cash investment.
That's a lot of money, but it gives you a lot in return, as I hope I've detailed in this GORE hiking jacket review.
And if you add up the cost of a windproof shell for dry weather and a rain jacket for wet weather, owning one jacket like this to do double duty makes sense (especially in the ultralight hiking world).
Who does or does not need this jacket?
If you're a beginner hiker who is slowly increasing mileage and time on the trail, you don't need this jacket.
Anyone who has faced the misery of wet trails, especially in cool temperatures, year after year, will appreciate the technical features of this jacket.
Any ultralight hiker or trail runner will be fascinated with this jacket, part of the GOREWEAR fast hiking line.
Conclusions in this 
GORE hiking jacket review
The longer you hike, the more you'll come to appreciate fully waterproof rain gear.
This jacket is going to keep you as dry as possible, with enough breathability to prevent a rainstorm inside of it (a statement which will be tested thoroughly in the months to come).
Although there is no perfect solution to rainy day hiking comfort, this jacket is engineered to keep you happy as well as dry.
As a result, you'll stay warmer and remain in a better frame of mind for navigation, route finding, or critical decisions about which hiking snack to eat next.
And yes, it's a long term investment piece!
Or put it on your hiking gift wish list. Wishes do come true for women hikers who know how to ask for the best hiking gear!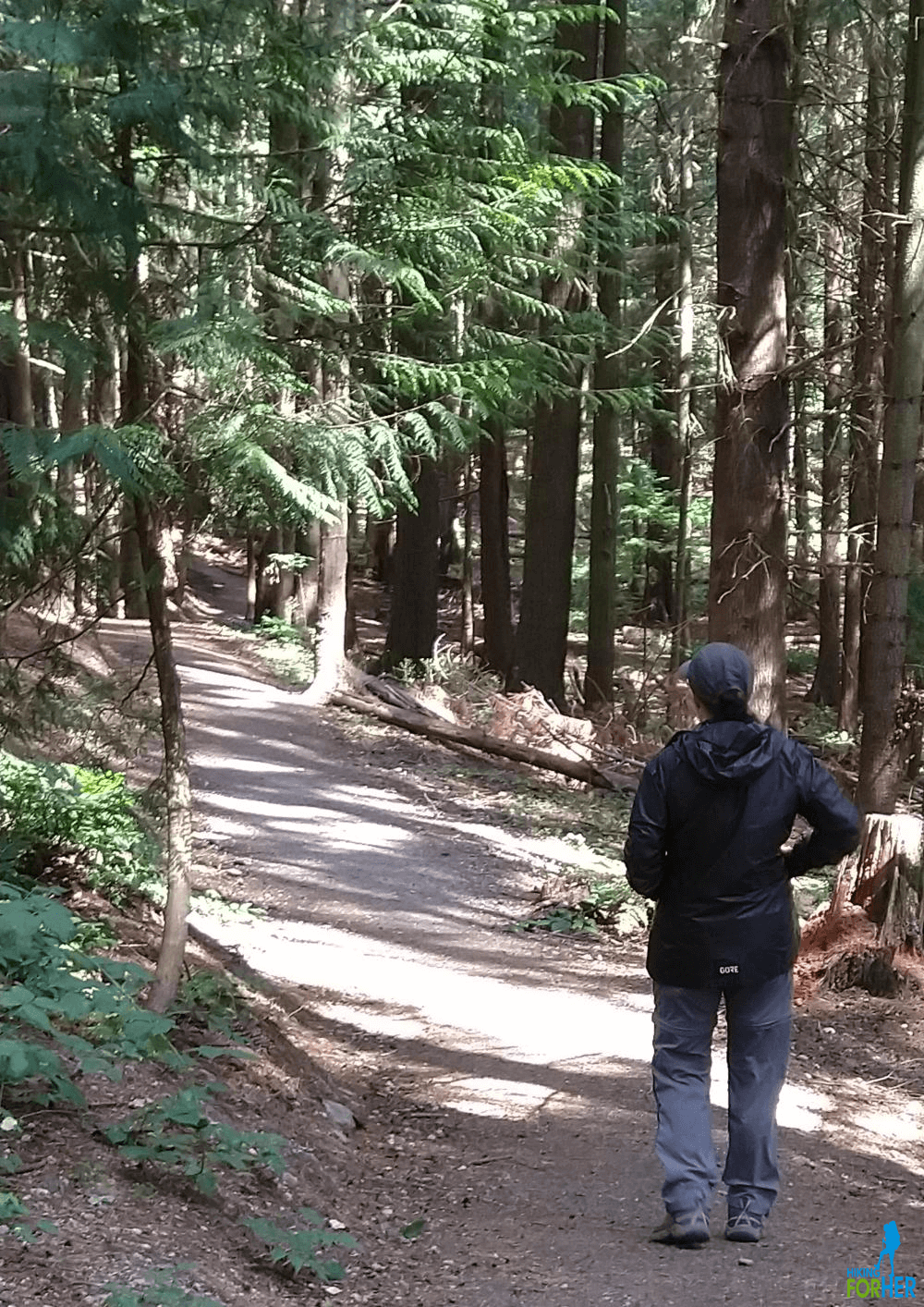 Heading down the trail with my full coverage Shakedry hooded jacket
Read another Hiking For Her review of GOREWEAR women's hiking pants, socks and a neckwarmer here.
Home page > Best Hiking Gear And Clothing Reviews >
GORE Hiking Jacket Review: Shakedry Waterproof Technology